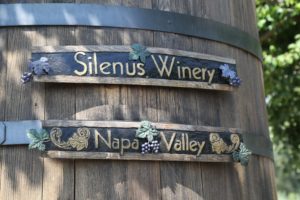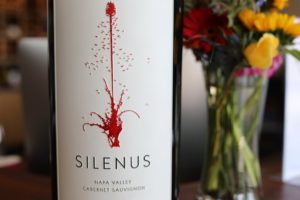 Silenus Winery is located on Solano Ave parallel to Highway 29 on the west side of the highway just south of Yountville in the Oak Knoll District (about a 10 minute drive north of downtown Napa). Their name originates from Greek mythology; Silenus was the companion of Dionysus, the Greek god of Wine who was the son of Zeus. Dionysus even left a lasting quote, "the man who does not enjoy drinking wine is mad". Silenus produces wines bottled under several labels including Thyrsus and Tyrus (which features an image of Dionysus). The colorful image used on most of their bottling's ties into Greek mythology involving Zeus, Dionysus & Silenus; it is a grape vine with a fennel stalk holding a single pinecone surrounded by swarming bees.
Silenus is located on site of the old Newlan Vineyards and Winery (also used to be referred to as Alatera); this was the 35th bonded winery in Napa Valley having been bonded in 1977. The property was originally purchased by Bruce Newlan in 1967, a former Lockheed engineer who was living in San Jose but used to vacation in Napa Valley. He planted the vineyard on site in 1969 and over the years sold grapes to fine producers including Inglenook, Robert Mondavi and Silver Oak. In 1999 with a partnership with the Sato family, the winery name was changed to Koves Newlan.
One who visited that winery and who visits Silenus today, will not even recognize the current look of the property. Previous proprietor and founder of Silenus Winery, Bob Williamson and his family purchased the site and did an excellent job of remodeling, updating the landscaping, adding state of the art wine making equipment and opening the tasting room in mid 2007.
Prior to wine, Bob enjoyed a career in construction although he has been a fine wine enthusiast for many years. While living in foggy Half Moon Bay he and his wife decided to try to locate property inland in a warmer location. Enter Napa Valley; Bob's original purchase was a nearby 15-acre vineyard but when the old Koves-Newlan winery and property came on the market he bought the site, not yet knowing that it would lead to additional ventures including vineyards, a winery, a custom crush facility and a tasting room all wrapped up into one property.
In 2010, Silenus Winery (and tasting room) was purchased by a Chinese American company, Silenus International Group – led by Veronica Wong. Veronica is also involved in major real estate developments in China including a number of high rises, a major hospital and is part of the group that owns Mooney Aviation Company.
The location of Silenus Winery was originally a walnut orchard; in 1968 the trees were removed, and the site was planted to Cabernet Sauvignon. The grapes were then sold to Robert Mondavi Winery, Inglenook and Clos du Val. After noticing that the grapes consistently ended up in the various wineries' reserve wines – the owners at the time decided to hold back some of the fruit for their own wine. The first vintage from the property dated from 1980 (a Newlan Cabernet Sauvignon).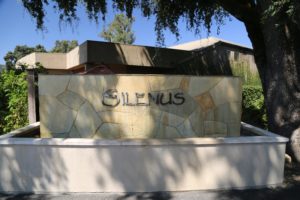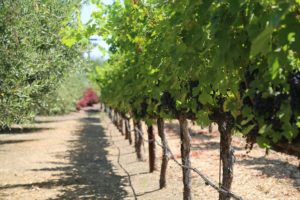 Besides producing their own wines, Silenus is also a collection of artisan winemakers; this is a custom crush facility for a number of small wine brands who do not own their own physical wineries. What separates Silenus from other area custom crush wineries is that in addition to producing their wines here, these client brands are also allowed to taste their wine on site. It is refreshing to find varieties poured here not often found at other Napa Valley wineries. The reason for this is several of their client's source fruit from outside of Napa for varieties not often grown in Napa Valley.
Bob Williams produces his own label Ideology at the winery and these wines are usually available for tasting. Be sure to try both Ideology Chardonnays, each of which is created in completely different styles. Note: we have published a separate review of Ideology Cellars on this website.
Much of the surrounding property extending to the base of the western Mayacamas mountains is planted to vines. Some of the fruit for the Silenus wines are sourced from the estate (planted to 10 acres of vines including Cabernet Sauvignon, Cabernet Franc and Petit Verdot). The property contains bench-land and alluvial soils which have resulted partly from the erosion over many years from the mountains as well from the influence of nearby Dry Creek.
Silenus farms their vineyard with a carbon neutral approach, utilizing cover crops, planted each year in every other row. These are then tilled into the soil providing additional nutrients and water holding retention and means they use their tractors only 1/2 as much. Native plants also grow near their vineyard and a number of bluebird houses are on site to help attract birds which will eat pests.
Hospitality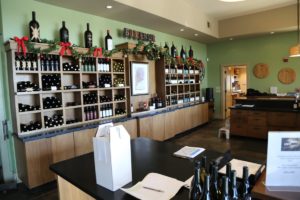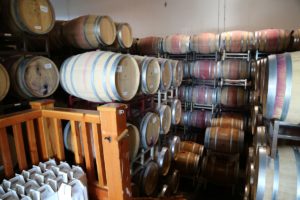 Tastings feature wines from boutique Napa Valley based producers (wineries who typically produce under 1000 cases annually). Several of the producers represented here, while based in Napa focus almost entirely on non-Napa Valley grown wines.
The wines available at the tasting counter vary from time to time depending on which wineries are represented. Tastings include options to sample both Silenus wines as well as select wines from their custom crush clients (referred to as their Artisan Vintners). It should be noted that some of the Silenus wines are only available for tastings or purchase at the tasting room or for club members.
A number of tastings are offered; the Vintner's Tasting includes a mix of white and red wines, the Red Wine Only tasting and the Reserve Tasting features a selection of their most premium wines. And one can also opt for the Barrel Ad-on, featuring a barrel sample from two hand-selected barrels chosen by their winemaker.
Tastings are either at the bar, or if weather permitting, seated outside on their tiny terrace. Several private rooms are also available for larger groups (strictly by appointment).
Two small parking lots are available; the first lot on the right as visitors pull in the driveway offers shade from the nearby oak trees while the other one is mostly in the sun. Look for a winery dog or two sprawled out, possibly in the tasting room. The inside of the tasting room is elegant, modern and chic with a spacious curved tasting bar. The staff is friendly and very knowledgeable.
Silenus has a coveted permit to allow guests to bring food on site and picnic (provided one does a tasting either before or after lunch). Guests who picnic but do not do a tasting must order at least a bottle of wine. The lower grounds are quiet and a very relaxing space to enjoy part of your day (weather permitting). Several picnic tables are located in this shady grotto next to a bocce ball court.
Select Wines
The 2019 Silenus Napa Valley Pinot Blanc is medium to deep gold in color; offers a plethora of riper fruit and desert like aromatics including pineapple, brown sugar, honey, the smell of a seed of a ripe mango still covered with plenty of fruit after it has been sliced and left to dry, along with sweet vanilla deeper into the aromatics. The palate offers a supple texture and shows an intensity of flavor including ripe cantaloupe, honey, baked apple and pineapple. Finishes bright with decent acidity and lingers with some hints of margarine.
The site for this Pinot Blanc is exceptional both in regard to the terroir and also its historical significance. Only 6 rows of Pinot Blanc are planted in the Hoxey family (owners of Napa Wine Co) owned Blockhouse Vineyard, named for George Yount's original blockhouse he built near Yountville. Pinot Blanc is not a variety one finds much of in contemporary Napa Valley. It's grown in parts of Europe and has become a prime variety for making ice wine in British Columbia's Okanagan Valley.
The 2018 Silenus Napa Valley Grenache is 97% Grenache from the Blockhouse Vineyard in Yountville and 3% Zinfandel from the Lincoln Creek Vineyard, also in Yountville. This wine is pale to medium ruby in color; the bouquet has a dark core element with the fruit circling around the edges. It offers aromas of Graham cracker, Asian 5-star spices, a dried herb note, dark licorice and plum. Nicely balanced across the palate the wine lingers juicy, fresh and with lighter to moderate tannin texture and notes of white pepper. It is slightly savory. Very much a food wine, tasting this immediately evoked a particular memory from childhood. We thought of pairing this with our grandmother's home-made raviolis made by hand in their basement at their house in San Jose.
The 2014 Silenus Vintners Cabernet Franc smells like this variety should; the bouquet has character revealing aromas of jalapenos, dried tobacco leaf, dust after a recent rain and other herbal notes. Interestingly, the herbal notes do not carry onto the palate. Seamless from start the finish the palate offers flavors of plum, cherry and other berry fruits and lingers with a mocha/cedar note along with fairly fine although still a bit tight, tannins. We tasted this wine four years post its vintage date. Regardless, this wine has plenty of life ahead of it. Very food friendly.
The 2017 Silenus Tyros Cabernet Sauvignon Napa Valley is a blend of 77% Cabernet Sauvignon and 23% Merlot from various vineyards in Yountville, Oak Knoll, St. Helena, Carneros and Pope Valley. This wine is dark ruby in the glass with purplish tinges on the rim; offers powerful aromatics of blackberry, plum, cedar, mocha, Graham cracker and dried tobacco leaf. This wine shows mouth-watering acidity along with flavors of red cherry, currant and spicy plum. Lingers with a darker finish encompassing both fruit, tannins, notes of dried tobacco leaf and peppercorn. This bottling is a more savory showing of this variety and is one of the better quality to value Cabernet Sauvignon wines from Napa Valley.
Silenus Vintners used to use the Cabernet Franc growing on site as a blending varietal. Sometimes Silenus produces only a barrel or two of wines primarily for club members. Case in point was in 2011 when they produced a single barrel, 100% varietal Cabernet Franc. They have since increased production slightly to several barrels; this wine is still made for their club members but often they will have it available in the tasting room.
In 2013 they made a 100% varietal Cabernet Sauvignon port style wine which was later fortified with brandy. During its 10-years of aging they topped off this wine with their Reserve Cabernet Sauvignon. We had the privilege of trying this wine 9 years post vintage date, a year before it was bottled. It is not a viscous or syrupy sweet wine; rather it had achieved great balance while showcasing plenty of fruit.
—
Silenus Parties
Select wine club parties are available to wine club members, members of their mailing list and general public. These events are fun, casual and relaxed and are held below the winery in the lawn area. During a recent annual Spring Wine & Chocolate Party we enjoyed live music, a charcuterie bar, and a huge selection of cheeses for purchase. In addition, the winemaker was thieving barrel samples for interested guests, large blocks of chocolate were available along with a mallet and chisel for guests to chop of small pieces. And wines from several of their artisan vintners were being poured by each proprietor.
Some wines are winery exclusive and are only available direct to consumer based on visiting the tasting room. For more information, to schedule a tasting or to join one of their wine clubs, visit: www.silenuswinery.com and for more information about the vintners represented in their tasting room, visit: www.silenusartisanvintners.com