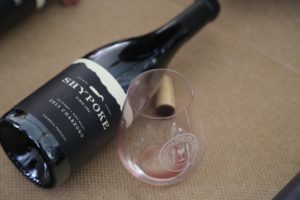 Shypoke Vineyards is located just south of Calistoga. The name Shypoke comes from an old family folk name that refers to Blue Herons; these birds still nest in the riparian zone next to their vineyards. The owner of Shypoke, Peter Heitz has family ties dating back to 1896 in the Napa Valley which makes his family among the oldest of the winemaking families in the Napa area. In fact, their old stone ghost winery still exists just west of their main vineyard.
Before wine became as popular as it is today, Napa Valley had two Co-Ops, one just south of St. Helena and one located in Calistoga. Vintners would sell their grapes to this Co-Op and take turns being the winemaker. Peter's grandfather was the head winemaker at the Co-op during the 1950's and 60's. Today Shypoke farms 10 acres of grapes and focuses on producing 4 wines, Sangiovese, Charbono, Petite Sirah, and Cabernet Sauvignon (about 1000 cases total).
All wines we tried were 2005 vintage. We started with their Sangiovese which is 100% varietal. This is a nice light summer wine full of raspberry and strawberry flavors with just a touch of vanilla on the finish. Shypoke is most known for the rather obscure varietal, Charbono. There are approximately 50-60 acres of this French varietal planted in the world and at least 30 of these acres are planted in the northern Napa Valley near Calistoga. Based on these numbers, Shypoke has approximately 13% of the world's planted Charbono.
It is a somewhat difficult varietal to grow as bud break comes very early in the season, typically before the frost season is over. This grape really likes the Calistoga area as during the summer you can easily have 30-40 degree swings in temperature between day and night. We've had a number of Charbonos in the area and theirs is one of the nicest. This varietal produces wines that are very low in acid as well as in alcohol. However, contrary to belief these factors do not diminish the fruit flavors whatsoever. Their version is a very full bodied wine with a nice mouth feel and some spiciness that will pair very well with food.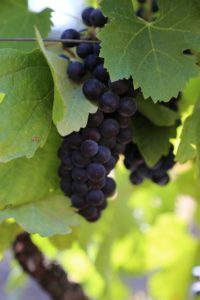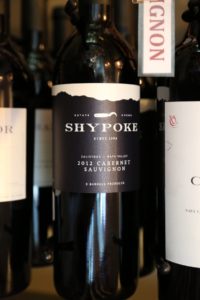 Their Petite Sirah is not the big bold P. Sirah's we have been having lately in the Napa area. Rather it is a more elegant wine with plums and cherries in the nose, blueberries in the palate with a nice not overly tannic finish. Their Cabernet Sauvignon is the only Cabernet of its kind that we have tried in Napa. Being true to their main varietal, Charbono, naturally they blend Charbono in their Cabernet. In the case of 2005 it is about a 10% blend.
Their Cabernet is clone 337 which as Peter says, "if you were starving in the desert and you had a choice between the 337 clone and nothing to eat, its a toss up whether you would select the 337"! This particular clone produces extremely small berries which as a result provide very rich concentrated flavors due to the high skin to juice ratio.
This is a delightful wine – the Charbono rounds out this wine especially in the mid palate and provides structure to the finish. The finish is slightly smoky & very long. Shypoke designs their wines to be consumed at a young age, i.e. now. Compared to typical Napa wine pricing their pricing is very reasonable. Shypoke is one of the very few Napa wineries to donate 1% of their total gross profits to an organization called 1% For The Planet – funds from businesses who participate in this are distributed to organizations protecting the environment worldwide. Visit: www.shypoke.com
NOTE: this review has been identified as needing an update.