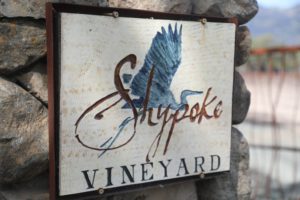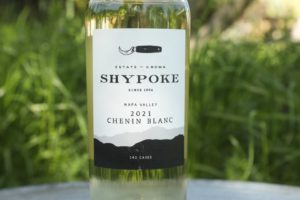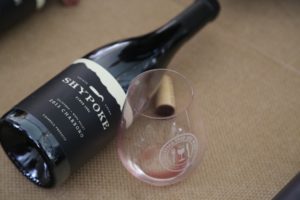 Shypoke Vineyards is located just south of Calistoga. The winery was founded by Peter Heitz (today he and his wife Meg oversee all the operations of this tiny brand). The Heitz family (no relation to Joseph Heitz, founder of Heitz Cellars) dates back to 1896 in Napa Valley which makes his family among the older winemaking families in Napa Valley.
Peter is 4th generation grape grower/winemaker and was raised in Carneros on a Pinot Noir and Chardonnay vineyard that his parents Gary and Ginny owned (the southern part of Napa Valley near the San Pablo Bay). His great, great grandparents Michael (from Alsace, France) and Louise Heitz (from Baden, Germany) were married in Germany in 1893 and then immigrated to San Francisco in early 1894. In 1903 they purchased property on the valley floor below the Mayacamas mountains, near what is now the Diamond Mountain sub appellation. This part of the valley was known as the Tucker District. They were the first ones in the family to use the name Shypoke. It comes from an old family folk name that refers to Blue Herons; these birds still nest in the riparian zone next to their vineyards. In 1904 they founded a small winery on the property and called it Michael Heitz Winery. Heitz Way still reflects their family name. And their old stone ghost winery still exists, just west of Shypoke Vineyard but is no longer on property owned by the Heitz family. Like other farming families of that generation, their family was large (11 children).
While making their own wine, they sold the majority of their grapes especially during Prohibition. And what became a critical decision that impacted their heirs, they pulled out all the varieties except one, Charbono (the variety that Shypoke is most known for) – replanting to various stone fruit crops. Eventually one of their nine sons inherited the property, Fred – who replanted the property to vines after Prohibition. The family continued to sell grapes over the decades including their Charbono to Inglenook. But the one constant since 1904 is their vineyard has always been planted to Charbono.
Original Michael Heitz Winery

Before wine became as popular as it is today, Napa Valley had two winery cooperatives, one just south of St. Helena (now the site of Hall Winery) and one located north of St. Helena (site of Markham Vineyard and was referred to as the little co-op). Vintners would sell their grapes to these cooperatives and take turns being the winemaker. Peter's grandfather was the head winemaker at one of these cooperatives during the 1950s and 1960s.
Today Shypoke farms 10 acres of grapes on the remaining 11 acres from the original 50 acres and focuses on producing several wines including Grenache, Sangiovese, Charbono, Petite Sirah, Cabernet Sauvignon and Fallstreak (a blend that changes every year but is typically Grenache, Malbec, Petite Sirah and of course, Charbono) from a combination of both estate and purchased fruit. Their vineyard sits right next to Highway 128 just south of Calistoga and almost in the 'shadow' of nearby Sterling Vineyards. Total production each year is around 1,000 cases.
After graduating from the University of Santa Cruz with a degree in Biology Peter took a position at Beringer Vineyards as an associate winemaker where he worked for 11 years. Immediately following Beringer he became head winemaker at Turnbull Cellars. He produces the Shypoke wines at his bonded garage in Calistoga. The first vintage of Shypoke was in 1996 – only two wines then, Charbono and Sangiovese. Gary and Ginny made the wines from 1996-1999, no wine was made in 2000; Peter began making the wines in 2001.
Peter works with vineyard sites that often come with the intrigue of history, whether it is the age of the vines themselves or the heritage of the personalities that farm the sites. He makes wines from grapes growing in the northern part of Napa Valley (Calistoga) and outside of the county, including in Mendocino County (to the north of Napa Valley).
Select Wines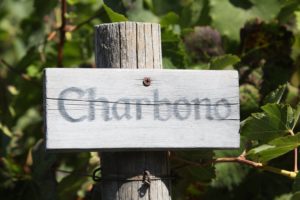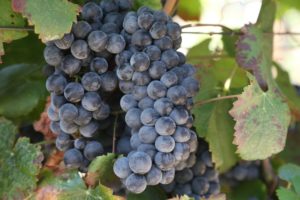 Chenin Blanc used to be widely planted in Napa Valley through the 1980s. But then for a variety of reasons vineyards were removed in favor of other varieties and currently there are less than 20 acres planted in Napa Valley. So, we always take notice when we come across a Chenin Blanc producer; today Napa Valley producers of this wine tend to be small with an eye on heritage as well as making a premium wine from this variety.
The 2021 Shypoke Napa Valley Chenin Blanc is medium gold in color; the bouquet is immediately appealing offering sweet aromas of citrus blossom, and a tropical floral note including jasmine, hints of lemongrass and a lemon/lime zest. It shows a rounded texture across the palate; this wine is built on both richness of flavor complemented by a brightness of acidity. This bottling offers flavors of green apple, pomelo and lime with a zesty long-lasting finish. Only 140 cases were produced. It shows very nice by itself.
Sangiovese is not a commonly grown variety in Napa Valley; the 2022 California Grape Crush Report listed 268.1 tons for District 4 (Napa County). By our own count, there are about 20 Sangiovese producers in Napa Valley. Chianti Station Vineyard in Sonoma County, now owned by Napa based Crimson Wine Group has the oldest Sangiovese in the entire country (Seghesio), with the oldest vines supposedly dating to 1910. The last vintage of the Shypoke Sangiovese was in 2019 as the 1/2 acre of vines they were farming has since been pulled out and replanted to Lagrein (a variety Peter is very familiar with through his work at Turnbull Cellars). This was probably the oldest Sangiovese in Napa Valley with vines that dated back to 1954 the year Peter's grandmother planted them.
The 2019 Shypoke Olivia's Sangiovese is medium to deep ruby; the bouquet is a warm summer afternoon harvesting fruits; blackberries from one of our favorite patches in neighboring Sonoma County and plums from one of our neighbors' Santa Rosa plum trees along with notes of black currant, a subtle hint of stewed tomato, toasted oak, old cedar box, white pepper and dried herbs. The aromatics are somewhat savory and meaty. This very balanced bottling offers flavors of red cherry, red plums and raspberries. Medium bodied, this wine lingers with both red and darker fruits, medium acidity and texturally rounded and very well-integrated tannins. We wrote seamless to describe their textural character. The light savory notes on the bouquet are also echoed on the finish. Easy drinking. This wine was named after Olivia Meyer the great, great granddaughter of Michael and Louise Heitz.
Charbono is known by several names depending on region including Douce noir, Corbeau (particularly in Jura, France) and Bonarda, a popular variety in Argentina. However, it is not so well-known in California; in fact, there are only approximately 70-80 acres of this French variety planted in the state and according to the 2018 Napa County crop report, 44 bearing acres of Charbono grow in the Napa Valley, a significant amount of that near Calistoga. For decades Charbono was one of Inglenook's great wines (at one point they had tens of acres of this variety planted at their estate).
It is a somewhat difficult variety to grow as bud break comes very early in the season, typically before the frost season is over. This grape really thrives in the Calistoga area as during the summer thriving in the 30–40-degree swings in temperature between day and night. We've had a number of Charbono wines produced from the Napa Valley; the Shypoke bottling is one of the nicest. This variety produces wines that are very low in acid as well as in alcohol. However, contrary to belief these factors do not diminish the fruit flavors. Their version is a very full-bodied wine with a nice mouth feel and some spiciness that will pair very well with food.
There are not many Napa Valley producers making wines from Charbono, much less a Charbono Rosé. The 2021 Shypoke Charbono Rosé is medium copper colored in the glass; the bouquet is minerally and highly appealing. It offers aromas of citrus blossom, strawberry, raspberries, red apple, pineapple guava, passion fruit and a note of lemon zest. The brightness of the aromatics match the liveliness of the palate. This wine reveals citrusy flavors including lime juice, mandarin orange, kumquat, limeade along with green apple, wild strawberry and a grassy nuance. Its texture is creamy and supple which nicely balances its energetic acidity. The finish is bright, mouth watering and filled with fruit. There is lots to like about this well-made and affordable rare rosé.
The 2015 Le Corbeau (5-barrel production) is 100% varietal Charbono and means 'the crow' in French. Dark garnet in the glass immediately offers powerful fruit driven aromatics focusing more on darker fruits including plum and blackberry along with black licorice and dark chocolate. Slightly savory and also noticeable are hints of sage and dried rosemary. Mouth filling fruit, seductive and a bit opulent – big but balanced across the palate with supple lighter style tannins. The finish lingers with notes of plum, a slight tartness (red cherry) and a kiss of mocha and baking spices. A fine showing which is fairly polished and doesn't show any of the rustic qualities we have noticed in some of the older Charbono wines from the Napa Valley. 14.1% alcohol. And in choosing a French name for Charbono, Peter honors not only its roots but also his own French heritage.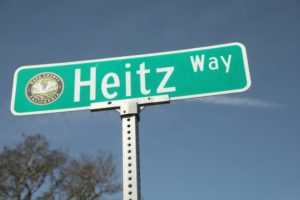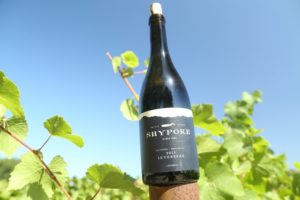 The first Shypoke wines we tasted were with Peter at his home in Calistoga; they were all from the 2005 vintage although we have later tried newer vintages. The Shypoke Petite Sirah is not a big bold Petite Sirah, like a number of wines we have tried from this variety in Napa Valley over the years. Rather, the 2005 Shypoke Petit Sirah is a more elegant wine offering aromas of ripe plums and dark cherries in the nose, blueberries on the palate with a pleasing and not overly tannic finish.
Their Cabernet Sauvignon is the only blend of its kind that we have tried in Napa Valley. Being true to their primary variety, Charbono, naturally they blend Charbono into their Cabernet Sauvignon. The 2005 Shypoke Cabernet Sauvignon has about 10% Charbono in the blend. This is a delightful wine; the Charbono rounds out this wine especially in the mid palate and provides structure to the finish. The finish is slightly smoky & very long.
The Cabernet Sauvignon is clone 337 which as Peter says, "if you were starving in the desert and you had a choice between the 337 clone and nothing to eat, it's a toss-up whether you would select the 337"! This particular clone produces extremely small berries which as a result provide very rich concentrated flavors due to the high skin to juice ratio.
—
Shypoke designs their wines to be consumed at a young age, i.e., now. Compared to typical Napa wine pricing their pricing is very reasonable. Shypoke was one of the very early Napa wineries to donate 1% of their total gross profits to an organization called 1% For The Planet – funds from businesses who participate in this are distributed to organizations protecting the environment worldwide.
The tiny grape harvesting knife on the label is an image based on Peter's grandfather's knife.
Locally, select Shypoke wines can sometimes be found at Backroom Wines in the city of Napa and the Oakville Grocery. For more information and or to join their mailing list, visit: www.shypoke.com