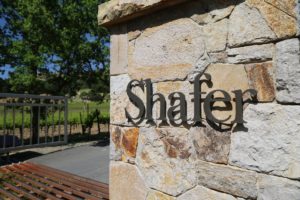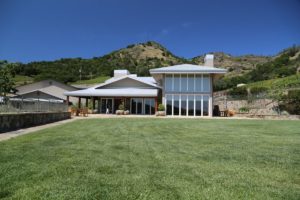 Shafer Vineyards is family owned and dates from 1979. John Shafer founded this winery after a long corporate career in the book publishing industry. This winery is at the high end of a select number of Ultra Premium wineries in the Napa Valley. They define the world quality in everything they do.
As we have noted in descriptions of other premium wineries to sustain quality of wines, you must have excellent vineyard sources, a capable winemaker on staff whose been on board for a long time and retain key employees. All of these factors are sources of continuity and can help establish and maintain consistency in the wine making. This winery is no different in that regard as John's son Doug is the President (used to be winemaker) and the head winemaker is Elias Fernandez; both have been with the winery since 1983 and 1984 respectively.
We briefly met Elias; on this fine first day of summer as he was supervising the arrival of many new French Oak barrels. His attention to detail is commanding in the industry with visual & smell tests of every single barrel that arrives, among other inspections. Some of their wines have interesting stories behind the names. One is called Relentless; this tasty Syrah is named after Elias, their One Point Five is a take on some wineries in which the 2nd generation takes over completely after the first generation founders retire; in this case, Doug is the .5 and John is the 1 as John's never had to hand over this winery to Doug as he joined early on.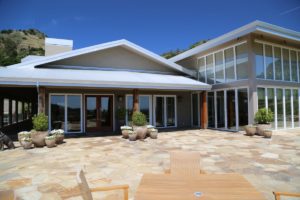 We tried five wines and list three here. The Merlot is big yet at the same time soft and velvety; it is completely in balance. The One Point Five really showcases their Stag's Leap district fruit, the flavors are rich and layered and lead to a finish of great length.
The highest quality fruit comes from the hillsides above the winery and the clusters of grapes are not your typical tightly bunched "pretty fruit". Rather, they are very scraggly containing small grapes and are all spread out with lots of stem material. However, looks are not everything when it come to fruit in the wine industry and their highest quality wine comes from this fruit which forms the basis for their Hillside Select label. One of the characteristics of Stag's Leap Cabernet fruit is its softness and their Hillside Select wine is 100% Cabernet Sauvignon. It does not need to be blended with additional varietals. Early on, some in the wine industry were persistent about questioning how much Merlot went into this wine – none! This is a delicious wine for serious wine enthusiasts and collectors.
More recently Shafer completed a huge remodel and the place looks fantastic. Many solar panels were installed and now cover the roof of the main building.
Note the rusty looking metal till that sits in front of the main stairwell leading up to the office; this was the first till on the tractor John used to ride around in the vineyards. John is now in his 90's (he took up sculpture in his 80's (and tango, but that is another story), and one of his first works is of their wine dog Tucker. This bronze sculpture is located directly next to the main entrance.
Due to the demand for tasting, it is recommended you reserve up to 6 weeks in advance. Tasting is held in a beautiful room in which one side of the room opens accordion style to the outside overlooking a large lawn and vineyards. They offer two tastings per day
Shafer offers two tastings per day and always limits these to no more than 10 people per any visit. They told us over time they have learned that with larger groups over 11 or more, guests tend to be more reserved but with smaller groups more social interaction occurs and guests have an overall better experience. It would be nice if all wineries who conducted tastings had this philosophy.
One episode of Falcon's Crest was filmed here making this one of three Napa wineries that we know of to appear in that show.
Despite being closed to the public, and being a gated winery, Shafer has a refreshing philosophy in allowing those who want to buy wine to drive in to the winery during their normal business hours (not always the case with gated wineries). Usually the gate is open during their weekday business hours.
John Shafer spends a fair amount of time on charity work; he started the Napa Valley Vintners Community Health Center which is home to several health related non profits. Lastly check out John's wine book, Shafer's Line on Wine, a collection of interesting wine trivia (although note this book has not been published for many years). Visit: www.shafervineyards.com
NOTE1: Doug Shafer and Elias Fernandez jointly produce another label called Eighty Four Wines – named in tribute of the year when both began working together at Shafer. These are Napa based, non Cabernet Sauvignon 100% varietal wines – including a very rare for Napa, 100% Albariño, a Malbec and a Petite Sirah.
NOTE2: With his fathers book publishing heritage, perhaps it comes as no surprise that Doug co authored a book in 2012 called A Vineyard in Napa. This excellent read is a detailed look at his fathers life and his decision to move his family across the country to start a new life and career. It describes the Shafer story of their success, many of the 'bumps' in the road they faced over the years, their hard work and valuable contributions to the Napa wine world. Also details Doug and Elias's significant efforts over the years. A highly recommended read. For a limited time, the winery will have copies of this book for sale on the counter next to their reception room.