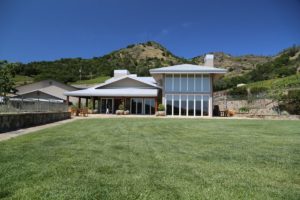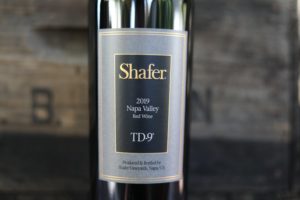 Shafer Vineyards was family owned from 1978 (their inaugural vintage) through early 2022. John Shafer (died 2019) founded Shafer Vineyards after a long corporate career in the book publishing industry, based in Chicago. In 1972 at the age of 48 he and his family moved to Napa Valley and purchased 209 acres which at the time had 30 acres of vines dating from 1922 including some white varieties (none of these old vines remain as they have all long since been replanted). For three years John sold the existing grapes to the Napa Valley Co-op (now the site of Hall Winery, St. Helena). In 1973 and 1974 John planted his first Cabernet Sauvignon on the property.
In 1976 John tasted a 1968 Cabernet Sauvignon (home wine) made by grower Nathan Fay at a party hosted by Nathan and his wife Nellie along with other guests, Joe and Alice Heitz of Heitz Cellars. John was inspired by the richness and depth of this wine and a year later made home wine for the first time from some of the old Zinfandel vines. And this same year he also sold grapes to Spring Mountain Vineyards. Records show that grapevines were first planted on the Shafer property in the 1880s. An article from the August 14, 1885, issue of the Napa Register refers to a sale of 137.5 acres approximately 1.5 miles east of Yountville of which 35 acres were already planted to 'the finest grapes'. The article mentions the buyers were newcomers from New York, Jacob Ohl and Chas. S Lascell.
In February 2022, Shafer Vineyards was sold to Seoul, South Korea based Shinsegae (their liquor and beverage department, L&B), a major company invested in a variety of businesses. The sale was conducted through Starfield Properties, Inc, Shinsegae's U.S. base subsidiary. Shinsegae was founded in 1955 and until 1997 was its parent company was Samsung. Shinsegae is noted for its department stores, including their main branch, which is the oldest department store in Korea, Shinsegae Centum City, which in 2009 was validated as the largest department store on the planet by Guinness Book of World Records, and the impressive Daejeon Shinsegae Art & Science center.
The company also owns e-mart, the largest retailer in the country, golf resorts and hotels. In addition, they were Korea's first credit card company (no longer in that business) and they currently own ebay Korea. This is not their first entry into the wine market; in 2016 the company opened their first Wine & More retail shop in Korea and have since opened additional stores. This is their first investement in the U.S.
This is not the first Korean owned winery in Napa Valley. Reference our notes on DANA Estate for more details. As of the time of this sale, Doug Shafer and Elias Fernandez will both remain with Shafer Vineyards although Doug has stepped back a bit since the sale. And honoring Shafer's continuity and success, Shinsegae has taken a more hands off approach to running the business.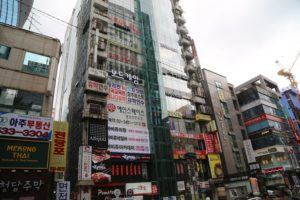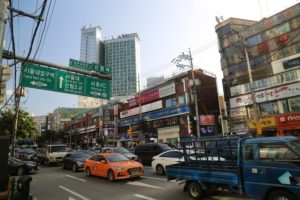 Premium wineries must have excellent vineyard sources; it also helps to have a winemaker who is intimately familiar with one's own vineyards along with retaining key employees on the winemaking side of the operations. All of these factors are sources of continuity and are an integral reason why premium wineries in Napa Valley continue to produce top wines regardless of the vintage. At Shafer a source of pride is the longevity of their employees and their willingness to promote from within the business; John's son Doug was the President (used to be winemaker) from 1994 until 2022 and the head winemaker is Elias Fernandez; both have been with the winery since 1983 and 1984 respectively.
We have briefly met Elias during several tours of the winery; his calmness, humble personality and methodical pace of production that he imparts to his winemaking team cannot be understated. His attention to detail is commanding in the industry with visual & smell tests of every single barrel that arrives, among other detailed inspections. And his obsessiveness with cleanliness within the winery and cellar is equally impressive. Barrels are set on spotlessly clean steel racks, an Airocide PPT machine, originally developed for NASA keeps their 8,000 square foot cave (built in 1991 and houses up to 1,000 barrels) free from airborne pathogens, and the production part of the winery is cleaned at least twice a day.
As of our latest update to this review, Shafer uses barrels from up to 8 different French coopers every vintage. The focus of their barrel program is on medium or medium plus toast. Barrels from one of their coopers, the Vicard Generation 7 are guaranteed to be entirely uniform in their grain and characteristics imparted into the wine based on Near-Infrared Spectroscopy technology which selects staves with similar amounts of tannins within the wood. To have this uniformity within each oak barrel is unusual as most barrels will vary to some degree, even if they are from the same cooper.
Having full control of their cellar operations is extremely important; Shafer Vineyards owns their own bottling line and optical sorter.
Their highest quality fruit comes from the volcanic in origin, very rocky hillsides surrounding the winery (separated into 14 distinctive vineyard blocks); the vines grow very scraggly clusters of tiny grapes rather than the often larger more tightly bunched fruit clusters more common on the valley floor. These clusters have a higher stem to grape ratio. However, looks are not everything when it comes to grapes in the wine industry; these hillside plantings are the foundation for the Shafer Hillside Select bottling.
And while the focus of their red wines is on their Stags Leap estate property, in 1988 they purchased 70 acres on Duhig Road in the cooler Carneros region. They planted this property, the Red Shoulder Ranch, to Chardonnay and it supplies all the fruit needed for their Red Shoulder Ranch Chardonnay. Including their estate vineyard, Shafer owns 6 different vineyard properties in Napa Valley, primarily focused on the eastern side of the valley from their estate property to the south including their most recent acquisition in mid 2022, the 114-acre Wildfoote Vineyards, also in the Stags Leap District. Their total planted vineyard footprint is approximately 250 acres.
In 2016 Shafer Vineyards donated 5 acres of land next to their Borderline Vineyard and Napa River to the Wildlife Rescue Center of Napa County. This parcel is known known as the Shafer Sanctuary and is used by the Wildlife Rescue Center to rehab and eventually release injured wildlife.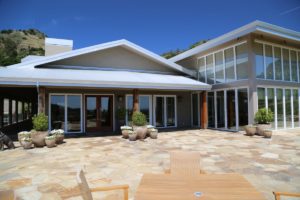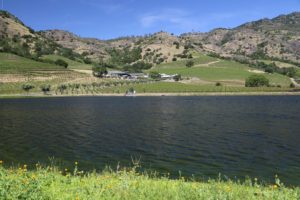 While the winery was completed in 1980 (their first two vintages were produced off site), over the years a number of improvements have been added to the property. Solar arrays were installed in 2008 (one of the early Napa Valley winery solar adopters) and provide all of their electricity needs; panels cover the roof of the main winery building and another array is located on the side of one of their hillsides. A number of years ago Shafer completed a major remodel of the winery including building a larger barrel room.
The rusty looking metal till that that used to sit in front of the main stairwell leading up to the office was the first till from an old TD tractor John used to ride around in the vineyard. John took up sculpture in his 80s (and tango, but that is another story), and one of his first works was created in 2004 of his dog Tucker. This bronze sculpture was located directly next to the main entrance to the hospitality building but in 2022 was moved to the edge of the lawn and assigned its own plaque memorializing this beautiful creature. And we have one Tucker story to share as described to us by one of Shafer's employees. This employee used to work for a wine distributing company and was visiting Shafer during harvest; she was there for a hosted tasting that felt very formal and serious. She recalls spotting Tucker wandering around the crush pad trying to eat grapes. Eventually Tucker wandered over to the tasting and began loudly passing gas. This moment of levity was exactly what the group needed, and the tasting became much more relaxed and enjoyable after everyone enjoyed a good laugh.
Hospitality
Due to the demand for tasting, it is recommended interested parties reserve up to 6 weeks in advance and perhaps slightly more during busy summer and harvest/fall months. Two experiences are offered; the Terrace View Tasting (hosted outdoors outdoors on the terrace featuring current release wines paired with thoughtfully curated light bites which complement all of their wines and expansive views looking south) and the Private Collectors Experience, hosted in the spacious salon in which one side of the room opens accordion style to the outside overlooking the large lawn and vineyards. This tasting is paired with an elevated selection of small bites plus an older vintage of Hillside Select. Gluten free options are available for each of the tastings.
Shafer offers a limited number of tastings per day, typically in the 10am hour with the last tasting at 2pm from Wednesday through Saturday. For many years they limited these experiences to no more than 10 people per any visit and combined groups in one sitting. One of their hospitality team told us that they learned that guests within larger groups of 11 or more tend to be more reserved but with smaller groups more social interaction occurs and guests have an overall better experience. These experiences have since transitioned into private tastings, typically for parties no more than 6 people at a time, although exceptions can always be made.
One Shafer Owner's Manual is provided to each guest during their tasting. This sleek looking booklet outlines the Shafer history including a timeline, vineyards under their ownership and technical details relating to each Shafer wine produced.
One episode of Falcon's Crest was filmed here making these one of three Napa wineries that we know of to appear in that show (the other two being Spring Mountain Vineyards and Stags' Leap Winery). And in 2012 the band Train filmed the majority of their music video, Drive By on the Shafer Vineyards property including their driveway.
Despite being closed to the public, and being a gated winery, Shafer has a refreshing philosophy in allowing those who want to buy wine to drive into the winery during their normal business hours (not always the case with gated wineries). Usually, the gate is open during their weekday business hours.
And a note for wine industry/trade: as of our latest update to this review, Shafer does not provide industry discounts on either tastings or wine purchases.
Select Wines & Winemaking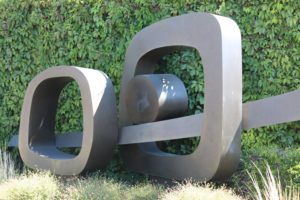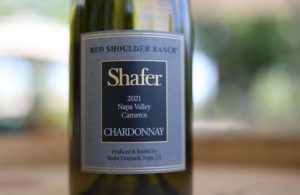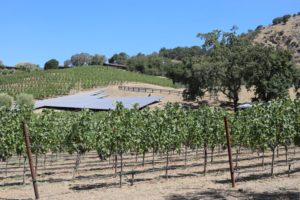 The 2021 Shafer Red Shoulder Ranch, Napa Valley Carneros Chardonnay is medium gold in color. This wine was fermented using indigenous yeast, aged 14 months in 75% new French oak barrels and 25% stainless steel barrels and was not put through malolactic fermentation. The aromatics will immediately attract your attention; they are generous, layered and diverse showing notes of honeysuckle, citrus blossom, guava, pineapple, Golden Delicious apple and subtle notes of vanilla. This wine is rich and intense across the palate with a slight creamy texture; it shows flavors of lemon drop candy, pineapple and passion fruit. Noteworthy is both its intensity of flavor and liveliness from the brightness of acidity, especially on the finish. Despite the higher alcohol (14.9%) this wine has balance. This is one of the straight-up more delicious 2021 vintage Chardonnays we have tried from Napa Valley.
In 1972 John Shafer learned to drive a TD-9 Tractor. This tractor was produced by the International Harvester company only from 1940 to 1956. Shafer's first vintage of TD-9 was in 2017, an homage to both John's willingness to learn a completely new industry when he was almost 50 years of age and his old tractor. The varietal composition differs depending on vintage but is always a blend of Cabernet Sauvignon, Merlot and Malbec. The 2019 Shafer Vineyards TD-9 Red Wine is dark ruby in color; this wine offers a variety of fruit aromatics and barrel influences including of sandalwood, old cedar box, mushroom and dark spices including light notes of crushed peppercorn along with dark plum. Its aromatics are somewhat meaty and savory. The palate offers more dark fruits than red fruits and like the bouquet, is also savory. The tannins are dark with a light gravelly texture and linger with dark spices and a note of dried tobacco leaf. We immediately thought of pairing this with BBQ ribs. This bottling spent 20 months in 100% new French oak barrels.
All of the Shafer wines are accompanied by interesting stories; the One Point Five is tribute to numerous wineries in which the 2nd generation takes over completely after the founding first generation retires; in this case, Doug is the .5 and John was the 1 as John never had to facilitate control of the winery since both have worked in tandem since the early years. The One Point Five showcases their Stags Leap District fruit; in 2019 grapes were used from both from the estate property and the Shafer owned Borderline Vineyard, approximately 2 miles south of the winery. This wine is typically blended with more valley floor fruit rather than hillside fruit with Cabernet Sauvignon leading the blend.
The 2019 Shafer Vineyards One Point Five Cabernet Sauvignon is dark ruby in color with purple tinges on the rim; the bouquet offers an elegant union of both darker and red fruits. It shows aromas of dark cherry, dust, dried herbs, dried tobacco leaf and as it evolves in the glass, offers some notes of milk chocolate. It is slightly savory. The palate offers flavors of red and dark fruit including plum along with a hint of cinnamon stick. The palate lingers savory with gravelly textured earthy tannins, a note of dried tobacco leaf and a brightness of red fruit. Medium acidity. This wine was aged for 11 months in new French oak barrels.
Relentless: this tasty Syrah is named after Elias and his relentless pursuit of perfection. Relentless always leads with Syrah, with a lesser percentage of Petite Sirah completing the blend.
The 2018 Shafer Vineyards Relentless is 76% Syrah and 24% Petite Sirah. This wine is dark ruby in color; the bouquet is pretty and features ripe fruit without the heavy handedness of oak. It smells youthful and offers some floral notes including of violets along with dark plum, licorice, old cedar box, dried herbs and a hint of dust. Let the wine continue to breath – the aromatics will slowly evolve; at the time of our tasting the bouquet opened up to some subtle hints of Asian five-star spice and mocha. The palate showcases plenty of depth with flavors of dark plum and blackberry; it is nearly 16% alcohol, but one doesn't necessarily notice the higher ABV. Lingers with a medium grip of ripe and polished tannins; the somewhat savory finish shows notes of crushed peppercorn. This wine spent 30 months in new French oak barrels and then 8 more months in bottle before being released. Incidentally this is the 20th year vintage of Relentless. In 2012, the 2008 Relentless was named 'Wine of the Year' by Wine Spectator.
One of the characteristics of Stags Leap Cabernet Sauvignon is its softness but with complexity; the Shafer Hillside Select wine is always 100% Cabernet Sauvignon. Shafer learned early on that this wine did not need to be blended with additional varieties. And over the years, John told us that some wine trade folks were persistent about questioning how much Merlot went into this wine, when in actuality it is 100% varietal. This wine has become popular among serious wine enthusiasts and collectors.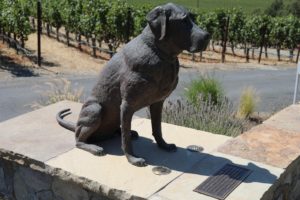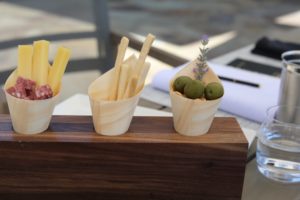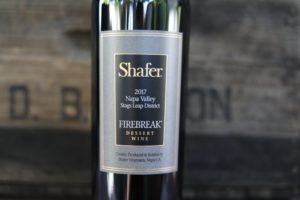 The 2018 Shafer Hillside Select spent 32 months aging in new French oak barrels followed by another 15 months aging in the bottle before being released. This wine is dark ruby in color with purplish tinges on the rim in the glass; the aromatics are deep, dark and well layered including of dark plum, old cedar box and white pepper. The bouquet is immediately riveting because of its layers and balance between both fruit and oak influences. This wine's texture is one of its hallmark attributes; it features gravelly, dusty and long-lasting tannins. It finishes with a note of dried tobacco leaf and a lingering brightness of acidity. Features both power and a simultaneous balance.
The 2012 Shafer Vineyards Hillside Select is dark ruby in the glass; we tasted this wine 10 years post vintage. The bouquet is primarily about the fruit including aromas of plum, raspberry, black cherry and blackberry preserve along with notes of mocha. The light gravelly textured tannins have integrated nicely over the decade. This wine is drinking very well at this age.
A wine that has a small but loyal following is the Firebreak dessert wine. This 100% Cabernet Sauvignon is from the firebreak block of the estate vineyard, first planted in the early 1980s. John decided to plant this part of the vineyard to vines because in 1981 a fire threatened his home located on a knoll just above and to the side of the winery. This vineyard block has since again earned its name; some approximately 3 decades later fire threatened part of the Shafer estate property and this vineyard block along with other vineyards on site protected both the old house and winery.
After the cave was completed, John walked through one day and remarked to his son Doug that no gates had been installed to house some of his own wines. Wood was later added to the sides of a small portal within the cave so that a metal gate could be added; the wood was then covered with shotcrete to make it blend in with the rest of the cave's interior. This small portal (still secured by metal gates) is specifically used for aging this dessert wine.
The 2017 Shafer Vineyards Firebreak Dessert Wine is dark ruby in the glass; the aromatics on this wine needs time to really open. The bouquet offers aromas of cherry liqueur, brown and caramelized sugars along with light touches of toasted oak, mocha and vanilla. The palate offers flavors of baked blackberries, blackberry jelly and assorted berry preserves. This port-styled wine offers plenty of flavor without being heavy. Lingers with light, slightly dusty and well-integrated tannins. It is not overly sweet. It was aged in 100% once-used French oak barrels for 30 months. This wine goes down very easily and very quickly. The finish is quick with not a lot of lingering flavors.
Doug Shafer and Elias Fernandez jointly produce another label called Eighty-Four Wines, named in tribute of the year when both began working together at Shafer. These are Napa based, non-Cabernet Sauvignon 100% varietal wines including a very rare for Napa, 100% Albariño, a Malbec and a Petite Sirah.
—
Other Contributions
With his father's book publishing heritage, perhaps it comes as no surprise that Doug co-authored a book in 2012 called A Vineyard in Napa. This excellent read is a detailed look at his father's life and his decision to move his family across the country to start a new life and career. It describes the Shafer story of their success, many of the 'bumps' in the road faced over the years, their hard work and valuable contributions to the Napa wine world. It also details Doug and Elias's significant efforts over the years. A highly recommended read. For a limited time, the winery had copies of this book for sale on the counter next to their reception room.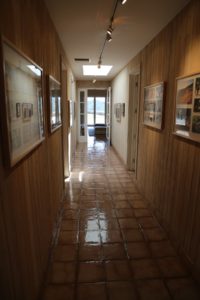 And Doug is contributing valuable oral history to Napa Valley's heritage through his podcasts with well-known winemakers and others who have made valuable contributions in the world of food and wine, primarily to Napa Valley. Called, The Taste with Doug Shafer these podcasts are informal conversations with people that Doug personally knows lasting usually around 60 minutes but up too much longer for select individuals.
John Shafer spent a fair amount of time on charity work; he started the Napa Valley Vintners Community Health Center which is home to several health-related nonprofits. And in 1985 he played an instrumental role in the creation of Stags Leap District becoming an official American Viticultural Area (AVA) – the third of Napa Valley's current 16 sub appellations. And John wrote a wine book, Shafer's Line on Wine, a collection of interesting wine trivia (although note this book has not been published for many years).
Shafer Vineyards offers wines direct through their Hillside List allocation list. And a rarer Napa Valley winery offering is their Standing Allocation; customers choose a customized number of bottles from specific wines, and these are then shipped once a year. Total production varies depending on vintage but is often around 30,000 cases per year. For more information about Shafer Vineyards, to schedule an appointment or to join the Napa Valley Member mailing list or the Hillside Select Member Waiting List, visit: www.shafervineyards.com
CRISP Kitchen & Juice
In 2021 Doug Shafer's wife Annette opened this inviting space next to Sunshine Market in St. Helena. It is open daily from 7am until 6pm (except Sundays). The focus of their menu is on a variety of items ranging from seasonal fruits, salads, bowls, juices & smoothies, a limited number of small production interesting wines and 'grazing boards' with cheeses and charcuteries. A special section contains grab and go items for those in a hurry. In addition to food, a number of wellness items are for sale including oils, creams, and organic shampoo. And Annette informed us that they also offer catering services and some of their clients are wineries and driving companies.
Our favorite place to sit is the small room tucked away on one side of the space. Additional seating includes bar stool and a limited number of tables outside. Note the living decoration on the wall next to the bathroom.
Editor's note:
My visit to Shafer was very early on in this project and was the first really high-end Napa winery I had visited. The folks here were gracious hosts; after I arrived and checked in, unexpectedly I was soon alone upstairs in a private tasting with Napa statesman John Shafer.

John was an accomplished individual with an unbridled passion for life and people which was not tempered, even in his later years.

This tasting was completely intimidating at first; here I was a total novice at this, tasting Shafer's premium wines with the master who has been growing fruit and making wine in the Stags Leap District for many years and whose wines are very well regarded.

As we tasted through the wines, he asked my "educated" opinion about the vintages we were sampling. I vaguely remember stuttering out something like "these are very well-made wines" but was unable to offer up any other introspective or tasting note details based on my untrained palate at the time.

I've thought back on my first visit here a number of times over the years and always treasured the fact John personally took time to conduct this tasting.
Hospitality

Vineyards

Winery/Cave