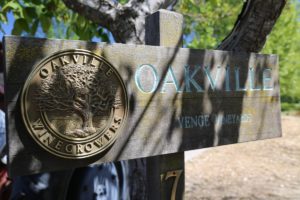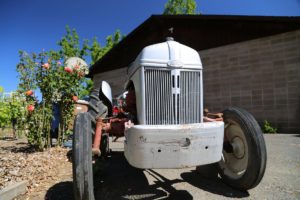 Saddleback Cellars is located off of the small residential & vineyard surrounded Money Road – about 1/2 way down the Oakville Cross Road. Astute followers of Orange County California trivia will note a similarity between this wineries' name and two prominent mountains in the Santa Ana range that have been named Saddleback. In addition, there is a dip in the eastern mountains behind the winery which resembles a horses saddle. Nils Venge, the winemaker and owner was born and raised in Orange County.
Nils purchased this property in the late 1970's. Their first vintage was in 1982. This is how many wineries in lesser known wine regions are; small with a definite agricultural feel rather than the "polished with money" feel you often find at select Napa wineries. When the weather permits the tasting is located mere feet from the grape vines on one of four picnic tables – the front four rows next to the road are actually used in their Pinot Grigio. It is rare in Napa when you find a tasting this close to the actual grape vines!
This is the heart of Oakville – Cabernet Sauvignon country if you will and finding Pinot Gris planted here is a rarity. Pinot Gris is mutant variety of Pinot Noir – if you are here when the grapes have gone through veraison look closely at these grapes. "Gris" means grey in French and the grapes show a noticeable grey skin color and an almost brownish pink tone to the skins. A row of this variety is planted right next to Money Road – before reaching the actual winery.
This is definitely not your "big" bold flashy Napa Valley winery. Often you will spot owner and wine maker Nils Venge here – he tends to spend a lot of his time riding a tractor. Music is a part of an experience here – it is not rock and roll or soothing classical sounds, but rather dominated by old country songs (legends such as Conway Twitty, Earl Thomas Conley, Johnny Cash and others are the mainstay sound during a visit here). And if you need to use the bathroom, you must refer to it as the "John Wayne John" – photos of John Wayne adorn this tiny room along with bleach white skeletons of various dead animal skulls and a special type of repellent from Colonel Bob.
Tastings are personalized and are by appointment as drop ins are strongly discouraged especially when the tastings are outside, as often each group will have their own host and walk ins may disrupt the individual tastings. When the weather is good you rarely find a more personalized tasting at a winery in Napa Valley. The host sits down with you on the picnic tables and answers any questions you may have. When the weather is bad, tastings occur inside the actual winery building which is surrounded by wine barrels and photos on the table of the Nil's dogs. Note the friendly writings that people have left in their guestbook on the counter.
Saddleback owns 17 acres of vineyards at the winery which provide the grapes for a number of their wines.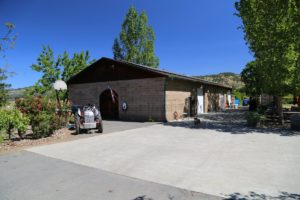 Saddleback makes a large number of wines (some relatively obscure for Napa) for a fairly small winery and each tasting flight typically includes 8 tastings usually starting with the lighter white wines, touching on their Merlot Rose, then finishing with the reds.
Only 50 cases was made of the 2006 Sauvignon Blanc, Sancerre style (Sancerre is a famous white wine producing region in the Loire Valley of France). This is a lighter style wine that sits on the lees for 4 months – lots of lemon, lemongrass and other citrus aromas and flavors with a bit of minerality.
Marsanne is a variety not often associated with Napa wineries – we don't know of any Marsanne vineyards in the Napa Valley and this wine is sourced from the Sacramento Delta region in California's great Central Valley. There is a nice rounded mouth feel to this wine, pears and less mineralities than in the aforementioned Sauvignon Blanc. The 2006 Chardonnay undergoes battonage (the wine is stirred on the lees when it is in barrel) and sees no malolactic fermentation. Offers pleasing toasted almond and melon flavors along with a very viscous mouth feel.
The 2006 Vine Haven Scarlett's Rose, named after a favorite pooch is a rosé of Merlot. This is a delightful summer wine with slight watermelon aromas on the nose. We've climbed and trekked all over the world and the aromas on this wine remind one of the "watermelon algae" you find at elevation in the snow which gives off odors similar to fresh watermelon. Bet you won't see that comparison in any other tasting notes!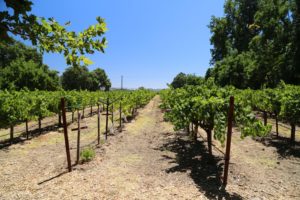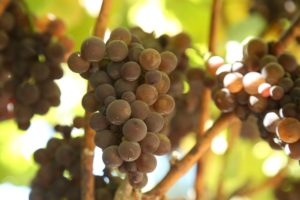 Think the Merlot rosé is nice? Try the actual Merlot. Their wines of this variety tend to show rich fruit dominated bouquets with a rounded mouth feel and hints of chipped chocolate and cherry followed by a note of black pepper towards the finish. The tannins are well structured. Try any vintage of their Cabernet Sauvignon with a bold full of character, Montecristo No. 2 Cuban Cigar.
Their old vine Zinfandel is wildly popular; they tend to pour this last and as one of our pourers indicated, this wine wipes your palate clean and all you remember are the luscious flavors. Perhaps that is why this wine is often sold out. Another very unique wine is their Teroldego, a north-east Italian variety. You won't see this in Napa – they had to source it from nearby Sonoma County. First vintage of this variety was 2012.
While at the nearby Groth Winery, Nils produced the first American Cabernet Sauvignon to have been awarded 100 points by famed wine connoisseur Robert Parker. We have visited Saddleback a number of times; once one of the pourers had just finished up being filmed in PBS's version of "wine survivor" – lots of exciting stories from this TV production.
Want to be part of "The Posse" – join their wine club of this same name and get first access to the "small lots" which are wines usually made in quantities of merely 50 cases. Choose from entry levels appropriately named Deputy, Sheriff or the Marshall.
The electric car plugin on the side of the winery sometimes works.
For more information visit: www.saddlebackcellars.com
The great Saddleback Mountain as taken from Mission Viejo and also from the 73 freeway in Orange County, namesake for this winery