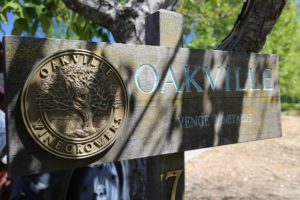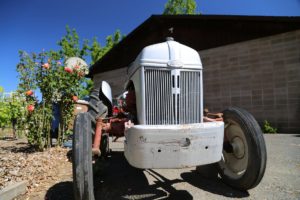 Saddleback Cellars is located off of the small residential & vineyard surrounded Money Road – about 1/2 way down the Oakville Cross Road. Astute followers of Orange County California trivia will note a similarity between this wineries' name and two prominent mountain peaks in the Santa Ana range called Saddleback. In addition, there is a dip in the Vaca mountain range to the east of the winery resembling a horse's saddle. Nils Venge, the winemaker and owner was born and raised in Orange County.
The Venge's roots in the wine industry date back to the 1950s when Nil's father established Vencom Imports in the City of Industry (Los Angeles County), a wine and spirits importing company which specialized in western European wines and spirits. Nils graduated from UC Davis with several classmates who eventually became accomplished winemakers including Justin Meyer (Silver Oak) and Ric Forman (Sterling Vineyards). Nil has been working in the Napa Valley since 1970 – his first job at that time was as a vineyard supervisor at Charles Krug Winery and then helping make wine at Sterling Vineyards for several years in the early 1970s.
Next, he was general manager and winemaker at Villa Mt. Eden in Oakville (site of what is now Plumpjack Winery). After working at Villa Mt. Eden, he became a minority owner and founding winemaker at nearby Groth Winery (also in Oakville); Nils produced the first United States Cabernet Sauvignon to have been awarded 100 points by famed wine writer Robert Parker (the 1985 Groth Vineyards Reserve Cabernet Sauvignon).
Nils purchased the property for what would become Saddleback Cellars in 1976. The first vintage of Saddleback Cellars was in 1982 (when the winery was also built).
This is how many wineries in lesser-known wine regions are; small with a definite agricultural feel rather than the "polished with money" feel often found at select Napa wineries. When the weather permits tastings are located mere feet from the grape vines on one of four picnic tables – the front four rows next to the road are used for their Pinot Grigio. It is rare in Napa when you find a tasting this close to the actual grape vines.
Vencom Labels, author's private collection

This is the heart of Oakville – Cabernet Sauvignon country if you will and finding Pinot Gris planted here is a rarity. Pinot Gris is mutant variety of Pinot Noir – visitors who are here when the grapes have gone through veraison should look closely at these grapes. "Gris" means grey in French and the grapes show a noticeable grey skin color and an almost brownish pink tone to the skins. A row of this variety is planted right next to Money Road next to walnut trees where one can park their vehicle – just before reaching the actual winery.
Saddleback owns 17 acres of property of which about 15 acres are planted to vines. While the majority of the property is planted to Cabernet Sauvignon smaller plantings are of Chardonnay, Merlot, Pinot Blanc, Pinot Grigio and Zinfandel. Their plantings of Chardonnay, Pinot Blanc and Zinfandel are extremely rare in the Oakville appellation.
This is definitely not a "big" bold flashy Napa Valley winery. Often visitors will spot Nils here – he tends to spend a lot of his time riding a tractor. Music is a part of the experience – it is not rock and roll or soothing classical sounds, or contemporary pop crap but rather is dominated by old country songs (legends such as Conway Twitty, Earl Thomas Conley, Johnny Cash and others are the mainstay sound). And if you need to use the bathroom, you should refer to it as the "John Wayne John" – photos of John Wayne adorn this tiny room along with bleach white skeletons of various dead animal skulls and a special type of repellent from Colonel Bob. Not sure if it is actually repellent – we've never been brave enough to try some.
Tastings are personalized and are by appointment as drop ins are strongly discouraged especially when the tastings are outside, as often each group will have their own host and walk ins may disrupt the individual tastings. When the weather is good you rarely find a more personalized tasting at a winery in Napa Valley. The host sits down with visitors on the picnic tables for at least part of the tasting and provides information about the wines and answers questions. When the weather is bad, tastings occur inside the actual winery building which is surrounded by wine barrels and photos on the table of the Nil's dogs. Note the friendly writings that people have left in their guestbook on the counter.
Select Wines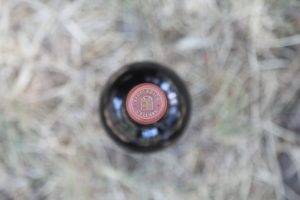 Saddleback makes a large number of wines for a fairly small winery (some relatively obscure for the Napa Valley). Visitors to the property can expect a tasting flight to include several wines usually starting with the lighter white wines, a taste of their current release rosé and then finishing with the reds.
The 2020 Saddleback Cellars Pinot Grigio is medium gold in color; offers aromas of ripe Golden Delicious apple, baked apples, honeysuckle, citrus blossom and mandarin. Simply put, this wine is aromatically generous. Shows a pleasing texture from start to finish – supple with some creamy like notes. Offers flavors of lemon/lime and ginger with some graphite like mineralities. Nicely balanced with a refreshing citrus-like brightness (but not tartness on the finish). Drinks very well by itself but we could also see ourselves pairing this with fresh halibut or scallops.
The 2018 Saddleback Cellars Sangiovese, Penny Lane Vineyard Oakville is pale purple color in the glass; offers a distinctive bouquet including aromas of rhubarb, red cherry cola, cranberry, currant, stewed tomatoes and a strawberry leaf like stem note. These aromatics are complemented by notes of peppercorn and cedar (but the pepper characteristic that is so often inherent in this variety, does not dominate in this particular wine). A brightness persists along with a savory quality embracing both spices, cedar and darker, medium bodied tannins. This is mouthwatering deliciousness that goes well with a thin-crust Ducati Pizza from Tra Vigne in St. Helena!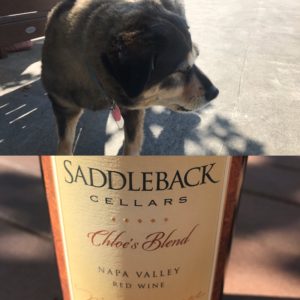 The 2017 Saddleback Cellars Chloe's Blend Napa Valley Red Wine (named after a winery dog of course) is medium to dark ruby in color; features a lovely bouquet with an appealing diversity of aromatics including not only fruit but dessert spices. Shows dark cherry, mocha, a cedar/brown chocolate nuance and deep into the aromatics a kiss of dried tobacco leaf and dried herbs. Shows mouth filling opulence across the palate showing more dark fruits than red fruits – including boysenberry and blackberry. Lingers with dark and spicy medium bodied tannins – somewhat gravelly in their textural feel. Don't need to really examine this wine; simply enjoy it for what it is – fun and easy drinking wine with some complexity. This is a blend of 85% Cabernet Sauvignon 6% Merlot, 6% Zinfandel and 3% Petite Sirah.
The 2016 Saddleback Cellars Cabernet Sauvignon, Oakville is dark ruby in the glass; shows plenty of fruit on the bouquet including blackberry, boysenberry, dark chocolate, cedar, mushroom and leather. But the ripe fruit dominates the aromatics. The intensity of fruit on the nose continues on to the palate. Juicy, savory and mouthwatering, this wine over delivers for the price. The dry medium-bodied tannins persist for some time along with notes of dried tobacco leaf. Shows plenty of character on the finish and is a wine we want to either pair with a rib-eye steak or a Montecristo No. 2 Cuban Cigar … or both!
The 2006 Vine Haven Scarlett's Rosé, named after a favorite pooch, is a rosé of Merlot. This delightful summer wine shows slight watermelon aromas on the nose. We've climbed and trekked all over the world and the aromas on this wine remind one of the "watermelon algae" found at high elevation living in residual snow or glaciers which gives off odors similar to fresh watermelon. Bet you won't see that comparison in any other tasting notes.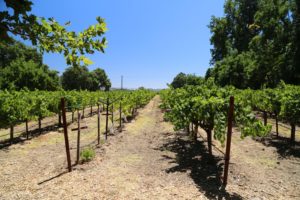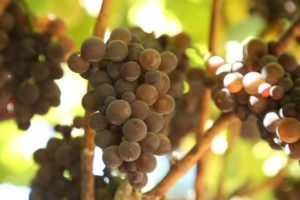 Think the Merlot rosé is nice? Try the actual Merlot. Their wines of this variety tend to show rich fruit dominated bouquets with a rounded mouth feel and hints of chipped chocolate and cherry followed by a note of black pepper towards the finish. The tannins are well structured.
Their old vine Zinfandel is wildly popular; they tend to pour this last and as one of our hosts indicated during one of our early visits, this wine wipes your palate clean and all you remember are the luscious flavors. Perhaps that is why this wine is often sold out. Over the years, Saddleback Cellars has produced wines from unique varieties – most typically sourced from outside Napa Valley including Marsanne and Teroldego (these wines are no longer being produced).
Saddleback, Orange County
Orange County's iconic geographical feature, Saddleback can easily be seen from a number of cities in the county and while driving including some excellent views from the 73 freeway. The namesake for Saddleback Cellars features two peaks, the tallest in Orange County, Santiago at 5,689 feet (with a dusting of snow on top every once in a while, during winter) and Modjeska Peak, the second tallest at 5,496 feet. Santiago Peak is named for Santiago Creek, its headwaters begin on the mountain and eventually flow into the Santa Ana River. Modjeska is named for Helena Modjeska, a Polish actor who later in life lived in Orange County.
Hikers and bikers can access the tops of either summit – the Holy Jim Trail leads from the western side of the Santa Ana Mountains and is about 16 miles in length. The Holy Jim Fire closed this trail for two years from 2018 through 2020. Alternatively, visitors can access several dirt roads leading to the summits – including from Riverside County from off of the 15 freeway through a residential neighborhood just south of Temescal Valley. A semi-4wd road leads to a gate – from here it is about a 11-mile one way hike or bike ride to the summit of Santiago Mountain – with significant elevation gain on this steep forest-service road.
As part of our efforts to visit any place or space connected to any Napa Valley based wineries/producers we successfully reached the summit of Santiago Peak – biking in from the Riverside County side. This dirt fire road (Indian Truck Trail) is nearly all uphill for about 11 miles – the first several miles are very steep. Eventually one reaches Main Divide Road (simply referred to as Main by hikers and bikers), the summit saddle road. From here one turns left and can continue down Main Divide Road eventually reaching other Forest Service roads – or turning right will lead to the top of Santiago Peak.
Our ride was in mid-April and remarkably there were still some patches of snow on the north side of the road just below the peak (probably the only natural fallen snow in all of Orange County at that time!) Santiago Peak is covered with numerous antennas and radio towers – and due to its elevation provides radio coverage over parts of 5 counties. From the top and near the summit, on a clear day, there are excellent views looking far out over the Inland Empire including prominent mountains like San Gorgonio Mountain, San Jacinto Peak, and Mount San Antonio.
—
We have visited Saddleback Cellars a number of times; once one of the hosts had just finished up being filmed in PBS's version of "wine survivor" – lots of exciting stories from this TV production.
Want to be part of "The Posse" – join their wine club of this same name and get first access to the "small lots" – wines usually made in quantities of merely 50 cases. Choose from entry levels appropriately named Deputy, Sheriff or the Marshall.
The electric car plugin on the side of the winery sometimes works, or maybe it used work at some point.
Saddleback Cellars is one of the few Napa Valley wineries that legally can allow guests to picnic on the property. Guests should let the winery staff know ahead of time when making their reservation that they will be doing so. A very popular picnic option is to stop by the nearby Oakville Grocery prior to a tasting here. Sometimes we have actually seen all of the picnic tables completely occupied with guests who have Oakville Grocery bags in their possession!
For more information or to schedule an appointment, visit: www.saddlebackcellars.com