Rutherford Hill Winery (founded 1972) is located about a mile east off of Silverado Trail at the end of the same road that winds past the famous pricey Auberge du Soleil hillside resort & spa. Their motto is "Life looks better from Rutherford hill" and could easily be "Life looks better from Rutherford Hill drinking Merlot"! This winery is a leader in the development of California planted Merlot and today this varietal comprises more than 70% of their entire production. Conditions near the winery closely resemble the Pomerol Merlot growing region in France.
On a clear day there are certainly stunning views overlooking the valley floor, rolling hills, and the opposite Mayacamas mountains from near the main wooden building. They produce in the vicinity of 100,000 cases of wine a year, so this is not a small operation. The Terlato Family owns Rutherford Hill; they run a large wine import business out of Chicago and they also own Chimney Rock south of here along the Silverado Trail.
Their tasting room underwent major renovation in early/mid 2007 and during this time the tasting room was located outside with many heat lamps nearby! Fortunately the room has been completely finished and is now open; the rectangular bar serves all sides. Rutherford Hill makes a large variety of wines including Merlot, a Rose of Merlot and a Reserve Merlot. Be sure to also try their Winemaker's blend, a red wine that typically includes a number of the Bordeaux varietals. Their limited production label features wines produced in small quantities of course, but also wines often used in blending such as Petit Verdot, Malbec and Cabernet Franc. We enjoyed their delicious 2004 Zinfandel Port because its not overly sweet but packs concentrated fruit aromas and flavors.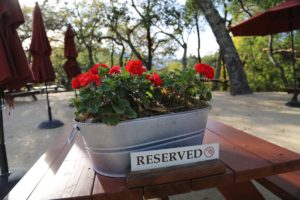 Many Napa wine caves are very similar in appearance; barrels of wine will be stacked up inside gunnite coated (type of sprayed on concrete) tunnels. The caves here are no different however what sets them apart is that they are one of the oldest of the "modern caves" built in the Napa Valley. In addition, the tunnels are very wide, and tall and extend for almost a mile. As a result, their cave tours are extremely popular during all times of the year, but especially during harvest. Allow an hour for the tasting combined with the tour. The tour is general & introductory and is very good for someone who is fairly new to wine tasting.
Daily tours are given 3x a day and accommodate up to 30 guests so if you are visiting during a 'slow' time you may be able to reserve tour space that day by buying a "tour pass" from their tasting counter. Merlot blending seminars and a variety of cave and other meals can be reserved On a limited basis. Also check out the nice secluded shaded Oak Grove Picnic area, reserved for guests of the winery. We should also mention that for Napa quality, their prices are rather reasonable. Visit: www.rutherfordhill.com
NOTE: this review has been identified as needing a major update.