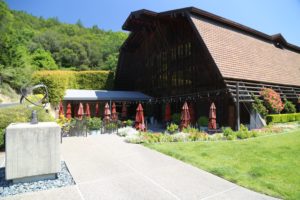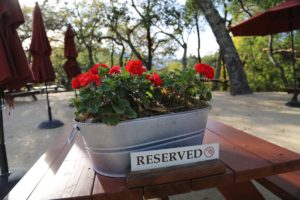 Rutherford Hill Winery (founded 1972) is located about a mile east off of Silverado Trail at the end of the same road that winds past the luxurious Relais & Châteaux Auberge du Soleil hillside resort & spa. Rutherford Hill's motto is "Life looks better from Rutherford hill" and could easily be "Life looks better from Rutherford Hill drinking Merlot"! This winery is a leader in the development of California planted Merlot and today this variety comprises a large portion of their entire production. Conditions near the winery somewhat resemble Pomerol (the Right Bank in Bordeaux) – a prominent region for growing Merlot among other varieties in France. Besides the winery property, they also own property in Pope Valley to the east (still in Napa County).
Rutherford Hill is one of the older wineries in all of the Napa Valley – having been founded in 1972 (making them among the oldest 30 still-existing wineries in the Napa Valley who have been producing continuously since 1972 or earlier). The property has had three owners during its lifetime – for a short time the winery was owned and operated by Pillsbury Company (the same company that made the Pillsbury dough-boy famous). They called the winery Souverain of Rutherford.
In 1976, a family with extremely deep roots in the Napa Valley and significant connections and contributions to the Napa wine world, the Jaegers led an investment group and in purchasing the winery and renamed it to Rutherford Hill. They ran the winery for some 20 years (significantly increasing production – the height of the production of Rutherford Hill was around 150,000 cases annually – today they produce about 40,000 cases annually). In 1996 the Jaegers sold the winery to the Terlato Family, based near Chicago.
The Terlato Family operate a sizable wine focused company (Terlato Wine Group) which includes both winery and vineyard ownership, wine import and export and wine marketing and sales. Besides owning Rutherford Hill (their first winery purchase), they also own Chimney Rock Winery, located just to the south of here next to the Silverado Trail, produce a very limited high end wine from Napa Valley called Episode, own Klipson Vineyard in the state of Washington's Red Mountain AVA and are partnered in Domaine Terlato & Chapoutier in Australia.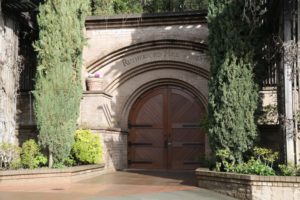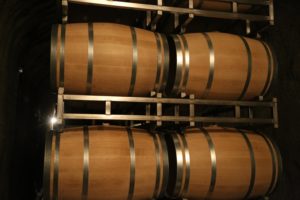 Still very much family owned, the company was led by visionary Anthony Terlato for many years (he died in 2020 and today his sons Bill and John are carrying on the family business). Anthony got his start in the world of wine in 1955 working at his father's wine & spirits shop in Chicago, Leading Liquor Marts. Over the years he has played a prominent role in a number of wine related businesses including wine importing – focusing on Italy initally. Often called the 'father of Pinot Grigio" Anthony was responsible for introducing many American consumers to this variety for the first time. Although as a side note – separately, David Taub of Taub Family/Palm Bay International, arguably was also similarly responsible for his role in bringing Pinot Grigio to the American market.
The winery building was in part constructed from recycled old railroad ties. Woodpeckers have an appetite for parts of the outside wood and during your visit, you might hear hawk calls being played on outside speakers.
On a clear day there are certainly stunning views overlooking the valley floor, rolling hills, and of the Mayacamas Mountains on the opposite side of the valley.
The Olive Grove
And take note of the olive orchard – the trees look quite old and they are. But unlike many new Napa wineries who bring in old olive trees and replant them on their sites, many of the trees in this grove has been here for more then 100 years old and a number of the trees are original plantings. Visitors can take a stroll through part of the total 6 acre grove using the gravel lined path near the picnic area. This grove contains more then 200 hillside trees and the oil produced from these trees is sold in the tasting room.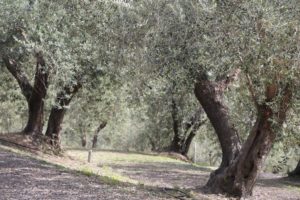 And this grove has additional more recent history – Lila Jaeger restored some of the trees and produced her first commercial olive oil from the grove in 1991 under the Jaeger Family Olive oil label. Lila (now deceased) also founded the California Olive Oil Council in 1992. While the Jaeger Family olive oil is no longer produced from this particular grove, their award winning olive oil continues to be produced. So you can see this grove is quite special for a number of reasons.
Select Wines
Rutherford Hill makes a large variety of wines including Merlot, a rosé of Merlot and a Reserve Merlot. Be sure to also try their Winemaker's Blend, a red wine that typically includes a number of Bordeaux varieties. Their limited production Winery Exclusive wines tend to be produced in small quantities, but are also wines from varieties often used in blending such as Petit Verdot, Malbec and Cabernet Franc.
And what is highly rare for a Napa winery – they often have certain older vintages for sale found under their library wine selection.
NOTE: tasting notes coming by end of 2020.
Hospitality
The tasting room while spacious can get crowded at times – the rectangular bar serves all sides. Tasting space is also located directly outside the tasting room under a canvas type tent; this is open year round and during the winter or colder days there is a liberal use of heat lamps (along with faux fires also providing heat). Unlike many wineries in the valley, Rutherford Hill provides bottle service – and guests can elect to order and enjoy a bottle of wine rather then doing a normal tasting flight.
Many Napa wine caves are very similar in appearance; barrels of wine will be stacked up inside gunnite coated (a type of sprayed on concrete) tunnels. The caves here are no different, however what sets them apart is that they are one of the oldest of the "modern caves" built in the Napa Valley (dating from the mid 1980's). In addition, the tunnels are both wide and tall and extend for almost a mile. We were told up to 8,000 barrels are stored within the cave at any one time. As a result, their cave tours are extremely popular during all times of the year, but especially during harvest.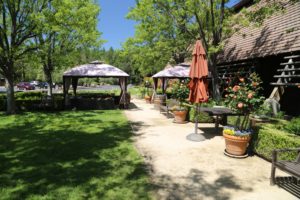 We have taken their cave tour several times – usually allow 90 minutes to 2 hours for the full tour + tasting experience. The tour is extremely general in its presentation of wine related knowledge and best for someone new to wine who wants to combine wine education with Napa history, taste some well made wines at reasonable (for Napa) price points, with a cave experience coupled with some interesting views of the valley from a hillside location.
During the tour you will try a barrel sample (usually of a Merlot) and visit the primary hospitality cave room – which has been used in several TV culinary shows. This room can also be reserved for special events (during one of our visits it was being used as part of a corporate retreat) or even as a proposal spot.
Daily tours are given 3x a day on the weekdays and 4x a day on weekends and accommodate up to 15 guests so if you are visiting during a 'slow' time you may be able to reserve tour space that day by buying a "tour pass" from their tasting counter. Merlot blending seminars and several cave experiences and other meals can be reserved on a limited basis. Also check out the private shaded Oak Grove Picnic area, reserved for guests of the winery – with great views of the valley through the trees.
—
We should also mention that for Napa quality, their prices are rather reasonable. For more information and to join one of their wine clubs, visit: www.rutherfordhill.com