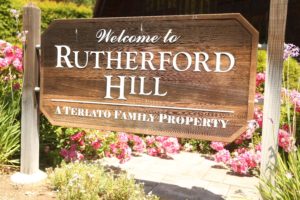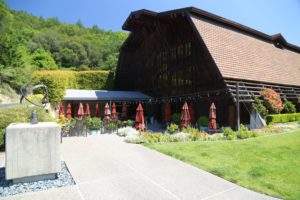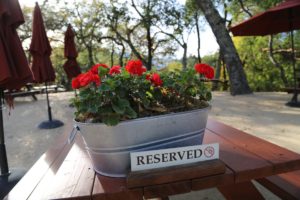 Rutherford Hill Winery (founded 1972) is located about a mile east off of Silverado Trail at the end of the same road that winds past the luxurious Relais & Châteaux Auberge du Soleil hillside resort & spa. Rutherford Hill's motto is "Life looks better from Rutherford hill" and could easily be "Life looks better from Rutherford Hill drinking Merlot"! This winery is a leader in the development of California planted Merlot and today this variety comprises a large portion of their entire production. Conditions near the winery somewhat resemble Pomerol (the Right Bank in Bordeaux) – a prominent region for growing Merlot among other varieties in France. Besides the winery property, they also own property in Pope Valley to the east (still in Napa County).
Rutherford Hill is one of the older wineries in all of Napa Valley having been founded in 1972; they are among the oldest 30 still-existing wineries in Napa Valley who have been producing continuously since 1972 or earlier. The winery building was constructed in 1968 by Joseph Phelps of Hensel Phelps Construction Company. The property has had three owners during its lifetime – for a short time the winery was owned and operated by Pillsbury Company (the same company that made the Pillsbury dough-boy famous). They called the winery Souverain of Rutherford.
In 1976, a family with extremely deep roots in the Napa Valley and significant connections and contributions to the Napa wine world, the Jaegers led an investment group and in purchasing the winery and renamed it to Rutherford Hill. Several plaques on the wall near the entrance to the tasting room list the names of the general and limited founding partners and others who have spent at least 10 years on their winemaking team. Founding winemaker & one of the early partners Phil Baxter was at Rutherford Hill for 10 years.
The Jaegers operated the winery for some 20 years and significantly increased production. The height of production at Rutherford Hill was around 150,00 cases annually; today they produce about 40,000 cases each year. In 1996 the Jaegers sold the winery to the Terlato family, based near Chicago; they are still the current owners.
The Terlato family operate a large, historically rich and significant wine focused company (Terlato Wine Group) which includes both winery and vineyard ownership, wine import and export and wine marketing and sales. This multi-generational company imports wines from around the world. Besides Rutherford Hill (their first winery purchase), they also own Chimney Rock Winery, located just to the south of here next to the Silverado Trail, produce a very limited high end wine from Napa Valley called Episode, produce Napa and Sonoma Wines under the Terlato Family Vineyards brand, own Klipson Vineyard in the state of Washington's Red Mountain AVA, own the majority of Sanford Winery in Lompoc, Friuli Colli Orientali, Italy and are partnered in Domaine Terlato & Chapoutier in Australia among many other partnerships, brands and holdings.
Still very much family owned, the company was led by visionary Anthony Terlato for many years (he died in July 2020) and today his sons Bill and John are carrying on the family business. Anthony got his start in the world of wine in 1955 working at his father Salvatore Terlato's wine & spirits shop in Chicago (opened in 1955) called Leading Liquor Marts and then for his father-in-law Anthony Paterno at Pacific Wine Company. Over the years he has played a prominent role in a number of wine related businesses including wine importing – initially focusing on Italy. Often called the 'father of Pinot Grigio" Anthony was responsible for introducing many American consumers to this variety for the first time. Although as a side note – separately, David Taub of Taub Family/Palm Bay International, arguably was also responsible for his role in bringing Pinot Grigio to the American market.
A highly recommended read for enthusiasts of Rutherford Hill Winery is Taste, a Life in Wine by Anthony Terlato. He describes his early upbringing, his fierce work ethic supported by strong family ties and his remarkable success and accomplishments in more than 50 years of working in the wine industry. His decisions and timing helped launch Lancers Rosé in Chicago, played an integral part in the success of Samuel Adams, Markham Vineyards and numerous other wineries and brands. And for culinary enthusiasts, this book is sprinkled with select family recipes (Italian cuisine of course).
The Olive Grove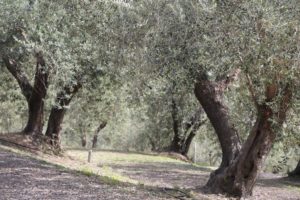 And take note of the olive orchard – the trees look quite old, and they are. But unlike many new Napa wineries who bring in old olive trees and replant them on their sites, many of the trees in this grove has been here for more than 100 years old and a number of the trees are original plantings. Visitors can take a stroll through part of the total 6-acre grove using the gravel lined path near the picnic area. This grove contains more then 200 hillside trees and the oil produced from these trees is sold in the tasting room.
And this grove has additional more recent history – Lila Jaeger rejuvenated some of the trees and produced her first commercial olive oil from the grove in 1991 under the Jaeger Family Olive oil label. Lila (now deceased) also founded the California Olive Oil Council in 1992. While the Jaeger Family olive oil is no longer produced from this particular grove, their award-winning olive oil continues to be produced. So, you can see this grove is quite special for a number of reasons.
Select Wines
Rutherford Hill produces a wide variety of wines including their flagship varietal – Merlot, a rosé of Merlot and a reserve Merlot. The limited production Winery Exclusive wines tend to be produced in small quantities but are also wines from varieties often used in blending such as Petit Verdot, Malbec and Cabernet Franc.
The inception of a wine called Ian Tiago involves an engaging story. Former Rutherford Hill winemaker Marisa Taylor discovered that she was pregnant around the same time as her assistant winemaker at the time, Ana Diogo-Draper who since became Director of Winemaking at Artesa Winery. Ana is from Portugal. In a roundabout way, with encouragement from the Terlato family, both women decided to honor both their sons who were born within weeks of each other and their respective heritage with a red blend, 50% Cabernet Sauvignon and 50% Malbec. This was a wine that was intended to be made only once but became popular so now it is produced every year and is always the same blend. The first vintage of this wine was in 2009.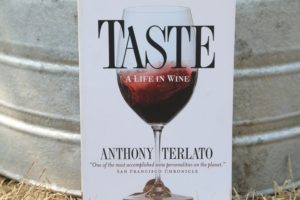 The 2016 Rutherford Hill Ian Tago is dark ruby in color; it shows a sweetness of fruit on the bouquet including black cherry and plum. Hints of cedar and a very subtle note of jalapeno pepper. Slightly savory in its aromatics. Very balanced – shall we say, a crowd pleaser. Plush with a suppleness from start to finish. Flavors of licorice and cherry. A hint of vanilla on the back of the palate along with crushed pepper corn. The tannins are well integrated – finer in their feel while still retaining a bit of tightness in their youth.
The 2012 Terlato Family Vineyards Hill Cardinales' Peak is a Bordeaux styled red blend. Offers pretty aromatics of ripe raspberry, red currant and chocolate covered cherries. Very food friendly with its energetic vibe of higher acid. Balanced with flavors of cranberry and red cherry. A tartness on the finish – with nicely integrated tannins. This wine has loads of life ahead of it – we tasted it 8 years after vintage, and it seemed almost like a younger wine.
There are not many Napa Valley wineries who produce a 100% varietal Petit Verdot. The 2016 Rutherford Hill Petit Verdot offers a diversity of aromas with plenty of fruit including a nice union of plum, red cherry and raspberry, along with black licorice, dried rose petal, dried herbs, dust and hints of pepper. Somewhat savory in its aromatic presentation. Red fruit across the palate with still tight somewhat astringent chewy tannins.
The 2018 Rutherford Hill Chardonnay was sourced from Carneros in the southern part of the Napa Valley. This wine is pale golden in the glass – shows a raciness on the bouquet that we sometimes but don't usually find with Napa Valley wines from this varietal. As the wine breathes, opens to aromas of honeysuckle with hints of dried straw. Nice viscosity – almost oily in its textural feel. Flavors of green apple and hints of popcorn (a butter note we didn't smell on the bouquet). Flavors of mandarin, some mineral nuances – lingers with a lemon/lime note.
And what is highly rare for a Napa winery – they often have certain older vintages for sale found under their library wine selection.
Hospitality
The tasting room while spacious can get crowded at times – the rectangular bar serves all sides. Tasting space is also located directly outside the tasting room under a canvas type tent; this is open year-round and during the winter or colder days there is a liberal use of heat lamps (along with faux fires also providing heat). Unlike many wineries in the valley, Rutherford Hill provides bottle service – and guests can elect to order and enjoy a bottle of wine rather than doing a normal tasting flight.
Many Napa wine caves are very similar in appearance; barrels of wine will be stacked up inside gunnite coated (a type of sprayed on concrete) tunnels. The caves here are no different, however what sets them apart is that they are one of the oldest of the "modern caves" built in the Napa Valley (dating from the mid 1980s). In addition, the tunnels are both wide and tall and extend for almost a mile. The cave is approximately 41,00 square feet; we were told up to 8,000 barrels are stored within the cave at any one time. As a result, their cave tours are extremely popular during all times of the year, but especially during harvest.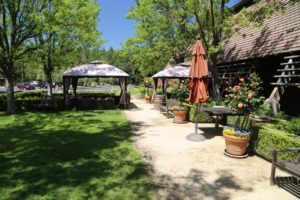 We have taken their cave tour several times – usually allow 90 minutes to 2 hours for the full tour + tasting experience. The tour is extremely general in its presentation of wine related knowledge and best for someone new to wine who wants to combine wine education with Napa history, taste some well-made wines at reasonable (for Napa) price points, with a cave experience coupled with some interesting views of the valley from a hillside location.
During the tour you will try a barrel sample (usually of a Merlot) and visit the primary hospitality cave room which has been used in several TV culinary shows. This room can also be reserved for special events (during one of our visits it was being used as part of a corporate retreat) or even as a proposal spot. And as of our latest update to this review, Rutherford Hill also offers an ATV tour of their hillside vineyard, followed by tour to their cave and a tasting. Allow up to 2 hours for this experience.
Daily tours are given 3x a day on the weekdays and 4x a day on weekends and accommodate up to 15 guests so if you are visiting during a 'slow' time you may be able to reserve tour space that day by buying a "tour pass" from their tasting counter. Merlot blending seminars and several cave experiences and other meals can be reserved on a limited basis. Also check out the private shaded Oak Grove Picnic area, reserved for guests of the winery – with great views of the valley through the trees.
The winery building was in part constructed from recycled old railroad ties. Woodpeckers have an appetite for parts of the outside wood and for a while, the sounds of woodpecker distress calls were being played on outside speakers to discourage the birds from landing. During visits when the calls were not playing, we often noticed woodpeckers hanging out around the wooden building. As of our latest visit to the winery, shiny mylar objects hang and rotate from the exterior of the roof and the bird calls have been discontinued.
On a clear day there are certainly stunning views overlooking the valley floor, rolling hills, and of the Mayacamas mountains on the opposite side of the valley.
And visitors to the property will never see the huge array of solar cells mounted on the hillside behind the winery but surrounded by forest vegetation.
—
We should also mention that for quality of wines, their prices have always been reasonable. For more information and to join one of their wine clubs, visit: www.rutherfordhill.com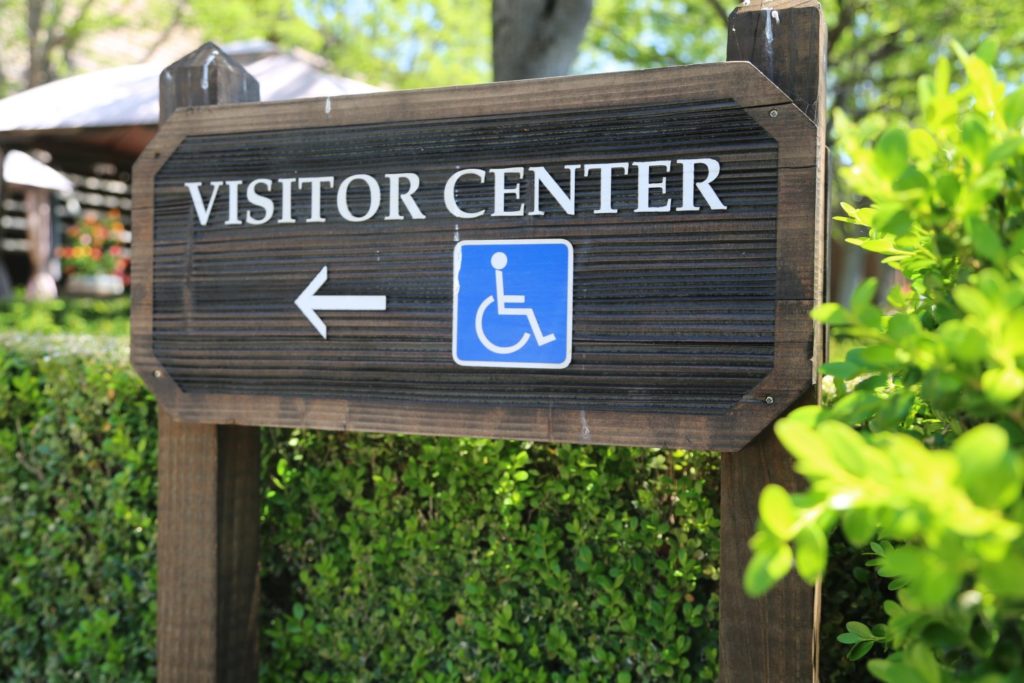 OTHER TERLATO DOMESTIC AND OR HISTORICAL SPACES
NOTE: as time and budget permits, we will follow the heritage of the Terlato family to various places and spaces – and will significantly update this review accordingly over the next several years.
Sanford Winery
The roots of Sanford Winery date back to 1971 when friends, botanist Michael Benedict (who is still involved) and Richard Sanford planted their first Pinot Noir vines in what is the Benedict & Sanford Vineyard in the Santa Rita Hills. Richard and Michael bonded over their mutual love of sailing and would often go sailing off the central California coast. They made their first wine in 1975 and their first commercial release was the 1976 vintage, a Pinot Noir bottled under the label, Sanford & Benedict. After Richard sold his interest in the operations in 1980, he went on to found Sanford Wines, Michael continued to run Sanford & Benedict – the existing winery was completed in 2001. The Terlato family became partners in 2002 and majority owners and managing partners by 2006.
The entire property is about 1,100 acres with some of their hillside land within the Santa Barbara Land Trust. Total property planted to vine is around 260 acres separated into two contiguous vineyards, the historic Benedict and Sanford Vineyard located within a very short drive of the winery and the La Rinconada Vineyard (first planted in 1995) – with both valley floor and hillside plantings next to the winery and hospitality space. The original barn/winery where the first vintages were produced is still located at the back of the Benedict and Sanford Vineyard property. The current production facility is located on the La Rinconada Vineyard (near the hospitality building).
The oldest Pinot Noir vines in all of Santa Barbara County grow at the Benedict and Sanford Vineyard. They were planted in 1971 and celebrated their 50th anniversary in 2021. For reference the oldest Pinot Noir vines in all of Napa County are at the Haynes Vineyard in Coombsville – still growing and dating from 1967/1968. What is unusual about the Pinot Noir vines at the Benedict and Sanford Vineyard is they are all own rooted (not on a rootstock). Today 51 acres of these old vines are still in production. The soils in this vineyard were exposed about a million years ago due to a landslide – the vineyard is primarily clay loam soils (with plenty of calcium) with the rock materials being fractured shale and chert.
Each vineyard site is organized into at least 20 different blocks of which there are 10+ different clones.
Santa Rita Hills is located in a rare for the state of California east-west orientation Traverse Mountain Range. We first heard about this mountain range when we were on a field trip for a plant taxonomy class hosted by California Polytechnic State University professor, Dr. David Keil. Based on the orientation of this mountain range and the proximity of Sanford Vineyards to the Pacific Ocean (about 10 miles as the crow flies, inland – their property sees a significant amount of fog and cooling breezes – ideal conditions for varieties such as Chardonnay and Pinot Noir. During our visit at the end of May, it was about 54 degrees, foggy and extremely windy in the morning – after our tasting we drove about 20 minutes away to warm sunshine and temperatures of around 75 degrees.
Santa Barbara County has a significant and remarkable number of microclimates from places like at Sanford Vineyards where their lower vineyards need wind fans to mitigate frost during certain times of the year, to the hills directly above the Pacific Ocean near Goleta where farms are commercially growing sub-tropical and tropical products such as coffee bushes, dragon fruit, cherimoyas, longans and ice cream beans (inga edulis).
The quintessential day at Sanford Winery is being surrounded by fog draped hillsides with a brisk breeze accentuating the already cold temperatures; this is a place where you truly feel the terroir as you taste it. All the wines we sampled showcased the Santa Rita Hills brightness.
The 2016 Sanford and Benedict Pinot Noir is light to medium ruby in the glass; this wine smells like a Pinot Noir should – and if one has experience tasting wines from this variety, will immediately recognize this as Pinot Noir. Focused on the fruit on the bouquet with higher toned aromatics including red cherry, cranberry and currant. Also, a hint of mint or menthol, and parchment paper. Balanced and bright across the palate with a subtle rounded texture complementing. Very soft tannins. Finishes cleanly – this wine is all about the typicity of this variety.
The 2016 Sanford Vineyard La Rinconada Pinot Noir are sourced directly from the vines in La Rinconada Vineyard growing near to the tasting room. This is a barrel selection from the best blocks within this vineyard. Shows some slight spice influence on the nose including white pepper and a very subtle hint of dried tobacco leaf. Also red licorice. The higher acid is a hallmark of this wine – bright and salivating with flavors of cranberry and currant. The tannins show a soft touch with some darker notes.
The 2015 Sanford Vineyard Founders' Vines Pinot Noir is sourced entirely from the 1971 planting of Pinot Noir in the Sanford and Benedict Vineyard. Light ruby in color, initially shows a bit of Pinot Noir 'funk' with mushroom and some earth notes, but these aromas are not overwhelming. Soon the bouquet opens to additional aromas of red licorice, a hint of chocolate and more fruit. Shows a little bit savory, especially as it breathes more. Aromas of raspberry and red currant – reminds us of shopping for fresh red currants at outdoor markets in Germany. Packed with flavor yet delicate at the same time. Nicely balanced between acid that causes one to salivate versus acid that shows as tart. This is their most limited offering of any of their Pinot Noir wines, only 3 barrels produced.
The 2018 Sanford Vineyard La Rinconada Chardonnay went through 100% malolactic fermentation and was aged in about 25% new French oak. Medium gold in color; offers appealing and diverse aromatics including of honeysuckle, melon, hazelnut, a vanilla sweetness and a hint of caramel. Offers a supple texture complemented with brightness and liveliness of fruit and acid. Lingers with a hint of vanilla on the finish, notes of citrus (lemon meringue). The finish shows plenty of vitality.
While Pinot Noir and Chardonnay are their flagship varieties, they also grow a very small block of Viognier, produce some sparkling wine and also source grapes for their Syrah.
Sanford used to maintain a tasting room in downtown Santa Barbara but that has since closed. Visits to the winery and vineyard are by appointment, casual but informative. For more information, visit: www.sanfordwinery.com
Sanford & Benedict Vineyard

Rinconada Vineyard

Winery/Hospitality

Terlato Kitchen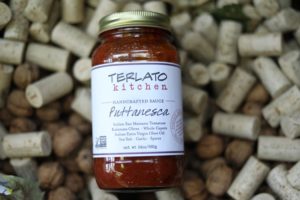 Terlato Kitchen was founded by the Terlato family in 2014. The core of their products are the tomato sauces made from family recipes. The key ingredient in their pomodoro sauces is the San Marzano variety of tomato grown in a part of Italy near Naples. Their products are distributed to stores around the country including locally in Napa Valley at both Rutherford Hill Winery and Chimney Rock and at Sunshine Market in St. Helena.
Terlato Kitchen produces a diversity of other products including oil and vinegar, biscotti, and maple syrup. Products can also be purchased directly from the Terlato Kitchen website here: www.terlatokitchen.com
Site of Anthony's grandfather Antonio's Floral Shop
(179 Hester Street, NYC)
Original Site of Leading Liquor Marts
(5965 North Clark Street, Chicago)

Original Site of Pacific Wine & Paterno Imports Bottling Facility
(836 South Sherman, Chicago)
Site of Pacific Wine & Paterno Old Distribution Center
(2701 South Western Avenue, Chicago)

Tangley Oaks (International Headquarters) Lake Bluff, Illinois