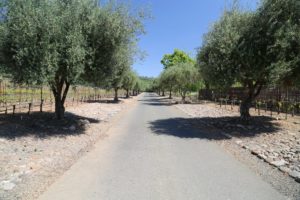 Roy Estate was founded and operated by Charles and Shirley Roy who we both met with at their home overlooking the vineyard (unfortunately Charles passed away in 2010).
Shirley has since sold Roy Estate to husband and wife Stephan Crétier and Stephanie Maillery. Stephan founded GardaWorld which in more then 20 years the company has grown into a formidable and large security provider. Stephanie is an actress with a number of credits to her name.
Shirley is an east coast native who fell in love with the Napa Valley and eventually moved here. Their original intent was to just build a house overlooking vineyards, however the "Napa Allure" kicked in and set the wheels in motion. Soon finding themselves grape growers they discovered the richness of their property and quickly became vintners. They are located on a very unique piece of property in the southern part of the valley just south of the Stags Leap District. It is a gorgeous wine estate with rolling hills covered with vineyards – reminiscent of wine country in Bordeaux or even Tuscany.
They initially decided to plant only a few acres and sell the fruit. However well-known winemaker Helen Turley was introduced to the property and quickly saw its potential as high end terroir capable of producing some terrific wines. With her help the Roys planted 17 acres to Cabernet Sauvignon, Merlot and Petit Verdot (now producing some of the nicest Petit Verdot in the Valley). The location is very distinctive in that its fairly open to the south and receives the cooler moderating breezes from the San Pablo Bay. However, the northern part of their vineyard is supported by hills which tend to block some of the warmer summertime temperatures that you often find in the more northern reaches of the Napa Valley. In addition this location receives a fair amount of cooling breezes where if you move just a mile in another direction there won't be much wind at all. Perhaps the Native Americans recognized this unique micro climate. The site was home to Wappo Indian camps located next to a seasonal creek and the county has recognized this which is now fenced off from the rest of the vineyards.
As a result of its location and unique terroir, the estate vineyards have less dramatic hot and cold spells throughout the year resulting in a very evening growing and ripening environment for the grapes. Their focus is on the terroir; a significant amount of the wine making is conducted in the vineyards. Even two separate irrigation systems are installed – the primary and another one specifically introducing water to vines that for whatever reason need special watering requirements. Micromanagement is key here. The wine philosophy is not to produce high alcohol wines, rather they seek a balance between ripeness, flavor and acidity. Their wines are typically around 14% alcohol. Highly respected long time Napa family, the Pina's are in charge of the vineyard management. Well known winemaker Philippe Melka has enology and viticultural degrees and is in constant communication with the vineyard managers. Philippe continues to make the wines after the transition in ownership.
Roy Estate currently produces two wines, a Proprietary Red and a Cabernet Sauvignon. Initially they were planning on producing just the Cabernet Sauvignon but based on the actual terroir, Philippe recognized "two voices" in the vineyard and decided to express this with two wines.
As Charles eloquently told us, "we ended up with two singers rather than a choir" Their first commercial release was in 2003. Both wines are masterfully crafted.
The 2005 Proprietary Red is our favorite; the blend changes every year (sometimes dramatically) depending on the vintage and type of fruit they are working with. The 2005 is a blend of 77% Cabernet Sauvignon, 16% Merlot and 7% Petit Verdot. The bouquet is voluptuous and elegant at the same time. Sweet notes of vanilla from the all French Oak used during the aging, with a touch of cedar complement the pretty fruit aromas. The layered fruit carries all across the palate and includes blackberry, blueberry and black licorice. The flavors are anchored by delicate tannins with a slightly dusty finish. There is nothing angular about this wine – it is soft, velvety and very rounded. It is an elegant wine with good acidity that will only improve with some cellaring, yet at the same time it is already well balanced for consumption now. Decanting is recommended before serving.
The 2005 Estate Cabernet Sauvignon is 90% Cabernet and 10% Petit Verdot. Because there are 17 individual blocks on the property they have a wide range of clones and soil types to choose fruit from for this wine. Like all great wines, this one continues to evolve in the glass – earth and fruit driven aromas evolve to blackberry with slight chocolate nuances as the wine opens up. The body is rich, rounded and smooth with soft yet structured tannins on the finish. Their total production on both wines is about 2000 cases.
As of our last update, the property has been permitted to have a winery on site and the initial design for future caves and the winery building is already sketched out. Visits are typically reserved for mailing list customers, serious wine enthusiasts and collectors.
Also of note is they grow 6 varietals of olives on the property and produce their own olive oil. You can find their wine at the French Laundry and other premium local Napa restaurants; before Copia closed (now the Culinary Institute of America) we used to see Magnums in their collection. Also V Wine Cellars in Yountville typically carries their wine in their "cult" room. For more information and to join their wait list, visit: www.royestate.com