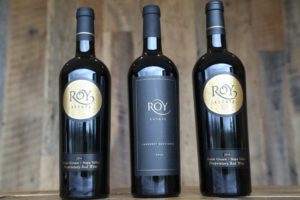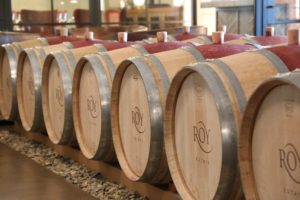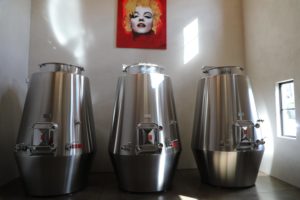 Roy Estate. Founding proprietors Charles and Shirley Roy purchased property off of Soda Canyon in 1999; we first met with them many years ago at their home overlooking their vineyard. Charles who passed away in 2010 was a Civil Engineer from Massachusetts who founded his own consulting business in 1973 focusing on the development and design of office buildings in Massachusetts and New Jersey. After Charles passed, Shirley continued Roy Estate before selling the brand and the property to husband-and-wife Stephan Crétier and Stephanie Maillery (managing partners) in 2017. She remains actively involved as Roy Estate's Brand Ambassador.
Stephan founded GardaWorld in 1995; in more than 25 years the company has grown into a formidable and large security provider including providing security guards and armored car services and is the largest cash services provider in North America. The still privately held company is headquartered in Montreal and employs approximately 130,000 people maintaining 425 branch offices in 45 countries. Stephanie is an actress with a number of credits to her name including in both television and film. In addition to Napa Valley, they divide their time between Montreal and Dubai.
In 2019 the Montreal Museum of Fine Arts opened the Stephan Crétier and Stéphany Maillery Wing for the Arts of One World located on the 4th floor of the Jean-Noël Desmarais Pavilion. The 10 galleries contain more than 1,500 objects representing artists from 6 continents. We will visit this space as time and budget permits and will update our notes here and add photographs.
Shirley is an east coast native who fell in love with Napa Valley and eventually moved here. The Roy's original intent was to build a home overlooking the vineyards (which they did) but initially were not expecting to make wine. They soon decided to plant a few acres of vines and sell the grapes to other wineries. However well-known winemaker Helen Turley was introduced to the property and quickly saw its potential as a premium site capable of producing exceptional wines. With her guidance, the Roy's eventually planted 17 acres to Cabernet Sauvignon, Merlot and Petit Verdot (which in our humble opinion, is now producing some of the nicest Petit Verdot in the valley). Future plans include planting a small block of Sauvignon Blanc.
The property was formerly owned by James Norem, a TWA pilot and his family and then later by former professional golfer, Johnny Miller (known as Double Eagle Ranch). This very unique piece of property is located in the southern reaches of the valley slightly south of the Stags Leap District. Its location is considered the Napa Valley Appellation since it is not within any of the 16 sub appellations. If this part of Napa Valley was ever to become its own sub appellation, perhaps it would be called the Silverado Bench. One nearby neighbor is Silver Oak's impressive Soda Canyon Ranch which produces most of the grapes for their iconic Napa Valley Cabernet Sauvignon. Parts of their property can be seen from Roy Estate.
The rolling hillsides of the Roy Estate property are covered with vines and are reminiscent of parts of wine country in Tuscany. The location is very distinctive in that its fairly open facing a southerly direction; on a clear day from the upper reaches of their vineyard, one has views of the San Pablo Bay in the distance along with the Richmond San Rafael Bridge. The northern portion of their vineyard is supported by hills which tend to block some of the warmer summertime temperatures often found in the more northern reaches of Napa Valley. In addition, this location receives a fair amount of cooling breezes compared to sites located short distances away which typically do not experience much wind.
As a result of its location and unique terroir, the estate vineyards have less dramatic hot and cold spells throughout the year resulting in very even growing and ripening conditions for the grapes. Perhaps the Native Americans also recognized this unique microclimate. The site was home to Wappo Indian camps located next to a blue-line creek that runs through the property. A number of holes were drilled into the lava cap rock which they used for grinding acorns; this portion of the property is fenced off and separated from the rest of the vineyards.
In addition to the unique micro-climate on the property, the site also features two distinct geological sections – one side a lava covered rock layer with thin soils on the hillsides (planted to the Cabernet Sauvignon) and the other side has deeper more loamy soils and is planted to Merlot.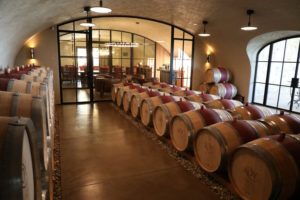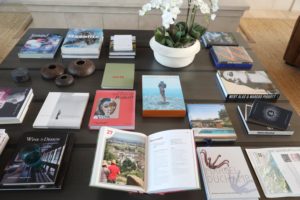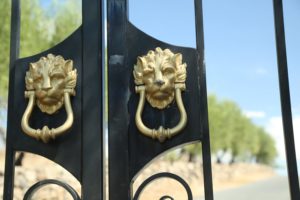 A significant amount of their wine making is conducted in the vineyards. Two separate irrigation systems are installed including a primary and a secondary line, specifically introducing water to vines that for whatever reason need special watering requirements. Micromanagement is key here. Highly respected long time Napa Valley family, the Pina's are in charge of the vineyard management.
Well known winemaker Philippe Melka, has made the wines since the inaugural 2005 vintage. Philippe grew up in Bordeaux, earned his degree in Geology at the University of Bordeaux and later his master's degree in Agronomy and Enology. His first wine job was at Château Haut Brion in Bordeaux. His introduction to Napa Valley came in 1991 as an intern with Christian Moueix, proprietor of Chateau Petrus in Bordeaux and Dominus in Napa Valley. Philippe came to Dominus to study soils – then spent a few years as a traveling winemaker and ultimately settled in Napa Valley in 1994.
In what would become the start of a long and successful wine making career, his first two wine making / consulting jobs were in 1995 at Seavey Vineyards and at Lail Vineyards (both of whom he is still involved with today). His third longest running client is Roy Estate. He also began Atelier Melka in 1995, a wine consulting company specializing in creating limited production premium wines for a variety of well-regarded brands – mostly based in Napa Valley. Atelier in French means an artist's studio or workroom (where specific skills are taught and passed down). But today he has plenty of help; Atelier Melka employs several accomplished winemakers.
Philippe continues to make the wines after the transition in ownership and is very involved in their vineyards. His wine philosophy with this site is to produce wines which are balanced between ripeness, flavor and acidity. The older Roy Estate wines were typically around 14% alcohol but their contemporary bottlings are now typically in the 15 to 15.5% range.
Roy Estate produces two primary wines, a proprietary red called Mr. Evans and a Cabernet Sauvignon. The Roy's initial thought was to produce a single Cabernet Sauvignon but based on the site, Philippe recognized "two voices" in the vineyard and decided to express this with two wines. As Charles eloquently told us, "We ended up with two singers rather than a choir."
Their first commercial release was in 2003. Both wines are masterfully crafted. But there is yet another wine, a selection generally from the same vineyard blocks each year which is not made every year. When this wine is made, only a barrel is produced; originally it was called Le Rêveur (the dreamer in French) but when Charles died, Shirley changed the name from its masculine form to feminine and the wine is now called, La Rêveuse.
Select Wines
Roy Estate
The 2019 Roy Estate Cabernet Sauvignon is 93% Cabernet Sauvignon and 7% Petit Verdot. This wine is deep ruby in color; the bouquet is shy and initially withdrawn and needs ample time to open in the glass. It is recommended to decant this wine at least 90 minutes before serving in its youth. The dark fruit aromatics eventually become more expressive and offer scents of plum, blackberry and a hint of dust. As the wine continues to open it reveals darker baking spices, a sweet note of chocolate, dried herbs and a hint of old cedar box. The palate offers both red and darker fruits including blackberry and dark licorice, leading to a savory finish. Noteworthy about this wine's character are the feel of the tannins; they are densely packed but with a rounded and silky texture. This wine shows a remarkable depth of layering both in its fruit and textural profile. This is very much an age worthy bottling.
The 2018 Roy Estate Cabernet Sauvignon is 94% Cabernet Sauvignon and 6% Petit Verdot and was aged for 28 months in 100% new Taransaud French oak barrels. This wine is dark ruby in color with purple tinges on its rim and nearly opaque. The bouquet is very expressive, initially offering more meaty and darker aromatics including of plum and ripe blackberry along with a floral note (violets). The tension between texture and fruit is an appealing characteristic of this wine. The savory finish is accompanied by dark fruit, assorted dark baking spices, crushed pepper and dense, persistent grippy, gravely and chewy tannins. Of the select Roy Estate wines we have tried over the years, this one might be the most complex. We tasted this wine during a particularly cold spell in Napa Valley with snow covering much of the surrounding hills. It immediately made us long for warm summer evenings gathered around a BBQ waiting for a well marbled piece of steak to finish cooking. This wine hits all the pleasure points for collectors of contemporary Napa Valley Cabernet Sauvignon wines.
The 2015 Roy Estate Cabernet Sauvignon is 93% Cabernet Sauvignon and 7% Petit Verdot. This wine is deep ruby and nearly opaque in the glass; the bouquet offers aromas of leather, dark cherry, mulberry and boysenberry It also offers some notes of dried berries and a hint of cocoa deeper in the bouquet. The palate is bright, juicy and features both red and darker fruits including cherry, currant and a hint of licorice. The rounded tannins intensify deeper in the finish, lingering slightly dry. This is the highest alcohol Roy Estate wine we have tried (15.7% alcohol), but due to its over all balance the alcohol does not stand out.
The 2014 Roy Estate Cabernet Sauvignon is 93% Cabernet Sauvignon and 7% Petit Verdot. This wine was sourced from primarily the hillside blocks on the property. Visibly dark ruby in the glass, it features an intriguing bouquet that is extremely well-layered and keeps on evolving, revealing aromatics of blackberry and plum with a hint of tobacco. Equally as well-layered on the palate with a noticeable mouth watering juiciness if you will, on the finish. Texturally the wine lingers with tannins that are firm, well-integrated with a somewhat chalky feel.
The 2005 Roy Estate Cabernet Sauvignon is 90% Cabernet and 10% Petit Verdot. Because there are numerous individual blocks on the property the winemaking team has a range of clones and soil types to choose fruit from for this wine. Like all great wines, this one continues to evolve in the glass; earth and fruit driven aromas evolve to blackberry with slight chocolate nuances as the wine opens up. The body is rich, rounded and smooth with soft yet structured tannins on the finish.
While most vintages of the Roy Estate Cabernet Sauvignon are blended with small amounts of Petit Verdot, three vintages to date have been 100% varietal: 2007, 2013, and 2017.
Mr. Evans/Proprietary Red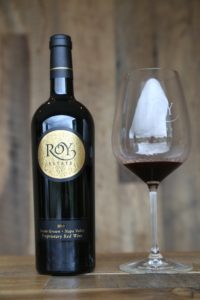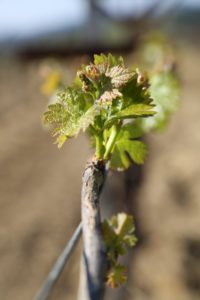 Until 2014, Roy Estate produced the a bottling called their Proprietary Red. Starting with the 2015 vintage, Roy Estate transitioned the name of their proprietary red to Mr. Evans. This wine is named in homage to their neighbor, Mr. Evans a grape grower who Charles and Shirley considered a mentor and who helped them in the early years of Roy Estate in regard to viticulture practices and provided encouragement as they developed their fledgling brand. This wine is often the more approachable of their two wines each year; the blend percentages change depending on the vintage but is always led with Cabernet Sauvignon followed by Merlot and Petit Verdot.
The 2019 Roy Estate Mr. Evans is a blend of 65% Cabernet Sauvignon, 24% Merlot and 11% Petite Verdot. Roy Estate Director and General Manager, Bryan Zupon told us when tasting each of these three varieties during harvest its clear what each contributes to the wine; the Cabernet Sauvignon, the structure, the Merlot, the softness (depending on vintage, usually ranges from 20-25%) and Petit Verdot for its color and backbone. This wine is deep ruby in color; it's aromatics are elegant and focused on the purity of fruit rather than additional influences from aging in oak. The initial scents are higher toned including of red fruits along with red licorice and violets. It also offers a light note of dust and dried tobacco leaf. The rounded and finely-woven tannins linger on the dark-fruited finish accompanied by some darker spices. The one word we wrote several times to describe its character was seamless, especially for being so young (3.5 years post vintage at the time of our tasting).
The 2018 Roy Estate Mr. Evans Proprietary Red is led by 60% Cabernet Sauvignon along with 29% Merlot and 11% Petit Verdot. This wine is dark ruby in color; the focus of the bouquet is on the variety and its inherent fruit characteristics. It offer scents of ripe, but not overripe blackberry and boysenberry along with a hint of milk chocolate and light notes of old cedar box. This wine has plenty of depth and flavor and is framed by an accompanying texture featuring long lasting and still somewhat tightly woven, but fine-grained tannins (we tasted 5 years post vintage). The finish lingers with a slight dryness. In comparison to the Roy Estate Cabernet Sauvignon, this bottling is a more elegant and softer showing. This wine was aged in 19 months in new French oak barrels.
The 2015 Roy Estate Mr. Evans spent 18 months in new French oak and is a blend of 65% Cabernet Sauvignon, 24% Merlot and 11% Petit Verdot. Bright fruit shows on the bouquet with aromas of blackberry, notes of old cedar box and as the wine opens, dessert spices and hints of chocolate. Plush on the palate, yet well concentrated, this wine displays a softer style. Shows flavors of both blue and black fruits which tend to be more berry-like. Silky or tender if you will, the feel of the tannins make this a very approachable wine in its youth. We also re-tasted this wine 8 years post vintage; it is showing in a sweet spot at this age. In particular and worth noting, are the sweetly fruited aromatics combined with a variety of appealing secondary spices which have developed since our initial tasting. And it has reached a point in its life where it is showing a beautiful balance.
The 2010 Roy Estate Proprietary Red is a blend of 71% Cabernet Sauvignon, 26% Merlot and 3% Petit Verdot. It displays ripe fruit aromatics including a perceptible sweetness – plum, prune and black licorice. Plenty of aromatic layering. Nine years old at the time of our tasting, shows bright fruit on the palate with lingering flavors of black cherry. Somewhat savory on the finish with excellent acidity and slightly dusty well-integrated tannins.
The 2005 Roy Estate Proprietary Red is a blend of 77% Cabernet Sauvignon, 16% Merlot and 7% Petit Verdot. The bouquet is voluptuous and elegant at the same time. Sweet notes of vanilla show – inherently from the French oak used during the aging, with a touch of cedar box complementing the pretty fruit aromas. Layered flavors of fruit line the palate including blackberry, blueberry and black licorice. The flavors are anchored by delicate tannins with a slightly dusty finish. There is nothing angular about this wine; it is soft, velvety and very rounded. It is an elegant wine with good acidity that will only improve with some cellaring, yet at the same time it is already well balanced for consumption now. Decanting is recommended before serving.
Total production on both wines is typically less than 1,500 cases per year.
Revisiting the property many years later and tasting through their current releases, we realized why we were so initially attracted to these wines. There is a certain cadence or feel across the palate that is highly pleasing; the wine's texture certainly plays a huge role in this. The wines are approachable in their youth based on the supple yet well-defined tannins while having all the necessary characteristics for a long life.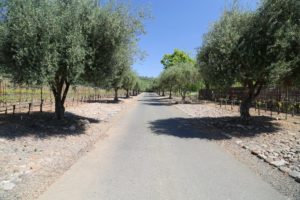 The Atlas Fire of October 2017 moved through their property, destroying a barn and the primary residence. However, none of their vines were affected by the fire and fruit from this vintage had already been picked and was being vinified at a winery off site, well out of harm's way. And this same year for the first time, the vineyard footprint was expanded, planting a small amount of Cabernet Franc (1.5 acres) on the highest part of the property.
In the years following this fire a handsome building, referred to as La Residence, was built (completed in 2022). This is part home and part winery and includes a barrel chai housing a limited number of barrels of aging wines and a micro-winery/tank room for small lot-fermentations. The majority of their production still occurs off site. The views from the house and from the Great Hall in particular, are expansive, overlooking much of the southern part of Napa Valley.
Also worth mentioning are the 6 varieties of olives on the property including a number lining their driveway; a limited production olive oil is made each year. And what was a unique offering, Shirley used to make jelly by hand each year for friends and family from misplaced Chardonnay vines growing among their vineyards. With only a few Chardonnay vines on the property, the challenge was remembering where they were located each year.
Select vintages are available at the French Laundry and other premium local Napa restaurants; before Copia closed (now the Culinary Institute of America) we used to see magnums in their collection. Also, V Wine Cellars in Yountville typically carries their wine in their "cult" room. Vineyard visits and tastings are typically reserved for allocation list customers, serious wine enthusiasts and collectors and include a tasting of their current release wines along with an older vintage. Tastings are often held in the Proprietor's Lounge next to the cellar underneath a beautiful circular chandelier containing a variety of crystals.
For more information, to schedule a visit to the estate and to join their wait list, visit: www.royestate.com