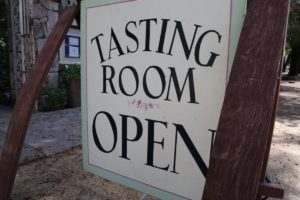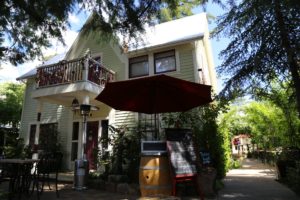 Romeo Vineyards & Cellars is owned and operated by Eugenia Romeo whose vineyards are in the northern part of the Napa Valley just south of Calistoga. Their 25 planted vineyard acres are somewhat unique as the property is located on & near one of the few actual knolls rising from the valley floor. This vineyard is named "The Blue Heron" in tribute to a Blue Heron that was killed by a poacher when they were in negotiations to purchase the property. A pair of blue herons now live on the property as well as a bunch of other wildlife.
The wine label is called Sempre Vive Latin for "Always Alive". This is a tribute to the grape even when its in wine form in the bottle as wines constantly change and are not static in aroma and flavor. It can also be construed as being a tribute to the land the supports these vineyards as well as the variety of plants and animals which call this property their home. Fruit from the vineyards was used by nearby Chateau Montelena for many years and when the Romeo's purchased the property in 1997 they slowly phased out growing contracts and started using the grapes for their own wine. All their red varietals are sourced from this estate property and the white varietals (Sauvignon Blanc and a Chardonnay) are purchased from various premium vineyards.
The oldest block in their Calistoga vineyard dates to 1971 and is an unidentified clone of Cabernet Sauvignon. Unlike select other wine regions there are very few old vines per vine capita in the Napa Valley – especially of Cabernet Sauvignon. For whatever reason these vines are pulled out – usually for less productivity as the vines get into the twenty year old plus range or possibly because they become diseased. This clone produces excellent fruit so they have cultured and propagated additional vines and named it after their son. Today they still produce wine from these old vines and appropriately call it "old vine Cabernet".
A number of their earlier vintages are available for purchase and some available for tasting; this is great for the consumer as these wines have already had additional aging time in the bottle. We tried an older Eugenia Cabernet Sauvignon that was blended with 8% Petit Verdot. This wine has delicate aromas of cherry and some cedar which follows through stronger in the palate. The finish is long and smooth. The 2002 Miscella includes wine from three Cabernet Clones plus 15% Petit Verdot. Merlot lovers often think this wine has characteristics of Merlot even though there is no Merlot juice here! The rich fruit flavors of blackberry carry through the entire palate.
Looking for a 100% Petit Verdot wine? You will have a hard time finding this varietal from Napa as the dominant varietal in a wine, but Romeo makes a very nice version. Not to be missed is their Siempre Vive Cabernet Sauvignon. It has been nicknamed "Candy" by Romeo's customers and even in competitions sometimes gets called out as judges believe there might be some residual sugar in this wine. Not so, it is bone dry but with concentrated fruit flavors and juicy tannins it can often be mistaken for "candy"! Romeo often has older vintages available for sale online. Their total production is around 5000 cases.
After a number of years of planning, Romeo Cellars opened a tasting room in downtown Calistoga in early 2014. Not only is the tasting room located on this property but also serves as a small weekend house for the owners. In addition, plenty of outdoor seating is available and with lush landscaping surrounding, its hard to tell you are actually on main street in downtown Calistoga! A full commercial kitchen is on site; events can be catered with advance notice – 24 seats are on the property – when the weather is nice this is a great place to enjoy their wines. Oh and a pizza oven and a portable bar are located outside of the tasting room.
Visit: www.romeovineyards.com