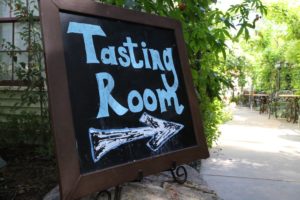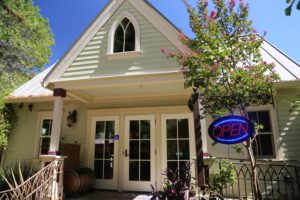 Romeo Vineyards & Cellars is owned and operated by Frank Romeo – his wife, Eugenia tragically passed away from brain cancer in 2017. Both were born in San Francisco; in 1996 they purchased approximately 45 acres in the northern part of Napa Valley just south of Calistoga (initially as a weekend getaway). Their inaugural vintage was from 1997 – a Cabernet Sauvignon from existing vines. The property features a balance of natural surroundings with vineyards – approximately 25 are planted to vines. The property is somewhat unique as it is located on & near one of the very few knolls/tiny hills rising directly from the valley floor. The vineyard is named "Blue Heron" in tribute to a Blue Heron that was killed by a poacher when they were in negotiations to purchase the property. A pair of blue herons now live on the property as well as a bunch of other wildlife.
Eugenia (Gena) was the face of the brand, hosting public tastings (where we first met her many years ago) and learning wine making later in life (taking classes at UC Davis). Alison Green-Doran (a wine industry veteran who worked with Napa pioneer, André Tchelistcheff as a harvest intern in the early 1970s) has made every vintage of Romeo Cellars since 1997.
Frank's family runs Romeo Packing Co, a successful business located near Half Moon Bay that services nurseries and landscaping industries. The company has transformed its products and business operations several times over the years, adapting to changing times and markets. With roots in sardine fishing and canning in Pillar Point, Romeo Packing Co was started by Frank's father Joe in 1946. Joe immigrated to the United States from Locri, Italy (died in 1996). One of their product lines featured a fish wearing glasses which Romeo Packing Co eventually sold to Starkist and is known as Charlie the Tuna.
Their warehouse is located within a short distance of one of the planet's most famous surf spots, Mavericks. And their operations are located right above the waters of the bay and a short drive or walk to Pillar Point Harbor.
Romeo Packing Co

Pillar Point Harbor

Today they are known for a variety of both organic and non-organic dry and soluble fertilizers and are also a leading manufacturer and distributor of paper plant sleeves and decorative foils (a huge business considering all the retail outlets for purchasing plants across the country). After years of trials, by the mid 1970s Joe built a machine to automatically produce these sleeves, rather than being made by hand as they were previously.
Romeo Cellars produces wines bottled under the brand, Sempre Vive, Latin for "Always Alive". This is a tribute to the grape even when it has been converted to wine and is in the bottle – an homage to the constant changes that wines undergo during their life. Wine is not static; they constantly change with color, aroma, flavor and texture. Sempre Vive can also be construed as being a tribute to the land that supports these vineyards as well as the variety of plants and animals which live on this particular property (especially on the wooded knoll). Fruit from the vineyards was used by nearby Chateau Montelena for many years and when the Romeo's purchased the property in 1997 they slowly phased out growing contracts and began using the grapes for their own wine. All their red varieties are sourced from this estate property and the white varieties (Sauvignon Blanc and a Chardonnay) are purchased from various premium vineyards.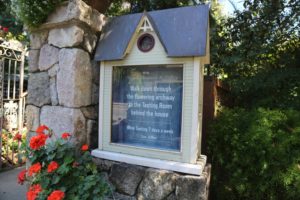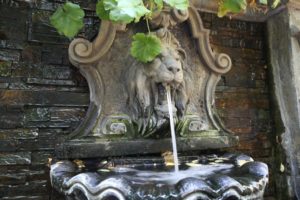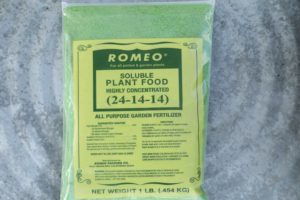 The oldest block in their Calistoga vineyard dates to 1971 and is an unidentified clone of Cabernet Sauvignon. This clone produces excellent fruit, so they have cultured and propagated additional vines and named it after their son. Today they still produce wine from these old vines and appropriately call it "old vine Cabernet". Unlike select other wine regions there are very few old vines per vine capita in the Napa Valley – especially of Cabernet Sauvignon. Vines in general in the Napa Valley do not last much beyond 20 to 25 years. Often, they are removed because of lowered yields or due to various disease.
Some of the oldest Cabernet Sauvignon vines in all of the Napa Valley are a small section of surviving vines in Scarecrow's vineyard in Rutherford dating from the 1940s, Grgich Hills, Varozza Vineyards, a one-acre block owned by Grace Family Vineyards and a small block of Cabernet Sauvignon vines dating from the early to mid 1950s from the MacDonald Vineyard (historically a part of To Kalon Vineyard in Oakville).
Select Wines
We have tasted numerous limited production Napa Valley grown and bottled wines over the years where one pops the cork, and they are ready for immediate enjoyment. In our experience, the Romeo wines are not like this; they need some time to open before they truly reveal their character and all their nuances… and they will.
The 2019 Romeo Cellars Sempre Vive Ruby Rosé of Petite Verdot, Napa Valley is deep salmon in color; the bouquet offers aromas of wild strawberry, raspberry, grapefruit and a flinty minerality. The palate sports a creamy texture which is balanced nicely by its vibrancy. Well balanced from start to finish; this wine is packed with flavor including notes of watermelon jolly rancher candy, raspberry and citrus including lemon. The finish is bright with persistent fruit. This is not a light rosé. And the cute dog featured on the label is Ruby, a Staffordshire Terrier, service animal and also family pet. 10% of all sales of this wine are donated to no-kill animal organizations in the northern part of Napa Valley.
The 2019 Romeo Cellars Sempre Vive Sauvignon Blanc, Napa Valley is pale to medium yellow in the glass; the bouquet offers tangy aromas of lemon zest, kiwi, cut grass, green apple, straw and a sweet floral note deeper into the aromatics including honeysuckle. The texture is slightly rounded with a noticeable brightness across the entire palate but without some of the tart notes that this variety is often noted for. Finishes with a stony minerality and flavors of green apple, a lemon/lime nuance and wild gooseberry like we have enjoyed in late summer from mid to upper elevations of the Sierra Nevada mountains.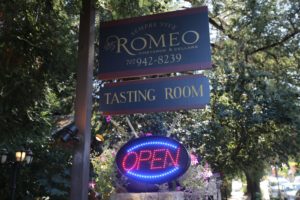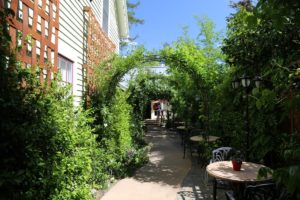 The 2018 Romeo Cellars Sempre Vive Reserve Chardonnay, Napa Valley is medium to deep yellow in color; the aromatics are fruit forward including notes of yellow peach, apricot and yellow pineapple along with crème Brule, warm butter, vanilla and some pretty baking spices which evolve to the forefront of the bouquet as the wine opens. The palate is just as rich as the bouquet; it offers sweet flavors (no residual sugar) of pineapple, mango and papaya, lemon meringue and vanilla. The brightness is always there, keeping the wine lively and interesting. This bottling is a very good price to quality ratio.
The 2016 Romeo Cellars Sempre Vive Merlot, Napa Valley is dark ruby; this wine offers aromas of ripe blackberry and boysenberry along with brown chocolate and a floral note (violets). Smells like dessert in the glass. Shows flavors of dark cherry, blackberry and spicy plum. Offers a moderate but integrated grip of tannins which persist for some time. This finish is a little savory and showcases some lingering darker spice notes and toasted cedar.
The 2016 Romeo Cellars Sempre Vive Malbec, Napa Valley is deep ruby in color; the bouquet shows a nice interplay between both fruit and oak characteristics. Offers aromas of plum, mocha, espresso, Graham cracker, chocolate brownie and old cedar box along with some baking spices including clove and cardamom as the wine opens further. Extremely supple across the palate, the very fine-grained tannins have no harsh edges whatsoever. Features a slightly savory finish including flavors of grilled meats, cedar box and darker spices (black pepper).
Not to be missed is their Sempre Vive Cabernet Sauvignon. It has been nicknamed "Candy" by Romeo's customers and even in competitions sometimes gets called out as judges believe there might be some residual sugar in this wine. Not so, it is bone dry but with concentrated fruit flavors and juicy tannins it can often be mistaken for "candy"! The 2016 Romeo Cellars Sempre Vive Cabernet Sauvignon, Napa Valley is deep ruby in color; offers aromas of mocha, espresso, white pepper, old cedar box, black licorice, plum and blackberry. Also shows a hint of dried tobacco leaf and a dust nuance. The bouquet shows some initial savory characteristics but reveals more fruit as the wine breathes. This wine is not heavy on the palate; it offers both youthful red and darker fruit flavors and is balanced with tannins showcasing a moderate grip. Lingers with a bright acidity. This is one of the better price to quality Napa Valley Cabernet Sauvignons one will find anywhere.
The 2002 Romeo Cellars Miscella (an Italian verb for blending) is a clonal Cabernet Sauvignon blend which also includes 15% Petit Verdot. Merlot lovers often think this wine has characteristics of Merlot even though there is no Merlot in the blend! The rich fruit flavors of blackberry carry through the entire palate.
Looking for a 100% Petit Verdot wine? One will have a hard time finding this variety from Napa Valley based producers as the dominant variety in a wine, but Romeo makes a very nice version.
—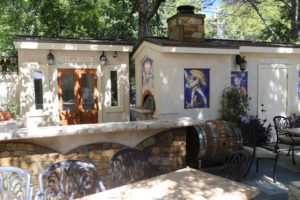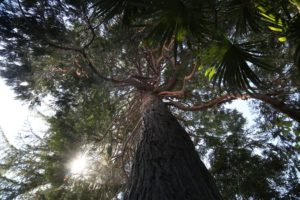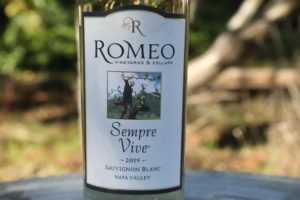 In 2008 Frank and Eugenia purchased an old carriage house (dates from 1885) on Lincoln Ave in downtown Calistoga. After a number of years of remodeling, Romeo Cellars opened their tasting room in early 2014. Not only is the tasting room located on this property but also serves as a small weekend house for the Romeos. In addition, unlike most urban tasting rooms, this space has plenty of outdoor seating available and with lush landscaping surrounding, it's hard to tell one is actually on main street in downtown Calistoga. A full commercial kitchen is on site; events can be catered with advance notice. A pizza oven and a portable bar are located outside of the tasting room – on select days, seasonally, Romeo Cellars offers their "perfect pizza pairing" experience.
One literally has numerous choices of tasting rooms located in the central business districts of Napa Valley's primary towns (Napa, Yountville, St. Helena and Calistoga) but few offer the outdoor space that this one has. This outdoor space is quiet and calming in the shade on a warm summers' afternoon – an ideal place to enjoy their wines and good conversation under the giant 100+ year old redwoods.
A unique feature that sets Romeo Cellars apart from other tasting rooms is their extensive and diverse library collection of wines – these are wines that can be purchased on site – including as of our latest update (wines dating back to their first few vintages in the 1990s). One of the tasting room staff told us that at the time of our visit, he has over 100 separate wines to pour and or sell to visitors.
Visitors to the tasting room often have several tasting options to choose from including a White Wine only tasting, a Cabernet Sauvignon only tasting, a Library wine only tasting, and a Bordeaux varieties only tasting. First timers to the valley are welcome here – especially if you don't know a lot about wine. The staff is always interested in sharing their tasting knowledge.
—
The Half Moon Bay Wine and Jazz Festival was founded in 2022 and is hosted on several blocks of Main Street in Half Moon Bay. This event requires tickets which are used to taste wine at 40+ wineries from around the state. Wineries from specific regions are grouped together. And there are a number of food vendors and local beer and cider producers represented. The main stage hosts several jazz performances through the afternoon while other performers are located on the sidewalks up and down Main Street.
While Half Moon Bay Wine and Jazz Festival requires tickets to enjoy food and wine, Main Street remains open to the public during the event. During one of our visits to the festival, we spotted Romeo Cellars pouring their wines here.
Romeo Cellars has kept their prices extremely reasonable over the years, even for the older vintages. Total production is around 5000 cases per year. For more information or to join their wine club, visit: www.romeovineyards.com
Exterior & Grounds

Tasting Room

Bottle Shots