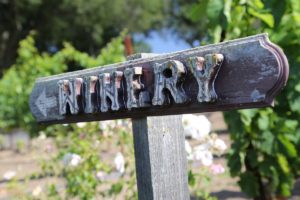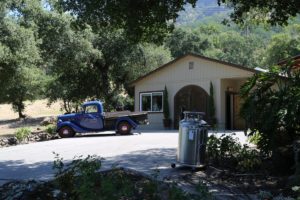 Robinson Family Vineyards are located at the end of an unmarked road with minimal signage in the Stag's Leap District. A number of their vineyard neighbors are small producers but Robinson Family has the only winery along this road. If you are looking for a winery "off the beaten" path with personal service and attention from the owners – this is a very good choice.
Their wines are made in extremely low production (typically under 1000 cases annually) – these are not wines you are going to go home and find at your mom and pop store or your supermarket. They simply do not have enough wine to distribute on a large scale. The family ownership of the property dates from the late 1960's when the patriarch and matriarch of the family. Norman ('Bud') & Helen Robinson moved here after Bud retired from the military as a lieutenant colonel.
Bud & Helen purchased 78 acres of land in 1967 and ran cattle and horses. At the time he knew little about wine, did not drink wine but fortunately several prominent area vineyard growers convinced them to plant their land to wine grapes including Nathan Fay (the Fay Vineyard which is owned by nearby Stag's Leap Wine Cellars) and Tom Turnbull. Some of their non commercial wine was made with the name Robinson, Fay and Turnbull – and several of these bottles are still on display in the winery.
This is one of the smaller wineries in the Napa Valley – the tasting room is intimate – has a small bar and a table. Behind this is located their original wine library – older vintages are now covered in dust, some are from well-known wineries in France. The family had a sense of humor in the beginning – an acronym on one of their labels spells F.A.R.T. Also check out one of their labels, the Octopus – its' bottle is an intruiging shape.
A tiny wine cave packed with barrels is located directly behind the wine library.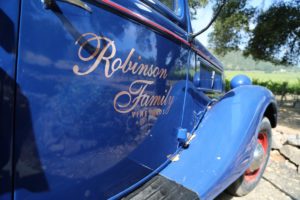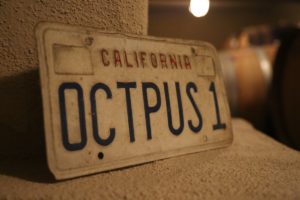 The family's first commercial release under the Robinson Family label was from 1998 by Bud & Helen's daughter Susan. Today Susan and her husband Tom run the winery helped out significantly by Bud & Helen's grand daughters. Even the grand children are involved to some extent.
Your visit typically starts in the tasting room with one of the family members where you will taste through current releases followed by a stroll up to the winery and lawn which overlooks some of their property. On a clear warm day it doesn't get much better than sipping wine overlooking the green vineyards of the famous Stag's Leap District.
You are in the heart of the Stag's Leap District which is certainly one of Napa's best known red wine appellations. As a result, their focus is on several red varietals including Cabernet Sauvignon and Merlot. Both wines are delicious. The 2004 Cabernet Sauvignon has a very long finish, is well structured but doesn't overpower with tannins. Great fruit flavors show up front as well as blackberry and raspberry fruit aromas on the nose.
The 2004 Merlot is a big wine, yet velvety with a smooth mouth feel. There are nuances of blackberry and cherry as well as hints of vanilla on the palate. Looking for a long finish – this wine has it!
Wine leaving residue that slides down the glass is often referred to as the "tears" or "legs" – you can take the Robinson's Second label called Great Legs at this face value or perhaps there is more to the story! Part of the story behind this label is it was developed by Bud & Helen's grand daughters. This label features a Syrah, Cabernet Sauvignon and a Cabernet Franc.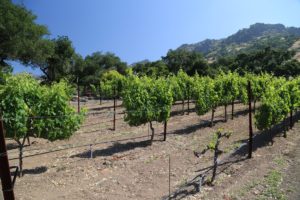 Compared to other Stag's Leap district wines their prices are quite affordable. Their property backs up to the famous Stags' Leap Winery and Susan's husband Tom owners remembers visiting this "manor" when it was completely abandoned.
The community of small vintners in this part of Stag's Leap is quite strong and they support each other in their various businesses. Case in point is the Follow the Grapevine event they host with several other small family owned Stag's Leap winery neighbors. They also participate in the comparatively much larger V2V event in which one ticket grants access to a number of Stag's Leap based wineries including a several which are not open to the public. For more information visit: www.robinsonfamilyvineyards.com
View video by Cellar Angels: