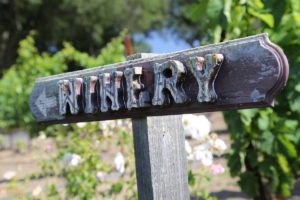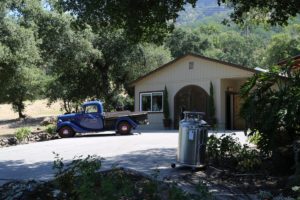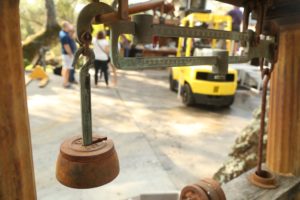 Robinson Family Vineyards. The roots of this small family-owned winery date back to 1967 when Bud & Helen Robinson purchased 78 acres of land (below the prominent rock outcroppings in this part of the Vaca mountain range known as the Stags Leap cliffs) and at that time ran cattle and horses. Bud was a Lieutenant Colonel in the US Army – prior to moving to the Napa Valley was stationed at Fort Hood in Texas. His introduction to the Napa Valley was through a family member already living here at the time.
Bud knew little about wine, did not drink wine but fortunately several prominent area vineyard growers convinced the family to plant part of their land to wine grapes including Nathan Fay (namesake of the Fay Vineyard which is owned by Stag's Leap Wine Cellars) and Tom Turnbull, a local Episcopalian priest. Some of their non-commercial wine was made with the name Robinson, Fay and Turnbull; the family still owns a number of these older bottles and several are on display next to their tasting room.
Very much a small family owned and operated winery, Bud and Helen's daughter Suzie oversees hospitality and her husband Tom (who we originally met with) is the winemaker and in charge of most everything else relating to the property. His background in construction often comes in handy. Their three daughters (who grew up on the property) help with hospitality including twins Kim and Robin and their older sister Carrie.
The property is three separate parcels of which only 7 acres are planted to vines. The family still maintains a small herd of cattle on one of their parcels. The winery is located east of the Silverado Trail in the heart of the Stags Leap District. A number of their vineyard neighbors are small producers – Robinson Family Vineyards owns the only physical winery along this access road. Their property borders the property of Stags' Leap Winery; Suzie and Tom fondly remember visiting the Stags' Leap Manor when it was completely abandoned prior to 1971 when vintner, Carl Doumani purchased that property.
This gracious family works extremely hard, loves what they do and have fun doing so. Most crush pads in the Napa Valley are strictly for wine making uses (although we have visited several that dual as skateboard areas during downtime). The Robinsons have built perhaps the only bar/hangout area directly next to a crush pad in the valley. The old adage in the wine industry is that it takes a lot of beer to make good wine (and perhaps other types of alcohol). During harvest (typically parts of September and October), family and friends often help Tom with the wine making – this is a fun and memorable time to visit the winery.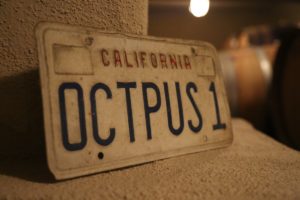 The family's first commercial release under the Robinson Family label was the 1998 vintage. While the family produces a number of wines, typically their overall production is usually between 1,000 and 1,500 cases annually. Eeach wine no more then a maximum of 300 cases with several only a barrel or two – and the small production wines are typically only released to wine club members.
Their distribution is so tiny that the wines are primarily sold direct through visits, wine club memberships and online sales. They simply do not have enough wine to distribute on a large scale.
Hospitality
A visit is a bit like driving back in time – pulling off of the Silverado Trail, one quickly leaves the traffic that has become so bad in recent years. Wandering east on a small road – visitors with appointments pull into the winery and will be warmly greeted by one of the Robinson family members. Visits typically begin in the small tasting room and refreshingly, are always hosted by a family member. The tasting room is intimate and features a tiny bar and a table. Their original wine library is located next to the tasting room – older vintages are now covered in dust, some are from well-known wineries in France.
Tastings feature select current release wines – weather permitting guests will take a short walk up to the winery (one of the smaller physical wineries in all of the Napa Valley) and lawn overlooking part of their property. On a clear warm day, with glass of wine in hand – this is a tasting experience that many to the valley for the first time imagine but perhaps don't always find at some of the larger more visited Napa Valley based wineries.
The family has an intriguing sense of humor – an acronym on one of their labels spells F.A.R.T. One of their other labels, the Octopus – is bottled with an intriguing shape.
Select Wines
The 2017 Robinson Family Vineyard Sauvignon Blanc reveals pretty floral driven aromas including citrus blossom, jasmine and passion fruit. Also notes of white pineapple, freshly cut grass, a lemon-lime zest and a slate-like mineral nuance on the bouquet. Balanced with a nice approach on the palate offering both a sweetness of fruit along with a tartness of fruit. Supple and slightly creamy across the palate with good acid – mouth watering but not overtly tart. Flavors of red and green apple, mandarin and a lime zest. Clean finish.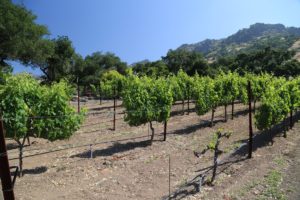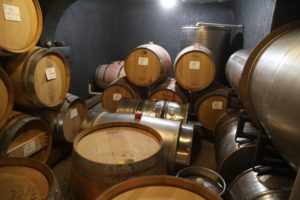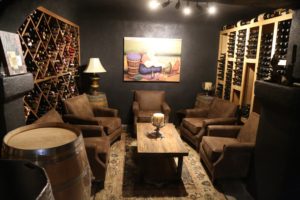 Stags Leap District is one of the Napa Valley's best known red wine sub-appellations. As a result, their focus is on several estate-grown red varieties including Cabernet Sauvignon, Cabernet Franc, Merlot, Malbec and Petit Verdot. The 2004 Robinson Family Vineyards Cabernet Sauvignon features a very long finish, is well structured but doesn't overpower with tannins. The bouquet is a mix of blackberry and raspberry aromatics.
The 2013 Robinson Family Vineyards Merlot offers a pretty bouquet with some bottle bouquet already showing from its 6 years of age (at the time of our tasting). Notes of blackberry and old cedar box. On the palate very approachable and very balanced – rich in flavor but without heavy tannins. Structurally the wine finishes with a supple note – with fine-grained well-integrated tannins along with a darker dessert spice nuance. An attractive and a lingering finish.
The 2015 Robinson Family Vineyards Cabernet Sauvignon features an elegant bouquet with aromas of dried rose petal, tobacco leaf, Asian spices and black licorice. Bright aromatics. Slightly savory in its aromatic presentation. Sublime in its texture – this wine is finely balanced between fruit, acidity and tannins. Flavors of cherry, blackberry and chocolate with a polished finish. This is a premium, well-priced to quality ratio Napa Valley Cabernet Sauvignon made in an approachable style that is quite enjoyable on its own.
Wine leaving residue that slides down the glass is often referred to as the "tears" or "legs" – and there are varying opinions in the industry as to the relevance of 'legs'. Most Napa winemakers we have met with are indifferent to the the term legs when referring to wine. One can take the Robinson's second label called Great Legs at face value or perhaps there is more to the story. Regardless, this wine was created by Carrie, Kim and Robin. This label features a Syrah, Cabernet Sauvignon and a Cabernet Franc and are wines priced affordable and styled to be approachable in their youth – easy drinking, to be opened any day of the week without worrying about the price.
Compared to other sub-appellations there are relatively few physical wineries in the Stags Leap District. The few make up for a lack of numbers with a strong community – especially among the several small family owned wineries who while focusing on their own brands also strongly support their fellow neighbors. Case in point is annual Vineyard to Vintner (V2V) event every April featuring access to Stags Leap District based wineries and producers (some of whom are not open to the public).
Robinson Family Vineyards is a member of the Napa Valley Vintners and the Napa Valley Grape Growers Association. For more information, to schedule an appointment or to join their wine club (two shipments a year), visit: www.robinsonfamilyvineyards.com
Winery/Tasting Room

Property/Vineyards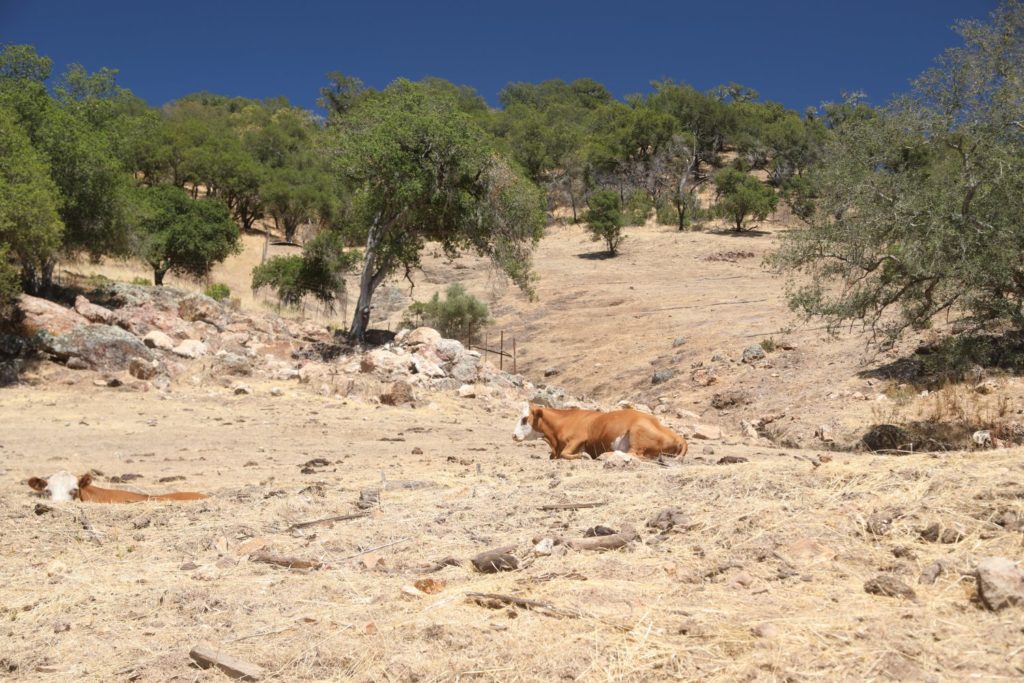 Tom in the cellar doing some Spring blending and moving wines around!

Posted by Robinson Family Vineyards on Wednesday, May 13, 2020
Putting the final touches on our first ever Rose of Merlot with Kristof and Tom and I!

Posted by Robinson Family Vineyards on Tuesday, March 24, 2020