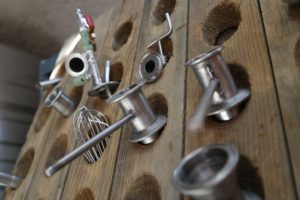 Road 31 Wine Co , formerly Green Truck Cellars, is owned and operated by Kent Fortner. As with several other small wineries we have visited with, he is a wine man show…err, one man show – vineyard manager, the winemaker, and sales guy. Nothing like having the vintner show up in his green truck with bottles of his own hand crafted wine available for sale. The specialty of his production is quite unique in the Napa Valley – only one wine from one variety produced each vintage. He works closely with several vineyards in the Napa Valley to source fruit from – then ultimately creates about 700 cases of a Pinot Noir. This Pinot Noir is made from several vineyards in and around the cooler Carneros region of South Napa. One vineyard is even south of the Carneros region.
As of the time of this review, Kent typically sells out quickly to his mailing and distributor lists. Most winery owners name their wineries after themselves; last names, first names, middle names, name combinations – we've seen it all, but not Kent. He had the refreshing idea to initially name the winery after his truck which is green – but despite the winery name change a few years ago, Kent still drives this truck and uses it during harvest.
The aforementioned trucks dates from 1966 and used to travel the rural roads of Kansas where his grandfather lived and farmed. His grandfather passed the truck down to Kent.
The name Road 31 is in honor of a gravel road which ran by both his mother and father's property's in Kansas.
Kent lived an active life before becoming a winemaker. The often contrasting subject matters of English and Physics were his choices of study at William and Mary College in Virginia. After he finished his studies he ran a wine bar in Boise, Idaho, spent a summer in Alaska working a fishing boat and then traveled and climbed in Alaska, Nepal and Thailand.
A tasting is very informal – Kent says "don't show up wearing a tie". The tasting is always held with Kent at White Rock Vineyards off of Soda Canyon Road (southern part of the Napa Valley) where he makes his wine. Since Kent only makes one wine each year, you will taste through several "future vintages" from his barrels in the small cave followed by a taste of vintages in the bottle.
During our visit, we tried his wine from the barrel merely several days after it had finished fermenting. It had not yet gone through malolactic fermentation and at this young stage it was a very rough wine. However it was nice to try a wines this young and then compare it to Kent's finished wines – it gives one a good perspective of how a rough wine in it's early stages evolves to one of polish and finesse by the time it is bottled.
The varietal characteristics of Pinot Noir really shows in his wines; he complements the fruit with a combination of both French and Hungarian barrel aging.
The 2005 Green Truck Pinot Noir showes pretty notes of cherry, cola and mocha on the nose followed by a juicy palate rich in flavor and some spice notes.
Be sure to visit his website; his PLOG (Pinot Blog) has morphed into an accumulation of his prior newsletters. As Kent says with confidence "reading about wine is not nearly as good for your soul as drinking one!" "Truckers" is the name you earn when you join the mailing list as this is the best way to acquire the wine once it is released. His distribution includes mostly California but also Vegas, parts of Utah, New York & New Jersey.
For more information about this passionate producer, visit: www.road31.com
NOTE: this review has been identified as needing an update.