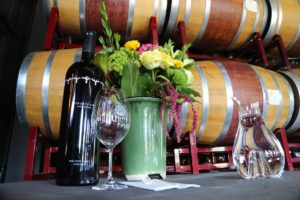 Reynolds Family Winery is located just south of the Soda Canyon store on the east side of Silverado Trail. It is on the site of an old chicken ranch. Hmm…wonder if the vines have good soil here?! The owners (the Reynolds Family) live in the house in front of the winery – keep driving all the way back until you reach the actual winery. The main tasting room building is located in a beautiful setting; a graveled patio and tables overlook the pond and sometimes music is piped outside during tastings.
Long time Napa vintner Steve Reynolds is the winemaker. He was introduced to wine initially through his father who was obsessed about collecting various wines; wine was always a part of their meals. Rather then major in winemaking or a related agricultural field, Steve went to the University of the Pacific in Stockon, California where he met his now wife, Suzie. Suzie's good friend Oscar Renteria, lived in Napa (a prominent vineyard manager). After getting to know Oscar and visiting the Napa Valley numerous times, Steve purchased what was an old chicken ranch in 1995 (the current site of the winery). He sold his dental practice, started a new one in Napa and simultaneously learned winemaking mostly by doing but also from several years studying at UC Davis.
The first Reynolds Family Wines were from the 1999 vintage. Steve has not practiced dentistry for years – along with managing his family winery he also selectively consults for several area brands.
Steve embraces technology when it comes to wine making. An Italian based company approached him in his several years ago about trying out their product – this was after trying to convince about 20 other Napa wineries of its benefits. This product is an Ozone machine produced by purovino. Steve has used this on a number of wines already – it is used during fermentation and can be used as a substitute to using sulphites in the wine. It effectively kills microbial growth and Steve has noticed cleaner fermentations as a result.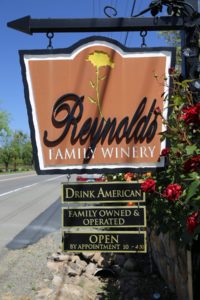 It has been especially useful during challenging vintages or with fruit that comes in to the winery in less then pristine condition. Steve has also noticed both flavor and aroma enhancements and a softening of the tannins when using this process. It is more commonly used on white wines but is also used on red wines. A result of this process are increased anti-oxidants in the wine. Steve bottled two wines – one fermented normally and one fermented with the introduction of ozone both using the same grapes but noticed both showed quite different characteristics from each other.
The tasting room itself is modern and cozy; it is a great place to hang out on a cold winter day next to the blazing fireplace. Their wines are approachable and are food friendly. We found the aromatics on the Merlot and Cabernet Sauvignon to be subtle and elegant not actually revealing the complexities and richness of flavor on the palate. All fruit is sourced from high quality vineyards which they manage except for the Cabernet Sauvignon which comes from their own property.
If Steve is around perhaps he will invite you to try some barrel samples. You can also make appointments for private tours, the barrel tastings as well as vineyard education tours.
While Reynolds Family owns 9.5 acres of vines, all Cabernet Sauvignon (first planted in 1996) they also source from a number of premium vineyard sites throughout the Napa Valley (and one in neighboring Sonoma County). Their estate Cabernet Sauvignon is actually a blend of 3 Cabernet clones, the common 337 and 4 and the not so common Weimer clone which was originally developed at UC Davis for shorter growing seasons such as on the east Coast, but this clone actually thrives in the Napa area. Not every winery in Napa Valley makes a Pinot Noir but Reynolds makes a delicious well-balanced one grown from vineyards in the cooler Carneros region. Their 2006 Reynolds Family Chardonnay is delightful, it undergoes no malolactic fermentation, the aging is in neutral oak (isn't buttery, just creamy) with plenty of fruit on the palate including some tangerine and pear flavors.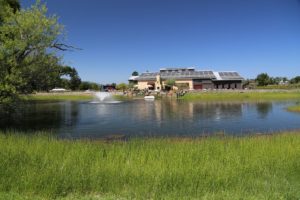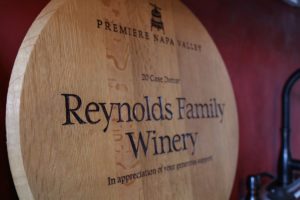 Also be sure to try Persistence, Steve's trademark Cabernet Sauvignon blend. It is by far the biggest of the reds we tried and is full of spices, black cherry and hints of chocolate. Reynold's is most well known for their Estate Cabernet Sauvignon and the 2004 vintage does not disappoint. Note the nice use of the Centellino decanter attached to the wine bottle for their Merlot…don't see these at many Napa wineries. We love their label for the reds which is a single mustard bloom…so simple yet elegant.
As of the time of this review, their production is about 7000 cases and some wines are sold only at the winery. Steve Reynolds is also involved in several other interesting winery projects which we have reviewed, including Thirteen, wine made from Napa's 16 sub-appellations, and another label called Naughty Cellars (with one of Napa's cutest little labels).
Note: this review has been identified as needing a **major** update.
For more information or to join their wine club, visit: www.reynoldsfamilywinery.com
Grounds

Hospitality

Winery

View Steve on Toutsuite, the Hollywood show for winemakers in the Napa Valley