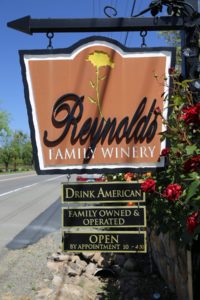 Reynolds Family Winery is located just south of the Soda Canyon store on the east side of Silverado Trail. It is on the site of an old chicken ranch. Hmm…wonder if the vines have good soil here?! The owners (the Reynolds Family) live in the house in front of the winery – keep driving all the way back until you reach the actual winery. The main tasting room building is located in a beautiful setting; a graveled patio and tables overlook the pond and sometimes music is piped outside during tastings.
The tasting room itself is modern and cozy; it is a great place to hang out on a cold winter day next to the blazing fireplace. Their wines are approachable and are food friendly. We found the aromatics on the Merlot and Cabernet Sauvignon to be subtle and elegant not actually revealing the complexities and richness of flavor on the palate. Steve Reynolds, dentist turned vintner, is the winemaker and he released his first vintage in 1999. All fruit is sourced from high quality vineyards which they manage except for the Cabernet Sauvignon which comes from their own property.
If Steve is around perhaps he will invite you to try some barrel samples. You can also make appointments for private tours, the barrel tastings as well as vineyard education tours.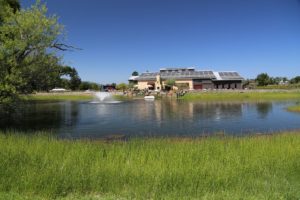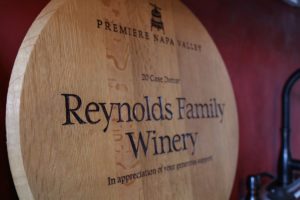 Their Cabernet Sauvignon is actually a blend of 3 Cab clones, the common 337 and 4 and the not so common Weimer clone which was originally developed at UC Davis for shorter growing seasons such as on the east Coast, but this clone actually thrives in the Napa area. Not every winery in Napa Valley makes a Pinot noir but Reynolds makes a delicious well-balanced one grown from vineyards in the cooler Carneros region. Their 2006 Chardonnay is a creamy delight, it undergoes no malolactic fermentation, the aging is in neutral oak (isn't buttery, just creamy) with tons of fruit on the palate including some tangerine and pear flavors.
Also be sure to try Persistence, Steve's trademark Cabernet Sauvignon blend. It is by far the biggest of the reds we tried and is full of spices, black cherry and hints of chocolate. Reynold's is most well known for their Estate Cabernet Sauvignon and the 2004 vintage does not disappoint. Note the nice use of the Centellino decanter attached to the wine bottle for their Merlot…don't see these at many Napa wineries. We love their label for the reds which is a single mustard bloom…so simple yet elegant.
As of the time of this review, their production is about 7000 cases and some wines are sold only at the winery. Steve Reynolds is also involved in several other interesting winery projects which we have reviewed, including Thirteen (wine made from Napa's 16 sub-appellations, and another label called Naughty Cellars (with one of Napa's cutest little labels). Visit: www.reynoldsfamilywinery.com
View Steve on Toutsuite, the Hollywood show for winemakers in the Napa Valley