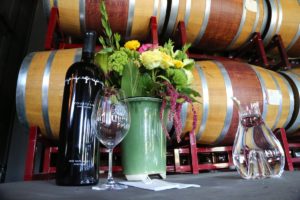 Reynolds Family Winery was founded by long time Napa vintner Steve Reynolds; Steve has been the winemaker since his inaugural vintage in 1999. He was introduced to wine initially through his father who obsessed about collecting various wines; wine was always a part of their meals. Rather than major in winemaking or a related agricultural field, Steve went to the University of the Pacific in Stockton, California where he met his now wife, Suzie.
Suzie's good friend Oscar Renteria, lived in Napa (a prominent vineyard manager). After getting to know Oscar and visiting Napa Valley numerous times, Steve purchased what was an old chicken ranch in 1995 (the current site of the winery). He sold his dental practice, started a new one in Napa and simultaneously learned winemaking mostly by doing but also from several years studying at UC Davis. And as the wine business began to thrive, Steve closed his dental practice and today is still the winemaker while consulting for several small area wine brands.
The Vineyards
Reynolds Family owns two pieces of property in the southern part of Napa Valley – the family estate surrounding their winery, 14 acres of which approximately 9.5 acres are planted to vine. The original plantings on this site were from 1996 and the vineyard is planted entirely to Cabernet Sauvignon (three clones). This vineyard produces only one wine every year – the Estate Cabernet Sauvignon.
And a 20-acre piece of property near the city of Napa called Persistence Vineyard (a very short drive from the winery) is planted to 15 acres of grapes. Like their home vineyard, this site is also planted to Cabernet Sauvignon but also has Petit Verdot and Sauvignon Blanc. Appropriately, they produce a red blend also called Persistence – from this vineyard.
And they also selectively source from several sites in Napa Valley mostly in the southern part of the valley including in the Stags Leap District, Atlas Peak, Carneros and Coombsville. They also source from one vineyard in neighboring Sonoma County from the Sonoma Coast Appellation.
Technology

Steve embraces technology when it comes to wine making. An Italian based company approached him in his several years ago about trying out their product – this was after trying to convince about 20 other Napa wineries of its benefits. This product is an Ozone machine produced by Purovino. Steve has used this on a number of wines already – it is used during fermentation and can be used as a substitute rather than using sulphites in the wine. It effectively kills microbial growth and Steve has noticed cleaner fermentations as a result.
This technology has been especially useful during challenging vintages or with fruit that comes into the winery in less than pristine condition. Steve has also noticed both flavor and aroma enhancements and a softening of the tannins when using this process. It is more commonly used on white wines but is also used on red wines. A result of this process are increased antioxidants in the wine. Steve bottled two wines – one fermented normally and one fermented with the introduction of ozone both using the same grapes but noticed both showed quite different characteristics from each other.
And they use technology on their labels. Select wines have a specific BottleVin 'thumbprint' logo on the label – users with this app simply load the app, hold their phones over this logo and it will bring up tech sheets about that specific wine, videos of Steve discussing the wine and other related information.
During several visits we have also seen the hosts using the Centellino decanter (a decanter that attaches directly to a wine bottle and double decants before pouring into the glass). One certainly doesn't see these at many Napa wineries.
Hospitality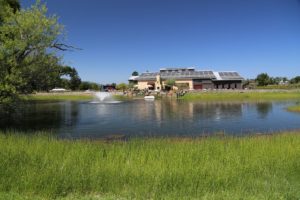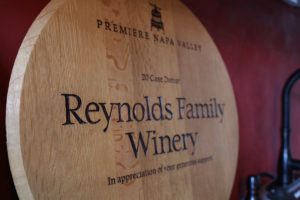 The Reynolds Family Winery + tasting room is located just south of the Soda Canyon Store on the east side of Silverado Trail (about 10 minutes from downtown Napa). It is on the site of an old chicken ranch. Hmm…wonder if the vines have good soil here?! Steve and his family live in the house in front of the winery – keep driving all the way back until you reach the actual winery. The main tasting room building is located in a beautiful setting; a graveled patio and tables overlook the pond and sometimes music is piped outside during tastings.
The tasting room itself is modern and cozy; it is a great place to hang out on a cold winter day next to the blazing fireplace.
If Steve is around perhaps, he will invite you to try some barrel samples. You can also make appointments for private tours, barrel tastings as well as vineyard education tours.
Select Wines
Their wines are approachable and food friendly. Steve doesn't make wines that have harsh edges nor need to sit in a cellar for years – although one certainly could do this for the bigger reds. Rather the wines are generally balanced and approachable upon release.
Their 2017 Reynolds Family Chardonnay did not go through secondary (malolactic fermentation). This is a 'thoughtful' Chardonnay that was carefully crafted both in the vineyard and in the winery. It was fermented and aged in both concrete tanks (eggs), stainless steel tanks and in a combination of used and new French oak barrels. Offers pretty aromatics on the bouquet including both fruit (citrus) and dessert spices. Rounded on the entry with a noticeable creaminess but not a buttery influence. Highly flavorful with notes of tangerine and pear – lingers with both fruit and subtle spices.
Not every winery in the Napa Valley makes a Pinot Noir but Reynolds makes a delicious well-balanced one grown from vineyards in the cooler Carneros region.
The 2016 Reynolds Family Stags Leap Merlot reveals layered aromatics including plum, a sweetness of both fruit and dessert spices with notes of black licorice, old cedar box, mocha and dark chocolate. On the palate perhaps one might mistake this wine for a Cabernet Sauvignon. Fairly robust with firm but not course tannins – both oak and grape tannins linger on the long finish. Plenty of structure and power not always found in a wine from this variety.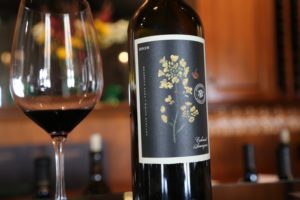 The estate Cabernet Sauvignon is a blend of 3 Cabernet clones, the common 337 and 4 and the not so common Weimer clone which was originally developed at UC Davis for shorter growing seasons such as on the east coast, but this clone actually thrives in the Napa Valley (especially in the cooler southern part of the valley). The 2016 Reynolds Family Estate Cabernet Sauvignon is a blend of 90% Cabernet Sauvignon and 10% Merlot. Features a bouquet that quickly stands out – with aromas of cigar smoke along with dark fruit. Fairly soft through the palate with flavors of red and darker berries – shows plenty of layers. Robust oak and grape tannins show along with a white pepper spice linger on the finish. This is a good wine to pair with a cigar.
Persistence is the winery's flagship Bordeaux style red blend. The name for this wine and of the vineyard dates back to the earliest days of Reynolds Family Winery. Steve wanted to build a winery on site but one of the neighbors disputed his plans. Not able to build the winery in time for the early harvests, Steve actually located a winery in Carmel and made the first vintage of Reynolds Family in Monterey County. The dispute was finally settled, and Steve built the winery – ironically the neighbors eventually sold most of their land which is now planted to vineyards. Many years ago, Steve heard a quote that stuck with him, "The difference between success and failure is persistence" and decided this would be an appropriate name for both their vineyard and flagship wine.
The 2015 Reynolds Family Persistence is dominated by Cabernet Sauvignon – immediately draws one in with its opulent fruit driven bouquet. The aromatics are mostly about the fruit but there are also more subtle nuances of toasted oak, cedar and hints of mocha and dessert spices. Plush on the palate, balanced from start to finish offers bright fruit flavors including red cherry, ripe plum and blackberry. The tannins are firm, integrated and somewhat gravely in their textural approach. Shows a long persistent finish that is mostly about the fruit.
Labels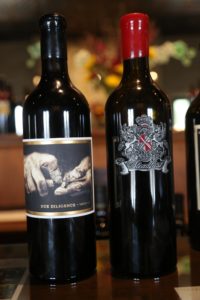 Reynold's Family offers some of the more creatively designed labels and overall packing in the Napa Valley. An image of a mustard bloom is depicted on a number of their wines. But they take this image to another level; one of their most intriguing labels is on the Reserve Cabernet Sauvignon. Every label for this particular wine is adhered to the bottle by hand – and is a pressed imprint of a mustard flower bloom. Even more remarkably, every label features a unique mustard flower.
And several of their other collectible wines also have unique labels including Steadfast with a heavy duty looking metal label and Due Diligence which one might mistake for the label on Papillon of Orin Swift Cellars at quick glance but is actually a photograph of the hands of one of their vineyard workers (doing some budding work in the vineyard).
Penta Tequila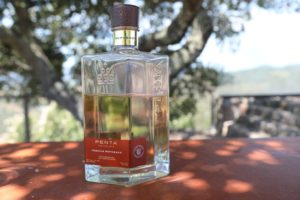 Steve is one of 5 partners in Penta Tequila, a brand that sources blue agave from five Mexican states allowing the production of Tequila. The sources states for the Penta tequila are Jalisco and portions of Michoacan, Guanajato: Tamaulipas and Nayarit. Penta Tequila produces three tequilas: Penta Diamante, Penta Anejo and Penta Reposado.
The Penta Reposado offers some pretty aromatics including vanilla and caramel. Mouth feel is creamy, smooth and filled with flavor. Finishes easy – lingering like velvet.
In their theme of 5, each bottle is five sided. If available, these can be ordered online or in person at The Meritage Wine Market in Encintas (San Diego County) conveniently located only about a 5-minute drive from the 5 freeway. The Meritage Wine Market is one of San Diego county's top wine shops – tastings are held inside a small room in the store or outside at tables in the shade. For more information, visit: www.pentatequila.com
—
As of the time of this review, production of Reynolds Family wines about 7,000 cases with some wines only sold at the winery. Steve Reynolds is also involved in several other interesting winery projects which we have reviewed, including Thirteen, wine made from Napa's 16 sub-appellations, and a second label called Naughty Cellars (with one of Napa's cutest little labels) and is a part owner in Italics Winery (based in Coombsville). And sometimes Steve produces one off wines for whatever reason including one year a White Cabernet Sauvignon (no residual sugar).
Not all wineries offer library wines for sale – Reynolds Family selectively sells some older vintages via their website (at last check vintages dated back some 15 years). For more information or to join one of their wine clubs, visit: www.reynoldsfamilywinery.com
Grounds

Hospitality

Winery

View Steve on Toutsuite, the Hollywood show for winemakers in the Napa Valley