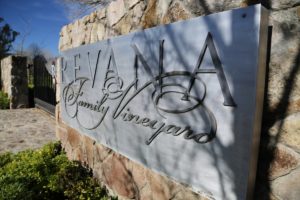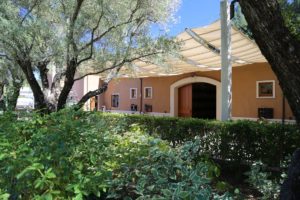 Revana Family Vineyards is owned by Dr. Madaiah Revana a practicing Cardiologist based in Houston, Texas. Dr. Revana was raised on a farm in a small village in southern India near Bangalore. His family grew rice, vegetables and coconuts. His early introduction to agriculture, perhaps provided the seeds of interest in eventually owning a vineyard and a winery. He acts as a managing vintner (stays hands off from the winemaking) whose primary focus is to provide the necessary resources and overall vision – supporting his winemaking team so they have the resources and top vineyard sources to make exceptional wine.
Dr. Revana went to the University of Mysore in southern India for medical school – then moved to the United States and completed his fellowship at Baylor University in Dallas, Texas in 1978. After Baylor, he moved to Houston and established his medical practice. Friends introduced him to fine wine – his palate and wine collection was geared towards Bordeaux wines – after visiting a friend in Tuscany, Italy – he became interested in possibly owning a vineyard.
Dr. Madaiah initially acquired 5 acres of land in St. Helena in 1997 (after attending a Mayo Clinic conference in Napa). Then three months later an adjoning 5-acre parcel came on the market, he purchased this and combined the two separate pieces into one property. Neither property was planted to grapes at the time but vines were planted soon after his purchase. The first vintage of Revana Family Vineyards dates from 2001 and the winery construction was completed in 2004. They use all fruit from this estate vineyard and in addition purchase grapes from select premium vineyards in the Napa Valley. The actual vineyard is located directly behind the winery; it is 8.2 acres planted to several clones of Cabernet Sauvignon, Cabernet Franc and Petit Verdot. These two additional varietals are often used to bring additional complexity to the palate as well as build structure on the wine's finish.
Despite a relatively small vineyard, numerous different soil types are found throughout the site; the rootstocks and varietals have been adapted accordingly. The main focus here has always been on a single wine, an estate Cabernet Sauvignon (under 2000 cases). Well respected Napa vineyard manager Jim Barbour planted the initial vines and is the one who located this property and then brought it to the attention of Dr. Revana.
Revana Family Vineyards is located on the east side of St. Helena Highway just south of Lodi Lane. Tastings are by appointment only (when you face the winery from their parking lot, walk all the way to the right and enter the last door which opens into their elegant tasting room). A typical tasting includes different vintages of their Cabernet Sauvignon. This wine is popular; Revana has built up a loyal following and vintages tend to sell out rather quickly. Such is their focus on this one wine that they have taken many steps to ensure this wine is of the highest quality.
Winemakers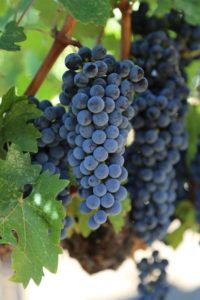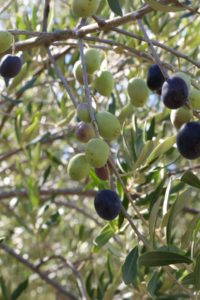 Dr. Revana has assembled an A-class caliber team of select winemakers over the years including well-regarded Heidi Peterson Barrett (who made the wine from 2001 through 2010). Heidi has a long history of making wines for some of Napa's most prestigious and boutique wineries and still is winemaker for a select few producers including her own label La Sirena. When she was making the wine here often a few bottles of La Sirena would be on display in the tasting room. While at Revana she also made La Sirena here and the wines for Jim Barbour (Barbour Vineyards). Heidi has a masterful attention to detail both in the vineyards and in the winery. Her wines are expressive, balanced and food friendly. Heidi was also instrumental in helping design the winery.
Thomas Brown was hired as winemaker in 2011 and continues to make the Revana wines. Thomas is one of the busiest wine makers in the Napa Valley. Several producers have showed us lists of all the Napa brands that he consults for and or provides direct winemaking services; this is an extensive list. He is from South Carolina and developed an interest in wine while attending the University of Virginia where his major was not wine related (he studied English and Economics).
He moved to the Napa Valley in 1996 and took a job at All Seasons Bistro in Calistoga (known for their California cuisine, wine selection and long time in business). While there, Thomas met winemaker Ehren Jordan who was working for Larry Turley at the time of Turley Wine Cellars. Thomas took a job with Ehren in the cellar at Turley in 1997 – spent several years there before beginning his own career and starting to consult for various clients (some of which were clients that Ehren was already working with).
And within only 10 years of making wine in the Napa Valley Thomas received two 100 point scores from Robert Parker – regardless of what your perception is of scores, creating several wines within a short period of time that receive 100 points from Parker was a watershed moment in Thomas's consulting career.
Today Thomas is highly sought after for his winemaking services, experience and access to premium area vineyards. And while he was once the student, over the years he has become the teacher. We have met with a number of winemakers who worked under Thomas – and consider him one of their mentors. These are winemakers who have gone on to establish their own brands or consult for other Napa based brands.
Wine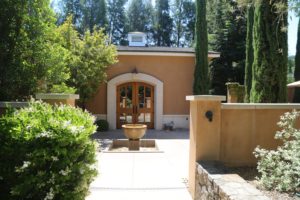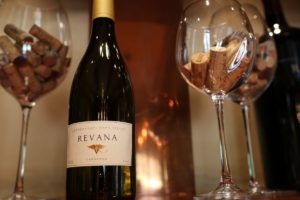 The 2006 Revana Family Vineyards Cabernet Sauvignon was just released at the time of our tasting. Their wine tends to age slightly longer than is common with most winery current releases. The bouquet shows a dusty or earthy component complemented by ripe black fruit including blackberry and black cherry. This is a soft elegant wine with intriguing layers of flavor (mostly black fruit). It offers a well-rounded finish anchored by broad tannins. There is ample structure on the finish yet it is in balance, complemented nicely with the lingering plum/berry flavors. Heidi estimates this will drink nicely through 2020.
Alexana Winery
Should you find yourself in the Willamette Valley (about a hours drive south of Portland) in Oregon stop by Alexana Winery in the Dundee Hills appellation. Alexana Winery is also owned by Dr. Revana and the name comes from combining part of his last name and his daughter's first name, Alexandra. The focus of Alexana is on Pinot Noir and Pinot Gris.
The property (called the Revana Vineyard) is located in a gorgeous part of this AVA and encompasses 80 acres including the winery and tasting room perched on the edge of hills overlooking parts of their vineyards. Some 55 acres are planted to vines separated into 31 mini blocks in 18 different types of soils. The varietals include 49 acres of Pinot Noir and the remainder planted to Chardonnay and Riesling. The oldest vines on the property date from 2003. Dr. Revana was introduced to this property through winemaker Lynn Penner-Ash (worked at Domain Chandon and Stag's Leap Wine Cellars in the Napa Valley, moved to Oregon and became the state's first hired female winemaker – and founded and operates the nearby Penner-Ash Wine Cellars).
Several tasting flights are offered including current release wines, library wines and a reserve tasting offering samples from all three of their vineyard locations (Napa Valley, Willamette Valley and Mendoza, Argentina). Alexandra Winery produces both wines from the estate as well as wines from select other vineyards in the Willamette Valley. Note the creative use of soils in their wine bar – 5 different soil types are stacked on top of each other – easily seen through the clear glass covering.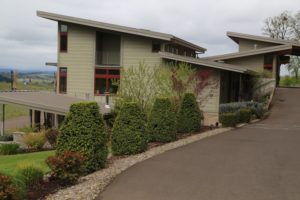 The 2017 Alexana Single-Clone Pommard Pinot Noir offers plenty of fruit and spice on the bouquet including blueberry, red cherry, spicy plum and an assortment of other layered darker spices. Offers flavors of plum and white pepper with a tobacco leaf nuance on the finish. The tannins are refined – and well integrated especially for such a young wine at the time of our tasting.
It is always interesting to try wines from the same source but from different vintages side by side. The differences between the 2015 and the 2017 Fennwood Vineyard Pinot Noir are remarkable. The 2015 Alexana Fennwood Vineyard Pinot Noir offers pretty fruit aromatics – bright on the nose including aromas of plum and raspberry – as the wine breathes subtle baking spice nuances begin to show. These spices are more pronounced on the palate rather then the bouquet. Generously layered tending to show more of a darker fruit characteristic – the tannins are elegant and silky smooth.
The 2017 Alexana Fennwood Vineyard Pinot Noir immediately shows a brooding bouquet with aromas of mushroom, white pepper, and tobacco smoke. The fruit is there but not as pronounced as on the 2015 vintage. Excellent acidity with a finish that lingers for some time offering cedar box, tobacco and other darker spices.
Corazon del Sol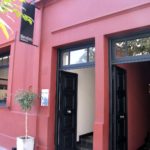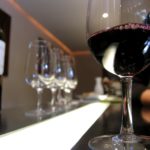 And while on a trip to Brazil, Dr. Revana had a layover in Argentina but did not have a visa to continue to Brazil so he ended up touring Mendoza (including a stop in the iconic Vines of Mendoza wine shop) and became captivated by the terroir in this part of Argentina. In 2008 he acquired property at approximately 3,000 feet – today 17 acres of vines are planted including Malbec, Cabernet Franc, Merlot, Grenache, Syrah and Mourvedre. He calls this site the Corazon del Sol (heart of the sun), a nice play on words as a tribute to his son Arun as well as a nod to the vineyards' high elevation and increased exposure to the sun.
More notes coming by end of 2019 after we visit Corazon del Sol.
The wines are selectively distributed to most states and some international destinations. For more information, to schedule a visit or to join their allocation list, visit: www.revanawine.com
Vineyards

Winery

Hospitality

Alexana Winery, Willamette Valley OR

Corazon del Sol (our visit is planned for late 2019 as part of a Napa Valley only in South America trip – please check back for photos; this review will be updated at that time.