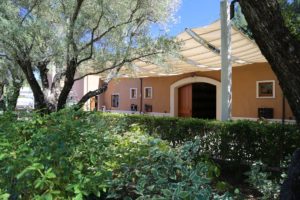 Revana Family Vineyards is owned by Dr. Madaiah Revana, a practicing cardiologist based in Houston, Texas. Dr. Revana was raised on a farm in a small village in southern India near Bangalore. His family grew rice, vegetables and coconuts. His early introduction to agriculture, perhaps provided the seeds of interest in eventually owning a vineyard and a winery. He acts as a managing vintner (stays hands off from the winemaking) whose primary focus is to provide the necessary resources and overall vision – supporting his winemaking team so they have the tools and top vineyard sources to make exceptional wine.
Dr. Revana went to the University of Mysore in southern India for medical school – then moved to the United States and completed his fellowship at Baylor University in Dallas, Texas in 1978. After Baylor, he moved to Houston and established his medical practice. Friends introduced him to fine wine – his palate and wine collection was geared towards Bordeaux wines – after visiting a friend in Tuscany, Italy – he became interested in possibly owning a vineyard.
Dr. Madaiah initially acquired 5 acres of land north of the town of St. Helena in 1997 (after attending a Mayo Clinic conference in Napa). Then three months later an adjoining 5-acre parcel came on the market, he purchased this and combined the two separate pieces into one property. Neither property was planted to grapes at the time, but vines were planted soon after his purchase. The first vintage of Revana Family Vineyards dates from 2001 and the winery construction was completed in 2004. They use all fruit from this estate vineyard and in addition purchase grapes from select premium vineyards in the Napa Valley. The actual vineyard is located directly behind the winery; it is 8.2 acres planted to several clones of Cabernet Sauvignon, Cabernet Franc and Petit Verdot. These two additional varietals are often used to bring additional complexity to the palate as well as build structure on the wine's finish.
Despite a relatively small vineyard, numerous different soil types are found throughout the site; the rootstocks and varietals have been adapted accordingly. The main focus here has always been on a single wine, an estate Cabernet Sauvignon (under 2000 cases). Well respected Napa vineyard manager Jim Barbour planted the initial vines and is the one who located this property and then brought it to the attention of Dr. Revana. Today the vineyard is certified both Napa Green and Fish Friendly Farming.
Revana Family Vineyards is located on the east side of St. Helena Highway just south of Lodi Lane. Tastings are by appointment only (when you face the winery from their parking lot, walk all the way to the right and enter the last door which opens into their elegant tasting room). A typical tasting includes different vintages of their Cabernet Sauvignon. This wine is popular; Revana has built up a loyal following and vintages tend to sell out rather quickly.
Winemakers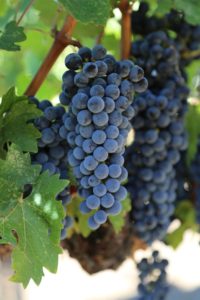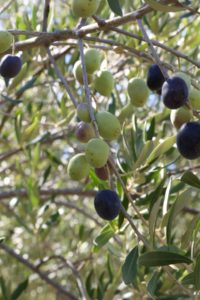 Dr. Revana has assembled an A-class caliber team of select winemakers over the years including well-regarded Heidi Peterson Barrett (who made the wine from 2001 through 2010). Heidi has a long history of making wines for some of Napa's most prestigious and boutique wineries and still is winemaker for a select few producers including her own label La Sirena. When she was making the wine here often a few bottles of La Sirena would be on display in the tasting room. While at Revana she also made La Sirena here and the wines for Jim Barbour (Barbour Vineyards). Heidi has a masterful attention to detail both in the vineyards and in the winery. Her wines are expressive, balanced and food friendly. Heidi was also instrumental in helping design the winery.
Thomas Brown was hired as consulting winemaker in 2011 and continues to oversee production of the Revana wines. Thomas is one of the busiest wine makers in the Napa Valley. Several producers have showed us lists of all the Napa brands that he consults for and or provides direct winemaking services; this is an extensive list. He is from South Carolina and developed an interest in wine while attending the University of Virginia where his major was not wine related (he studied English and Economics).
He moved to the Napa Valley in 1996 and took a job at All Seasons Bistro in Calistoga (known for their California cuisine, wine selection and long time in business – but unfortunately closed in 2020). While there, Thomas met winemaker Ehren Jordan who was working for Larry Turley at the time of Turley Wine Cellars. Thomas took a job with Ehren in the cellar at Turley in 1997 – spent several years there before beginning his own career and starting to consult for various clients (some of which were clients that Ehren was already working with).
And within only 10 years of making wine in the Napa Valley Thomas received two 100-point scores from Robert Parker – regardless of what your perception is of scores, creating several wines within a short period of time that receive 100 points from Parker was a watershed moment in Thomas's consulting career.
Today Thomas is highly sought after for his winemaking services, experience and access to premium area vineyards. And while he was once the student, over the years he has become the teacher. We have met with a number of winemakers who worked under Thomas – and consider him one of their mentors. These are winemakers who have gone on to establish their own brands or consult for other Napa based producers.
Select Wines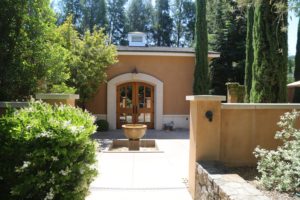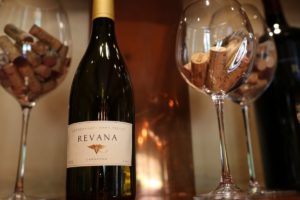 The 2006 Revana Family Vineyards Cabernet Sauvignon was just released at the time of one of our earlier visits to Revana. Some of their earlier vintages tended to be aged slightly longer than is common with most winery current releases. The bouquet shows a dusty or earthy component complemented by ripe black fruit including blackberry and black cherry. This is a soft elegant wine with intriguing layers of flavor (mostly black fruit). It offers a well-rounded finish anchored by broad tannins. There is ample structure on the finish, yet it is in balance, complemented nicely with the lingering plum/berry flavors. Heidi estimates this will drink nicely through 2020.
The 2016 Revana Estate Cabernet Sauvignon, like all their estate vintages we have ever tasted is extremely dark in the glass – dark ruby with purplish tinges. Offers ripe blackberry, a dusty nuance, tobacco leaf and dried herbs. Finishes with flavors of red cherry and long-lasting tannins with medium grip. A juicy finish with bright acidity. Fairly approachable in its youth.
The 2013 Revana Estate Cabernet Sauvignon (tasted 7 years after vintage) is holding up extremely well. Youthful still both on the bouquet and the palate. Offers generous aromatics – for lack of a better description, one can truly smell the varietal characteristics here. Big fruit, darker chocolate and some old cedar box notes. Let this wine breathe and open – it needs time in the glass. 2013 in general was a robust vintage with muscular tannins up front – this wine is holding its structure very well – with still somewhat chewy tannins but perhaps better integrated now that it's had some time to age. But there is still, plenty of life ahead of this.
For many years Revana focused their wine making efforts on a single estate Cabernet Sauvignon but after Thomas Brown became the winemaker, he suggested producing several other wines. One of which is their Reserve Block 6 – a tiny portion of the estate vineyard with a higher proportion of old river cobble – the right combination of both soil rootstock and clone that produces an extremely limited production wine each year – usually only around 3 barrels.
And Revana also produces a Cabernet Sauvignon from the Steltzner Vineyard in the Stags Leap District (also managed by Jim Barbour's team). The 2016 Revana Steltzner Vineyard Cabernet Sauvignon is 100% varietal and was sourced from older vines dating back to the 1970s. Offers some savory notes on the bouquet with very dark fruit aromatics including blackberry and boysenberry complemented by dried tobacco leaf and notes of dust. Dark fruit continues on the palate including plum with lingering notes of dried herbs including sage. The texture is a highly appealing attribute of this wine – the rounded and almost dust-like tannins show a moderate grip but without being heavy or coarse in their feel. This wine is seamless across the palate including through the finish. A gorgeous showing.
Visits are by appointment only. For more information or to join the wait list for Revana Priority Membership, visit: www.revanawine.com
Estate vineyard

Winery

Hospitality

Alexana Winery
Should you find yourself in the Willamette Valley (about an hours drive south of Portland) in Oregon plan a stop to Alexana Winery in the Dundee Hills appellation (a short drive from the towns of Dundee and Newberg). Alexana Winery is also owned by Dr. Revana; the name comes from combining part of his last name and his daughter's first name, Alexandra. The focus of Alexana is on Pinot Noir and Pinot Gris.
The property (called the Revana Vineyard) is located in a gorgeous part of this AVA and encompasses 80 acres including the winery and tasting room perched on the edge of hills overlooking parts of their vineyards. Some 55 acres are planted to vines separated into 31 mini blocks in 18 different types of soils. The varietals include 49 acres of Pinot Noir and the remainder planted to Chardonnay and Riesling. The oldest vines on the property date from 2003, planted by the previous owner.
Dr. Revana was introduced to this property through winemaker Lynn Penner-Ash (worked at Domain Chandon and Stag's Leap Wine Cellars in the Napa Valley, moved to Oregon and became the state's first hired female winemaker – and founded and operates the nearby Penner-Ash Wine Cellars). Dr. Revana initially hired Lynn as his consulting winemaker for Alexana Winery.
Several tasting flights are offered including current release wines, library wines and a reserve tasting offering samples from all three of their vineyard locations (Napa Valley, Willamette Valley and Mendoza, Argentina). Alexandra Winery produces both wines from the estate as well as wines from select other vineyards in the Willamette Valley. Note the creative use of soils in their wine bar – 5 different soil types are stacked on top of each other – easily seen through the clear glass covering.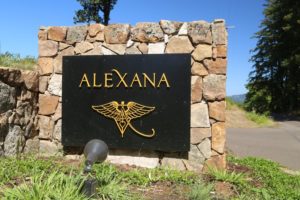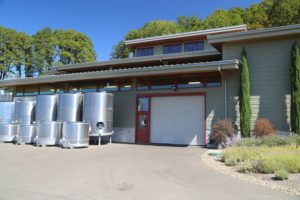 The 2017 Alexana Single-Clone Pommard Pinot Noir offers plenty of fruit and spice on the bouquet including blueberry, red cherry, spicy plum and an assortment of other layered darker spices. Offers flavors of plum and white pepper with a tobacco leaf nuance on the finish. The tannins are refined – and well-integrated especially for such a young wine at the time of our tasting.
It is always interesting to try wines from the same source but from different vintages side by side. The differences between the 2015 and the 2017 Fennwood Vineyard Pinot Noir are remarkable. The 2015 Alexana Fennwood Vineyard Pinot Noir offers pretty fruit aromatics – bright on the nose including aromas of plum and raspberry – as the wine breathes subtle baking spice nuances begin to show. These spices are more pronounced on the palate rather than the bouquet. Generously layered tending to show more of a darker fruit characteristic – the tannins are elegant and silky smooth.
The 2017 Alexana Fennwood Vineyard Pinot Noir immediately shows a brooding bouquet with aromas of mushroom, white pepper, and tobacco smoke. The fruit is there but not as pronounced as on the 2015 vintage. Excellent acidity with a finish that lingers for some time offering cedar box, tobacco and other darker spices.
Note 1: in September 2020 construction on a new hospitality center was completed – with the upper level offering excellent views (especially from the deck) overlooking the vineyards and the below level, serving as wine storage.
Note 2: More recently, Dr. Revana purchased another property in the Willamette Valley – 65 acres slightly north of Alexana Winery. We will update this review once we have more details – regarding perhaps another brand or even another stand-alone winery.
Corazon del Sol
Travel is one of life's great privileges. Travel is also a universal connector which brings people together from different walks of life and in the case of select Napa Valley vintners, has been the genesis for building greater things. Travel encompasses business and leisure but, in this case, we are referring directly to the world of wine and how it relates to Napa Valley. Travel introduces random experiences and connections and nowhere is this truer than the stories of both Dr. Revana and the co-founders of The Vines of Mendoza.
While on a planned trip to Sao Paulo Brazil, Dr. Revana had a layover in Argentina but was not able to acquire a visa to continue to Brazil, so he ended up touring Mendoza and at a dinner party met Michael Evans, one of the co-founders of the Vines of Mendoza, a private-vineyard and winery project located in the Uco Valley – about a 90-minute drive from Mendoza. Dr. Revana became intrigued by the terroir and visual beauty of the region. In 2008 he acquired property within the Vines of Mendoza located at approximately 3,000 feet – today 17 acres of vines are planted including Cabernet Franc, Cabernet Sauvignon, Grenache, Malbec, Merlot, Syrah and Mourvedre. He calls this site Corazon del Sol (meaning heart of the sun in Spanish), a nice play on words as a tribute to his son Arun (which in Sanskrit, one of its meanings is sun) as well as a nod to the vineyards' high elevation and increased exposure to the sun with over 300 days of sunshine on average each year.
Corazón del Sol's own winery and hospitality center was designed by Mendoza architecture firm A4estudio and opened in 2014; it is located on an 8.6-acre property. Their first harvest was in 2011 and from 2011 through 2013, their wines were made at the nearby Vines of Mendoza Winery. The Corazón del Sol winery is located directly next to a sometimes-running riverbed – the amount of large river cobble here is really remarkable – their vineyards grow in these nutrient deficient soils/rocks.
Their own vineyards encompass three different parcels within the Vines of Mendoza (Block 6, 13 and 22) including the vineyards next to the winery and two vineyard blocks close to the Vines of Mendoza Winery. The soil composition between each site differs somewhat – between various levels of deep alluvial deposits, limestone and clay sandy loam. And despite the vineyard sites located not far from each other – the temperature differences do vary, sometimes significantly. The elevation also differs between the three sites up to 300 feet. The Corazon del Sol vineyards were developed from scratch in soils that had never before been planted to vines. While parts of the Mendoza region have issues with hail, the Corazon del Sol vineyards have never experienced hail damage.
Corazón del Sol uses the Vines of Mendoza's vineyard management team to oversee their own vineyards, while their own team oversees their own winemaking.
Total production varies, as of our latest update is around 8,000 cases per year. Approximately 80% of their wines are exported to the United States via the port of Oakland with some representation also in Argentina (primarily in Buenos Aires) and in the United Kingdom.
Hospitality
Visits to Corazón del Sol are by appointment. Visitors will pull off of Route 94 onto a small dirt road leading onto the Vines of Mendoza property and will check-in with an attendant before proceeding down a dirt road following the signs to the winery. Park in the shade of several trees next to the vineyards and walk the short path to the winery. Guests are welcomed with a lighter style white wine by one of their personable, knowledgeable and friendly hosts.
The winery is small, and tours are informal, relaxed and geared towards the interests of visitors initially focusing on an overview of the property and its history before proceeding into the small winery with its state-of-the-art production equipment and small tanks. A short visit will take place in the barrel room where often a barrel sample will be provided. A tour includes a stop in a small library room built below the winery which contains older vintages of not only Corazón del Sol but also from Alexana Vineyards and Revana Winery. Sometimes tasting are hosted in this room. A tasting of current release wines following the tour is generally hosted in an elegant room with a generous allotment of windows providing ample views of the Andes and nearby vineyards.
And we heard that the harvest parties are epic events (inquire about joining one of their two allocation programs for access).
Select Wines
Corazón del Sol produced the first estate Grenache, Syrah and Mouvedre blend (GSM) in Argentina called Luminoso (today there are several other producers in Argentina now making a GSM). This thoughtfully made wine varies in percentages of varietals each year with Grenache typically the dominant varietal but not every vintage; it is always aged in new French oak barrels (different sized barrels). The varieties are harvested and co-fermented together and then from barrel are blended later in tank prior to bottling. Up to 50% whole cluster Grenache goes through carbonic fermentation – the idea being to preserve the inherent characteristics of Grenache, its typicity. This wine spends additional time in bottle and is often 3 or 4 years post vintage date when released.
The 2015 Corazón del Sol Luminoso GSM Block 13 is a blend of 40% Mourvedre, 35% Syrah and 25% Grenache. Immediately presents pretty aromatics – this is an elegant yet simultaneously riper bouquet. A sweetness of fruit is the dominant thread throughout with notes of black licorice, cedar, and hints of clove and mocha. Immediately noticeable on the palate is the mouthwatering acidity – with flavors of red cherry and lingering notes of currant and raspberry. Anchored by well-integrated tannins showing medium grip.
The 2017 Corazón del Sol Malbec was aged in 100% French oak for 12 months of which 50% was in 2 and 3x time fill barrels. Reddish violet in the glass, offers earthy nuances with notes of mushroom initially and as the wine opens reveals plenty of fruit including blackberry and blueberry. Also hints of cloves, chocolate and other dessert spices. Rounded and soft yet simultaneously showing a freshness upon entry with flavors of red cherry and raspberry. Pleasing acidity with a light grip of tannins anchoring the smooth finish. A very balanced showing. And of note, the 2016 Corazón del Sol Gran Reserva Malbec was the highest scored Malbec from this vintage in Argentina by the Wine Spectator.
The 2017 Corazón del Sol Sryah Single block 22 is dark garnet with purplish tinges on the rim; shows some spices on the bouquet but is more restrained as compared to some Syrahs which tend to be more peppery in their aromatic presentation. Somewhat floral with notes of violet, a sweetness of licorice, toffee and a hint of coffee grinds. Also, dark chocolate. Very food friendly – an elegant showing from start to finish. This is an impressive food wine and makes one want to reach for one of those famous Argentine steaks.
The 2015 Corazón del Sol Soleado Bordeaux Blend is primarily Malbec with smaller amounts of Merlot, Cabernet Franc and Cabernet Sauvignon in the blend. All four varieties were fermented separately, then blended prior to bottling. Noticeably dark in color offers aromas of blackberry, cassis, a hint of cedar, black fig, bittersweet chocolate and mocha. Shows more fruit as the wine continues to breathe. Such a diversity of aromas! On the palate, ripe blackberry and hints of coffee grinds – juicy and mouthwatering with appealing finely textured tannins.
Vines of Mendoza
This ambitious project encompasses some 1500 acres including vineyard blocks owned by various investors, the world-class The Vines Resort & Spa, the acclaimed Francis Mallmann Siete Fuegos Restaurant, the Winemakers Village (a select part of the property created for physical wineries) and the Vines of Mendoza's own winery. Founded in 2005 by two young men, Pablo Gimenez Riili and Michael Evans. Michael first came to Argentina in 2000 – four years later he returned to Argentina from Los Angeles on what was originally intended to be a 3-week vacation – he met Pablo during that trip based on a recommendation he had while at a wine tasting in Buenos Aires; both men soon became friends.
Pablo was born and raised in Mendoza and is a lawyer and a winemaker; his family has been involved in the wine business for several generations. Their vision for the Vines of Mendoza has certainly evolved over the years but has been a remarkable one since the beginning. Deciding to partner together and raising money from friends and family and other contacts, they began with a purchase of 650 acres of land in the Uco Valley and planted their first vineyards in 2007. For a number of years, they maintained The Vines Wine Bar & Vinoteca in downtown Mendoza (which is where we first discovered their project on May 16, 2007, during a trip to the region – this tasting room has since closed).
Investors come from all walks of life bound by a common interest in wine. The minimum Private Vineyard Estate purchase is 1/2 acre – over 250 investors have purchased land many from international destinations. Every plot of vineyard land is signed with the name of the vineyard. Investors typically either sell grapes from their vineyards to the Vines of Mendoza Cooperative or use the Vines of Mendoza winery to create their own labels. To date over 400 wines are created each year for the various owners from the 30+ varieties which grow on the property. Mendoza architectural firm, Bormida & Yanzon designed both the resort and winery with input from winemaker Santiago Achaval and consulting winemaker Rob Lawson of Napa Valley's Pavi Wines.
In addition to the vineyard land, The Winemakers Village is a small section of the overall property set aside to house a maximum of 12 unique wineries. As of our latest update to this review, the Winemakers Village already contains several existing wineries including Corazón del Sol with several more to be built in the coming years.
—
The Vines Resort & Spa
Arguably the centerpiece of the Vines of Mendoza is the resort and spa, a community built around 21 villas ranging from 1,000 to 2,700 square feet. Surrounded by vineyards and situated along the shoreline of a small body of water, the views from the villas are always spectacular especially of the snowcapped Andes and during sunrise and sunset. Each villa is located within a short walking distance of the lobby, restaurant and gorgeous pool (with its in-pool reclining chairs).
Beautiful views abound from numerous parts of the resort, but arguably the highlight vistas are from the stand-alone gym – from the second floor one enjoys incredible panoramas of the Andes and the vineyards in all directions. And the resort has been recognized by press, in 2019 they were voted the #2 resort hotel in all of South America by Travel + Leisure magazine and received mention as Best in the World by the Conde Naste Readers' Choice Awards.
Located poolside is the small wine house (Uco Valley Tasting Room) which features select wines created by vintners associated with The Vines of Mendoza. As of our latest update to this review more then 400 unique wines are created on property. Guests and visitors to the resort are welcome to visit this tasting room without an appointment. The resort's sommelier often hosts special tastings which are only available by reservation.
Siete Fuegos, Restaurant
Meaning "seven fires" in Spanish, this is one of several restaurants overseen by claimed Argentinean chef, Francis Mallman. Features open-flame cooking – a variety of meats are specialty items including some very long cooked dishes. But remarkably, with advance reservation the restaurant can accommodate Kosher and vegetarian requests.
During our exploration in South America of any spaces or places strongly connected to wineries within the Napa Valley we have enjoyed visits to numerous restaurants. Arguably the highlight of our culinary explorations in South America is Siete Fuegos. While reservations are recommended, visitors often can enjoy lunch without a reservation. Seating is indoors at a variety of tables or at a seat at the very well stocked Bar & Cava. Recommended dishes included several of their salads (our favorite is the squid salad); select lamb dishes are also worth pursuing. While here, order some wine from Recuerdo, the Vines of Mendoza's own wine brand or dabble in a number of Argentine wines from their diverse selection.
Dr. Revana birthplace village, Bangalore India
Photos coming by 2025.