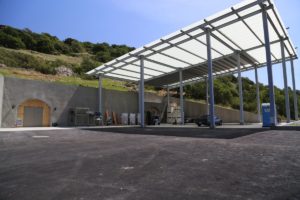 Relic Wines was started by Michael Hirby & Schatzi Throckmorton. Michael has an interesting story of how he ended up working as a winemaker in Napa. He was in college in Colorado when he found out one of his classmates owned a restaurant, interestingly named Primativo. With a restaurant name like that they are sure to have a nice wine list and Michael ended up working as the sommelier and gaining valuable insights and tasting knowledge of Domestic and International wines. He eventually moved to France to take a job at a winery but just before he was to start he was informed there was no job available. Talk about a shock worse than bottle shock!
He stayed in France longer and eventually found his was back to the USA and to Napa. He arrived in the area without knowing anyone, having housing lined up or having a job and fortunately found Behrens & Hitchcock Winery high on Spring Mountain. He served as their assistant winemaker learning valuable wine making information from owner Les Behrens and then branched out on his own and today runs Relic and is also winemaker for several other boutique wineries. Schatzi also moved to Napa after college on the spur of the moment and now is the General Manager for Behrens & Hitchcock & Erna Schein.
Note the name of this winery and its connotation. One of the common meanings of the word "relic" is a historical association with something in the past. Relic Wine's philosophy is tied into how wine has been made for many years. Depending on the wine, racking (siphoning the wine off the lees) is kept to a minimum and contact is made with the wine during the aging only when necessary. Out of 500+ commercial Napa wine producers that we have visited and tasted with to date Relic is the first one to mention to us that they crush grapes by foot stomping (the original method). Don't worry everything is well sanitized before hand! A number of small wineries in Spain & Portugal and other parts of Europe still use this method as their primary means of crushing the fruit.
Relic sources fruit from Napa County as well as from Alder Springs in northern Mendocino County. Many wineries in Napa of course source their Pinot from the Carneros region or maybe the Sonoma Coast or Russian River in Sonoma county but the Pinot Noir from Alder Springs has its own unique characteristics. First of all its grown at elevation (vineyards up to 2700 feet) – try finding that elevation in Napa County and you will come up empty, with steep hillsides and specific soil types. Nice cola / cherry flavors are often representative of Pinots from this region. It is a fairly popular vineyard for select wineries and locally Patz & Hall & Behrens & Hitchcock have used fruit from the Alder Springs Vineyard. We had a chance to taste many of the component barrels that would form the final blends for their Pinot Noirs, the Syrah and Cabernet Sauvignon.
Following the theme of the winery name, their predominately Cabernet Sauvignon blend is named Artefact. This wine is dark with great aromatics; could the 30% Petit Verdot have something to do with this! In addition, 10% of Syrah is part of this blend. The one released vintage we tried was the 2006 hillside grown Richard Perry Vineyard Syrah. This is a big wine, dark in color and rich in flavor. There are nice exotic pleasing aromas on the nose including violet, black cherry and hints of dark chocolate. The Syrah for this wine was not at the peak of its ripeness curve when it was picked which in part helps contribute to the more elegant nose rather than a fruit dominated bouquet. The fruit follows right onto the palate and finishes with moderate and well structured tannins. Unfortunately this is the last vintage from this remarkable vineyard, but Mike has many contacts within the Napa wine scene and has and will locate high quality vineyards for future vintages.
Their total production is quite small usually between 450 – 700 cases annually. Locally you can often find their wines at ACME wine shop in St. Helena.
In the summer of 2009 Relic purchased a 10-acre piece of land in the Napa Valley and future plans call for building their own winery. Visit: www.relicwines.com
NOTE: after a number of years of making his wines at Behrens & Hitchcock Winery, Mike has built a small cave winery off of Soda Canyon (private).