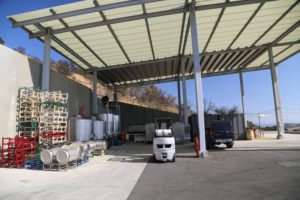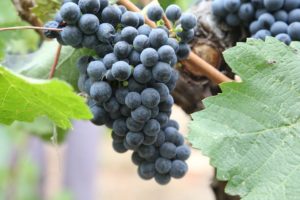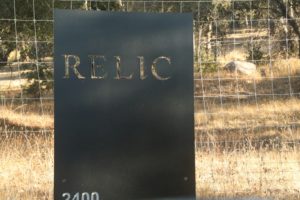 Relic Wines was started by Michael Hirby & Schatzi Throckmorton. Michael has an interesting story of how he ended up working as a winemaker in Napa. He was in school at Colorado College in Colorado Springs (where he eventually graduated with a degree in Philosophy) when he found out one of his classmates owned a restaurant, interestingly named Primativo. With a restaurant name like that they were sure to have a nice wine list and Michael ended up working as their sommelier and gaining valuable insights and tasting knowledge of domestic and international wines. He eventually moved to France to take a job at a winery but just before he was to start he was informed there was no job available. Not exactly the kind of news you want to hear when you are already invested in taking a position overseas.
Mike stayed in France longer and eventually found his was back to the USA and to Napa. He arrived in the Napa Valley without knowing anyone, having housing lined up or a job but fortunately discovered Behrens & Hitchcock Winery high on Spring Mountain. During his time there, he served as their assistant winemaker learning valuable wine making information from owner Les Behrens before branching out on his own. Later he became winemaker at Realm Cellars. Besides running Relic he is also winemaker for several other boutique wineries.
Schatzi is originally from Iowa – with no formal background education in wine (her major at college was in African history). Her path to the world of wine was influenced by a great-uncle who encouraged her to spend time in wine country. She came to the Napa Valley in 1999, worked for one year at Folie À Deux Winery before discovering the hidden away on Spring Mountain, Behrens Family Winery. Along with helping manage Relic Cellars, Schatzi is the General Manager for Behrens Family Winery.
Note the name of the winery and its connotation. One of the common meanings of the word "relic" is a historical association with something in the past. Relic Wine's philosophy is tied into how wine has been made for many years and the images on their labels reflect this history. Depending on the wine, racking (siphoning the wine off the lees) is kept to a minimum and contact is made with the wine during the aging only when necessary. Out of 980+ commercial Napa wine producers that we have visited and tasted with to date Relic was the first one to mention to us that they crush grapes by foot stomping (the original method). Don't worry, everything is well sanitized before hand. A number of small wineries in Spain & Portugal and other parts of Europe still use this method as their primary means of crushing the fruit.
Wines/Winemaking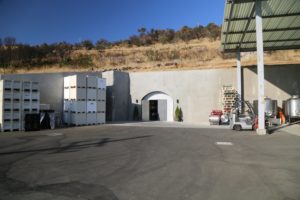 Relic's wines are produced from varieties commonly associated with Bordeaux, Burgundy and the Rhône Valley. Relic sources fruit from a variety of unique and sometimes historical vineyard sites within Napa County as well as from Sonoma County. For some years, Relic was sourcing from the Alder Springs Vineyard in Mendocino County to the north but has since focused his efforts on vineyards closer to the coast.
Many Napa Valley based wineries source their Pinot Noir from the Carneros region or maybe the Sonoma Coast or Russian River in Sonoma county but the Pinot Noir from Alder Springs has its own unique characteristics. First of all its grown at elevation with steep hillsides and several differing soil types (the vineyards grow up to 2700 feet) – those looking for any vineyards at that elevation in Napa County will only find one, the Harris Blue Ridge Vineyard in the far eastern reaches of the county. Cola / cherry flavors are often representative of Pinot Noirs from Alder Springs. It is a fairly popular vineyard for select wineries and locally Patz & Hall & Behrens & Hitchcock have used fruit from this particular vineyard.
Following the theme of the winery name, their red blend named Artefact is predominately a Cabernet Sauvignon blend. This wine is generally dark in color with excellent aromatics.
During an early visit, we tried the 2006 hillside grown Richard Perry Vineyard Syrah. Certainly its robust color has something to do with the 30% Petit Verdot – 10% of Syrah is also a part of this blend. This is a big wine, dark in color and rich in flavor. There are exotic and pleasing aromas on the nose including violets, black cherry and hints of dark chocolate. The Syrah for this wine was not at the peak of its ripeness curve when it was picked which in part helps contribute to the more elegant nose rather than a fruit dominated bouquet. The fruit follows right onto the palate and finishes with moderate and well structured tannins.
Unfortunately this was the last vintage from this remarkable vineyard, but Mike has many contacts within the Napa wine scene and continues to locate premium vineyard sites for future vintages.
Additional wines need to be tasting. Tasting notes coming by 2022.
—
In the summer of 2009 Relic purchased a 10-acre piece of land several miles up Soda Canyon Road in Napa's Atlas Peak appellation. Within several years they tunneled out a small but functional cave where they make their own wines (currently around 3,000 cases a year) and also the wines for several select clients that Mike consults for.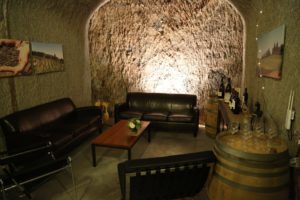 Unlike the traditional gunnite interior finishing on most caves in the valley – much of their cave walls were then blasted post gunnite giving the walls a more natural stone rock look. This is an extremely rocky part of the Napa Valley – their cave was drilled through solid rock and parts of the cave tunnels were left in their natural state.
The terrible fires in October 2017 burned much of their property but did not burn into the cave (with only very limited loss of items on their crush pad) – the team has lots of stories relating to how they had to access the winery following the fires when the nearby roads were closed. And like a number of Napa based wineries, unfortunately this wasn't their first experience with fire disaster. They lost much of their 2003 and 2004 vintages in the terrible arson fire in a Vallejo wine storage facility in 2005. Not an easy disaster to recover from, considering the extremely limited size of their production at the time and the fact that their first vintage was from 2001.
Plans call for planting about one acre of select Bordeaux red varieties on site in the very rocky soils. Once planted, wines from these vines will be Relic's first ever estate wine.
Most of their wines are sold direct with extremely limited retail distribution. Locally you sometimes can find their wines at ACME wine shop in St. Helena. For more information and or to join their allocation list, visit: www.relicwines.com