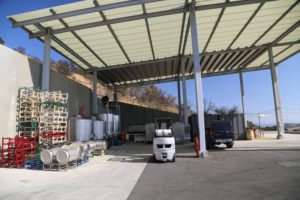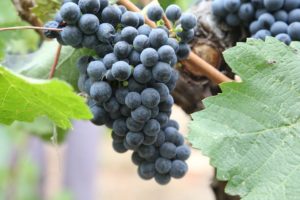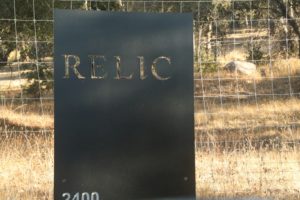 Relic Wines was founded by Michael Hirby & Schatzi Throckmorton with their first vintage, a three barrel production of Pinot Noir in 2001. Michael has an interesting story of how he ended up working as a winemaker in Napa. He was in school at Colorado College in Colorado Springs (where he eventually graduated with a degree in Philosophy) when he found out one of his classmates owned a restaurant, interestingly named Primativo. With a restaurant name like that they were sure to have a nice wine list and Michael ended up working as their sommelier and gaining valuable insights and tasting knowledge of domestic and international wines. He eventually moved to France to take a job at a winery but just before he was to start he was informed there was no job available. Not exactly the kind of news one wants to hear when one is already invested in taking a position overseas.
Mike stayed in France longer and eventually found his was back to the U.S. and to Napa. He arrived in Napa Valley without knowing anyone, having housing lined up or a job but fortunately discovered Behrens & Hitchcock Winery (now called Behrens Family Winery) high on Spring Mountain. This is where we first met Mike and tasted through some of Relic's early bottlings. During his time there, he served as their assistant winemaker learning valuable wine making knowledge from owner Les Behrens before branching out on his own. And the first 8 vintages of Relic Wines were made at Behrens & Hitchcock Winery. Later Mike became winemaker for a short while at Realm Cellars. Besides running Relic he is also winemaker for several other boutique wineries.
Schatzi is originally from Iowa and also had no formal background education in wine; her major at college was in African history. Her path to the world of wine was influenced by a great-uncle who encouraged her to spend time in wine country. She came to Napa Valley in 1999, worked for one year at Folie À Deux Winery before discovering a hidden gem on Spring Mountain, Behrens Family Winery. Along with helping manage Relic Wines, Schatzi is the General Manager for Behrens Family Winery.
Note the name of the winery and its connotation. One of the common meanings of the word "relic" is a historical association with something in the past. Relic Wine's philosophy is tied into how wine has been made for many years and the images on their labels reflect this history.
Wines/Winemaking
Depending on the wine, racking (siphoning the wine off the lees) is kept to a minimum and contact is made with the wine during aging only when necessary. Out of 1,100+ commercial Napa Valley based wine producers that we have visited and tasted with to date, Relic was the first one to mention to us that they crush grapes by foot stomping (the original method). We have since visited with several other small producers who crush their grapes this way. A number of small wineries in various parts of the world including in Spain & Portugal and other parts of Europe still use this method as their primary means of crushing the fruit. Relic always always ferments with indigenous yeast already found on the grape skins and for some of their fermentations (depending on the variety) will ferment partially whole cluster.
Relic's wines are produced from varieties commonly associated with Bordeaux, Burgundy and the Rhône Valley. Relic sources fruit from a variety of unique and sometimes historical vineyard sites within Napa County as well as from Sonoma County. They produce wines which are carefully and thoughtfully hand-crafted with texture in mind. Tannin management in the cellar is an integral part of their winemaking.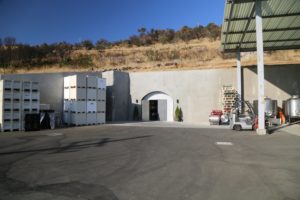 In 2019 Relic began sourcing grapes from the acclaimed Hyde Vineyard in Napa's Carneros District. While not from the oldest Chardonnay in the Hyde Vineyard, Relic sources from a specific Wente/Hyde selection block that dates back to the early 1990s. This wine was barrel-fermented using indigenous yeasts, underwent full malolactic fermentation and was aged in 33% new French oak. The 2020 Relic Wines Hyde Vineyard Chardonnay, Carneros Napa Valley is deep gold in the glass; the bouquet offers aromas of honeycomb, warm butter, honeysuckle, lychee and pineapple. As it continues to open, reveals aromas of citrus blossom. The palate offers a gentle supple texture complemented by a bright and energetic acidity running the length of the palate. This wine reveals flavors of lemon zest, gooseberry and melon. Finishes lively and mouth watering. The oak influence is a very gentle complement to the wine rather than a dominating characteristic.
The 2018 Relic Wines Kashaya Pinot Noir Fort Ross Seaview (from the Wayfarer Vineyard) offers an elegant yet a powerful bouquet filled with aromas of raspberry, cherry cola, pomegranate and light notes of red licorice along with hints of dried herbs and white pepper. The aromas are definitely more fruit driven than spice or or earth driven. The palate is very flavorful; this is a rich but balanced showing of this variety with flavors of red cherry and cranberry. The finish lingers bright with very well integrated lighter textured tannins. This wine was fermented 33% whole cluster and aged in French oak barrels (30% which was new) for 11 months before being bottled. This is a beautiful bottling.
More recently Relic Wines began fermenting Pinot Noir in one Bordeaux made Vin et Terre ceramic vessel. This was the first such wine vessel we have seen in Napa Valley although one will find them more commonly in use in Burgundy. This vessel is made from sandstone and are primarily used for white wines and delicate red wines such as Pinot Noir. They can be used for both fermentation and aging and due to their material pore size, allows for slow micro-oxidation to occur.
The 2018 Relic Wines Red Blend Ritual Napa Valley is a very unique blend of 33% Grenache, 33% old vine Carignan, 25% Syrah and 9% old vine Petite Sirah. Some of the grapes for this bottling are sourced from the historic Frediani and Alfred Frediani Vineyards in Calistoga. One can describe this wine as a crowd pleaser, both on the bouquet and palate. It is dark ruby in color with aromatics of blackberry, violets, and Santa Rosa plum. This wine offers flavors of bright cherry, red plum and red licorice. The palate is fresh and lively with plenty vibrancy from the acidity. The finish is anchored by dusty, and chalky tannins with rounded curves.
The 2018 Relic The Prior, Cabernet Franc Napa Valley is composed of 75% Cabernet Franc, 18% Merlot and 7% Cabernet Sauvignon. This wine is dark ruby in color with purplish tinges on the rim. The bouquet offers sweet aromas of ripe dark plum, blackberry and boysenberry. As the wine breathes it reveals some darker baking spices and deeper into the bouquet are notes of dried tobacco leaf and old cedar box. The tannins are still somewhat tightly bound, and show a noticeable density, dusty character and continue to persist on the very long finish. This is a robust Cabernet Franc with plenty of depth, flavor and is certainly quite age worthy.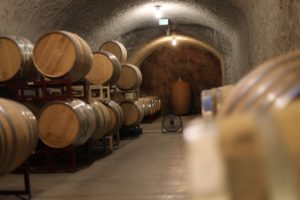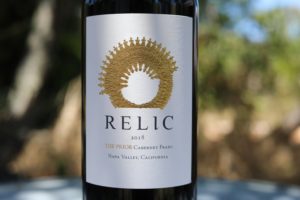 The 2018 Relic Wines Artefact Cabernet Sauvignon (100% varietal) was sourced from the Kenefick Ranch in Calistoga. This wine is dark ruby in color; it smells good, it tastes good. That is all you need to know. If only tasting notes were that simple, but that pretty much sums up this crowd pleaser! The aromatics offer plenty of fruit forward attraction including of blackberry, black plum and darker baking spices. The palate features plenty of darker fruit flavors with well-textured gravelly feeling tannins, but are not course in their feel. This wine offers plenty of depth and a long flavor filled finish. It also tends to age very well; we have enjoyed several older vintages over the years.
During an early visit, we tried the 2006 Relic Richard Perry Vineyard Syrah. Certainly its robust color is in part attributed to the 30% Petit Verdot. This is a big wine that is dark in color and rich in flavor. The bouquet shows exotic and pleasing aromas including violets, black cherry and hints of dark chocolate. The Syrah for this wine was not at the peak of its ripeness curve when it was picked which in part helps contribute to the more elegant nose rather than a fruit-forward dominated bouquet. The fruit continues right onto the palate and finishes with moderate and well structured tannins. Unfortunately this was the last vintage from this remarkable vineyard, but Mike has many vineyard contacts within Napa Valley and continues to locate premium vineyard sites for future vintages.
Relic Wine's companion label is Archive Wines; these are limited production bottlings available at a lower price point and include varieties such as Carignan and Grenache. These wines are bottled in 750ml stout looking bottles.
—
In the summer of 2009 Relic purchased a 10.3-acre piece of land several miles up Soda Canyon Road in Napa's Atlas Peak appellation (about a 20 minute drive from downtown Napa). Within several years they tunneled out a small but functional cave which hosted their first harvest in 2015. Relic Wines currently produces in a large year, around 2,500 cases spread over up to 15 different bottlings. They also produce wines for several select clients that Mike consults for.
Visits to the winery are very personalized and unscripted and are hosted in a small alcove inside the wine cave; Mike will often stop by for a short visit.
Unlike the traditional gunnite interior finishing on most caves in Napa Valley, much of their cave walls were sand-blasted after the gunnite was installed – giving the walls a more natural stone rock look. This part of Atlas Peak is an extremely rocky part of Napa Valley; their cave was drilled through solid rock. As a result, parts of the cave tunnels were left in their natural state including one tiny portal which features a sizable fissure.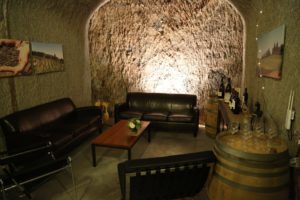 The terrible fires in October 2017 burned much of their property but did not burn into the cave burning only a limited number of winemaking supplies that were located on their crush pad at the time. The team has lots of stories relating to the difficulties of accessing the winery following the fires when nearby roads were closed. And like a number of Napa Valley based wineries, unfortunately this wasn't their first experience with fire disaster. They lost much of their 2003 and 2004 vintages in the disastrous arson fire in a Vallejo wine storage facility in 2005. This was not an easy disaster to recover from, considering the extremely limited size of their production at the time and the fact that their first vintage was only a few years prior. Those interested in more information about this Vallejo wine warehouse fire can read Frances Dinkelspiel's book, Tangled Vines: Greed, Murder, Obsession, and an Arsonist in the Vineyards of California.
Relic has never owned vineyards, however they plan to eventually plant about one acre of select Bordeaux red varieties on site in the very rocky soils. Once planted, wines from these vines will be Relic's first ever estate wine.
Most of their wines are sold direct with extremely limited retail distribution. Locally one can sometimes can find select Relic wines at ACME wine shop in St. Helena. In addition to their normal allocation offerings, Relic Wines offers a Micro-lot Membership option with shipments once or twice a year focused on some of their smallest production bottlings, sometimes one off wines and or verticals of a specific wine. For more information, to schedule a private tasting and or to join their allocation list, visit: www.relicwines.com