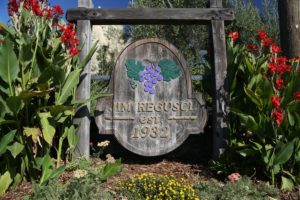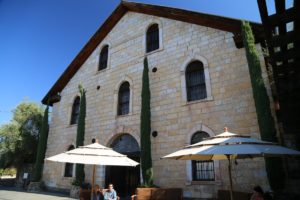 Regusci Winery is family owned and was founded in 1996 – they actually opened to the public in 1998 producing their own high quality estate wines after years selling their grapes to other area wineries.
The Regusci story in the Napa Valley begins when family patriarch Gaetano Regusci (born near the Italian-Swiss border) first came to the valley as a teenager in 1891 and took a job working at a dairy. Eventually Gaetano was able to save up enough money to purchase in 1932 what was the old Grigsby Ranch and the existing three-story stone Grigsby-Occidental Winery which dates from 1878. Gaetano cashed in his life insurance policy to come up with the proceeds to buy what was a foreclosed property at the time.
Terrill Grigsby came to California by oxcart in 1850 and was one of the individuals who helped raise the Bear Flag over the Sonoma Plaza. Astute enthusiasts of Regusi Winery will know about the murder that occurred in the old stone winery in 1881. Initially ruled a suicide involving three winery workers, after further investigation it was ruled a murder. The incident involved three winery workers at the time, two of whom participated in killing the third individual over an argument about money. Those interested in reading more about this story and other sordid tales in the valley, can do so in the book, Murder and Mayhem in the Napa Valley.
After Gaetano purchased this property, for many years he grew corn, hay, walnuts, plums and grapes and grazed cattle along with running a dairy on site. He handed down the ranch to his son Angelo in the 1960's who also continued farming the ranch including running a dairy and herding beef cattle. Angelo (died in 2013) also had the foresight to plant several Bordeaux varietals on site (today 160 acres of vines grow on the 289 acre ranch). At one point, winery neighbor Clos du Val used the old stone cellar to store some of their library wines.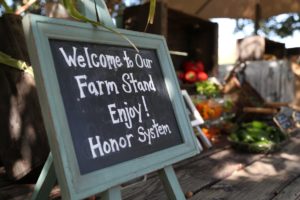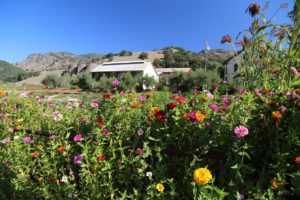 Angelo's son, Jim Regusci is third generation in the Napa Valley, raised on the ranch that his grandfather originally purchased. Jim began a vineyard management company in 1985 overseeing merely 8 acres of vines. In some 30+ years his company remarkably now farms over 2,300 vineyard acres. Along with his father Angelo, Jim co-founded Regusci Winery in 1996.
Note the long driveway leading off of the Silverado Trail. Old timers used to drag race their cars down this driveway.
The winery sits on a beautiful piece of property with great views of the Napa Valley through the olive trees; in Spring the scent of mustard surrounds the picnic area.
A visit here feels good. It is like driving back in time to some extent; chickens may be crowing, a wonderful garden offers fresh produce which is sold under the shade of trees in front of the winery and their long driveway certainly puts you off the beaten path.
Visitors drive about 1/2 mile east of Silverado Trail to reach the actual winery which sits at the edge of the Palisade hills just above the valley floor. The winery is considered a ghost winery (went out of business during prohibition); this hand-cut stone building is very well preserved. All stone for the cellar came from the nearby valley floor. This is an extremely photogenic winery. You can still see the old chisel marks from the cutting tools in the stones behind the tasting room counter.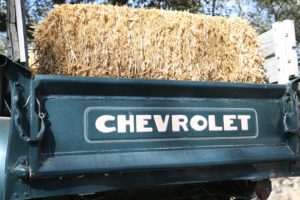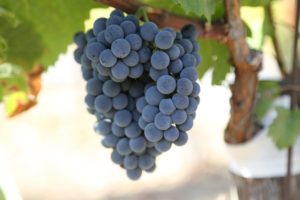 Tastings will vary depending on wines available but always includes their Estate Cabernet Sauvignon. One note about the oak aging program – as of our latest update, they are only using American Oak. A tasting also typically includes Chardonnay and Estate Merlot or their very limited Estate Zinfandel. They make a very nice rosé of Cabernet Sauvignon. It is darker than a normal rosé with good structure and for a wine of this style packs some nicely concentrated flavors. You are in the Stags Leap District – you have to try their Cabernet Sauvignon. They make two versions, one is blended and their Angelo's Hillside vintage is 100% varietal.
Their hillside Cabernet Sauvignon is made during only select years where the quality of the "juice" is at the caliber they are looking for. As a result they have only made this wine 4x in the past 9 years. Sometimes you would think American Oak would dominate a wine and in some cases it certainly does, however there are many factors with regards to oak aging, cooper, toast, length of aging time, age of barrel etc…the wine making team at Silver Oak Cellars certainly would have some input about this. The 2004 Regusci Winery Angelo's Hillside is a very well balanced wine with concentrated flavors including black cherry.
Zinfandel in the Stags Leap District? Yes. This is perhaps the only commercial Zinfandel planting in the Stags Leap District. The 2016 Regusci Zinfandel is ruby color in the glass; this wine is loaded with bright fruit aromatics including blackberry and ripe raspberry complemented with a hint of wood spice. The texture is supple across the palate showing opulent fruit including flavors of blackberry and boysenberry. The finish is seamless between fruit and structure – lingering with a hint of darker spice and mocha. This wine drinks very well in its youth – it is a Zinfandel that keeps begging for another sip 🙂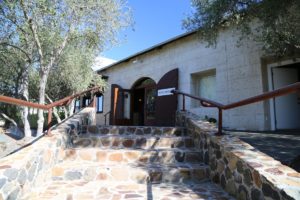 The friendly staff is very knowledgeable and the winemaker may even stroll in as he did when we first visited. As a humorous side note, this is the only winery we've ever been to in which we saw about 10 people walk out of the tasting room with beers in their hands. We thought they were tourists but in actuality they were hard core wine drinkers working in the wine industry and were actually "washing out their mouths" with some beer (in between tastings)!
A tiny fruit and vegetable stand greets visitors near the main entrance to the tasting room. This features produce from the 1-acre culinary garden located in front of the winery as well as from additional family gardens slightly to the south of the olive grove near the parking lot. Often features a variety of citrus (about 2 tons of citrus is produced from the property each year), and seasonable fruits and vegetables including avocados, plums, an assortment of melons, walnuts, peppers, egg plants and lots more. Payment for the produce is on an honor system with prices marked above the table for some of the items.
Note: on Friday, Saturday and Sundays, Regusci Winery requires prior reservations. Also note that if you are in the wine trade, Regusci offers complementary tastings Monday through Thursday by appointment only and the standard 30% discount on current release wine purchases.
Total production of all their wines is about 5000 cases. For more information and to join one of their levels of wine club membership, visit: www.regusciwinery.com
Exterior

Interior

Vineyards

Gardens + Farm Animals