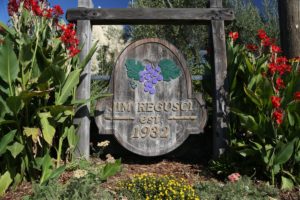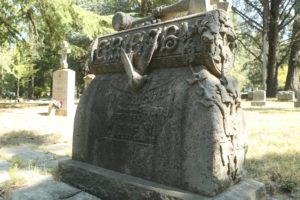 Regusci Winery (pronounced Rey goo she) is the site of the first winery built in what is now the Stags Leap District. Vintner and early Napa pioneer Terrill Grigsby was related to William Harrison (the ninth president of the USA) Grigsby's father was Harrison's nephew. Terrill Grigsby oversaw the construction of a wooden winery by Chinese workers, and according to newspaper records this building was under construction in 1877. It later burned down soon after it was completed, apparently due to arson. Unfortunately, this was a period in the U.S. of anti-Chinese sentiment; in 1882 the Chinese Exclusion Act was signed into law by President Arthur, preventing the immigration of Chinese into the U.S. for 10 years; in actuality this law was not repealed for more than 60 years until 1943. For some local perspective of sentiment during these times, another Napa vintner, Tiburcio Parrott (owner of part of what is now Spring Mountain Vineyard) was jailed in 1880 after California legislature passed a law prohibiting businesses from hiring Chinese employees.
The existing stone winery was built soon after, its construction completed after about a year of work in 1878 and was called the T.L. Grigsby-Occidental Winery (or often referred to simply as the Occidental Cellar). Grigsby tried to get other investors to join in the construction of his winery as a cooperative venture, but when that fell through, he funded the entire winery construction himself although he did lease the winery to several other producers including Charles H. Butler once it was built.
Early varieties growing on the property according to a Napa County Reporter article dated September 21, 1883, included at least included Fiberzgo (supposedly a white variety), Charbono, Mataro, Black Riesling and some varieties of Malvoisie. The grapes were crushed by hand for the first few vintages of his operations at Occidental Cellar – by 1880 they had converted over the processing of the grapes in the cellar to steam power. By 1885 a Napa Register Article dated March 6, 1885, describes the Grigsby Vineyard as "extensive".
Terrill Grigsby (born in Tennessee) came to California in 1852 – his brother John (died 1909 and is buried in the St. Helena Cemetery) was one of the earliest western Napa Valley pioneers having joined a wagon team (Grigsby-Ide party) traveling across the country and arriving in California in 1845 (the same year John settled in Napa Valley). Records show that prior to building his own winery, Terrill made wine at the Burrage Cellar (what is now Vine Cliff Winery) several miles to the north and is also located near the Silverado Trail.
It should be noted the Grigsby was already growing grapes on another property he leased prior to purchasing the land where he would build Occidental Cellar. An article in the March 31, 1876, edition of the Petaluma Argus references an article in the Napa Register from 1873 indicating Grigsby had harvested grapes from a small planting from the property that he was leasing from.
Gravestone of Cynthia & Terril Grigsby, Tulocay Cemetery Napa

According to several articles in the Napa Register from the early 1880s including from December 21, 1883, Terrill financed a portion of the construction costs of what was to be built at that time, the narrow-gauge Napa & Lake Railroad (after much work was done, this project was later abandoned). And by 1885 an article references that Terrill had gone to Mexico "never to return" due to financial problems most likely caused by his investments in this failed project – but ultimately, he did return to the valley where he died in 1892 and is buried in the Tulocay Cemetery in the city of Napa.
Captain John Grigsby was one of the individuals who helped raise the Bear Flag over the Sonoma Plaza. And in another ancient piece of Napa Valley history, what is now the Lavender Inn in Yountville used to be the home for Captain John Grigsby's family. This house was originally built in the 1850s, was smaller than it is today and was moved to its present location sometime in the 1860s from its original location about 1 mile to the east.
The Cain-Grigsby House in downtown Napa on Oak Street also has a strong connection to the Grigsby family; this cute cottage dates from 1872 and was built by John and Elva (Grigsby) Cain. Elva was John Grigsby's daughter. The Cain's lived here for about 30 years until 1902 when they moved to another home on Soscol Ave. John Cain was one of the city of Napa's more prominent citizens. He was also a Civil War veteran having served in the 46th Missouri Cavalry; he passed in 1915.
Lavender Inn (Yountville)

Cain-Grigsby House (Napa)

Other Grigsby connections in the Napa Valley were to the Palisades silver mine in the eastern hills above Calistoga and later the Sharpsteen Museum in Calistoga.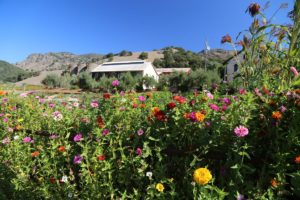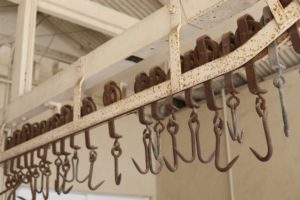 Astute enthusiasts of Regusi Winery will know about the murder that occurred in the back of the old stone winery in 1881. Initially ruled a suicide by insanity by Charles Butler's 21-year-old son Edward (who lived on the property in a tiny cottage), but ultimately after further investigation his death was ruled a murder. The incident involved three winery workers at the time, two of whom participated in killing Edward (Eddie) Butler over an argument relating to money his father owed them. These workers were jailed and later were overheard admitting to the murder to an undercover officer who was placed in jail with them. Those interested in reading more about this story and other sordid tales in the valley, can do so in the book, Murder and Mayhem in the Napa Valley.
And Grigsby was one of those Napa wine pioneers who often made the local papers for one thing or another. Less than a year after the murder at the winery, during the harvest of 1882, Grigsby repeatedly took a hammer to the head of Charles Butler over an altercation stemming from a disagreement over the weight of some grapes. Charles was badly injured and for a short while a rumor circulated in Napa City that he had been killed by Grigsby.
—
Family patriarch Gaetano Regusci was born near the Italian-Swiss border in the small village of Camarino in the canton of Ticino. See our photographs at the end of this review from our visit to Camarino. Gaetano first came to the valley as a teenager in 1891 and took a job working at a dairy. Eventually Gaetano was able to save up enough money to purchase in 1932 what was the old Grigsby Ranch and the existing three-story stone winery. Gaetano cashed in his life insurance policy to come up with the proceeds to buy what was a foreclosed property at the time. The Reguscis are the oldest farming family in the Stags Leap District.
After Gaetano purchased this property, for many years he grew corn, hay, walnuts, plums and grapes and grazed cattle along with running a dairy on site called J.G. Regusci Dairy. A slaughterhouse was added to the property in 1946 and the family operated Countryside Meats in a still existing building known as the Butchery. This building is now used for a commercial kitchen for select private events along with office space; the original meat hooks on rails are still in place.
Gaetano handed down the ranch to his son Angelo in the 1960s who also continued farming the ranch including running a dairy and herding beef cattle. The family bottled and distributed milk to customers in the valley using a number of milk trucks until 1973. One of these original dairy trucks is parked near the cellar entrance. Angelo (died in 2013) also had the foresight to plant several Bordeaux varieties on site;today 160 acres of vines grow on the 286-acre ranch. At one point, winery neighbor Clos du Val used the old stone cellar to store some of their library wines.
Angelo's son, Jim (Jimmy) Regusci is third generation in Napa Valley, raised on the ranch that his grandfather originally purchased. Jim began a vineyard management company in 1985 overseeing merely 8 acres of vines. In some 30+ years his company remarkably now farms over 2,800 vineyard acres and we often see Regusci Vineyard Management trucks driving in the valley. They also own some property in neighboring Solano County (their truck/maintenance yard). Along with his father Angelo, Jim co-founded Regusci Winery in 1996 and today along with his wife Laura and family, are the sole proprietors. Their tasting room opened to the public in 1998 (inside their former hay barn) following two years of producing their own estate wines which followed years selling their grapes to other area wineries.
Note the long driveway leading off of the Silverado Trail. Old timers used to drag race their cars down this driveway.
The winery sits on a beautiful piece of property with great views of Napa Valley through the olive trees; in Spring the scent of mustard surrounds some of the outdoor areas.
A visit here feels good. This driveway leads us back in time to something called nostalgia. It is like driving into another era to some extent; chickens may be crowing; a wonderful garden offers fresh produce which is sold under the shade of trees in front of the winery (for guests of the winery). The long driveway brings one back decades and certainly puts visitors off the beaten path.
Hospitality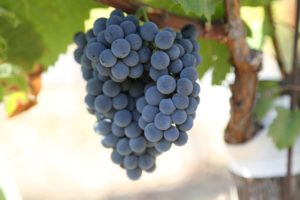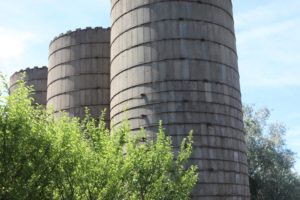 Visitors drive about 1/2 mile east of Silverado Trail to reach the actual winery which sits at the edge of the Palisade rock formations just above the valley floor. The winery is considered a ghost winery (went out of business during Prohibition); this hand-cut stone building is very well preserved. All stone for the cellar came from the nearby valley floor. This is an extremely photogenic property. One can still see the old chisel marks from the cutting tools in the stones behind the tasting room counter and some hand carved initials in the large stone blocks next to the entrance of the cellar.
Guests will check in at the tasting room entrance. Note the building to the right of the tasting room; this is the old distillery and like the stone cellar, also dates from 1878. Several historical displays are housed inside the tasting room and are educational distractions for those who arrive early and or are interested in learning more about the history of the property and the ownership.
Tastings are typically conducted outside on the stone patio next to a prominent hedge. Take a closer look at this hedge; it is composed entirely of lemon bushes. One doesn't necessarily need to be very far above the valley floor in order to enjoy beautiful views; such is the case from this terrace with its slightly elevated views looking over rows of grapevines flowing far to the west. Additional tastings are held on the first floor of the old stone cellar with several private alcoves tucked away among the rows of barrels. Note the sizable redwood pillars supporting the winery.
Tastings will vary depending on wines available but always includes a current release of the Estate Cabernet Sauvignon. In an homage to their former dairy operations, water is served with tastings in a glass milk jug labeled, Regusci Milk and Cream.
One note about the oak aging program – as of our latest update, they use both American and French oak, depending on the wine. A tasting also typically includes Chardonnay and Estate Merlot or their very limited Estate Zinfandel. The Stags Leap District is a noted part of the valley for growing premium Cabernet Sauvignon Regusci Winery produces several bottlings of this variety, including one that is blended and Angelo's Hillside vintage (100% varietal).
And if not too busy, one of the wine educators can walk you through the old winery including several of the upper floors (i.e. barrel storage), followed by a short walk around the ranch. The sound the door makes from the lower cellar to the second floor is quintessential
The friendly staff is very knowledgeable and the winemaker may even stroll in as he did when we first visited. As a humorous side note, this is the only winery we've ever been to in which we saw about 10 people walk out of the tasting room with beers in their hands. We thought they were tourists but in actuality they were hard core wine drinkers working in the wine industry and were actually "washing out their mouths" with some beer (in between tastings).
Select Wines
Whites
The 2021 Regusci Chardonnay (Mary's Cuvée) is sourced from the cooler Carneros region in the southern part of Napa Valley. This wine is deep gold in color; the bouquet immediately offers a honeyed note (bees wax) along with scents of corn tassel, apricot, yellow peach, banana, mango, vanilla, tapioca, warm butter and crème Brule. It throws out a diversity of scents, some of which we rarely describe in other Napa Valley Chardonnay bottlings. Its texture is creamy and satiny across the entire palate accompanied by flavors of melon, light popcorn butter, mango, a hint of caramel and a lingering note of lightly toasted oak. This is a balanced and flavorful bottling anchored by a refreshing but not overly bright acidity. We would love to pair this wine with sea scallops cooked lightly salted with butter with a dollop of lemon juice. This wine was 100% barrel fermented, of which 25% was put through malolactic fermentation and was then aged in 30% new French oak for 10 months.
The 2020 Regusci Napa Valley Rosé of Pinot Noir is medium salmon color in the glass with aromas of watermelon, fresh strawberry, ruby grapefruit, hints of celery stalk, and as the bouquet breathes further, aromas of dried rose petals. Offers flavors of raspberry and red cherry. Fresh and lively on the finish – lingers for some time with a vibrancy of red fruits and a crispness of acidity. It is really nicely balanced (with a suppleness across the palate) but without any sharp lingering tartness. Makes us want to head over to The Marshall Store in Marin County on Tomales Bay and pick up some fresh oysters.
Reds
Zinfandel in the Stags Leap District? Yes. This is perhaps the only commercial Zinfandel planting in the Stags Leap District. This variety has a long history on the property having been first planted on site by Grigsby. An existing block of Zinfandel is the oldest planting on the property (located on the south side of the driveway just before reaching their parking lot) with some original vines dating back to 1932. The 2016 Regusci Zinfandel is ruby color in the glass; this wine is loaded with bright fruit aromatics including blackberry and ripe raspberry complemented with a hint of wood spice. It smells like the variety. The texture is supple across the palate showing opulent fruit including flavors of blackberry and boysenberry. The finish is seamless between fruit and structure and lingers with a hint of darker spice and mocha. This wine drinks very well in its youth; it is a Zinfandel that keeps begging for another sip 🙂
The 2018 Regusci The Elders is very dark ruby in color; give this wine sometime in the glass, it will open wonderfully into more fruit driven aromatics. Initially shows aromas of recently melted milk chocolate, Graham Cracker and blackberry. Shows some vanilla, caramel and mocha sweetness deeper into the bouquet. Packs plenty of flavor but features no aggressive grip of tannins, rather the structure is like running one's hand over suede, with some textural grip but fairly smooth in its feel. Lingers with a slight savory quality including notes of toasted oak. This is a very balanced bottling. This bottling takes its name because only grapes from the oldest blocks on the estate are used in this wine. And it is a tribute to previous Regusci family members. This wine is 100% varietal, is crafted from a barrel selection and was aged for 22 months in French oak.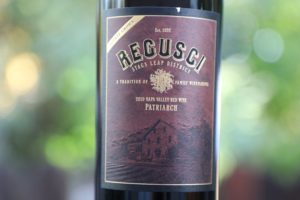 Their hillside Cabernet Sauvignon is made during only select years where the quality of the grapes is at the caliber they are looking for. As a result, they have only made this wine 4x in the past 9 years. Sometimes one would think American oak would dominate a wine and in some cases it certainly does, however there are many factors with regards to oak aging, cooper, toast, length of aging time, age of barrel etc… the wine making team at Silver Oak Cellars certainly would have some input about this.
A noteworthy and their flagship wine is The Patriarch, a red blend produced in honor of Gaetano Regusci. This wine is always a blend of the best barrels of Cabernet Sauvignon and Merlot from the estate, with the varietal percentages different each year. The 2019 Regusci The Patriarch is a blend of 60% Cabernet Sauvignon and 40% Merlot. This wine is deep ruby in color; the bountiful and ripe aromatics are immediately expressive upon opening the bottle. Their union is both fruit and secondary aromas from the barrel aging. These include dark cherry, blackberry and boysenberry accompanied by dark chocolate, an appealing woodsy spice including toasted cedar, coffee bean, roasted coconut, caramel, vanilla and a light layer of mocha. That palate delivers loads of flavor mirroring to some extent the character of the bouquet especially showing dark cherry, blackberry, black plum and cocoa powder. The tannins are ripe, resolved and rounded and linger with a gentle and lightly grainy grip. It drinks well in its youth but has the pedigree to age for the next 10 to 20 years.
Angelo's Vineyard is produced from a four-acre steep hillside part of their property. The 2019 Regusci Angelo's Vineyard is 100% varietal Cabernet Sauvignon and was aged for 18 months in French oak, of which 80% were new barrels. This wine is deep ruby in color and nearly opaque in the glass. The open-knitted bouquet reveals aromas of dried black figs, boysenberry jam, blackberry, Pakistani mulberry at the peak of its ripeness, a particular smell of incense with which is both floral and darkly spiced, sandalwood, pink peppercorn, violets and dark licorice. As the wine breathes it reveals sweeter secondary aromatics including expresso, vanilla and milk chocolate. Superbly balanced in its youth, this wine offers flavors of dark plum, bramble, blueberry, dark cherry, toasted oak and dark chocolate. The finish lingers with perfectly integrated almost creamy textured tannins, a note of tobacco spice and a very light drying character.
The Matrona, a Merlot based blend, honors Livia Regusci.
Most of the Regusci wines are estate grown, but several wines are made from purchased grapes from other growers. Regusci used to distribute some of their wines but around 2018 the decision was made to sell all wines direct to consumer through visits to the winery and also through their wine club.
And a limited amount of olive oil is produced each year from trees growing on the property.
Fresh Market Wagon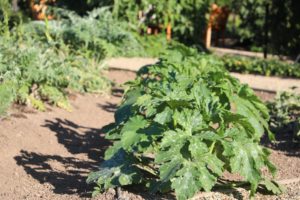 A carefully organized fruit and vegetable stand greets visitors near the main entrance to the tasting room. This features produce from the 2-acre organically farmed culinary garden located in front of the winery as well as from additional family gardens slightly to the south of the olive grove near the parking lot. Jim's wife Laura originally began this amazing garden in 2010 and continues to oversee it throughout the year with the help of others.
Produce sold here is primarily for customers of the winery although neighbors sometimes bike or walk to the stand. It often features a variety of citrus (about 2 tons of citrus is produced from the property each year), and seasonable fruits and vegetables including sometimes avocados (the most avocado trees we have seen at any Napa winery), plums, an assortment of melons, walnuts, tomatoes, cucumbers, egg plants, a diversity of freshly cut flowers and lots more. Regusci produces a dizzying array of hot chili and other peppers; sometimes emboldened guests, helped by the wine will want to play the "hot pepper roulette game"!
A sizable amount of this produce is sold to restaurants primarily in both Yountville and the city of Napa including Bistro Don Giovanni, Scala and Bottega.
And payment for the produce is on an honor system (cash or Venmo). Weather permitting, guests are allowed to stroll the paths through this garden. One of the highlights later in the year is the gourd trellis with gourds hanging from a curved covered arch way. The amount and diversity of produce greatly varies depending on the year and the season; in the winter and early spring, the default product is lemons.
Note: Regusci Winery requires prior reservations. Also note that if you are in the wine trade, Regusci offers complementary tastings Monday through Thursday by appointment only and the standard 30% discount on current release wine purchases.
Total production of all their wines is around 8,000 cases per year. For more information and to join one of their levels of wine club membership, visit: www.regusciwinery.com
Winery exterior

Winery interior

Vineyards

Gardens + Farm Animals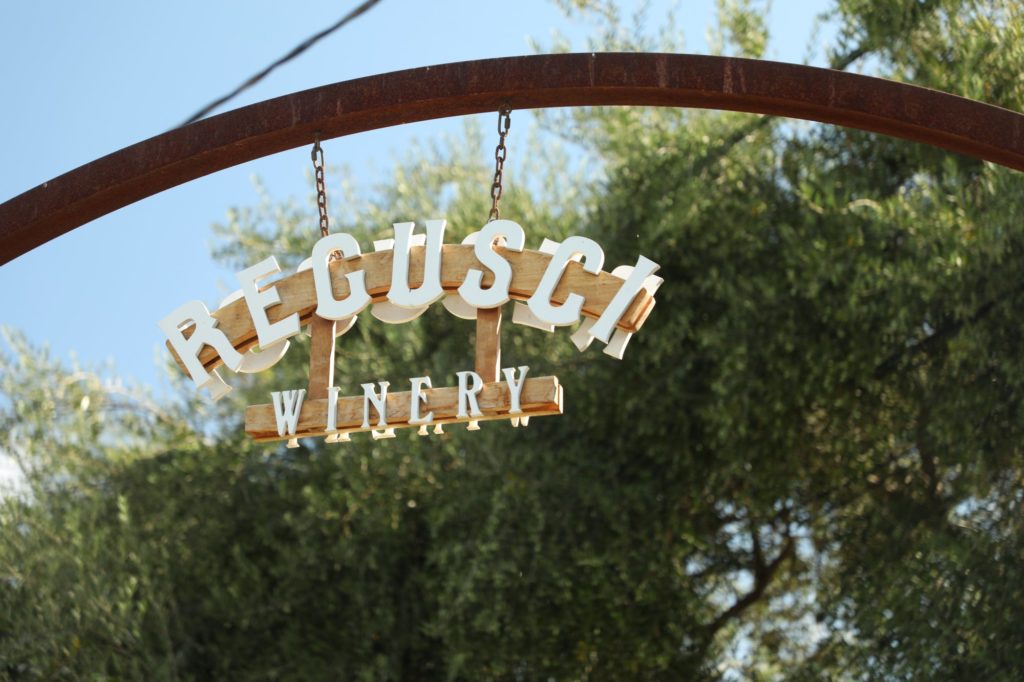 Agriturismo Regusci, Camorino Switzerland
The Regusci's cousin Isabella and her family own and operate Agriturismo Regusci near the small village of Camorino in southern Switzerland about an hour and 15 minute drive from the airport in Milan. They own several parcels of land in the region which is used to produce a variety of fruits and vegetables which they sell through an indoor farm stand and at the city market in nearby Bellinzona on Saturdays. And they grow some of their produce using hooped greenhouses. They have operated this farm stand since the mid 1980s. Like the Regusci Napa Valley farm stand, this farm stand offers a variety of seasonal produce.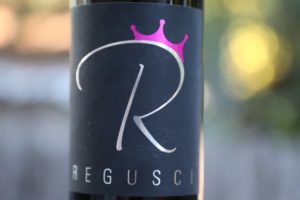 In 2016 the family opened a small bed & breakfast next to their farm stand. This B&B features five cozy rooms, each with one or two beds. Breakfast is included and is located in the restaurant on the first floor. This restaurant also seasonally serves dinner prepared by the Regusci family for both patrons of the B&B and other guests. It feature both indoor and weather permitting, outdoor seating. A stay here is central for exploring the nearby region including taking the Mornera (cable car) from Monte Carasso into the mountains for hiking (and food at the restaurant located at the uppermost stop), walking across the Carasc Tibetan Bridge or visiting the church of San Barnárd.
And like the Regusci's in Napa Valley, this family also produces and sells their own wine, crafted at a nearby winery. Bottles of their wines and several bottles from Regusci Napa Valley are displayed in the farm stand.
The 2022 Regusci Merlot, Switzerland is medium ruby in color; the bouquet offers aromas of freshly tilled earth, cedar, mushroom, tobacco, mint, coffee beans and chocolate. In its youth this wine needs time to evolve, especially for the fruit characteristics to start showing which eventually displaces some of the more initial darker aromas. As it breathes it shows additional aromatics of raspberry and red plum. One would not be incorrect in describing its scents as savory. Fresh, bright and also savory across the palate, this wine offers flavors of raspberry, red cherry, red plum and strawberry. We tasted this wine soon after it had been bottled, slightly over a year post vintage. While youthful as one would expect, this wine already shows balance including well-integrated and rounded tannins displaying a seamless character on the finish.
Camorino Switzerland
The Regusci family is from Camorino, Switzerland. Remarkably there are other families who own wineries or brands in Napa Valley who are also from nearby villages including the Morisoli's and the Pestoni's. This charming hillside perched village is located in the Bellinzona region of the Ticino Canton in Southern Switzerland.
To best explore Camorino, we recommend parking your car and walking. One of the highlights of a visit is to walk the grounds of Chiesa di San Marino. A church on site was originally built in the 12th century; this one dates form 1888. And from there there are beautiful vistas overlooking the valley below including of Agriturismo Regusci.