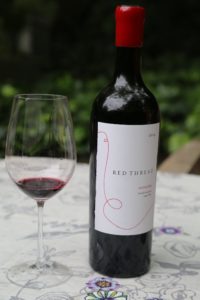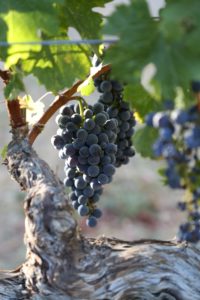 Red Thread Wines is a small producer sourcing from vineyards high on Howell Mountain. It was founded by husband and wife Brian and Gretchen Brakesman; their first release is from 2014.
Brian discovered the name Red Thread while searching the internet – it is from an old Chinese proverb referring to true love connected by a red thread. A red thread that transcends time and space – something as simple as people coming together connected by their own relationships. Or, a red thread representing their own wines – the connector that brings food, family, and friends together – and the camaraderie that is then shared.
Brian grew up in the Napa Valley on Howell Mountain overlooking his family's vineyards (Summit Lake Vineyards). He recalls spending long hours on the tractor in the family vineyards and helping his neighbor at the time Bob Lamborn with basic wine making duties. Taking a year off to play rugby in New Zealand he eventually returned to the valley. It was his time working with long time Napa vintner, John Gibson which really elevated his wine making skills. John was consulting for a number of clients at the time (still does) and instilled in Brian the need for attention to details as well as shared his knowledge about the critical art of blending.
Gretchen is from Danville – met Brian at a bar in San Francisco – and he then convinced her to move to the Napa Valley. She was not involved in wine prior to moving to Napa but since her move, wine has become an integral part of her life. She was the Director of Sales and Marketing at The Ranch Winery for nearly 8 years overseeing numerous aspects of the business. She has also served as the Vice President of the Rutherford Dust Society.
Not one to sit still, and relishing the potential opportunities that simultaneous involvement in multiple projects bring, Gretchen is involved in several wine related businesses. She overseas the sales and marketing for Red Thread Wines, is involved in a tech company creating a product specifically for providing data for wine in barrels and is also actively involved with the Howell Mountain Vintners & Growers Association (including their charity auction every June).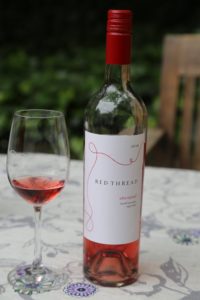 And Brian and Gretchen run Red Thread Wine Company together – this is a full service consulting company for wineries. They can handle as much or as little as needed ranging from compliance, label design, sales and marketing, tastings, submitting wines for ratings along with production services including finding vineyard sources, barrel selection and the wine making. They take their relationships with their clients very seriously – both are extremely passionate about the world of wine and delivering premium services.
White Zinfandel is a wine that has been championed by several larger Napa based wineries including Sutter Home and Beringer. To those in the marketplace, White Zinfandel is associated as a cheap wine, perhaps not a serious wine among serious wine drinkers and a wine that is usually sweet. These are the perceptions and realities faced in the wine market today – but that didn't stop Brian and Gretchen from releasing a White Zinfandel as one of their two inaugural release wines. And a very important note – theirs is not a sweet wine of this variety and certainly not mass produced.
The 2014 White Zinfandel (100% varietal) was sourced from a Zinfandel block on Howell Mountain at Summit Lake Vineyards. It is a block they will continue to use for this style of wine. Brian harvests this vineyard for acidity rather then sugar – the 2014 was picked at 22 brix (the wine retains all natural acid). They do not create this wine from saignée, rather they let it sit on the skins for only 4 hours which produces a rather dark wine (13.2% alcohol).
Reddish salmon colored in the glass it shows notes of strawberry and watermelon but mostly strawberry aromas. Lively on the palate – especially mid palate it offers rich flavors complemented by good acidity. Lingering notes of citrus. Long fruit driven finish. Easy drinking. This is a serious yet fun wine at the same time.
The 2014 Red Blend is primarily Cabernet Sauvignon (70%), 15% Zinfandel and 15% Petite Sirah. This intriguing blend is highly aromatic showing notes of blackberry, deeper darker fruits – also black licorice and a slight floral element (rose petal, violets). Darker colored in the glass with purplish notes on the rim. The palate is very balanced – seamless throughout with some spicy notes on the finish, earthy and somewhat chewy tannins are well integrated.
Both wines are priced very reasonably.
Their wines are selectively distributed in certain states including Indiana, Louisiana, Florida and Nevada. Visits are by appointment at their vineyards on Howell Mountain. For more information and or to join their wine club, visit: www.redthreadwines.com and for more information about their consulting company, visit: www.redthreadwinecompany.com