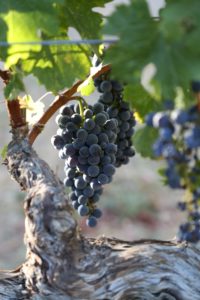 Red Thread Wines is a small producer sourcing from vineyards high on Howell Mountain. It was founded by husband-and-wife Brian and Gretchen Brakesman; their first release is from 2014.
Brian discovered the name Red Thread while searching the internet – it is from an old Chinese proverb referring to true love connected by a red thread. A red thread that transcends time and space – something as simple as people coming together connected by their own relationships. Or a red thread representing their own wines – the connector that brings food, family, and friends together – and the camaraderie that is then shared.
Brian grew up in Napa Valley on Howell Mountain overlooking his family's vineyards (Summit Lake Vineyards). He recalls spending long hours on the tractor in the family vineyards and helping his neighbor at the time Bob Lamborn with basic wine making duties. Taking a year off to play rugby in New Zealand he eventually returned to the valley. It was his time working with long time Napa vintner, John Gibson which really elevated his wine making skills. John was consulting for a number of clients at the time (still does) and instilled in Brian the need for attention to details as well as shared his knowledge about the critical art of blending.
Gretchen is from Danville; she met Brian at Slim's (a bar in the Mission District of San Francisco which unfortunately permanently closed in 2020) and he then convinced her to move to Napa Valley. She was not involved in wine prior to moving to Napa but since her move, wine has become an integral part of her life. She was the Director of Sales and Marketing at The Ranch Winery for nearly 8 years overseeing numerous aspects of the business. She has also served as the Vice President of the Rutherford Dust Society.
Former Slim's San Francisco, now YOLO Nightclub

Not one to sit still, and relishing the potential opportunities that simultaneous involvement in multiple projects bring, Gretchen is involved in several wine related businesses. She oversees the sales and marketing for Red Thread Wines, is involved in a tech company creating a product specifically for providing data for wine in barrels and is also actively involved with the Howell Mountain Vintners & Growers Association (including their charity auction every June).
And Brian and Gretchen run Red Thread Wine Company together – this is a full-service consulting company for wineries. They can handle as much or as little as needed ranging from compliance, label design, sales and marketing, tastings, submitting wines for ratings along with production services including finding vineyard sources, barrel selection and the wine making. They take their relationships with their clients very seriously – both are extremely passionate about the world of wine and delivering premium services.
White Zinfandel is a wine that has been championed by several larger Napa based wineries including Sutter Home and Beringer. To those in the marketplace, White Zinfandel is associated as a cheap wine, perhaps not a serious wine among serious wine drinkers and a wine that is usually sweet. These are the perceptions and realities faced in the wine market today – but that didn't stop Brian and Gretchen from releasing a White Zinfandel as one of their two inaugural release wines. And a very important note – theirs is not a sweet wine of this variety and certainly not mass produced.
Select Wines
We have noticed that Red Thread Wines does things a little bit differently than other Napa producers, and that is uniquely refreshing. From taking the chance on producing a White Zinfandel to crafting a sparkling wine from Howell Mountain to a Pinot Noir that that is certainly non-Pinot Noir-esque.
The 2020 Red Thread Los Carneros Pinot Noir was sourced from the Marvin Jack Vineyard on the Napa side of the appellation located on the triangular strip of land created by the intersection of Cuttings Wharf and Las Amigas roads. This is a cool part of Carneros – the vineyard is less than a mile north of the Napa River and the Cutting Wharf Boat Launch. This vineyard is owned by John and Donna Bonick, proprietors of Art House Wines.
This wine is pale to medium ruby in color; various desert spices are immediately noticeable on the bouquet including clove, cardamom, cinnamon stick, ginger snaps and mint chocolate. Very distinctive. The aromatics remind us of holiday family gatherings indoors in December – sliding up next to an array of fresh out of the oven desserts, all lined up on the kitchen counter – but especially of cookies our aunts used to bake. We would be hard pressed to identify this as a Pinot Noir on either the bouquet or the palate in a blind tasting; regardless it is a very enjoyable wine. Shows a richness across the palate continuing with flavors of dessert spices and red licorice among other red fruits. One doesn't always notice the feel of tannins in Pinot Noir, but one will notice them in this wine. Lingers with a rounded, dusty and broadly distributed medium grip of texture. Plenty of fruit lingers on the finish. This is definitely a richer showing of this variety than we are used to.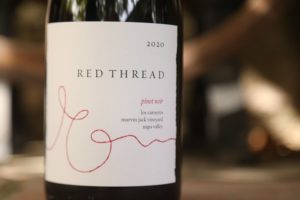 The 2018 Red Thread Brut Sparkling Rosé Méthode champenoise (but not from a traditional Champagne variety) is made from Zinfandel and was sourced from Summit Lake Vineyards at an elevation of about 2,000 feet. This is Howell Mountain's first modern day vintage of sparkling wine – and only 62 cases were produced. This wine is deep salmon in color; the bouquet offers aromas of wild strawberries, a graphite and minerality note, yeast, white toast, and a very light wasabi. Clean and crisp, this wine offers flavors of berries including raspberry and strawberry along with not fully ripe watermelon. Nicely balanced, the palate features a slightly creamy mouth feel. Refreshing, crisp and flavorful, this wine immediately invites another sip.
The 2014 Red Thread White Zinfandel (100% varietal) was sourced from a Zinfandel block on Howell Mountain at Summit Lake Vineyards. It is a block they will continue to use for this style of wine. Brian harvests this vineyard for acidity rather than sugar – the 2014 was picked at 22 brix (the wine retains all-natural acid). They do not create this wine from saignée, rather they let it sit on the skins for only 4 hours which produces a rather dark wine (13.2% alcohol). Reddish salmon colored in the glass it shows notes of strawberry and watermelon but mostly strawberry aromas. Lively on the palate – especially mid palate it offers rich flavors complemented by good acidity. Lingering notes of citrus. Long fruit driven finish. Easy drinking. This is a serious yet fun wine at the same time.
The 2014 Red Thread Red Blend is primarily Cabernet Sauvignon (70%), 15% Zinfandel and 15% Petite Sirah. This intriguing blend is highly aromatic showing notes of blackberry, deeper darker fruits – also black licorice and a slight floral element (rose petal, violets). Darker colored in the glass with purplish notes on the rim. The palate is very balanced – seamless throughout with some spicy notes on the finish, earthy and somewhat chewy tannins are well integrated.
—
All of their wines are priced very reasonably.
In 2020 Gretchen started Side Hustle Cellars, a lower price point brand whose inaugural release was a Sauvignon Blanc and a Cabernet Sauvignon.
Their wines are selectively distributed in certain states including Indiana, Louisiana, Florida and Nevada. Visits are by appointment at their vineyards on Howell Mountain. For more information and or to join their wine club, visit: www.redthreadwines.com and for more information about their consulting company, visit: www.redthreadwinecompany.com