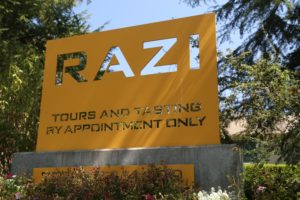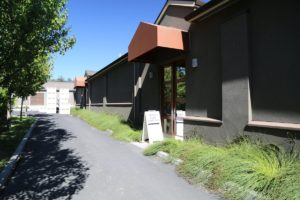 Razi Winery is owned by architect Fred Razi; he purchased the property in the late 1980's. Fred is one of the few Napa Valley winery owners with Iranian heritage. After the purchase he re-planted vineyards and built the winery facility from scratch. The winery originally started out as a hobby during the first years as only non commercial wine was made here. As it tends to happen in the wine industry, over time wine related hobbies become more serious and the winery grew; today it is where wine is made for several boutique Napa producers.
Razi Winery maintains a small but beautiful modern tasting room which opened for appointment only tastings in March 2009. Because the winery is tiny and Fred lives on site, you will often taste with either Fred or the winemaker Massimo Monticelli. The winery is located at the southern part of the east side of Silverado Trail almost across from the Laird Wine Studio. Cross the small bridge directly off of the Silverado Trail and proceed to the right side of the driveway at the fork in front of their metal sign.
During our initial visit Razi only produced a single wine, a Chardonnay (which was the varietal that Fred made as home wine before he began Razi Winery) – however today they also produce a Syrah they label as Shiraz, a Zinfandel, a Red blend and a Cabernet Sauvignon. Their wines tend to have extra age in bottle before being released and their prices are quite reasonable.
Razi's Chardonnay is made from grapes grown right on the property and as you sit at the bar stools at their steel topped tasting counter look out the window to your left; the vineyard you see merely feet away from the tasting bar is mostly planted to Chardonnay and is the source of the grapes for this wine. Along with providing the fruit for Razi's wine, this 10 acre Chardonnay vineyard also provides fruit to a premium Napa winery who has popularized their "unfiltered" Chardonnay. Astute students of Napa wineries will know that Newton Vineyards produces what is probably the most recognized "unfiltered" Chardonnay in the valley.
And in another piece of random trivia – this is where Caldwell Winery got their start – making their early vintages on site.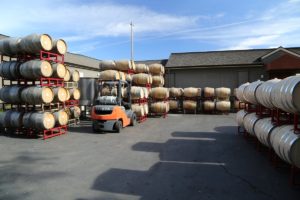 The 2007 Razi Chardonnay has very good color in the glass with a deep straw color that is darker than many Chardonnays on the market. This color is in part from the 9 months of 100% American oak barrel aging. The wine went through partial malolactic fermentation and was aged on the lees. Toasted oak along with pleasant tropical fruit overtones make up the bouquet followed by a clean refreshing palate that has nuances of the oak along with pear and red apple. The long finish is clean with notes of citrus and lemon zest. Despite aging on the lees and being occasionally stirred on the lees, the wine is not overly creamy or viscous. This wine also has excellent acidity.
Their 2007 vintage was the first vintage of the red blend – initially released in 2010.
The 2016 Razi Shiraz offers pretty aromas including blackberry and blueberry, hints of cassis an interesting aroma of stewed tomato and as the wine breathes, baking spices. Dark in the glass, the wine is juicy across the palate with mouth watering acidity. Layered yet approachable in its youth – still shows somewhat tightly wound tannins but these should soften with just a few years of age. Mostly dark fruit flavors on the plate – hints of bacon fat. A good food wine – perhaps with a bbq or pizza.
Several other producers have rented or currently rent space inside the winery to produce their own wines (with production and winemaking overseen by Massimo). A real highlight of a tasting here (if available) is the B Wise Vineyards, BRION Cabernet Sauvignon from the Coombsville region, located a bit south of the actual winery. B Wise sources fruit from several premium vineyard sites including their own Sonoma Vineyard located just below the famed Martini hillside Monte Rosso Vineyard in neighboring Sonoma County. The BRION is why single vineyard (Bennett Vineyards), 100% Cabernet Sauvignon wines such as this one are helping to put Coombsville on the map of wine enthusiasts. Excellent terroir, such as from this vineyard site combined with a knowledgeable and passionate winemaker is a recipe for beautiful wine; this one does not disappoint.
Their current release at the time of our tasting was 2004. This wine has a rich very concentrated flavor profile. It is a dark wine with a nose full of intense fruit including blueberry and blackberry. There is also a somewhat elegant vanilla undertone present in the bouquet. Mostly new French oak was used during the aging. The palate contains layer upon layer of flavor with a finish that is well structured, yet in balance and also slightly smoky and dusty. It is a robust wine that while in its youth at the time of our tasting, still needed time to age and evolve additional complexities.
Another treat (if available) is the Lito Vin Santo found under the Monticelli Brothers label. Massimo Monticelli, a UC Davis graduate is a fourth generation winemaker and aside from being the winemaker for Razi Winery, runs his own label with his brother, appropriately named Monticelli Brothers. In addition Massimo makes wine at Razi winery for the various other small producers who are located here. The Lito Vin Santo is a blend of style's combining the best of both worlds in regards to dessert wine from both Italy and France. Its winemaking was partially conducted in the French Sauternes style as well as the Italian Vin Santo.
Only 350 cases of the 1/2 bottles were made in 2003. This is wine that is well balanced between sugar and alcohol. It only has 2% residual sugar and the alcohol is around 13 percent. As a result, it is a wine that Massimo rightly claims is for "drinking, rather than sipping"! In other words its not going to overwhelm your palate; its not a sticky syrupy dessert wine. A number of white varietals are used in this wine including Malvasia Bianca. It is very dark amber in color with nice stone fruit flavors including peach and nectarine with honey undertones.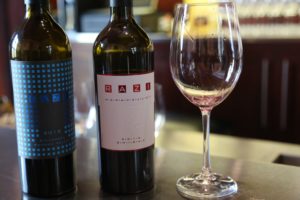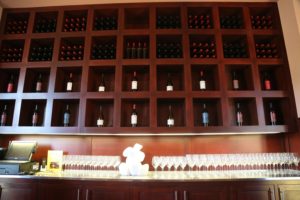 Also ask about the Monticelli Brothers Solera styled red wine called Rolando Rosso (non vintage, no dominate varietal) — this is a red wine style that is extremely uncommon in the Napa Valley. It contains 50% current vintage juice and 50% of various older vintages. Out of more then 1,000 commercial wine producers in the Napa Valley that we have visited, only several wineries make even a non vintage table wine. This is a wine with quality behind it yet is a great every day wine.
Razi Winery is one of the more personal tasting experiences along the southern part of the Silverado Trail – Fred often conducts tastings himself. It is a unique opportunity to taste very limited production wines (some as low as merely 50 cases) from a number of different producers. Located only minutes from the town of Napa this makes a good appointment only stop for serious wine enthusiasts in the southern part of the valley.
For nice days there is a patio for outside tasting – also serious enthusiasts may be able to try some barrel samples. We have visited Razi Winery several times and have already reviewed two other wines made here including Burly and Monticelli Brothers. For more information about Razi, to make a tasting appointment or to join their wine club, visit: www.raziwinery.com
Wine with Tony