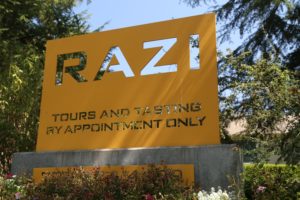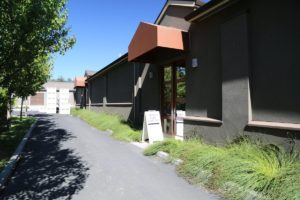 RAZI Winery is owned by architect Fred Razi (formerly used to work with developer Bob Heisler in designing homes); Fred purchased his property in the late 1980's. Fred is one of the few Napa Valley winery owners with Persian (Iran) heritage. After his purchase he re-planted vineyards and built the cellar from scratch. The winery originally started out as a hobby during the first years as only noncommercial wine was made here. As it tends to happen in the wine industry, over time, wine related hobbies become more serious, and the winery grew; today it is where wine is also made for several boutique Napa producers.
RAZI Winery maintains a small but beautiful modern tasting room which opened for appointment only tastings in March 2009. Tastings are hosted from bar stools at the stainless-steel tasting counter. Because the winery is small and Fred lives on site, guests will primarily taste with Fred or much more rarely, winemaker Massimo Monticelli. The winery is located at the southern part of the east side of Silverado Trail almost across from Bread and Butter wines tasting room and winery. Visitors will enter the property by crossing a narrow bridge directly off of the Silverado Trail proceeding to the right side of the driveway at the fork in front of the metal RAZI winery sign. Several parking spaces are located just outside of the tasting room and next to the outdoor vine covered patio.
Visitors may be drawn to a brightly painted metal yellow statue that looks like a cardboard cutout – located between the exterior patio and the edge of the vineyard. This is the original prototype for Benchman, a three-person indoor or outdoor metal bench designed by Carson, California based company, Stickmanpark. Fred's son Bobak Razi is a co-founder of this company with former college roommate at California State University, Long Beach, Zaur Yevdayev. This particular design and several iterations of the original prototype are found in select indoor and outdoor spaces for some of their clients. Stickmanpark focuses on designing residential and commercial furniture.
During our initial visit to RAZI years ago, only a single wine was produced – a Chardonnay, which was the varietal that Fred made as home wine before he founded RAZI Winery. Since those early days, RAZI Winery now produces a larger selection of wines including a Syrah labeled as Shiraz, a Zinfandel, a red blend and a Cabernet Sauvignon. Their wines tend to have extra age in bottle before being released and their prices are quite reasonable.
For many years, Razi's Chardonnay was made from grapes grown right on the property from vines bordering the eastern side of the winery and tasting room; however, in 2017 these vines were pulled out and replanted to Cabernet Sauvignon, although Fred did keep a 2-acre block of Chardonnay on another part of the property. Along with providing grapes for Razi's wine, for a number of years, this 10-acre vineyard provided Chardonnay to Newton Vineyards (who popularized their "unfiltered" Chardonnay). Fred recalls Dr. Su Hua Newton, proprietor of Newton Vineyards walking through his vines every year marking off which vines would provide the grapes for Newton Vineyards.
And in another piece of random but important trivia – this is where Caldwell Winery got their start – making their early vintages here before they had yet built their own winery and cave in Coombsville.
Select Wines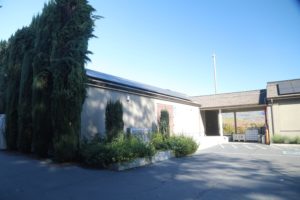 Razi uses exclusively French oak on the red wines, but Fred likes the characteristics imparted from American oak for his Chardonnay. The 2017 Razi Chardonnay is deep golden in color; offers aromas of orange marmalade, honeycomb, butter, caramel, Shenandoah pawpaw fruit, vanilla, Golden kiwi and hints of ripe Cherimoya. The wine offers a supple and slightly creamy mouth feel, complemented nicely by its brightness of acidity. Lingers with a liveliness including notes of butterscotch, caramel and vanilla along with mandarin, an orange peel zest and flavors of red apple. This wine drinks very well by itself.
The 2007 Razi Chardonnay has very good color in the glass with a deep straw color that is darker than many Chardonnays on the market. This color is in part from the 9 months of 100% American oak barrel aging. The wine went through partial malolactic fermentation and was aged on the lees. Toasted oak along with pleasant tropical fruit overtones make up the bouquet followed by a clean refreshing palate which has notes of oak along with pear and red apple. The long finish is clean with notes of citrus and lemon zest. Despite aging on the lees and being occasionally stirred on the lees, the wine is not overly creamy or viscous. This wine also has excellent acidity.
The 2016 Razi Shiraz offers pretty aromas including blackberry and blueberry, hints of cassis an interesting aroma of stewed tomato and as the wine breathes, baking spices. Dark in the glass, the wine is juicy across the palate with mouthwatering acidity. Layered yet approachable in its youth – still shows somewhat tightly wound tannins but these should soften with just a few years of age. Mostly dark fruit flavors on the plate – hints of bacon fat. A good food wine – perhaps with a BBQ or pizza.
The 2017 RAZI Zinfandel is dark ruby in color; the bouquet shows aromatics of chocolate coated dark cherries, plum, mocha and espresso, warm chocolate brownie and old toasted cedar wood. The fruit is certainly evident, but there are plenty of other non-fruit aromatic layers showing. Offers flavors of ripe dark cherry, black licorice, boysenberry, blueberry and brown chocolate. The tannins are plush and rounded and glide smoothly and easily across the palate. Lingers with just a hint of dried tobacco leaf, deeper into the finish.
The 2018 Razi Cabernet Sauvignon has no problem with color; this wine is deep purple in the glass. The aromatics are dark and include Satsuma plum, sweaty leather, pipe tobacco, black licorice and violets along with a meatiness and an iron nuance. As the wine evolves, offers hints of cardamom and clove. This bouquet offers some aromatic intrigue, and one needs to let it sit in the glass for some time to fully open. Dark fruit runs the breadth of the palate including flavors of spicy plum skin. The finish is savory with notes of crushed peppercorn, dried tobacco leaf, dust and old cedar box. The gravely and grainy tannins offer a noticeable grip and linger for quite some time. Still in the throes of youth, this wine is built to age. And its available at a rare price point as compared to most Napa Valley grown and produced Cabernet Sauvignon wines.
Other Clients of RAZI Winery
Several other producers have rented or currently rent space inside the winery to produce their own wines (with production and winemaking overseen by Massimo). While the focus of a visit to Razi Winery is on the Razi wines, sometimes wines from other producers on site might be available. During our first visit to the property back when BRION was making their wines here, we enjoyed the BRION Cabernet Sauvignon from Coombsville, a region featuring rolling hills and a moderate climate located just east of the city of Napa.
B Wise sources fruit from several premium vineyard sites including their own Sonoma Vineyard located just below the famed Martini hillside Monte Rosso Vineyard in neighboring Sonoma County. The BRION is why single vineyard (Bennett Vineyard), 100% Cabernet Sauvignon wines such as this one is helping to put Coombsville on the map of wine enthusiasts. Excellent terroir, combined with a knowledgeable and passionate winemaker is a recipe for beautiful wine; this one does not disappoint.
The 2004 BRION Bennett Vineyard Cabernet Sauvignon offers a rich very concentrated flavor profile. It is a dark wine with a nose full of intense fruit including blueberry and blackberry. A somewhat elegant vanilla undertone is also present. Mostly new French oak was used during the aging. The palate contains layer upon layer of flavor with a finish that is well structured, yet in balance while also showing notes of smoke and dust. It is a robust wine that while in its youth at the time of our tasting, still needed time to age and evolve additional complexities.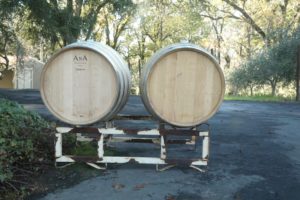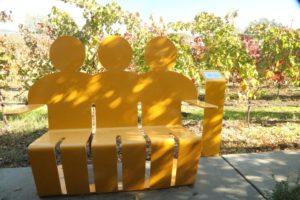 Another treat (if available) is the Lito Vin Santo bottled under the Monticelli Brothers label. Massimo Monticelli, a UC Davis graduate is a fourth-generation winemaker and aside from being the winemaker for RAZI Winery, runs his own label with his brother, appropriately named Monticelli Brothers. The Lito Vin Santo is a blend of styles combining how dessert wines are produced in both Italy and France. Its winemaking was partially conducted in a French Sauternes style as well as the Italian Vin Santo.
Only 350 cases of the 1/2 bottles were made in 2003. This is wine that is well balanced between sugar and alcohol. It only has 2% residual sugar, and the alcohol is around 13 percent. As a result, it is a wine that Massimo rightly claims is for "drinking, rather than sipping"! In other words, it's not going to overwhelm one's palate, it's not a sticky syrupy dessert wine. A number of white varietals are used in this wine including Malvasia Bianca. It is very dark amber in color with nice stone fruit flavors including peach and nectarine with honey undertones.
A Solera styled red wine called Rolando Rossa is bottled under the Monticelli Brothers label. This wine is a non-vintage with no dominate varietal); it contains 50% current vintage wine and 50% of various older vintages. Out of more than 1,000 commercial wine producers in Napa Valley that we have visited and extensively written about, only several wineries produce a non-vintage table wine. This wine is made with love, passion and quality; for the most optimum results, drink it daily.
—
Rather than create a specific logo, Fred chose to display numerous squares on his labels. Squares appeal to him because of his architectural background; he wanted to display something simple and easily understood.
RAZI Winery offers a highly intimate tasting experience. How many owners personally conduct tastings at wineries along the Silverado Trail? Fred typically hosts tastings himself. When visitors reach the end of the tasting, he will often pull out some extremely tasty chocolates (made with 70% cacao) to pair with his Cabernet Sauvignon.
On pleasant days, an outdoor patio is available for outside tasting; serious enthusiasts may request to try a barrel sample. We have visited Razi Winery several times over the years and have already reviewed two other wines made here including Burly and Monticelli Brothers (see our separate reviews on this website for more details about these particular brands). The winery is located only minutes from the city of Napa; a visit here is ideal as the first or the last stop of the day.
For more information about Razi, to make a tasting appointment or to join their wine club, visit: www.raziwinery.com