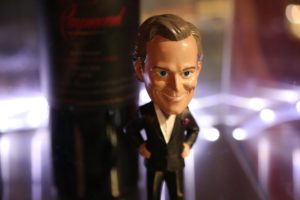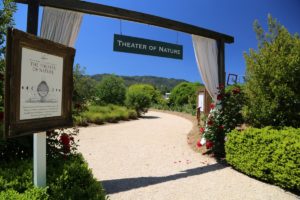 Raymond Vineyards was founded in 1971 by Roy Raymond and his two sons with their first harvest in 1974. This family has a long history in Napa Valley dating back five generations to the 1930's. When Roy arrived in the Napa Valley he was hired as a cellar "rat" at age 18 at Beringer Winery the year after prohibition. Beringer was one of those select few Napa wineries that were able to stay open during prohibition by making sacramental and medicinal wine and the year after prohibition they were hiring additional employees in anticipation of an increase in production.
While at Beringer Roy met and married Martha Jane Beringer. Yes, there are a number of cross winery marriages in the valley even today! After Beringer sold in the early 1970's the Raymonds' were able to purchase 90 acres just south of the town of St. Helena which surrounds the current winery. Land in the valley was certainly much cheaper back then.
Currently Raymond owns over 300 acres in the Napa Valley. They own vineyards near Jameson Canyon – (south east of Napa in a cooler growing climate), and another small vineyard just north of the winery in St. Helena. They also source fruit from a variety of other vineyards in the valley ranging from Carneros in the south to Calistoga in the north.
Raymond sold the winery to the well-regarded Boisset Family from France in 2009. Jean-Charles Boisset, the President owns several prominent wineries in the Napa/Sonoma region including California's oldest winery, Buena Vista and the Pinot powerhouse, De Loach Vineyards (both in Sonoma County). Jean-Charles is also married to one of California's most recognized winery names – the Gallo family – his wife is Gina Gallo and they own the home that Robert & Margrit Mondavi used to live in.
If you visited Raymond Winery before Jean-Charles purchased the estate and if you visit after, you will absolutely not recognize the inside of the winery. It has taken a unique mind, creativity and more than a pinch of flamboyance to turn "what was" into "what is now". It is impressive in a certain sense to have witnessed this change.
Several items in the main entrance worth noting is the large photo hanging as a tribute to the Raymond Family and the interactive digital display informing visitors of the current solar input and output on the property from the solar cells located on the roof.
The hospitality part of the winery has been completely renovated with a modern seductive theme.
Crystal Cellar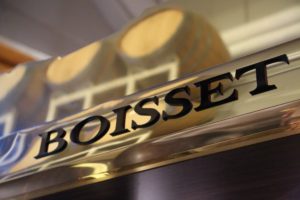 Highlights include the Crystal Cellar which offers a partially candlelit, dark and sultry tasting experience. Fake models hang over from the tank walkway above, jewelry for sale sparkles in the glass cases, glitter chandelier's hang and oh so fine Baccarat Crystal-ware is scattered about. And it is here you can purchase your very own smiling Jean Charles Boisset bobble-head figurine. The Barrel Room also features candle lights but is for more intimate tastings (by reservation) rather than the "open to the public" Crystal Room.
Social media fanatics take note – a special social media station is available in the Crystal Cellar – here you can tweet, take photos and enjoy other in the moment online activities promoting yourself and Raymond Vineyards.
Red Room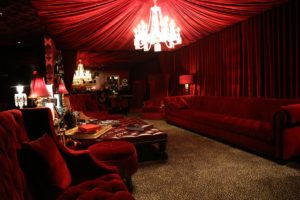 What is now Napa's most intriguing tasting salon and "private club" (The Reserve at Meadowood, aside) is the Red Room featuring the color red to the max. Red velvet drapes the walls and ceiling, plush red couches await seductively and borrowing from the theme of their Crystal Room, there is a crystal chandelier here (not red!). This member's only club allows members to enjoy a wine available only to a select few as well as the use of this part of the winery. Non members may reserve a private tasting in the Red Room called the Red Room Privé tasting.
Corridor of Senses
This unique interactive exhibit is a row of objects that allow you to touch and smell your way through the wine world. Particularly of interest are the smell displays – some of the most prominent smells in wines are isolated and available for you to guess as to what they are. Aromas such as raspberry, coffee, truffles and much more are lined up along this corridor. Don't look at the ID above the display – try to guess before checking!
Theatre of Nature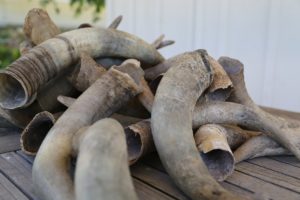 This two acre outdoor garden highlights Biodynamic farming (the largest live educational exhibit of its kind in Napa Valley). In the spirit of the word "theatre" you actually enter the garden through a dramatic curtain shielding the pathway. Equally dramatic are the stark white chairs plopped on the lawn (that appear to be from another era) that are located next to the Theatre of Nature with the word "Raymond" as the backdrop. Needless to say, this is a popular photo spot.
As you walk through the garden on the rock path, signs will provide education about types of plants growing here, types of cover crops used in the vineyards, trellising techniques, a sample of various soils found in the Raymond vineyards, composting and other practices and benefits of Biodynamic farming. Goats may bray or chickens may crow – these animals are kept next to the garden.
Soon after purchasing Raymond – Jean-Charles started converting the 90 acre estate property to organic and bio-dynamic farming practices. In regards to this, they have started replanting a number of acres on site.
Winery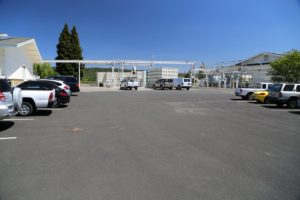 This is the only winery open to the public on Zinfandel Lane; it is located just a few miles south of St. Helena. While you can sometimes see the traffic of Highway 29 from the winery, the feel here is anything but the busyness you often experience on the "wine strip" south of St. Helena. There are several buildings on site; the one closest to the parking lot that looks like a 50's style ranch house contains the small tasting room, Crystal Room, Barrel Room and the dramatic Red Room.
In the early 1990's additional barrel storage and winemaking facilities were constructed. With extra space in the actual winery Raymond has opened this up to a variety of small wineries. These "custom crushers" are producers who do not own much in the way of physical winemaking equipment but can use the facilities here. This is all state of the art equipment and Raymond has even taken a further step for small wineries. They provide a full time consulting winemaker devoted to just helping out their custom crush clients.
The Wines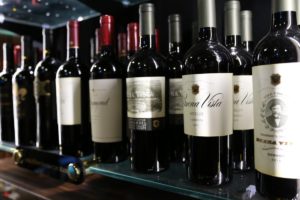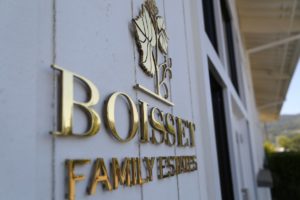 During a visit – choose from several tasting flights – one is heavier on the whites and lighter wines and the second is predominately reds and their small lot wines. They produce four distinct labels, the Napa Valley Reserve (Flagship wines), Limited Edition Wines (small lot production – typically only available at the winery and are produced in quantities of 50 to 500 cases – as of our latest update to this review, all are very reasonably priced), the R Collection (premium vineyards from various statewide locations) & their Amberhill (everyday drinking wines). They offer more of a variety of wines than most area wineries but their focus is on Reserve Cabernet Sauvignons and they offer several for tasting.
The 2004, 100% varietal Rutherford Cabernet Sauvignon is a winner. There is a reason people talk about Rutherford dust. This wine has it, with initial aromas offering up notes of crushed rock, mineralities – a neat dustiness intermingled with the fruit. It has a smooth and supple mouth feel full of ripe layered fruit including blackberry and black cherry. There is just a touch of mocha and spice from the oak on the finish. Also of note is their "Generations" Napa Valley Cabernet Sauvignon. The 2004 vintage is rich and layered in flavor and strikes a nice balance between acidity and structure. The bouquet has floral notes with very ripe fruit aromas including blackberry and blueberry. Elegant chocolate and pepper are interwoven with cherry and blackberry notes. This is a fairly big wine but with a structured finish that doesn't overwhelm, is quite approachable now.
Dessert wine lovers be sure to try their Late Harvest Chardonnay, called "Eloquence". This wine is not made every year and is made from some of the ugliest grapes you will ever see. If you've never seen advanced stages of botrytis cinerea covering grapes, you are not missing much! This is a type of mold that needs to be on the grapes used for making this type of wine. It looks like rotting fruit and you think to yourself how can these grapes end up being in a wine that tastes so incredibly good?! The 2005 vintage is a rich wine both in sugar, flavor and alcohol. Tropical aromas including honeysuckle are found on the bouquet and tropical notes also continue in flavor to the palate. There are also notes of apricot, raisin and a satiny honey caramel nuance towards the finish. It even comes in its own unique box which is deserving of a wine with this name. Dessert lovers also look for their Late Harvest Sauvignon Blanc.
As at Boisset's De Loach Winery in neighboring Sonoma County, Raymond also offers what is called "Barrel to Barrel". These are miniature wine barrels (real wood) with a thick plastic bag inside that contains 3 liters of wine. There is even a wine spigot built into the barrel. That advantage of this storage, other than the "cool" factor is because of the larger volume of wine, once open the wine lasts much longer than a 750ml bottle – up to 6 weeks.
Private tastings, blending seminars (Winemaker for a Day) and winery and vineyard tours must be reserved ahead of time; a visit involves seeing the actual winemaking facilities and barrel room (its huge) as well as provides information about their rich and unique history. The tour ends with a tasting in the main tasting room. Private events can be reserved and are held on the grounds of Roy Raymond's original home which now also serves for wine club functions. Raymond is distributed in select markets in all 50 states.
Winemaker for a Day
This extremely popular experience allows you to play "mad scientist" as perhaps your wine making tutor will present your session to you. Choose from a number of Bordeaux red varietals and blend percentages together until you find a blend you like. Then you can name it. Then you can take it home and drink it! We sent one of our writers for our travel site to experience this first hand. Her review is here.
JCB Lounge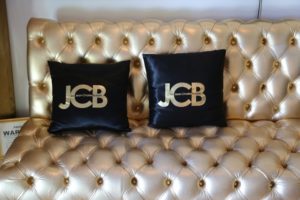 Along with JCB lounges in San Francisco at the Ritz-Carlton Hotel, Yountville (including the Atelier and the JCB Salon Privé) and on the Healdsburg plaza – there is also one here – located in the Raymond's old pool house in the 'back' of the property across from the Raymond's old primary residence. Walk in guests often won't know about this lounge space; that is because it is generally only available for private tastings through prior appointments. Like Jean Charles' other lounges, this one is about elegance, flamboyance and surprises. One such surprise is the sparkling 'machine gun' – which apparently will shoot out sparkling wine. Best used on super special occasions. Wines, perfumes, jewelry and lavish decorations all make for a memorable experience. For our readers looking for more information and photographs about these other JCB lounges – view our notes here.
JCB offers tasting flights inside the lounge featuring wines from the portfolio of the Boisset Collection (including some of their most premium offerings) – light snacks may also be paired with the wines. This lounge also features private event space for small groups. Tastings here are hosted at a table or if guests prefer a more casual environment, they can take full advantage of the comfortable sofa.
Other Experiences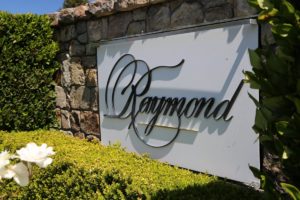 This is one of a select few wineries in the Napa Valley to be associated with the Napa Valley Wine Train – special wine train packages include a visit and tour of Raymond Vineyards in conjunction with a ride on the Napa Valley Wine Train. Looking to continue your "Raymond Experience" outside of the winery? Look no further than the Mount View Hotel & Spa in Calistoga which has dedicated one of their rooms to Raymond Winery. Suite 207 is now the Raymond Vineyards winery suite! Of course, Raymond wine is only served to guests who stay in this room.
For more information or to join one of their select wine clubs, visit: www.raymondvineyards.com Raymond also operates a small winery on site devoted to dogs and dog lovers – but with the tastings for the owners. Visit: www.frenchiewinery.com
The Winery & Hospitality Center

Red Room

The Crystal Cellar:

The Theatre of Nature

JCB Lounge, Raymond