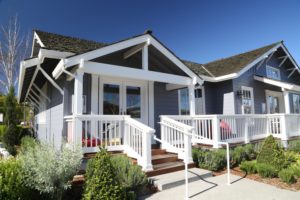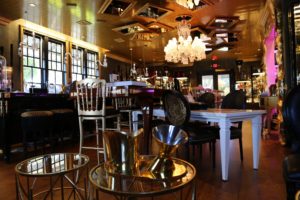 JCB Wine Bar & Lounge opened in Yountville, appropriately on Valentines Day 2016. There is no other walk-in tasting room in the Napa Valley that comes close to the diverse and visually impressive selection of interior decor. As you enter, the tasting room is an assault on your senses and you aren't sure what to feast your eyes on first. Pay attention to the details which you will certainly miss if you try to absorb this tasting room in it's entirety at once – the leopard pattern on the bar chairs, the gold leaf decorating the tables, the golden horn shoe shaped spittoons, the details of the crystal, the interesting selection of books – the list goes on and on.
This tasting room is a showcase of creativity if you will, both with the selection of wine offered and the pieces of art and decorative items for sale. It is the vision of creative mastermind, vintner Jean-Charles Boisset. Born in Burgundy he grew up surrounded by vineyards and the wine business. His parents Jean-Claude and Claudine founded their first winery in 1961 – today the family collection has grown significantly with wineries located in France, Italy, California and Quebec.
Known in part for the framed newspaper articles promoting Jean Charles' accomplishments in the bathrooms of his wineries – strategically placed above the sinks, the men's urinals and near the hand dryers or paper towel dispensers – one doesn't generally linger longer then needed in restrooms, so these reads tend to be only a brief glimpse into the man's accomplishments.
Perhaps in the history of Napa Valley there is no one else who has combined such extreme creativity with the financial means to build a continuously growing empire built around wine and food – connected by a visual flamboyance & opulence rooted in unique and memorable experiences. One may only see a part of this empire – but when one starts connecting all the spaces and projects, one realizes how vast a reach the Boisset empire has become – deeply rooted in Napa and the No Cal wine scene in a remarkably short amount of time.
There are three JCB tasting experiences/locations within the JCB collection including this one, as well as at Raymond Vineyards in the Napa Valley and inside the lobby of the Ritz Carlton in San Francisco. The Yountville location is always open to the public by walk-in, the JCB lounge at Raymond requires an appointment and it is recommended to make an appointment to visit the one in a room off of the lobby at The Ritz-Carlton, San Francisco.
It is refreshing to discover a tasting room where the staff are extremely well trained in both wine and the heritage of the items for sale here (not always the case with walk in tasting rooms) – but again, this is not exactly a typical walk-in tasting room.
The focus of the wine here is on the JCB Collection – this is an impressive collection of wines spanning continents. JCB does not own a winery, rather the wines are made at some of the wineries within the collection (IE in Burgundy, Napa & Sonoma). Some of the individual wines from each of the wineries are on display (including a wine made with someday music legend, John Legend called Legend Vineyard Exclusive or LVE) – these wines are not tasted here but can be purchased on site.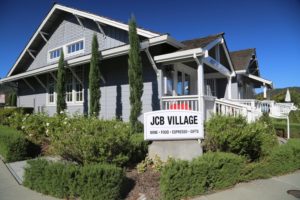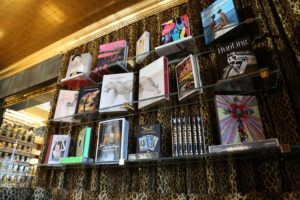 The JCB wines focus on 'the story behind the bottle' and the style of wines rather than specific varieties, locations and vineyard designate wines. Certainly not always the case with wines grown and produced in Napa – especially from all the small producers.
The wines are named numerically – with each number/name representing a specific story, meaning or year. Jean-Charles compares the JCB wines to that of art and music (both of which he enjoys immensely). You don't need to favor a certain genre of art or music – rather you can connect with individual pieces from a diversity of artists, styles and types of music. Same with wine.
JCB is known for their sparkling wines – they certainly make a diversity of these (for obvious reasons it is rare to find a Napa tasting room that pours sparkling wines from outside of Napa). While the majority of wines poured on site are from Napa, several of their Burgundian wines are available for tasting including some of their delicious crémants (sparkling wine not made in Champagne but made in the méthode champenoise style).
Select Wines
The 2014 No. 76 Chardonnay is named 76 for two reasons that refer to 1976. This is the year that Jean-Charles was introduced to premium wines and and is also the year the Paris Tasting was held (which helped highlight the quality of Napa wines Internationally). The fruit for this wine was sourced from neighboring Sonoma County – underwent full malolactic fermentation and was barrel aged. It shows a rich golden hue in the glass with noticeable spices on both the bouquet and the palate – especially noticeable on the lingering finish. Displays a pleasing creamy mouth feel along with an intensity of flavor not always seen in wines from this variety.
The No. 3 Pinot Noir is an interesting wine – it was first made to help celebrate Jean-Charles' marriage to Gina Gallo – two wine world's coming together to create a third. As a result, this unique wine features grapes grown and then partially vinified in Burgundy – then shipped to California for the final processing and then blended with the same variety grown in the Russian River Valley of Sonoma County.
The 2011 shows some bottle maturation – with excellent balance featuring more darker fruits and more structure then many of the more delicate Pinot Noir's we have tried that are entirely sourced from the Russian River Valley. The bouquet shows initial fruit (cherry) and earthy notes and as it opens, reveals more baking spices. This wine shows very good acidity.
The 2010 No. 1 Napa Valley Cabernet Sauvignon was made in very limited production (only 100 cases). The nose is pretty, showing chocolate, cherries, baking spices and sweet fruit notes. This is a well balanced, lighter style Cabernet Sauvignon compared to some of the heady and weighty Cabs coming out of Napa. St. Helena sourced fruit. It is easy to drink with fine grained, noticeable tannins that linger for some time. Palate shows mostly red fruit – red currant and red cherry.
The 2010 No. 10 Cabernet Sauvignon perhaps is not 10x as big as the No 1 Cabernet Sauvignon as the numbered name might indicate, but it is a noticeably different wine altogether. The nose is appealing showing notes of chocolate and mocha along with darker fruit (black cherry and blackberry) – it has a richness and a depth of flavor that is intriguing with broad shouldered robust tannins anchoring a long finish.
What other tasting room in the Napa Valley offers an apple ice wine from Quebec. The JCB Neige (meaning snow in French) is a must have for dessert wine enthusiasts – rich in flavor, with a pleasing palate feel along with plenty of acidity, this wine is sure to please.
—
A small side room, that perhaps upon first glance you might think of as an 'offspring' of the main "Red Room" at Raymond Vineyards is actually called the Surrealist Room. Here guests can enjoy a more intimate tasting over a glass top counter surrounded by a generous helping of the color red and a variety of luxury items for sale (jewelry, wine accessories etc.) Reservations accepted or if available, this room is also open to walk ins.
JCB has partnered with several premiere brands to sell their products within the tasting salons. These include Gaggeneau (high end home appliances, made in Germany), Baccarat (hand-crafted crystal), Bernardaud (porcelain), and Christofle (premium silver decorations). Most everything is available for sale in the salon – including the gorgeous Baccarat centerpiece chandelier (we were quoted $85,000 for this beauty during one of our visits in late summer – and they told us they had already sold three of them just that year).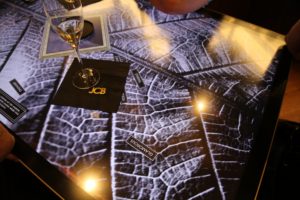 Guests may enjoy their tasting at the sit down bar or at one of a number of tables. And at the time of our latest update to this review, one of the more unique tastings in the valley is held over one of their digital tables. Not really sure how to describe this experience – one places a coaster on the table's screen and an array of information about that day's tasting flight shows up allowing one to choose from a variety of educational information about the wines being poured. Descriptors of the wines – often with sexual innuendos (voluptuous, liberating, etc) can be digitally 'passed' across the table as desired.
JCB Yountville, Winebar (formerly Salon Privé)

The Atelier was located within the same building 'next door' and was accessible from the salon via a connecting door inside. Walking into this shop around lunch time was sure to spark some sort of culinary salivation. Choose from a variety of specialty items sourced from both Napa and Sonoma including caviar, meats, cheeses, mustard, specialty teas, honey (from hives at both Raymond Vineyards and DeLoach Vineyards) and other fine delicacies. In addition, special culinary trays, lunches, cheese and charcuterie boards, specialty sandwiches (one of the better ham sandwiches we have tried – certainly not made from a typical ham) and specialty lunches were available.
Note: as of our latest update to this review the Atelier closed in 2021 and by Fall the same year, JCB Lounge has since expanded into this former Atelier space offering additional space for JCB wines and related lifestyle produces.
For a more private and intimate tasting experience, visit the Salon Privé located directly behind the main tasting salon in another building (reservations required). This space is a bit lighter and more airy then the main tasting room. Artfully decorated, whimsical at times the personality of Jean-Charles Boisset is clearly evident.
Roses are a primary theme with a 'bouquet' of red hanging from the ceiling. A small side room is used for sit down tastings. Visitors to the old Cornerstone tasting room that was located here will not recognize the current look in this space.
OTHER JCB LOUNGES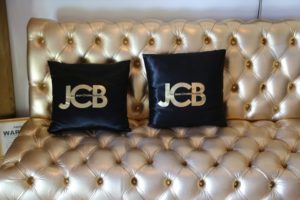 JCB Raymond is located in the Raymond's old pool house in the 'back' of the property across from the Raymond's old primary residence. Walk in guests often won't know about this lounge space; that is because it is generally only available for private tastings through prior appointments. Like Jean Charles' other lounges, this one is about elegance, flamboyance and surprises. One such surprise is the sparkling 'machine gun' – which apparently will shoot out sparkling wine. Best used on super special occasions. Wines, perfumes, jewelry and lavish decorations all make for a memorable experience. For our readers looking for more information and photographs about these other JCB lounges – view our notes here.
JCB offers tasting flights inside the lounge featuring wines from the portfolio of the Boisset Collection (including some of their most premium offerings) – light snacks may also be paired with the wines. This lounge also features private event space for small groups. Tastings here are hosted at a table or if guests prefer a more casual environment, they can take full advantage of the comfortable sofa.
JCB The Ritz-Carlton San Francisco is the smallest of the JCB lounges (can seat up to 20 people). Easily accessible, this lounge is located in a small room next to the reception in the lobby at The Ritz-Carlton. Like the other JCB lounges, this space also offers a variety of tasting flights along with a fine retail selection of luxury items.
And slightly different then the other lounges, guests can enjoy some light food options prepared by Parallel 37 (the exception restaurant, also located on the ground floor).
And also of note is Jean-Charles involvement and partnership with India based vintner, Kapil Sekhri to produce J'Noon wines grown from the Fratelli Vineyards estate located 7 hours by car (if your lucky), south east of Mumbai or about 4 hours from Pune. The inaugural wines were a J'Noon white, a J'Noon red blend and a JCB #47 Brut (numbered to indicate the year India gained its independence from the United Kingdom). These wines were selectively available upon great fanfare upon their debut release in the United States but have since sold out.
Very few things will pull us up to cold and foggy San Francisco: Los Angeles is our city of choice. However when something connected to Napa Valley is involved we will make the trek to most anywhere. And we have.

OTHER CALIFORNIA JEAN CHARLES BOISSET OWNED OR LEASED SPACES
We highlight only a *few* of the many JCB owned spaces and places in California or internationally below. The parent company is the Boisset Collection. As of our latest notes to this review, the Boisset Collection owns 19 different brands or physical wineries in California, one in England, one in India and 17 in France. To check the current list of brands under the Boisset Collection, please visit: www.boissetcollection.com/brands
SELECT NAPA SPACES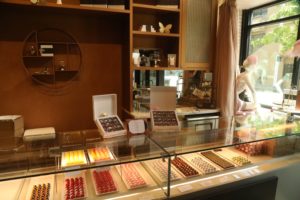 Chateau Buena Vista Tasting Room, Napa
This tasting salon is located in the historic Gordon Building on the ground floor at 1142 First Street in downtown Napa. This building was originally constructed in 1904 as the Hayes Theatre but it burned down. The current building dates from 1929 and then a second section added in 1935. The Gordon Building underwent a major renovation in 2019. This tasting space is opened in early March 2022.
Select tastings feature champagne, several different types of caviar and chocolate. The focus of the wines represented are from Buena Vista Winery in neighboring Sonoma County including wines bottled under Chateau Buena Vista which are all Cabernet Sauvignon wines from Napa Valley. Visitors can order wines by the glass or by bottle or choose from select flights.
Buena Vista is the oldest commercially producing winery in the state of California, having been founded in 1857 by the Hungarian immigrant Agoston Haraszthy de Mokesa. A bust of this influential and eccentric man is housed inside the tasting salon. From this satellite location, the drive to Buena Vista Winery in neighboring Sonoma County is about 25 minutes.
A mezzanine level is also available for guests. Earth and Sky Chocolates maintains a space in the front of the tasting room and sells a variety of chocolate directly to visitors and some of their chocolates are used in the Chateau Buena Vista wine pairings. Without a background whatsoever in chocolate, owner Robbie Schmidt purchased this chocolatier in early March 2020. She also maintains a kitchen and a retail outlet in the train cars at the Calistoga Depot.
Select Wines
The 2019 Chateau Buena Vista Diamond Mountain Cabernet Sauvignon is noticeably inky dark ruby in the glass; its aromatics are earthy, dark and include a sweet thread of black licorice, blackberry and cedar. As the wine breathes offers aromas of chocolate and darker spices. The mouth feel is pleasing with initially a slightly creamy texture. We wrote 'dark' several times in our tasting notes referring to the wine's flavors. Take the darkest fruit you can imagine; that is the palate of this wine. The tannins are robust and slightly chewy but not as aggressive as we anticipated, especially for such a young wine. Lingers with flavors of plum, wood and grape tannins and some savory notes.
The 2019 Chateau Buena Vista Rutherford Cabernet Sauvignon is medium to dark ruby in the glass; the bouquet immediately envelopes the glass with darker berry aromas, plum and notes of old cedar which become more pronounced as the wine evolves. And deeper into the aromatics are notes of old parchment paper. This wine is already very balanced for being so young. Offers more red fruits than darker fruits on the palate including red cherry. There is a noticeable grip of tannins but they are not heavy or coarse in their textural feel. Lingers with some darker spices including pepper along with a red fruit driven brightness of acidity.
The 2013 Buena Vista Tokaji Aszu 6 Putanayos is a beautiful wine; we tasted this nearly 9 years post vintage and it certainly can last decades more. It is dark golden in the glass with sweet aromatics with both ripe fruit and floral undertones including honey, apricot, peach and some citrus blossom notes. It is sweet by not cloyingly so, tempered by a bright backbone of acidity. The mouth feel is immediately noticeable on the entry; it is creamy, rounded and with an oil-like viscosity. Offers flavors of mango, papaya, nectarine, peaches preserved in syrup, passion fruit and apricot. The finish is long with a noticeable brightness that livens the palate. While tasting this wine we reflected on its origins; it was grown, produced and bottled in Hungary for California's oldest winery, owned by a Frenchman available at their tasting room in downtown Napa.
LVE Lounge, Napa
Part of the Boisset Collection, the Legend Vineyard Exclusive (LVE) will open, most likey sometime in summer or fall 2022 in a space in First Street Napa across from Compline Wine Bar & Restaurant. The lounge and tasting space will focus on wines made the Boisset Collection produces for singer John Legend whose first vintage was in 2015.
We will visit this space and update our notes and photography here at that time, and or perhaps add a sperate review on this site of LVE.
Calistoga Depot
Jean Charles acquired this historical property in 2021. At the time of his purchase much of the depot was already vacated. Currently under renovation with plans to open over a span of several months in 2022, the Calistoga Depot features the Depot Provisions (opened in June 2022), a store focusing on locally grown and sourced items with a wine section of the shop focusing on wines for sale by the bottle from Napa Valley wineries and producers. The Calistoga Depot also offers an espresso bar, sandwiches and other deli items.
A significant part of the change in ownership will be occupying the old rail cars with tenants. Plans call for converting one into an old-west style saloon to be called The First Millionaire's Saloon, named in honor of Sam Brannan, another into a Champagne and oyster bar, a Mexican restaurant, a brewery and another into a store selling local artisan items.
This depot was founded in 1868 and is where the railroad tracks running through the valley used to terminate in its most northerly location. Unfortunately these train tracks were short sighted removed in the 1970s and currently terminate on the grounds of Charles Krug Winery. More details to follow once this space fully reopens and we have had to a chance to visit.
Ink House Inn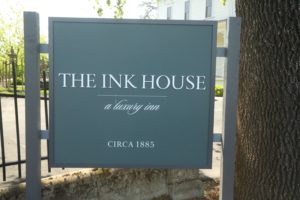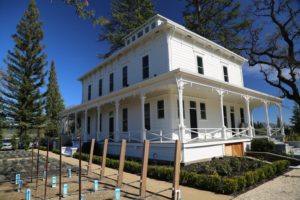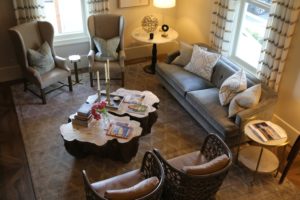 Previous owners, the Casteluccis purchased the historic Ink House and 1.25 acres located just south of St. Helena in 2014 and sold it in 2021 to Jean Charles Boisset and Gina Gallo (who are the current owners). With this acquisition made as a possible quick real estate investment by the Casteluccis, as they began to dig through the layers of history they realized they had something special on their hands. The house and property are listed on the National Register of Historic Places; the home was built in 1885 by Theron H. Ink for a cost of $10,000. The uppermost cupola was removed in the 1940s but has since been added back to the house. The original well on site was built by Chinese laborers.
An article about Inkwell House from the Napa Register, dated September 14, 1963 indicates, "Perhaps some day Napa Valley's Inkwell House will be the attraction it deserves to be, in the way the early American homes of New England are, as restored by the Colonial Dames". Those wishful thinking words came true some 50+ years after this article was published. After several years of carefully restoring the home with the help of Howard Backen at Backen, Gillam & Kroeger Architects along with the beautiful interior design work of Sarahliz Lawson Design, the Ink House opened in January of 2018. Sarahliz's work has been featured in a variety of publications including Luxe Magazine, Conde Nest Traveler and Travel and Leisure; this was her first project with Backen, Gillam & Kroeger Architects.
Theron was born in new York in 1831, was a school teacher for several years before migrating across the country on horse and wagon in 1852. He worked gold mines at Coloma Bar before settling in Napa Valley in 1853, working on Boon Fly's Farm on Carneros Creek in what is now the Carneros District of southern Napa Valley. From being a school teacher to a prominent land owner in northern California happened fairly quickly. His land holdings were significant; at the height of ownership he owned approximately 10,000 acres in Napa Valley primarily in Pope Valley), Lake County and Marin County and raised a variety of livestock. He also served in public office and was elected to the Board of Supervisors in the Yount District for three terms.
He owned vineyards in Rutherford and St. Helena and eventually built a winery in 1886 which had a capacity of 150,000 gallons. He also owned a sizable livery stable in St. Helena. Ink Grade Road on Howell Mountain (and Old Ink Grade Road) are both named for Theron Ink, in homage to the road he used to use to travel between his property in Pope Valley and properties on the main floor of Napa Valley. And in homage to his vineyard holdings and winemaking, the Ink Grade brand was started by Gaylon Lawrence rooted in a vineyard on Howell Mountain that originally was owned by Theron Ink.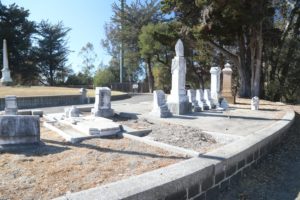 Ink died in 1893 in what was the Crystal Springs Health Resort on Howell Mountain and is buried in at Cypress Hill Memorial Park in Petaluma in neighboring Sonoma County. His wife Harriett P. "Jane" Goodrich outlived her husband by nearly 40 years and died in 1932.
This property came with a coveted permit to operate as a Bed & Breakfast. The Ink House features 6 unique and luxurious rooms including the Elvis Room upstairs, where Elvis Presley stayed in 1960 during the filming of Wild in the Country (the inn was a private home at that time). If Elvis were alive today he wouldn't recognize this room with its tidy era upgrades – although he would recognize the homage to himself hanging on the wall. This visually stunning space offers plenty of windows surrounding the room offering 360-degree views of the valley. Other named rooms pay tribute to people and place including the Theron Room, Harriet Room and the Helios Room.
And during his filming of this movie, Elvis also stayed at what was Casa Lual, built in 1953 and named after the first owner's daughter Lucille and husband Allen. This property at 200 South Coombs Street is now the Wine Country Lodge.
The Inn sits on the old Helios Ranch (originally 50 acres) and used to be site of a duck pond and the grounds used to often flood during heavy rains. During Ink's ownership a drainage system was implemented. The grounds are carefully manicured, with even with a small demonstration vineyard planted on site, a fruit orchard and 200 lavender plants.
The Ink House has had a number of owners over the years including at one time Napa Valley College president Dr. George Clark and his wife Lois. Subsequent owners included Ruby Kase (of Kase & Ferguson accounting firm) who added numerous antiques to the interior, the Castelucci family and now Jean Charles Boisset and Gina Gallo.
A stay here, simply put is not just time spent in a room, but through various ownership partnerships and connections, is a key to some of Napa Valley's most unique, coveted and enjoyable experiences and products.
Keller Building, St. Helena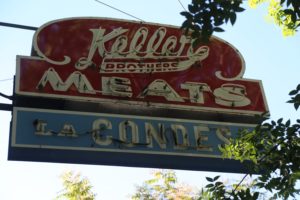 In April 2022, Jean Charles Boisset purchased the Keller Building in downtown St. Helena. This was formerly home to Keller Brother's Meats, a store that was founded in St. Helena in the 1930s. The building is located at 1320 Main Street. From stories we have heard, Ernie used to offer kids pieces of beef jerky followed by a line something like, "that jerky is really good, now go tell your parents"! The original sign is still hanging despite the business having long since closed. Later the Kellers sold the business to Ernie who ran Ernie's Meat Department for many years.
The building has seen numerous tenants over the decades, more recently it was home to La Condesa Mexican Restaurant and the St. Helena Visitor's Center. We will update our notes here once we have more details. Boisset most likely will turn the space into a food and wine destination.
Oakville Grocery, Oakville
See our extensive notes under our review of 1881 on this website.
Oakville Wine Merchant + Museum
See our extensive notes under our review of 1881 on this website.
Raymond Vineyards
See our extensive notes under a separate review on this website.
SELECT OTHER SONOMA COUNTY PLACES AND SPACES
Buena Vista Winery, Sonoma
Only a 10 minute drive from downtown Sonoma, this historic winery is California's oldest winery, dating from 1857 (although there were earlier wineries in Los Angeles County but are no longer in business). Founded by Hungarian immigrant Agoston Haraszthy, who employed Charles Krug at one point – the founder of Napa Valley's oldest winery. Agoston met his untimely death in 1869 in a Nicaraguan river while exploring the jungles of that country. The historic cellars were completely restored and renovated in 2012.
Note the small vineyard block on the hill next to the entrance – this is planted to Furmit, a white variety from Hungary. Parking is in a gravel lot with access down a paved path/road approximately 600 feet in length. Sometimes golf carts are available to bring passengers from the parking lot to the winery – handicapped passengers can be dropped off in a small parking lot access via the paved path.
De Loach Vineyards, Sonoma
De Loach Vineyards is located at 1791 Olivet Road between River and Guerneville Roads, just west of Santa Rosa – around a 12 minute drive from western Santa Rosa. The winery has consistently been voted one of the top wineries in Sonoma County. Production is significantly larger than nearby wineries on or near Olivet Lane; they have a sizable national distribution including at Costco. De Loach is primarily known for their Pinot Noir.
De Loach was founded by Cecil De Loach, who also started the nearby Hook & Ladder Winery. Tasting are conducted inside or outside on the patio at the tasting room in the 'front' of the property or more private tastings are hosted in the estate house in the back of the property. All tastings are seated. One will spot visual glimpses of Jean Charles' "handprints" on the property but not to the opulent extent at Raymond Vineyards or at his lounges.
Oakville Grocery, Healdsburg
See our extensive notes under our review of 1881 on this website.
—
JCB Live
We don't normally highlight Youtube channels but in this case, Jean Charles has become one of the most prolific hosts of winemaking and winery related talent in the history of Napa Valley. JCB Live features numerous videos with winemakers, personalities, wine writers and select Boisset Family employees.
—
For more information on this unique treasure trove in the heart of Yountville, visit: https://jcbcollection.com
ARCHIVED/CLOSED PREVIOUS JCB OWNED/LEASES CALIFORNIA SPACES
Senses by JCB was located in the JCB Village – directly next door to the JCB tasting salon. A lifestyle luxury space featuring products for both men and women including beauty, fashion, fragrance, a perfume bar and a full skin care line with products from around the world. The Medi-Spa, offering SENSES Advanced Aesthetic Therapy is a space within the store providing 10+ skin care treatments (reservations required). NOTE: this closed in early 2021 and as of our latest update to this review became the home for Cornerstone Cellars; we keep our notes and photos here for historical reference only.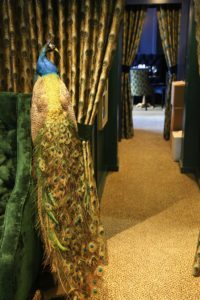 JCB Healdsburg was located at 320 Center Street on the north eastern corner of the central plaza (in downtown Healdsburg, slightly over an hour drive from JCB Yountville). This luxe space is fairly large, combining several spaces from previous tenants. Featuring the traditional JCB Hallmark, one walked into the space and felt like they were whisked away to another time. A time of opulence and flamboyance with a smattering of elegance thrown in.
Arguably the centerpiece here was the golden grapevine which is composed of a number of grapevine trunks and roots which has been painted bright golden – adorned with a number of 'chameleon' golden objects of art. The Emerald Room features fine furniture imported from France (greenish in color). Visitors who wander in or taste in the Blue Room (the back space) invariably glance toward one of the walls containing a painting that is somewhat reminiscent of Michelangelo's Last Supper. In reality this is a contemporary painting depicting who Jean Charles would like to share his last meal with – his wife Gina is portrayed as are important historical figures such as Ghandi and Mother Teresa.
Plenty of luxe brands are for sale (similar to the other JCB lounges) including pieces from Baccarat and Bernardaud. Also lots of sit down space for tastings. And not always mentioned in the same sentence as the JCB lounges, but should be, are the hosts. Always young, usually women, usually blond and sophisticated they are always well versed on the JCB collection of wines.