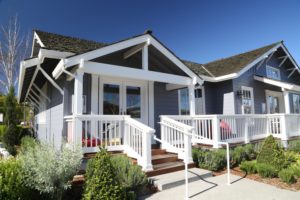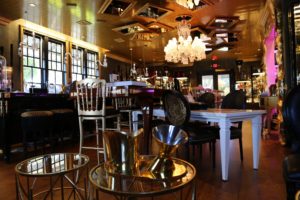 JCB Wine Bar & Lounge opened in Yountville, appropriately on Valentines Day 2016. There is no other walk-in tasting room in the Napa Valley that comes close to the diverse and visually impressive selection of interior decor. As you enter, the tasting room is an assault on your senses, and you aren't sure what to feast your eyes on first. Pay attention to the details which you will certainly miss if you try to absorb this tasting room in its entirety at once – the leopard pattern on the bar chairs, the gold leaf decorating the tables, the golden horn shoe shaped spittoons, the details of the crystal, the interesting selection of books – the list goes on and on.
This tasting room is a showcase of creativity if you will, both with the selection of wine offered and the pieces of art and decorative items for sale. It is the vision of creative mastermind, vintner Jean-Charles Boisset. Born in Burgundy he grew up surrounded by vineyards and the wine business. His parents Jean-Claude and Claudine founded their first winery in 1961 – today the family collection has grown significantly with wineries located in France, Italy, California and Quebec.
Known in part for the framed newspaper articles promoting Jean Charles' accomplishments in the bathrooms of his wineries – strategically placed above the sinks, the men's urinals and near the hand dryers or paper towel dispensers – one doesn't generally linger longer then needed in restrooms, so these reads tend to be only a brief glimpse into the man's accomplishments.
Perhaps in the history of Napa Valley there is no one else who has combined such extreme creativity with the financial means to build a continuously growing empire built around wine and food – connected by a visual flamboyance & opulence rooted in unique and memorable experiences. One may only see a part of this empire – but when one starts connecting all the spaces and projects, one realizes how vast a reach the Boisset empire has become – deeply rooted in Napa and the No Cal wine scene in a remarkably short amount of time.
There are three JCB tasting experiences/locations within the JCB collection including this one, as well as at Raymond Vineyards in the Napa Valley and inside the lobby of the Ritz Carlton in San Francisco. The Yountville location is always open to the public by walk-in, the JCB lounge at Raymond requires an appointment and it is recommended to make an appointment to visit the one in a room off of the lobby at The Ritz-Carlton, San Francisco.
It is refreshing to discover a tasting room where the staff are extremely well trained in both wine and the heritage of the items for sale here (not always the case with walk in tasting rooms) – but again, this is not exactly a typical walk-in tasting room.
The focus of the wine here is on the JCB Collection; this is an impressive collection of wines spanning multiple continents. JCB does not own a winery, rather the wines are made at some of the wineries within the collection (IE in Burgundy, Napa & Sonoma). Some of the individual wines from each of the wineries are on display (including a wine made with someday music legend, John Legend called Legend Vineyard Exclusive or LVE) – these wines are not tasted here but can be purchased on site.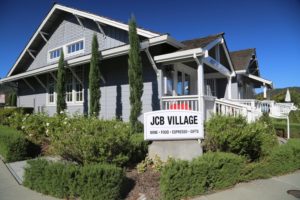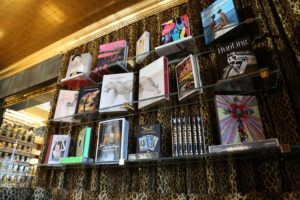 The JCB wines focus on 'the story behind the bottle' and the style of wines rather than specific varieties, locations and vineyard designate wines. Certainly not always the case with wines grown and produced in Napa – especially from all the small producers.
The wines are named numerically – with each number/name representing a specific story, meaning or year. Jean-Charles compares the JCB wines to that of art and music (both of which he enjoys immensely). You don't need to favor a certain genre of art or music – rather you can connect with individual pieces from a diversity of artists, styles and types of music. Same with wine.
JCB is known for their sparkling wines – they certainly make a diversity of these (for obvious reasons it is rare to find a Napa tasting room that pours sparkling wines from outside of Napa). While the majority of wines poured on site are from Napa, several of their Burgundian wines are available for tasting including some of their delicious crémants (sparkling wine not made in Champagne but made in the méthode champenoise style).
Select Wines
The 2014 No. 76 Chardonnay is named 76 for two reasons that refer to 1976. This is the year that Jean-Charles was introduced to premium wines and is also the year the Paris Tasting was held (which helped highlight the quality of Napa wines Internationally). The fruit for this wine was sourced from neighboring Sonoma County – underwent full malolactic fermentation and was barrel aged. It shows a rich golden hue in the glass with noticeable spices on both the bouquet and the palate – especially noticeable on the lingering finish. Displays a pleasing creamy mouth feel along with an intensity of flavor not always seen in wines from this variety.
The No. 3 Pinot Noir is an interesting wine – it was first made to help celebrate Jean-Charles' marriage to Gina Gallo – two wine world's coming together to create a third. As a result, this unique wine features grapes grown and then partially vinified in Burgundy – then shipped to California for the final processing and then blended with the same variety grown in the Russian River Valley of Sonoma County.
The 2011 shows some bottle maturation – with excellent balance featuring more darker fruits and more structure then many of the more delicate Pinot Noir's we have tried that are entirely sourced from the Russian River Valley. The bouquet shows initial fruit (cherry) and earthy notes and as it opens, reveals more baking spices. This wine shows very good acidity.
The 2010 No. 1 Napa Valley Cabernet Sauvignon was made in very limited production (only 100 cases). The nose is pretty, showing chocolate, cherries, baking spices and sweet fruit notes. This is a well-balanced, lighter style Cabernet Sauvignon compared to some of the heady and weighty Cabs coming out of Napa. St. Helena sourced fruit. It is easy to drink with fine grained, noticeable tannins that linger for some time. Palate shows mostly red fruit – red currant and red cherry.
The 2010 No. 10 Cabernet Sauvignon perhaps is not 10x as big as the No 1 Cabernet Sauvignon as the numbered name might indicate, but it is a noticeably different wine altogether. The nose is appealing showing notes of chocolate and mocha along with darker fruit (black cherry and blackberry) – it has a richness and a depth of flavor that is intriguing with broad shouldered robust tannins anchoring a long finish.
What other tasting room in Napa Valley offers an apple ice wine from Quebec. The JCB Neige (meaning snow in French) is a must have for dessert wine enthusiasts – rich in flavor, with a pleasing palate feel along with plenty of acidity, this wine is sure to please.
—
A small side room, that perhaps upon first glance you might think of as an 'offspring' of the main "Red Room" at Raymond Vineyards is actually called the Surrealist Room. Here guests can enjoy a more intimate tasting over a glass top counter surrounded by a generous helping of the color red and a variety of luxury items for sale (jewelry, wine accessories etc.) Reservations accepted or if available, this room is also open to walk ins.
JCB has partnered with several premiere brands to sell their products within the tasting salons. These include Gaggeneau (high end home appliances, made in Germany), Baccarat (hand-crafted crystal), Bernardaud (porcelain), and Christofle (premium silver decorations). Most everything is available for sale in the salon – including the gorgeous Baccarat centerpiece chandelier (we were quoted $85,000 for this beauty during one of our visits in late summer – and they told us they had already sold three of them just that year).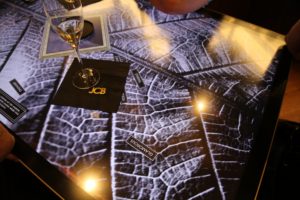 Guests may enjoy their tasting at the sit-down bar or at one of a number of tables. And at the time of our latest update to this review, one of the more unique tastings in the valley is held over one of their digital tables. Not really sure how to describe this experience – one places a coaster on the table's screen and an array of information about that day's tasting flight shows up allowing one to choose from a variety of educational information about the wines being poured. Descriptors of the wines – often with sexual innuendos (voluptuous, liberating, etc.) can be digitally 'passed' across the table as desired. These tables were designed by New Mexico based Ideum Inc., design company.
JCB Yountville, Winebar (formerly Salon Privé)

The Atelier was located within the same building 'next door' and was accessible from the salon via a connecting door inside. Walking into this shop around lunch time was sure to spark some sort of culinary salivation. Choose from a variety of specialty items sourced from both Napa and Sonoma including caviar, meats, cheeses, mustard, specialty teas, honey (from hives at both Raymond Vineyards and DeLoach Vineyards) and other fine delicacies. In addition, special culinary trays, lunches, cheese and charcuterie boards, specialty sandwiches (one of the better ham sandwiches we have tried – certainly not made from a typical ham) and specialty lunches were available.
Note: as of our latest update to this review the Atelier closed in 2021 and by Fall the same year, JCB Lounge has since expanded into this former Atelier space offering additional space for JCB wines and related lifestyle produces.
For a more private and intimate tasting experience, visit the Salon Privé located directly behind the main tasting salon in another building (reservations required). This space is a bit lighter and airier than the main tasting room. Artfully decorated, whimsical at times the personality of Jean-Charles Boisset is clearly evident.
Roses are a primary theme with a 'bouquet' of red hanging from the ceiling. A small side room is used for sit-down tastings. Visitors to the old Cornerstone tasting room that was located here will not recognize the current look in this space.
OTHER JCB LOUNGES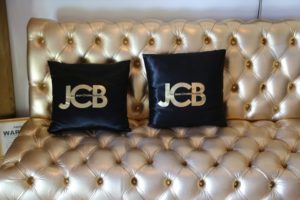 JCB Raymond is located in the Raymond's old pool house in the 'back' of the property across from the Raymond's old primary residence. Walk in guests often won't know about this lounge space; that is because it is generally only available for private tastings through prior appointments. Like Jean Charles' other lounges, this one is about elegance, flamboyance and surprises. One such surprise is the sparkling 'machine gun' – which apparently will shoot out sparkling wine. Best used on super special occasions. Wines, perfumes, jewelry and lavish decorations all make for a memorable experience. For our readers looking for more information and photographs about these other JCB lounges – view our notes here.
JCB offers tasting flights inside the lounge featuring wines from the portfolio of the Boisset Collection (including some of their most premium offerings) – light snacks may also be paired with the wines. This lounge also features private event space for small groups. Tastings here are hosted at a table or if guests prefer a more casual environment, they can take full advantage of the comfortable sofa.
JCB The Ritz-Carlton San Francisco is the smallest of the JCB lounges (can seat up to 20 people). Easily accessible, this lounge is located in a small room next to the reception in the lobby at The Ritz-Carlton. Like the other JCB lounges, this space also offers a variety of tasting flights along with a fine retail selection of luxury items.
And slightly different than the other lounges, guests can enjoy some light food options prepared by Parallel 37 (the exception restaurant, also located on the ground floor).
And also of note is Jean-Charles involvement and partnership with India based vintner, Kapil Sekhri to produce J'Noon wines grown from the Fratelli Vineyards estate located 7 hours by car (if you're lucky), southeast of Mumbai or about 4 hours from Pune. The inaugural wines were a J'Noon white, a J'Noon red blend and a JCB #47 Brut (numbered to indicate the year India gained its independence from the United Kingdom). These wines were selectively available upon great fanfare upon their debut release in the United States but have since sold out.
Very few things will pull us up to cold and foggy San Francisco: Los Angeles is our city of choice. However, when something connected to Napa Valley is involved, we will make the trek to most anywhere. And we have.

For more information on this unique treasure trove in the heart of Yountville, visit: https://jcbcollection.com
ARCHIVED/CLOSED PREVIOUS JCB OWNED/LEASES RELATED NAPA/SONOMA SPACES
Senses by JCB was located in the JCB Village – directly next door to the JCB tasting salon. A lifestyle luxury space featuring products for both men and women including beauty, fashion, fragrance, a perfume bar and a full skin care line with products from around the world. The Medi-Spa, offering SENSES Advanced Aesthetic Therapy is a space within the store providing 10+ skin care treatments (reservations required). NOTE: this closed in early 2021 and as of our latest update to this review became the home for Cornerstone Cellars; we keep our notes and photos here for historical reference only.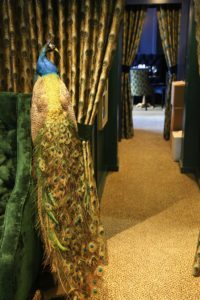 JCB Healdsburg was located at 320 Center Street on the northeastern corner of the central plaza (in downtown Healdsburg, slightly over an hour drive from JCB Yountville). This luxe space is fairly large, combining several spaces from previous tenants. Featuring the traditional JCB Hallmark, one walked into the space and felt like they were whisked away to another time. A time of opulence and flamboyance with a smattering of elegance thrown in.
Arguably the centerpiece here was the golden grapevine which is composed of a number of grapevine trunks and roots which has been painted bright golden – adorned with a number of 'chameleon' golden objects of art. The Emerald Room features fine furniture imported from France (greenish in color). Visitors who wander in or taste in the Blue Room (the back space) invariably glance toward one of the walls containing a painting that is somewhat reminiscent of Michelangelo's Last Supper. In reality this is a contemporary painting depicting who Jean Charles would like to share his last meal with – his wife Gina is portrayed as are important historical figures such as Ghandi and Mother Teresa.
Plenty of luxe brands are for sale (similar to the other JCB lounges) including pieces from Baccarat and Bernardaud. Also, lots of sit-down space for tastings. And not always mentioned in the same sentence as the JCB lounges, but should be, are the hosts. Always young, usually women, usually blond and sophisticated they are always well versed on the JCB collection of wines.
JCB Live
We don't normally highlight Youtube channels but in this case, Jean Charles has become one of the most prolific hosts of winemaking and winery related talent in the history of Napa Valley. JCB Live features numerous videos with winemakers, personalities, wine writers and select Boisset Family employees.