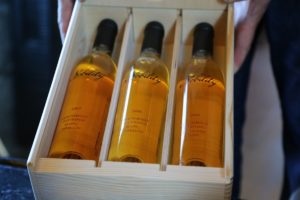 R.A. Harrison Family Cellars is run by Roger Harrison who enjoyed 32 years at Beringer Winery working on their Nightingale Wine Project before leaving in 2014 to concentrate on his own wines. He was trained on making Botrysized wines (noble rot) by the husband wife team of Myron and Alice Nightingale when they were at Beringer. This husband/wife team has near mythic status at Beringer and all the late harvest wines Roger makes for Beringer carry their name on the label. For Beringer's Nightingale wine he grew all the Botryitis spores himself on cultures that have been continuously grown at Beringer since the 1970's.
If you've never seen advanced stages of botrytis cinerea covering grapes you are not missing much. It looks like rotting fruit and you think to yourself how can these grapes end up being in a wine that tastes so incredibly good?! Talk about being niche within the wine industry. There are only a handful of wineries in the Napa area who make this type of wine on a continuous basis.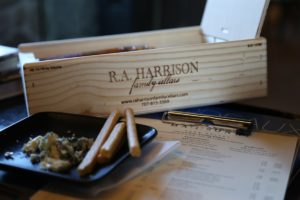 RA Harrison Vineyards is a very unique winery in Napa as their entire production is focused on Botrysized late harvest wines. The first vintage was in 2006. Unlike the Sauterne style wine Roger made for Beringer he is at the whim of mother nature with his late harvest wines. He does not grow the Botrytis spores himself, rather he lets nature take its course. This is more risky as Botrytis spores need certain conditions late in the year to actually grow and some years they do not develop at all, and or do not develop to the extent that you need.
Other trials of being a late harvest only winery are harvesting well after the rest of the vineyards in the valley have been picked. Roger lost a significant portion of one of his recent harvests due to flocks of birds who devastated one of his vineyard sources within a matter of a day or two. All his Sauvignon Blanc comes from the Gamble Vineyard in Yountville which has some of the most sought after Sauvignon Blanc fruit in the Napa area.
We tried his 2006 late harvest Sauvignon Blanc. This wine is best served at about 45 degrees and will of course open up and produce slightly different flavors and aromas as it warms up. This is a delightful wine that was tank fermented with lots of notes of honey on the nose. Ripe apricot and flavors of pear appear served at this temperature with hints of sage appearing on the palate as this wine warms and opens up. Priced right – this is a good value.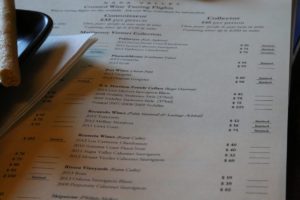 We also had the privilege of sampling a 50/50 blend of Sauvignon Blanc and Semillon which had not yet been bottled. These two varietals form the base for his higher end Nobility wine. It was tasting excellent at this young age with a nose that was more oak driven then the final product will actually be. This wine spends 18 months in oak and then another year in bottle. By the end of its year of bottle aging, the fruit flavors will come around and the oak will subside.
Subsequently we tried 2008 and 2009 vintages of the Nobility. The 2009 vintage was harvested at a higher sugar level. Both vintages are rich examples of this type of wine – to be savored slowly enjoying the complexities of flavor across the palate. These wines will only get better as they age.
Roger did not make a 2012 vintage of the Nobility – as the fruit was not yet ready to pick at the end of November and then 11 days of rains came which caused the fruit to swell up with water, the sugar dropped and a mold developed that is not conducive for making this type of wine.
Based on Roger's work at Beringer with their late harvest wines, it can be theorized that his own wines will age extremely well. The older vintages usually gain in color turning more amber and picking up nutty flavors including caramel and crème Brule. You can find their wine locally sometimes at the St. Helena Wine Center in St. Helena.
Roger's wines used to be available at Ma(i)sonry in Yountville – but since the acquisition of that tasting salon by Restoration Hardware and the subsequent changes they made, the R.A Harrison wines are now available for tasting at Vintner's Collective, a multi winery tasting room focusing on premium mostly Napa brands located in downtown Napa. Appointments for a private tasting with Roger can be made ahead of time. Also visit the website: www.raharrisonfamilycellars.com