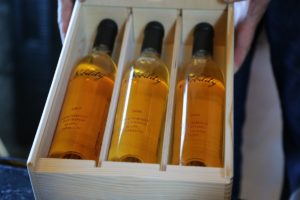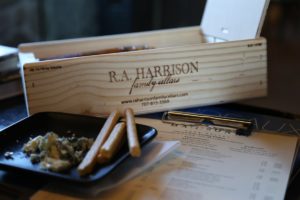 R.A. Harrison Family Cellars (not to be confused with another Napa Valley based winery William Harrison) is run by Roger Allen Harrison who spent 32 years at Beringer Winery working on their Nightingale wine project before leaving in 2014 to concentrate on his own wines. He was trained on making botrysized wines (noble rot) by the husband wife team of Myron and Alice Nightingale when they were at Beringer.
The Nightingales hold near mythic status at Beringer, and all the late harvest wines Roger made for Beringer carried their name on the label. For Beringer's Nightingale wine he grew all the botrytis spores himself on cultures that have been continuously grown at Beringer since the 1970's. When Roger was working at Beringer Vineyards, he gave us a private tour of the portion of Beringer's winery where the spores are cultivated (the production facilities are located across the highway from their hospitality center and historic caves). After the grapes are harvested, they are brought into the winery where they are laid out on trays and then sprayed with the botrytis spores.
If you've never seen advanced stages of botrytis cinerea covering grapes, you are not missing much. It looks like rotting fruit and one might ask: "how can these grapes end up being in a wine that tastes so incredibly good?" But these types of wines will always only appeal to a very niche consumer group. They are expensive to make and are sweet; finding someone who truly appreciates these wines is always challenging. As a result of market demands, varying conditions in the vineyards and efforts needed to craft this style of wines, there is only one other winery in Napa Valley who consistently produces this type of wine every year (Dolce at Far Niente).
R.A. Harrison Vineyards was very unique in that initially their entire production was botrysized late harvest wines. But later they began producing dry wines including a rare for Napa, 100% varietal Cabernet Franc, a 100% varietal Petit Verdot, Cabernet Sauvignon and a Sauvignon Blanc. And all these wines are produced in extremely limited quantities – typically under 150 cases.
The first vintage of R.A. Harrison was in 2006. Unlike the Sauterne style wine Roger made for Beringer he is at the whim of mother nature with his own late harvest wines. He does not grow the botrytis spores himself, rather he lets nature take its course. This is riskier as botrytis spores need certain conditions late in the year to actually grow and some years, they do not develop at all, and or do not develop to the extent needed.
Other challenges of being a late harvest only winery is harvesting well after the rest of the vineyards in the valley have been picked. Roger lost a significant portion of one of his harvests due to flocks of birds who devastated one of his vineyard sources within a matter of a day or two. All his Sauvignon Blanc comes from the Gamble Vineyard in Yountville which has some of the most sought-after Sauvignon Blanc fruit in Napa Valley.
Select Wines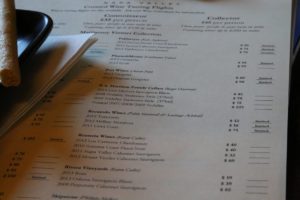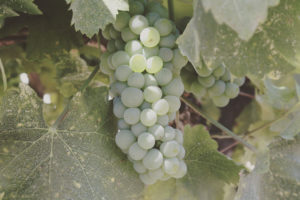 The 2017 R.A. Harrison 'Zosia' Petit Verdot (from Rutherford) spent 31 months in oak but does not smell or taste over oaked. A rare offering of a Napa Valley produced 100% Petit Verdot varietal; this wine is very approachable from the attack through to the finish. The palate offers lovely texture with some noticeable density of both fruit and tannins – yet everything is integrated nicely. It drinks well in its youth.
The 2014 R.A. Harrison Nobility is a bend of 50% Sémillon and 50% Sauvignon Blanc; the Sauvignon Blanc was sourced from Gamble Ranch in Oakville and the Sémillon from Knights Valley in Sonoma County, just north of Calistoga. This wine is deep gold in color, almost amber looking; the bouquet immediately offers sweet aromas of honey, ripe peach and also some floral and tropical fruit notes. It also shows a hint of citrus and crème Brule and caramel. The palate is a 'wow' for lovers of this style of wine with both its intensity of flavor richness and noticeable sweetness. Texturally, the wine is creamy and slightly viscous across the palate with flavors of canned peach, apricot, honey and nectarine. This wine won't be dropping off in quality for decades.
The 2006 R.A. Harrison late harvest Sauvignon Blanc is best served at about 45 degrees and will of course open up and produce slightly different flavors and aromas as it warms up. This is a delightful wine that was tank fermented; it offers ample aromas of honey on the nose. Ripe apricot and flavors of pear appear served at this cold temperature with hints of sage showing on the palate as this wine warms and opens up. Priced reasonably – this is a good value.
We also had the privilege of sampling a 50/50 blend of Sauvignon Blanc and Sémillon which had not yet been bottled. These two varieties form the base for the higher end Nobility wine. It was tasting excellent at this young age with a bouquet more oak driven then the final product will actually reflect. This wine spends 18 months in oak and then another year in bottle. By the end of its year of bottle aging, the fruit flavors will come around and the oak will subside.
Subsequently we tried 2008 and 2009 vintages of the Nobility. The 2009 vintage was harvested at a higher sugar level. Both vintages are rich examples of this type of wine – to be savored slowly enjoying the complexities of flavor across the palate. These wines will only get better as they age.
Roger did not make a 2012 vintage of the Nobility – as the fruit was not yet ready to pick at the end of November and then 11 days of rains came which caused the fruit to swell up with water, the sugar dropped, and a mold developed that is not conducive for making this type of wine.
—
Based on Roger's work at Beringer with their late harvest wines, it can be theorized that his own wines will age extremely well and he already has the track record with R.A. Harrison to prove this. Note that the older vintages usually gain in color turning more amber and picking up nutty flavors including caramel and crème Brule.
Roger's wines used to be available at Ma(i)sonry in Yountville, but since the acquisition of that tasting salon by Restoration Hardware and the subsequent changes they made, the R.A. Harrison wines are now available for tasting at Vintner's Collective, a multi winery tasting room focusing on premium mostly Napa brands located in downtown Napa. Vintner's Collective is also the city of Napa's oldest collective tasting room.
Vintner's Collective showcases wines from a select group of mostly Napa Valley based producers – most of which do not have their own tasting rooms. And it's not easy to have one's wines represented here. Vintner's Collective has an in-depth vetting process to make sure the wines match what their customers are interested in, including varieties, price points and wine styles.
The tasting flights differ everyday which is certainly part of the appeal for visitors. Unless you are acutely tuned into the world of boutique Napa Valley producers, you probably will never have heard of any of the labels that are being poured, and that is not a bad thing. These wines represented are typically from producers who have a maximum production of 1000 cases. A number of tasting flights are offered – geared towards all levels of wine interest and prior knowledge.
Walk-in customers are generally welcome if space allows but appointments can also be requested including for more private tastings hosted upstairs. Appointments for a private tasting with Roger can be made ahead of time. One might also be able to find select vintages at V Wine Cellars in Yountville. For more information, or to join the mailing list or wine club, visit: www.raharrisonfamilycellars.com