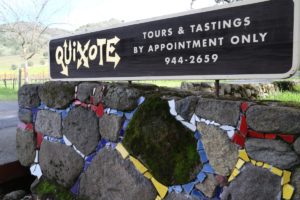 Quixote Winery is a real find in the Napa Valley and looks quite a bit different from all the other Napa wineries we have visited. Unfortunately we broke our first wine glass here, out of over 900+ Napa wineries/producers visited to date. We suspect the hand of the deceased designer somehow caused this mishap (see more about him below). If we had used a plastic Go Vino glass this would never have happened!
Quixote resembles a building out of a fairy tale; the reason being is that it was designed by the famous Viennese often nude artist Friedensreich Hundertwasser (1928-2000).
This is his only design located in the USA. He has a number of well-known works in Europe including a housing complex in Vienna in which some of the rooms in that building have real trees growing out of windows. His work is all about curvilinear forms and avoiding vertical design in structures. He tried to incorporate buildings that blend in with nature, hence the roof of this winery is covered with grass and trees. There were two large "hills" of dirt built up in front of the winery which now hide the building very well.
One of his other philosophies was to never throw away construction materials even if they break so this winery has several sections constructed of broken material. It took over seven years to construct, partly due to the rigidity of his design ideas – he would visit the winery and find something he didn't like (sometimes major) and it would have to be entirely torn down and reconstructed.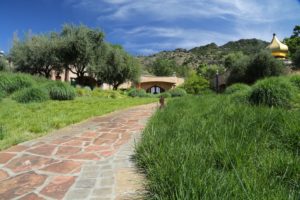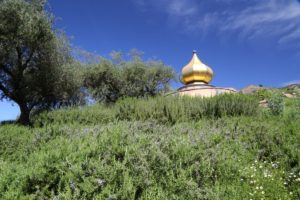 Once he visited the winery during construction and whacked on a nice hand-made column with a hammer (imported from Europe). It looked too nice for his taste and he wanted to give it a broken look all the while the owner looked on in disbelief. The founder is the well-known Carl Doumani who originally owned the nearby Stags' Leap winery. His daughter is also a prominent chef and runs Terra Restaurant in St. Helena.
A cute story of their attempted first meeting: Carl was to meet Friedensreich in a restaurant but after some time Friedensreich's agent showed up and told Carl that Friedensreich had to cancel their meeting because he was spending some time with the "ladies". Friedensreich was truly a free soul who lived his life impulsively in strict accordance to his tastes, desires and imagination.
The total production here is small – about 2000 cases with the focus being on Petite Syrah and Cabernet Sauvignon. All varietals for their wines are grown on site including the uncommon to Napa Grenache and Mourvedre. Their vineyards are farmed organically. The tasting is held in an intimate room – note the undulating floor so hold onto your chairs! The designer felt feet were best designed to walk on uneven surfaces. Also note that no two windows are alike in this room and this was done on purpose. We tasted seven wines.
Their Quixote label was designed by Friedensreich (who was also a painter) and is their high end, high quality wine, typically 100% varietal. Their Panza label represents blended wines. The 2004 Claret is a delightful very fruity wine with wonderful flavor and mouth feel.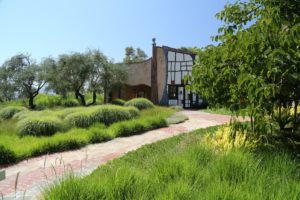 The Cabernets we tasted were light to medium bodied, silky and smooth with great noses. Their philosophy is to not over oak a wine and as a result, the varietal characteristics really stand out. The 2004 Quixote Petite Syrah has a very fruit driven bouquet which follows onto the palate with both ripe blackberry and black cherry. Hints of chocolate, mocha and coffee are also on the nose. The finish is clean and long with beautiful silky tannins. Contrast this with the 2002 Quixote Petite Syrah which has more of an earthiness, minerality, and dusty quality to the nose. It is not as fruit driven as the 2002 but notes of plum, currant and blackberry are interwoven together nicely on the palate. Visit: www.quixotewinery.com
NOTE: this review has been identified as needing a major update.