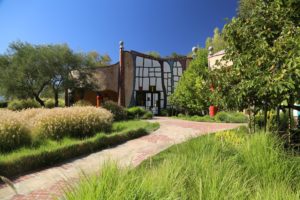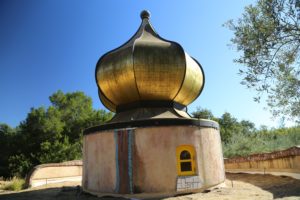 Quixote Winery, from the exterior, is visually one of Napa Valley's most intriguing wineries (construction was completed in 2000). Quixote resembles a building out of a fairy tale; the reason being is that it was designed by the famous Viennese creative (often working in the nude) artist Friedensreich Hundertwasser. He was born in Austria as Friedrich Stowasser in 1928 and died in Australia of a heart attack while aboard the Queen Elizabeth II in 2000. After World War II he started signing his works simply as Hundertwasser. In the early 1970s he purchased property in and became a citizen of New Zealand. He was an extremely successful artist. Besides creating art, he was also an environmental activist.
Two museums house permanent collections of his work including the Museum Hundertwasser in Vienna which opened in 1991 and the Hundertwasser Art Center (HAC) in Whangārei on New Zealand's north island (north of Aukland) which opened in 2022. And the Hundertwasser Non-profit Foundation is based in Vienna with both a museum gift shop and an online store carrying a wide variety of Hundertwasser themed items.
While this is his only structure built in North America, he created a number of well-known works in Europe including a housing complex in Vienna in which some of the rooms feature real trees growing out of windows. His work is all about curvilinear forms and avoiding vertical design in structures or the use of straight lines. He tried to incorporate buildings that blend in with nature, hence the roof of this winery is covered with grass and small trees. Two large "hills" of dirt were built up in front of the winery which now hide the building very well (helped in part by the grass that grows here).
One of Friedensreich's philosophies was to never throw away construction materials even if they break so this winery has several sections constructed of broken material. It took over ten years to construct, partly due to the rigidity of his design ideas – he would visit the winery and find something he didn't like (sometimes major), and it would have to be entirely torn down and reconstructed.
Once he visited the winery during construction and whacked on a nice hand-made column imported from Europe with a hammer. The column looked too nice for his taste, and he wanted to give it a broken look all the while, the founder and owner at the time, Carl Doumani looked on in disbelief.
And another cute story; this one involved their attempted first meeting: Carl was to meet Friedensreich in a restaurant but after some time Friedensreich's agent showed up and told Carl that Friedensreich had to cancel their meeting because he was spending some time with the "ladies". Friedensreich was truly a free soul who lived his life impulsively in strict accordance with his tastes, desires and imagination.
Carl was born and raised in the great city of Los Angeles where he eventually made a career of property development and restaurant ownership. Carl is part of the same family that was involved in casinos including at one point in the 1970s, brothers Edward and Fred Doumani owned the Tropicana Resort and Hotel in Las Vegas. And with another Napa Valley connection, Edward and Fred Doumani financed $30 million into the film, The Cotton Club, directed by Napa Valley winery owner, Francis Ford Coppola. Prior to his wine ventures in Napa Valley, Carl was a successful real estate developer based in Santa Monica and owner/co-owner of several restaurants including two Mexican restaurants of the same name, the original El Toril in Westwood at 1077 Broxton Ave and the newer El Toril at 365 N. La Cienega in West Hollywood (both long since closed).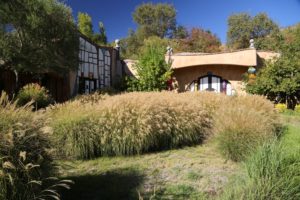 Carl first came to Napa Valley in 1969. Associated with the Napa Valley for decades, Carl was the founder of the nearby Stags' Leap Winery in 1972 (the driveway to both wineries are the same until finally splitting off to each respective property). After selling Stags' Leap Winery in 1997 to Beringer Wine Estates (now owned by Treasury Wine Estates), Carl kept some of his original land next door and made the first vintages under Quixote in the late 1990s. The land the Quixote resides upon used to be part of Stags' Leap Winery but was sectioned off as part of the sale of Stags' Leap Winery.
Carl was also associated with Encantado, a Mezcal brand originating in Oaxaca, Mexico. Along with his longtime partner, Pam Hunter (died in 2010), they developed and began importing this product into the U.S. market in the mid 1990s.
Carl sold Quixote in 2014 to Le Melange, a Chinese-owned private firm whose parent company Jilin Yatai Group Company Ltd. (founded 1993) is based in Changchun, in the northeastern part of China. We spent some time near this province years ago in Shenyang and vicinity with several Napa Valley vintners on a Napa Valley focused wine trip. The amount of construction and development in cities we had never heard of was mind boggling. The state-owned Yatai Group is listed on the Shanghai Stock Exchange and is involved in a number of businesses and operations including building materials and cement manufacturing, real estate and property development, finance and pharmaceuticals. The company employs nearly 20,000 people.
After the sale of Quixote, Carl kept a small section of a hillside vineyard (abut 2 acres) for himself located just above the winery and near the small reservoir where he lives; as of our latest update, the grapes from this site are currently being sold to a small wine brand (Covalence) overseen by winemaker Aaron Pott. We initially made the introduction to the owners of Covalence with Aaron.
Once a vintner, always a vintner – not satisfied with retirement, Carl started another wine project called Como No wines which he operated for several years before ultimately ceasing production. And he was one of the founders of the still active Napa Valley based men's only social group composed, mostly of vintners called the Gastronomic Order of the Nonsensical and Dissipatory (GONADS).
Incidentally, Carl's daughter Lissa was the chef and co-owned and operated with her husband Hiro Sone, Terra Restaurant in St. Helena for 30 years until it finally closed in 2018, in part due to a shortage of qualified help.
Total annual production here is small; it has been higher but is currently around 2,000 cases with the focus being on Petite Syrah and Cabernet Sauvignon along with smaller productions of Malbec. All varieties for their wines are grown on site including the ubiquitous for Napa Valley Cabernet Sauvignon, of course Petite Sirah and small plantings of Malbec, Cabernet Franc and Petit Verdot. The property is 42 acres (located below the dramatic backdrop of the rocky Stags Leap Palisades) of which 27 acres are planted to vines. The grapes are all farmed organically, and no synthetic pesticides or fertilizers are used. Quixote does not sell any of their grapes nor do they purchase grapes – all wines are made from estate grown grapes only. Fortunately, the property is well served with water including several natural springs are on site which feed the reservoir directly above and behind the winery. And several well-regarded winemakers have worked here over the years including Aaron Pott and Philippe Melka.
Quixote Vineyards is located about 3/4 of a mile drive from the Silverado Trail on a shared private road. Several of their neighbors are quite well-known including Shafer Vineyards and Stags' Leap Wine Cellars. All visits are by reservation; guests can choose one of several experiences including a tasting, a tour and a tasting including an overview of the building and the unique history around its design, or a seated tasting paired with small plates prepared by the winery chef.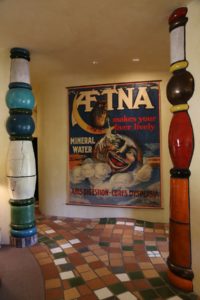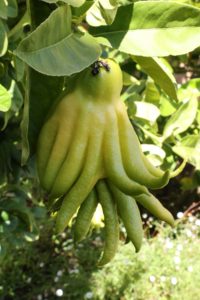 Tastings are usually held in one of two intimate rooms with the wines paired with select premium cheeses. If you feel unbalanced while standing in the rooms, it cannot be blamed on the alcohol. In reality, the floor undulates – just another part of the quirkiness of this place; Friedensreich felt feet were best designed to walk on uneven surfaces so that is reflected in the design of the floor. Also note that no two windows are alike within the hospitality building; this was done on purpose of course.
Some of the Quixote labels were designed by Friedensreich (who was also a painter) and these labels are reserved for their premium Quixote wines. The Panza label represents wines which are selectively distributed and may be blends rather than 100% varietal. The primary Quixote wines are all 100% varietal, and these are typically only available at the winery or through their website. And unlike many area wineries, Quixote advertises and offers older vintages available for sale and may taste visitors on one of these older wines.
The first vintage of Quixote was from 1998; David Ramey was the winemaker back then and the wines were made at Rudd Winery as the production area at Quixote was not yet completed. Quixote has employed numerous head winemakers over the years including Aaron Pott. All wines are bottled unfined and unfiltered.
The select vintages of Cabernet Sauvignon wines we have tried over the years have been medium bodied, silky and smooth with highly appreciable fruit driven bouquets. Quixote's philosophy is to refreshingly not over oak a wine – as a result, the varietal characteristics are showcased rather than secondary characteristics from oak aging.
Select Wines
The 2018 Quixote Panza Petite Sirah is 100% varietal. This wine is dark purple in the glass; its inky darkness is very representative of the intense phenolics produced by this particular variety. The bouquet offers aromas of dark fruits including of black plum and blackberry along with some nuances of dark chocolate, black olive and hints of mocha very deep in the aromatics. Shows flavors of plum and cherry across the palate with earthy, chewy tannins that exercise a strong and long-lasting grip. This is a big bold badass Petite Sirah which is memorable because of its concentration, depth of flavor and accompanying structure. It is advisable to keep the wine wipes readily handy for your teeth when consuming this bottling.
The 2014 Quixote Malbec is dark in the glass with purplish tinges on the rim. It is savory showing aromas of mushrooms, forest floor and earthy nuances – also somewhat floral with notes of violet along with a darker spice component. Approachable in its youth, the wine is medium bodied – there are no harsh edges across the palate. Savory, with very good acidity lingers slightly tight dusty tannins. A red cherry tartness also shows on the finish.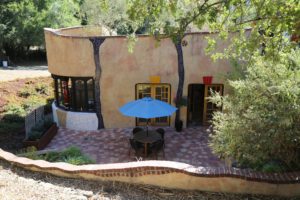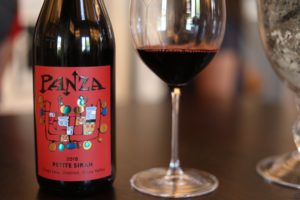 The 2015 Quixote Petite Syrah is dark purple in the glass – very dark in the core with purplish tinges framing the rim. We love wines that have aromatic character, and this wine certainly has this. Meaty and savory, this diverse and layered bouquet shows aromas of crushed pepper, black licorice, dried herbs, sweaty leather, bittersweet chocolate, hints of cedar and dark fruit notes. Big and bold on the palate it reveals a noticeable density – both with fruit and of structure. This wine is concentrated as this variety often is, the finish is juicy and leaves one salivating. Firm and slightly chewy tannins linger for quite some time on this wine's big and extended finish.
The 2004 Quixote Petite Syrah features a very fruit driven bouquet (also showing hints of chocolate, mocha and coffee; the palate offers both ripe blackberry and black cherry flavors. The finish is clean and long with beautiful silky tannins. Contrast this with the 2002 Quixote Petite Syrah which has more of an earthiness, minerality, and dusty quality to the bouquet. It is not as fruit forward as the 2002 vintage – notes of plum, currant and blackberry are interwoven together nicely on the palate.
And Quixote's most premium Petite Sirah is the Helmet of Mambrino which is named after Mambrino, a fictional Moorish King whose helmet allowed him to be invincible and omnipotent. Cervantes even referenced this helmet in Don Quixote. And the light-hearted myth sometimes perpetuated by tasting room staff, indicates consumers of this wine will also gain similar powers.
—
Their Cabernet Sauvignon is only sold direct to consumer through visits to the winery or the website while their Petite Sirah has some distribution locally at restaurants and select wine shops including locally sometimes at Oakville Grocery.
For more information, to schedule a tasting or to join one of their membership clubs or allocation list, visit: www.quixotewinery.com