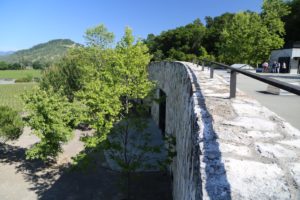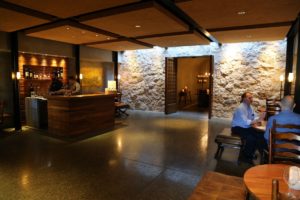 Quintessa Winery is an architecturally intriguing winery located on the west side of the Silverado Trail just north of Rutherford Cross Road. The estate encompasses 280 acres; the winery was founded in 1989 by well-known Chilean vintners Agustin Huneeus and his wife Valeria. Quintessa is part of a winery/brand portfolio owned by Huneeus Vintners including Illumination (a very limited production Sauvignon Blanc sourced from a tiny block on the Quintessa property), Napa Valley based Faust Vineyard (see our separate review on this site), Flowers Vineyards & Winery (a Sonoma County based winery), Leviathan, a Napa Valley brand founded by winemaker Andy Erickson and Willamette Valley based Benton-Lane Winery.
Both Agustin and Valeria were born in Chile and are wine industry veterans. Valeria is a microbiologist and viticulturist and was the one who originally discovered the land for sale that is now home to Quintessa. Agustin inherited a fishing business from his father in his 20s – but an opportunity soon presented itself to invest in Vina Concha Y Toro – a small winery at the time that he ultimately helped build into Chile's largest producer. By age 27 in 1960, Agustin was the CEO of Concha y Toro. In the early 1970's he worked at Seagram, beginning with Seagram Argentina and within a few years, overseeing their worldwide operations from New York.
Later he became involved in a remarkable number of wine ventures including Noble Vineyard, Concannon in Livermore, Franciscan Estate and Flowers Winery; in 1999 he founded Huneeus Vintners (owns Quintessa among other brands and properties). They had a controlling interest in Veramonte Estate since the early 1990s – near the town of Casablanca (about an hour west of Santiago) until selling this in 2016 – although they still own more then 6,000 acres in the region. Agustin and Valeria's son Agustin Francisco oversaw their family's wine holdings until 2019.
Quintessa specializes in one premium Cabernet Sauvignon each vintage; this wine is reflective of their great attention to detail in the vineyards as well as with the wine making. Their motto is "fine wine is a reflection of place" and their wines reflect the specific terroir of their property. This was one of the last large "virgin" Napa Valley floor properties available at the time of purchase in 1989; remarkably it was never planted to grapes before. The site is located in the Rutherford appellation and is a mix of both hillside and valley floor vineyards. Their first commercially released vintage was from 1994.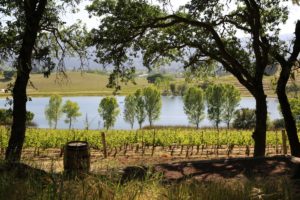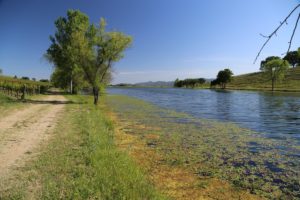 Their vineyards are organically farmed using at times bio-dynamic practices. This involves several primary factors; building the soil organically using special natural compost, philosophically farm (prune and harvest based on phases of the moon and planets) and control pests and diseases without chemicals (cover crops, use plants that attract beneficial insects).
Hospitality
The winery was designed by the San Francisco based Walker Warner Architectural firm; it is visually appealing from the outside and is difficult for first time visitor to get a feel for the fairly sizable work-space within the building. The winery itself is set back inside the hillside; 'unobtrusive' is a good word to describe how well Quintessa fits into the surrounding landscape.
After checking in, visitors will typically begin tours with a walk up the hill behind the winery to an overlook offering excellent views of the valley floor in the distance, many of their vineyards and the large pond below which dates from the 1930's.
A visit from the top of Dragon's Hill behind the winery is a window into a part of Napa that few see despite all the daily traffic on the Silverado Trail that passes by their driveway. It is truly a peaceful scene – a rare view of a bucolic part of the valley with perfectly groomed vineyards lining the rolling hills and the quieting influence of the picturesque pond below.
Those who opt for the Quintessential Quintessa experience will have their tasting in one of the glass pavilions (designed by Maca of Maca Huneeus Design, Agustin Huneeus Jr's wife) which overlook this part of their property. From here you can walk into the edge of one of the vineyards. One of these glass pavilions was featured in a scene from the movie, Wine Country.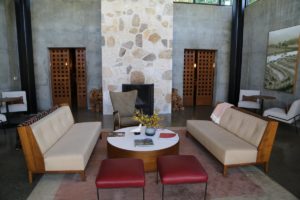 Next is a tour of the 17,000 square foot wine caves and a visit to the actual winery facility. Visitors who signed up for the Estate Tasting will taste at their own private table located against the stone interior of the building; glass skylights are built into the roof so during the day, there is always ambient light shining into the room. The actual sit down wine tasting is in an intimate room – only 5 or 6 small tables are available. Your personal wine guide will help curate your experience and discuss in detail each of the wines and how they are made.
Note the large steel riveted box that sits next to the elevator in the winery. When Quintessa finished the winery they invited many well-known Napa winemakers to bring some of their best vintages of wine. Notables like Araujo Estate (now Eisele Vineyard), Harlan Estate, Screaming Eagle, Shafer Vineyards and many others brought their wine and sealed it inside this climate controlled steel box. This will be opened in 2051 and will be donated to the Premier Napa Valley wine auction which at that time will be in its 54th year (Premiere Napa Valley began in 1997). Whoever runs up the winning bid on this item is going to be very pleased indeed…and for something this rare and historical, it is going to be a sizable bid. All the signatures of the owners and winemakers who contributed wine are listed on a plaque above the box.
Wondering what those raised square boxes are that sit on top of the roof located near the parking area? Those "boxes" actually open and are used during harvest for dropping the grapes below to the actual tanks.
—
Well-regarded French wine consultant Michel Roland has consulted for Quintessa in the past. When he was in town for their blending decisions, we were told over 100 glasses were poured individually for him, the Huneeus family and their winemaker (over 300 glasses of wine in the same room) – each glass representing different vineyard blocks and parts of the property. Fortunately your sit down tasting is not this complex. Two main vineyard block samples are provided so that you can taste some of the individual components that make up the final blend and then you will taste the current vintage.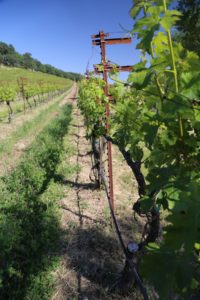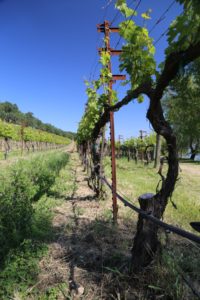 During one of our first visits to the property, we tried the Quintessa 2005 100% varietal Cabernet Sauvignon. Initially the aromas are very earthy, almost gravelly – think of the smell of dust after the first rain…there is a reason why people talk about the "Rutherford Dust". Hints of tobacco and smoke round out the nose and as the wine opens some of these earthy aromas dissipate and reveal layers of beautiful fruit. Notes of blackberry on the nose lead to a layered palate of blackberry, plum and cherry. This elegant wine is wonderfully balanced and structured with pleasing supple finish.
The winery chef creates mini-culinary nirvana moments – offering delicious bites hand picked to be paired with each wine. During one visit, we tried grass fed New York steak with a green tarragon salsa and truffle scented potato and spring vegetable salad. Other visitors were speaking highly of the rosemary cayenne pepper coated cashew nuts. Reserve well in advance for busy summer and weekend tastings.
Benton-Lane Winery, Willamette Valley OR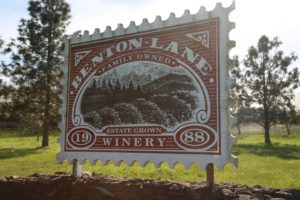 Benton-Lane Winery is located about 25 minutes due south of Corvalis Oregon. The winery has several Napa Valley connections. It was founded by Steve and Carol Girard (the founders of Girard Winery originally located on site of what is now Rudd Winery). The Girard's moved to Oregon to focus on Pinot Noir and built and operated Benton-Lane Winery (first vintage 1992, the winery building was completed in 1997) – before selling in early 2018 Huneeus Vintners. Steve Girard and Augustin Huneeus Sr. were long time friends.
The property is over 1,800 acres of which 142 acres are planted to vines including Pinot Noir, Pinot Blanc and Chardonnay. The tasting room is open year round with both bar and seated tasting indoors and weather permitting, outside seating in a cozy patio with views looking east.
Flowers Winery, Sonoma County
Flowers Winery was founded in 1991 by Joan and Walt Flowers (not to be confused with Joan and Walt Teachworth, another winery couple who founded a winery in neighboring Napa Valley). The Flowers come from a nursery business in Pennsylvania – during research and seed buying trips to California they began to explore their interest in cooler weather varieties, namely Pinot Noir and Chardonnay. They are vineyard pioneers along the edges of some of Sonoma County's most rugged coastline; they purchased their first property in 1991 – Camp Meeting Ridge and their second property Sea View Ridge in 1998. Neither site was planted to vines at the time of their purchases.
This visually dramatic coastline is strongly influenced by the maritime conditions and the frigid waters of the Pacific Ocean. Elevation is an extremely important factor for growing grapes in this part of Sonoma County (the Fort Ross-Seaview AVA, northwest of Jenner) – both their vineyards are planted above 1,000 feet with the high point nearly 1,900 feet. The vineyards are often above the low lying fog that hangs near the ocean and their sites experience significantly more sunshine and warmer temperatures then the lower elevations.The focus of their production is on Chardonnay and Pinot Noir; they also produce a still wine bottling of Pinot Meunier (often used in sparkling wines). This is prime terroir for these varieties; other premium producers with vineyards in their 'neighborhood' include Hirsch, Marcassin and Peter Michael. In addition to their estate vineyards, Flowers Winery also sources fruit from select growers.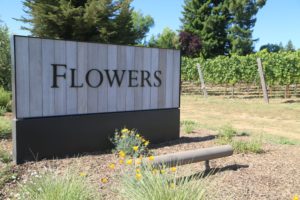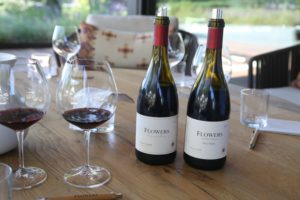 Joan and Walt sold the winery to Huneeus Vintners in 2009. In 2016 Huneeus Vintners purchased a third vineyard with an existing winery at 4035 Westside Road (formerly home to C Donatiello Winery and VML Winery) located about an hour and 10 minute drive from their vineyards (about 30 miles). This is certainly in a much more accessible location for visitors. The House of Flowers, as it is called, is located in Dry Creek Valley only about a 7 minute drive from downtown Healdsburg. The simple, yet elegant and cozy interior decor was overseen by San Francisco based Maca Huneeus Design (Maca is married to Augustin Huneeus Jr.). One of the highlights of the interior decor is a 2,000 pound massive thick cross section of a black walnut tree which used to grow in California's Central Valley (which because of its weight had to be lowered in position by a crane).
Plenty of outdoor seating is also available including several intimate perches looking east with excellent views across parts of the Dry Creek Valley and of Mt. St. Helena in the far distance.
Visitors can taste by walk-ins (if space is available) or by appointment – reservations are required for the full tasting experience which includes small bites prepared by their in-house chef. Arriving guests will receive a welcome wine and then proceed to their tasting – which usually includes both several Chardonnay and Pinot Noir wines. All their wines are fermented using non-inoculated yeasts (indigenous). For those who haven't tried many Chardonnays and generally admit they don't enjoy wines from this variety, the Flowers Chardonnays might well change your perception 🙂
——
Membership provides select access and discounts to the other wineries/brands within the Huneeus Vintners portfolio including discounts on wine, complimentary tastings at their other properties and invites to member only events. For more information, to request a tasting, and or to join of their Vineyard Circle Member options, visit: www.quintessa.com
Quintessa Estate Property, EXTERIOR

Quintessa Estate Property, INTERIOR