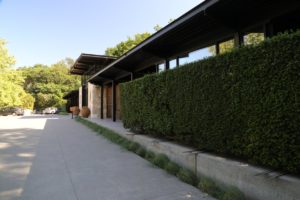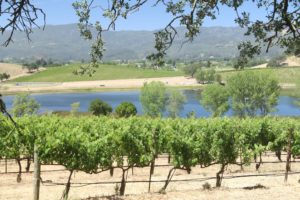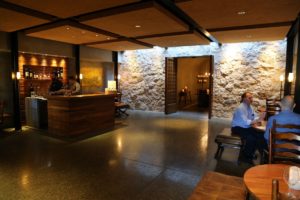 Quintessa Winery is an architecturally intriguing winery located on the west side of the Silverado Trail just north of Rutherford Cross Road. The estate encompasses 280 acres of which approximately 135 acres are planted to vine. The winery was founded in 1989 by well-known Chilean vintners Agustin Huneeus and his wife Valeria. Vines were first planted in 1990 and 1991 including some steeper terraced slopes – just before a slope ordinance was passed prohibiting plantings on slopes greater than 30%. Due to the size of the property and geographical features, there are an exciting number of exposures, various slopes and soil types.
Quintessa is part of a winery/brand portfolio owned by Huneeus Vintners including Illumination (a very limited production Sauvignon Blanc made at Quintessa), Napa Valley based Faust Vineyard (see our separate review on this site), Flowers Vineyards & Winery (a Sonoma County based winery), Leviathan, a Napa Valley brand founded by winemaker Andy Erickson and Willamette Valley based Benton-Lane Winery.
Both Agustin and Valeria were born in Chile and are wine industry veterans. Valeria is a microbiologist and viticulturist and was the one who originally discovered the land for sale that is now home to Quintessa. Agustin inherited a fishing business from his father in his 20s – but an opportunity soon presented itself to invest in Vina Concha Y Toro – a small winery at the time that he ultimately helped build into Chile's largest producer. By age 27 in 1960, Agustin was the CEO of Concha y Toro. In the early 1970's he worked at Seagram, beginning with Seagram Argentina and within a few years, overseeing their worldwide operations from New York.
Later he became involved in a remarkable number of wine ventures including Noble Vineyard, Concannon in Livermore, Franciscan Estate and Flowers Winery; in 1999 he founded Huneeus Vintners (owns Quintessa among other brands and properties). They had a controlling interest in Veramonte Estate since the early 1990s – near the town of Casablanca (about an hour west of Santiago) until selling this in 2016 – although they still own more than 6,000 acres in the region. Agustin and Valeria's son Agustin Francisco oversaw their family's wine holdings until 2019.
Unlike most wineries in the Napa Valley, Quintessa specializes in only one wine each year, a Cabernet Sauvignon; there is no second label. This was one of the last large "virgin" Napa Valley floor properties available at the time of purchase in 1989; remarkably it was never planted to grapes. The site is located in the Rutherford appellation and is a mix of both hillside and valley floor vineyards. Their first commercially released vintage was from 1994.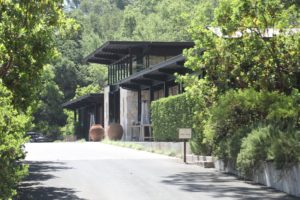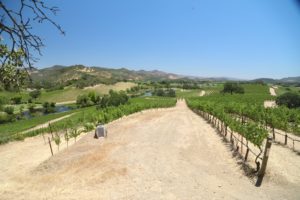 At Quintessa, attention to producing exceptional wines starts in the vineyards but are also rooted in the details of their operations – both in the vineyard and in the cellar. The Quintessa motto is "fine wine is a reflection of place".
The viticulture team's knowledge of the soils has significantly evolved over the decades. For many years soil pits were typically dug when replanting a specific block without being based on particular details of the site. A greater understanding of the various soil profiles on the estate are paramount and in part has involved using Electro-conductivity – operated by Chilean based soils expert Dr. Pedro Parra, dubbed Dr. Terroir (who also operates his namesake winery in Chile). He mapped the entire vineyard portion of the estate before the 2019 harvest, identifying individual soil variations and also strategically digging soil pits to continue to better understand the property.
Geologist Brenna Quigley has also been instrumental in learning more about the geology of the property helping to understand what is below the surface, where it is from and why specific soils are located on this particular site. As expected, there is more to learn from vineyard blocks which are the most challenging to farm.
The vineyards are both organically farmed (certified CCOF) and are also overseen using bio-dynamic practices. This involves several primary factors; building the soil's health organically using special natural compost, introducing sheep into the vineyards in the Spring to both 'mow' the grass and increase soil fertility, philosophically farm (prune and harvest based on phases of the moon and planets) and control pests and diseases without chemicals (implementing cover crops and using plants which attract beneficial insects). Their approach is holistic; it is a gentle farming philosophy that embraces being one with the land.
Previous Ownership
The estate used to be called the Snowball Ranch named after a former owner Robert Young (R.Y.) Snowball and his wife Amelia (incidentally both Robert and Amelia died at age 51 in 1891 only a couple of months apart). A Napa Register article dated October 2, 1885 (and the same article from the Napa Weekly Journal, the day before) references in a column called "up valley activities" active winemaking occurring in a 40×50 foot wine cellar built in about a week by R.Y. Young on his property on the "east side". A separate article also references Young owning his own grapes but does not say which property they are from.
An article in the St. Helena Star on November 20, 1885, lists out the total production of cellars organized by location in the valley. In this article, in the "Below St. Helena" category but not in the Rutherford category the list notes that Young's cellar produced 11,000 gallons of wine. Three years later an article in the Napa Weekly Journal from November 29, 1888, indicates Young shipped his finest Burgundy to Lord Sackville-West, the British Ambassador to the United States at the time. And by 1895 what was then referred to as Snowball Cellars in an article in the St. Helena Star dated September 13, 1895, describes the sale of the cooperage with everything sold for $400.
NOTE: More research is needed here as these various articles do not indicate which property Snowball's cellar was located on – and until we have definitive information, there is the possibility his cellar was located on what is now the Quintessa property.
Robert & Amelia Young, Gravesites, Mountain View Cemetery, Oakland CA

The property subsequently had several other owners including Thomas Swortfiguer (who was elected mayor of St. Helena in 1916 and owned a number of properties in the Napa Valley) – we have seen the property also called the Swortfiguer Ranch. And later Bert Rossi, who in 1929 purchased the property from Swortfiguer and in 1939 sold the ranch to Antonio 'Tony' Panetta (born in Italy), who operated the ranch as a stock farm for several years (we also saw one reference indicating when he purchased the property, he planned on raising thoroughbred horses for several years). Strangely, an August article from this same year references the Crooks (Amanda, Jonathan) as being the owners of Snowball Ranch (possibly partners of Panettas in the ranch). The sale of the ranch from Panetta to George Mardikian was announced in early March 1944.
Mardikian was truly a fascinating individual, Armenian-American but born in what is now Turkey. After suffering severe hardships and persecution in Armenia he immigrated to the United States in 1922 and came almost immediately to San Francisco across the country by train – certainly not an easy proposition since he spoke almost no English and was low on funds upon his arrival.
After 8 years of working in restaurants he moved to Fresno where an already sizable Armenian community existed and opened a lunch spot called Omar Khayyam. Mardikian played a prominent role in introducing a number of Middle Eastern foods to the American palate; he later operated another Omar Khayyam restaurant prominently located on the corner at 200 Powell Street in San Francisco until the mid 1980s when it burned down due to a fire. He was also a food consultant to the US Army from from 1942 to 1954 and is credited for improving the quality of army rations as noted by commendations from several US presidents including Herbert Hoover, Harry S Truman, and Dwight Eisenhower. During his time as a food consultant, he made several trips to Europe and Asia working in conjunction with US Army cooks.
He was an ongoing champion for homeless Armenians around the world – helping find up to 5,000 of his former fellow countrymen homes in select countries. For his work, primarily centered around food, he eventually was awarded a medal of freedom from the US government, the highest honor bestowed upon civilians. He was a patron of the Boy Scouts. And he was an author having written Dinner at Omar Khayyam's and his detailed autobiography Song of America. Towards the end of this book Mardikian highlights a poignant quote that President Herbert Hoover wrote in his guestbook, "To George, every time I lose faith in America, I always remember that it made you."
Mardikian called his Napa property, El Rancho Silverado.
While we haven't been able to locate any records of the property having been planted to grapes before, a Napa Journal article from December 23, 1956, references Mardikian's experiments in agriculture and animal husbandry on the property with crops producing food for his restaurant in San Francisco including alfalfa, strawberries, Armenian peppers, fruit trees and sheep and cattle (during the Rossi ownership, cattle were also living on the property). This same article also refers to entertaining President Herbert Hoover on the ranch (one of his good friends).
Mardikian's son Haig (who we met with at his property near Occidental in Sonoma County) remembers his father had no interest in planting grapes on the property – but from time-to-time Haig broached the topic about possibly putting planting vineyards. However, grapes were never planted on site during the Mardikian ownership.
The gorgeous lake that still exists was built on the property in the 1950s during the Mardikian ownership – George called it Lake Naz, named after his wife Nazely; Haig remembers his father telling his mother that 'he put her on the map'. Haig also remembers summers swimming in the lake and even water skiing. Today this body of water is called Dragon's Lake although we will always refer to it by its original name.
A Napa Valley Register article from November 21, 1960, references a number of trees planted on the property above the lake in honor of Mardikian's contributions to the Boy Scouts of America – the trees being gifts from his friend Herbert Hoover and President at that time, Dwight Eisenhower. And Mardikian promoted the Napa Valley a number of times through his writings and through select events including events held in the valley. Mardikian originally met Hoover as a result of a patron at Omar Khayyam's who invited him to cook for the Bohemian Club (a private San Francisco headquartered men's club who holds a several week retreat every summer near Monte Rio in Sonoma County). Mardikian donated his time to cook for the club and when Hoover heard about this – he was extremely touched and made sure that Mardikian became a formal member of the club.
The property produced a legal case in 1952 relating to Mardikian's prized bull Prince Domino Q III. The neighbors bordering their property just west of the Napa River accused Mardikian's bull of wandering across the river to their property and impregnating some of their cows. They later sued Mardikian – however Mardikian's foreman at the time, was able to capture on film, photographs of what really happened. The neighboring cows had actually wandered east across the Napa River onto Mardikian's property enticing Prince Domino Q III. As a result, the judge dismissed the lawsuit. Haig recalls his son-in-law (now a lawyer) mentioning that he had studied this particular case while attending law school – some 4 decades later.
George is buried in Ararat Armenian Cemetery is located just off of the 99 freeway along Belmont Avenue in Fresno. This land was originally owned by Moses Church who valued cemeteries. As a result, he sold his land to various religious and ethnic groups including to Fresno's small Armenian community in 1885 for one dollar in gold coins. Today a number of cemeteries are located here including the large Mountain View Cemetery. However, unlike some of the earlier privately owned cemeteries which eventually became part of Mountain View, the Armenia Cemetery is still privately owned by the Armenian Community now includes 16 acres.
And after his family sold the property in 1989, Haig looked for property in Napa Valley for two years. Unable to find a piece of property similar to his family's ranch he looked outside of the Napa Valley for 5 more years until discovering a beautiful 30-acre hillside parcel near the community of Freestone in neighboring Sonoma County which he purchased from the prior owner, former congressman Doug Bosco. Located only 9 miles from the ocean, his property is ideal for growing Pinot Noir receiving fog and cooling breezes throughout the growing season – with temperatures rarely getting into the upper 80s.
Visualizing the potential of the site for grapes he took some classes through UC Davis focusing on viticulture. However, he soon realized that it might make most sense to find a winery partner – he interviewed a number of prominent vintners and ultimately settled upon Hess Collection who had the resources at the time to develop part of his property to a vineyard. They planted Pinot Noir and initially produced a Hess Collection Mardikian Estate Pinot Noir – later a MacPhail Vineyard Mardikian Estate Pinot Noir (also owned by Hess Collection) and more recently, these grapes are again bottled under a Hess Collection Mardikian Estate Pinot Noir.
Mardikian Mementos (Author's personal collection)

Hospitality
The winery was designed by the San Francisco based Walker Warner Architectural firm; it is visually appealing from the outside and is difficult for first time visitor to get a feel for the fairly sizable workspace within the building. The winery itself is set back inside the hillside; 'unobtrusive' is a good word to describe how well Quintessa fits into the surrounding landscape.
After checking in, visitors will typically begin tours with a walk up the hill behind the winery to an overlook offering excellent views of the valley floor in the distance, many of their vineyards and the large pond below which dates from the 1930's.
A visit from the top of Dragon's Hill behind the winery is a window into a part of Napa that few see despite all the daily traffic on the Silverado Trail that passes by their driveway. It is truly a peaceful scene – a rare view of a bucolic part of the valley with perfectly groomed vineyards lining the rolling hills and the quieting influence of the picturesque lake below.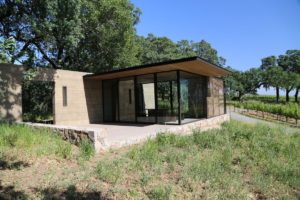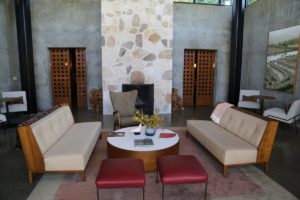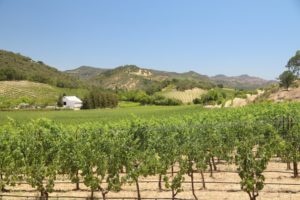 Those who opt for the Quintessential Quintessa experience will taste in one of the glass pavilions (designed by Maca of Maca Huneeus Design, Agustin Huneeus Jr's wife) which overlook this part of their property. From here one can walk into the edge of one of the vineyards. One of these glass pavilions was featured in a scene from the movie, Wine Country.
Visitors who signed up for the Estate Tasting will taste at their own private table located against the stone interior of the building; glass skylights are built into the roof so during the day, there is always ambient light shining into the room. The actual sit-down wine tasting is in an intimate room – only 5 or 6 small tables are available. A wine guide will help curate the experience and discuss in detail each of the wines and how they are made.
Note the large steel riveted box that sits next to the elevator in the winery. When Quintessa finished the winery, they invited many well-known Napa winemakers to donate some of their best vintages of wine. Notables like Araujo Estate (now Eisele Vineyard), Harlan Estate, Screaming Eagle, Shafer Vineyards and many others brought their wines and sealed them inside this climate-controlled steel box. This will be opened in 2051 and will be donated to the Premier Napa Valley wine auction which at that time will be in its 54th year (Premiere Napa Valley began in 1997). Whoever runs up the winning bid on this item is going to be very pleased indeed…and for something this rare and historical, it is going to be a sizable bid.
Wondering what those raised square boxes are that sit on top of the roof located near the parking area? Those "boxes" actually open and are used during harvest for gently dropping the grapes into concrete tanks located below. The winery underwent some significant cellar changes in 2018 to better match the character of the vineyard blocks. Twenty-two concrete tanks were installed, manufactured by Sonoma Cast Stone. One of the primary advantages of this change is that concrete tanks require much less water to maintain as compared to wooden tanks.
A 17,000 square foot wine cave is located underneath the hospitality center, tunneled into the side of the hill. At its maximum capacity, approximately 3,000 barrels are stored inside containing wine from two vintages.
Well-regarded French wine consultant Michel Rolland has consulted for Quintessa in the past. When he was in town for their blending decisions, we were told over 100 glasses were poured individually for him, the Huneeus family and their winemaker (over 300 glasses of wine in the same room) – each glass representing different vineyard blocks and parts of the property. Fortunately, sit-down tastings for visitors are not this complex. Two main vineyard block samples are provided so guests can taste some of the individual components making up the final blend. Then a current vintage will be provided to taste.
The winery chef creates mini-culinary nirvana moments – offering delicious bites hand-picked to be paired with each wine. During one visit, we tried grass fed New York steak with a green tarragon salsa and truffle scented potato and spring vegetable salad. Other visitors were speaking highly of the rosemary cayenne pepper coated cashew nuts. Reserve well in advance for busy summer and weekend tastings.
—
Select Vintages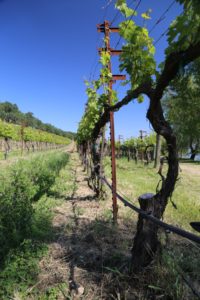 The 2005 Quintessa Cabernet Sauvignon (100% varietal). Initially the aromas are very earthy, almost gravelly – think of the smell of dust after the first rain…there is a reason why "Rutherford Dust" has its own lexicon in the vocabulary of the Napa Valley, and it was this particular wine in which we first noticed this 'dust' characteristic. Hints of tobacco and smoke round out the nose and as the wine opens some of these earthy aromas dissipate and reveal layers of beautiful fruit. Notes of blackberry on the nose lead to a layered palate of blackberry, plum and cherry. This elegant wine is wonderfully balanced and structured with pleasing supple finish.
The 2016 Quintessa is dark ruby in color; the wine offers an elegant bouquet with aromas of cherry, cassis, dust and hints of old cedar box. Also shows a very subtle note of iron, a quality that is still fresh in our mind from recently trying several Provence produced Syrahs while visiting that part of France. Slightly savory. The tannins are extremely well integrated into the finish and are somewhat earthy, but completely seamless and polished in their textural feel. The mouthwatering Quintessa brightness shows on the finish.
The 2018 Quintessa is dark ruby in color with purple tinges on the rim of the glass; offers pretty aromatics of darker fruits including ripe plum. One can smell the site in this wine with aromas of dry earth. Its youthful energy is quite noticeable on the palate showcasing a mix of both red and darker fruits. The wines 'freshness' carried by its acidity and density of tannins are its hallmarks. Lingers with higher toned red fruits including cherry and currant, a mouthwatering juiciness and chewy tannins with a persistent grip. This wine has significant life ahead of it. Well worth seeking out.
Sauvignon Blanc for Illumination was planted at Quintessa in 2002 (their first vintage was in 2006). This is a carefully crafted wine – the winemaking team selects from five different types of fermentation vessels including new and neutral French oak, acacia barrels, stainless steel barrels and concrete eggs and utilizes several Sauvignon Blanc clones, Sauvignon Blanc musqué as well as Sémillon. Grapes come from both the Quintessa property, Calistoga as well as in neighboring Sonoma County.
The 2018 Illumination is medium golden in the glass; offers pretty aromatics including floral notes of honeysuckle and citrus. Shows plenty of flavor on the palate – a respect for California terroir but also with a nod to the varietal characteristics including a beautiful finish that features a noticeable brightness and freshness. Offers flavors of citrus and a hint of vanilla sweetness. Wonderfully balanced, this wine should certainly age well in the coming years and according to winemaker Rebekah Weinberg, the influences of the Sémillon will show more over time.
The 2019 Illumination offers attractive aromatics including stone fruit, citrus blossom, honeysuckle and mandarin. Also notes of grapefruit and pomelo. The bouquet features a noticeable sweetness of aromatics. Rounded with a pleasing slightly creamy texture across the palate, this texture is complemented nicely by a brightness of acidity. Shows flavors of lemon with some minerality notes. Very balanced.
—
In 2020 for the first time in their history, Quintessa introduced a Decade Release program, taking advantage of releasing a limited number of bottles that were held in their library ten years prior. The Decade Release offerings are to be only available for years that are deemed extra age worthy and are showing well 10 years post their vintage date.
Vineyard Circle membership provides select access and discounts to the other wineries/brands within the Huneeus Vintners portfolio including discounts on wine, complimentary tastings at their other properties and invites to member only events. Several categories of membership are available including Dragon, Corona and Mesa. For more information, to request a tasting, and or to join of their Vineyard Circle Member options, visit: www.quintessa.com
Quintessa Estate Property, EXTERIOR

Quintessa Estate Property, WINEMAKING

Benton-Lane Winery, Willamette Valley OR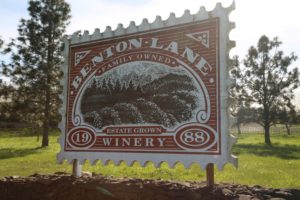 Benton-Lane Winery is located about 25 minutes due south of Corvalis, Oregon. The winery has several Napa Valley connections. It was founded by Steve and Carol Girard (the founders of Girard Winery originally located on site of what is now Rudd Winery). And Napa vinter, Carl Doumani (Stags' Leap Winery, Quixote) was also involved in the early ownership. The Girard's moved to Oregon to focus on Pinot Noir and built and operated Benton-Lane Winery (first vintage 1992, the winery building was completed in 1997) – before selling in early 2018 Huneeus Vintners. Steve Girard and Augustin Huneeus Sr. are longtime friends.
The property is over 1,800 acres of which 142 acres are planted to vines including Pinot Noir, Pinot Blanc and Chardonnay. The tasting room is open year-round with both bar and seated tasting indoors and weather permitting, outside seating in a cozy patio with views looking east.
Flowers Winery, Sonoma County
Flowers Winery was founded in 1991 by Joan and Walt Flowers (not to be confused with Joan and Walt Teachworth, another winery couple who founded a winery in neighboring Napa Valley). The Flowers come from a nursery business in Pennsylvania – during research and seed buying trips to California they began to explore their interest in cooler weather varieties, namely Pinot Noir and Chardonnay. They are vineyard pioneers along the edges of some of Sonoma County's most rugged coastline; they purchased their first property in 1991 – Camp Meeting Ridge and their second property Sea View Ridge in 1998. Neither site was planted to vines at the time of their purchases.
This visually dramatic coastline is strongly influenced by the maritime conditions and the frigid waters of the Pacific Ocean. Elevation is an extremely important factor for growing grapes in this part of Sonoma County (the Fort Ross-Seaview AVA, northwest of Jenner) – both their vineyards are planted above 1,000 feet with the high point nearly 1,900 feet. The vineyards are often above the low-lying fog that hangs near the ocean and their sites experience significantly more sunshine and warmer temperatures then the lower elevations. The focus of their production is on Chardonnay and Pinot Noir; they also produce a still wine bottling of Pinot Meunier (often used in sparkling wines). This is prime terroir for these varieties; other premium producers with vineyards in their 'neighborhood' include Hirsch, Marcassin and Peter Michael. In addition to their estate vineyards, Flowers Winery also sources fruit from select growers.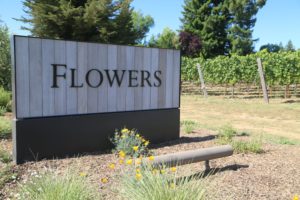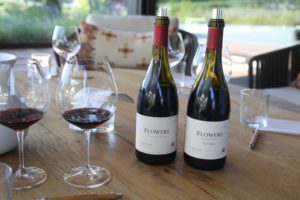 Joan and Walt sold the winery to Huneeus Vintners in 2009. In 2016 Huneeus Vintners purchased a third vineyard with an existing winery at 4035 Westside Road (formerly home to C Donatiello Winery and VML Winery) located about an hour and 10-minute drive from their vineyards (about 30 miles). This is certainly in a much more accessible location for visitors. The House of Flowers, as it is called, is located in Dry Creek Valley only about a 7-minute drive from downtown Healdsburg. The simple, yet elegant and cozy interior décor was overseen by San Francisco based Maca Huneeus Design (Maca is married to Augustin Huneeus Jr.). One of the highlights of the interior décor is a 2,000-pound massive thick cross section of a black walnut tree which used to grow in California's Central Valley (which because of its weight had to be lowered in position by a crane).
Plenty of outdoor seating is also available including several intimate perches looking east with excellent views across parts of the Dry Creek Valley and of Mt. St. Helena in the far distance.
Visitors can taste by walk-ins (if space is available) or by appointment – reservations are required for the full tasting experience which includes small bites prepared by their in-house chef. Arriving guests will receive a welcome wine and then proceed to their tasting – which usually includes both several Chardonnay and Pinot Noir wines. All their wines are fermented using non-inoculated yeasts (indigenous). For those who haven't tried many Chardonnays and generally admit they don't enjoy wines from this variety, the Flowers Chardonnays might well change your perception 🙂
And for those looking for the ultimate Flowers experience, the winery offers their Camp Meeting Ridge experience, which includes a private tour and tasting, followed by a four-course lunch, prepared by a private chef onsite. This is hosted at their estate in Cazadero (western Sonoma County). This 321-acre property is the original vineyard site for Flowers and is located only 2 miles from the Pacific Ocean.