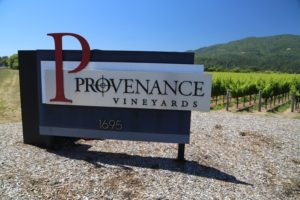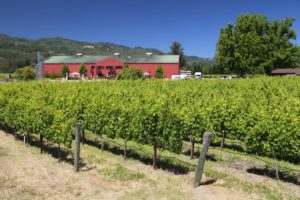 Provenance Vineyards is located just off of Highway 29 with the main winery building situated next to a huge lawn. Look for the massive red building. This is a busy section of highway 29 but Provenance sits far enough away from the main traffic – and the grounds and the large grass field lend a calming effect to the location. This used to be home to Chateau Beaucanon Winery; Provenance released their first vintage in 1999, purchased the site in 2002, remodeled and opened the winery and tasting room the next year.
They have a very unique tasting room – it is made from polished staves from almost 1000 old wine barrels from their 1999 vintage. Of course these were not made from new French Oak otherwise this would have been prohibitive in cost! We have seen staves used for fencing and creatively re-designed to hold wine, but this is the only winery we've seen in our Napa odyssey to have this type of floor. The name "provenance" in French means "origin" or "source" and is used in reference to guaranteeing the authenticity of artwork which is an analogy that can be used for their wine – fine wines that are works of art.
The tasting counter is semi-circular and quite large. Gifts, books and other wine related items for sale are also contained within the main tasting room. As with many nearby wineries, it can become crowded here – their big red building is a good marketing tool in and of itself as it is fairly noticeable as you drive north bound on Highway 29.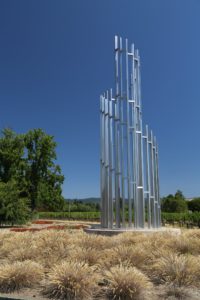 They own 120 acres of vineyards, part of which surround the winery as well as the high end Rutherford Benchland Hewitt vineyard, set back against the edge of the Mayacamas mountains, just west of the actual winery. They also source fruit from other high end Napa vineyards of which they are in long term contracts ensuring consistency of fruit. As of press time they currently produce about 60,000 cases with their Rutherford Cabernet Sauvignon forming about half of the total production. Despite their fairly large production by Napa standards, they don't make a lot of different wines, rather focusing their efforts on Sauvignon Blanc, Merlot and Cabernet Sauvignon.
During one of our visits, founding (and now former) winemaker Tom Rinaldi gave us a tour of their production facilities located directly behind the tasting room. Harvest had already started and stacked bins of Sauvignon Blanc were sitting in the back waiting for processing. Tom was also founding winemaker at Duckhorn Vineyards and spent 22 years with them hand crafting Cabernet Sauvignon and Merlot among other varietals. His philosophy as a winemaker is to use premium Napa Valley grapes, made in traditional styles while at the same time combined with state of the art technology to produce wines that are true to their varietal characteristics as well as terroir sources.
Choose from 3 tasting flights ranging from a Napa Valley tasting to the Single Vineyard to their Reserve wines. Several of their limited production wines are only available at the winery. Their 2007 Estate Sauvignon Blanc is blended with 7% Semillon; it is a clean crisp very fruit forward wine. Nice aromas of pineapple, and citrus with lemon twist and tangerine flavors continuing onto the palate. The 2004 Merlot has luscious ripe fruit with chocolate cherry on the palate and a slightly spicy finish.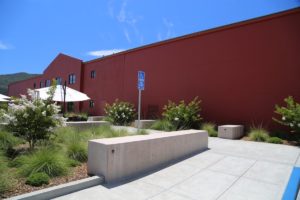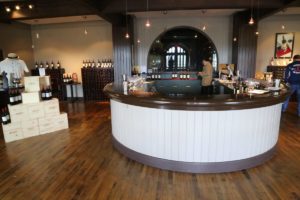 The 2005 Beckstoffer Vineyards To Kalon Cabernet Sauvignon is our favorite. You can't go wrong with To Kalon fruit. This vintage has a beautiful bouquet that hints of rich ripe fruit with underlying notes of cassis. The 2004 Hewitt Cabernet Sauvignon is a classic Cabernet, the type of Napa Cabernet's that attract Cab lovers worldwide! It has good structure, flavor acidity and ageability. If you can resist drinking it now, definitely sit on this for a while as it will only develop and continue to improve. Smoky cigar type aromas intermingle with ripe fruit and the palate is all about black fruit with black cherry and blackberry. The finish is slightly smoky and dusty.
They even produce a non vintage Zinfandel Port. If you enjoy big dessert wines rich in flavor and alcohol this is a good wine for you! A bit of chocolate combined with rich fruit aromas and flavors make this a winner. The varietals in this wine are not typically found in Napa and as a result they source from select vineyards in certain parts of California. Try Ruby Cabernet (a cross between Cabernet Sauvignon and Carignan), Tinta Madera, Touriga, and Souzao and you have a Portuguese styled Port made from California fruit.
The main entrance to the tasting room used to be covered in lawn – more recently the winery has replaced this lawn with outdoor seating – and weather permitting, tastings can be enjoyed in front of the winery. As a side note, removing this lawn has saved them significant water usage.
In more recent years, the eyes of visitors are drawn to the curved metallic sculpture that occupies a prominent space as you pull in their driveway. This is called "Spirale" and was created by prominent and noteworthy local Napa artist Gordon Huether (his works can be found throughout parts of Napa including at several wineries).
Visit: www.provenancevineyards.com