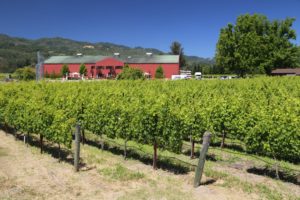 Provenance Vineyards is located in the heart of Rutherford directly next to Highway 29. The winery is fairly easy to spot – their main building is painted dark red. This is a busy stretch of Highway 29 but Provenance sits far enough away from the traffic – and the grounds and exterior water features lend a calming feel to the location.
This used to be home to Chateau Beaucanon Winery (a winery that moved their operations near the city of Napa in the late 1990's). For a time Provenance was owned by Diageo – they sold to the current owners, Treasury Wine Estates in 2015. Treasury is headquartered in Melbourne, Australia and currently owns a select portfolio of premium wineries in Napa. Provenance released their first vintage in 1999, purchased the site in 2002, remodeled and opened the winery and tasting room the next year.
The floor of the tasting room is extremely unique – it is made from polished staves from almost 1000 old wine barrels from their 1999 vintage. Of course these were not made from new French Oak otherwise this would have been prohibitive in cost. We have seen staves used for fencing and creatively re-designed to hold wine, but this is the only winery we've seen in our journey through the Napa Valley to have used barrel staves in their flooring.
The tasting counter is semi-circular and a size that can handle numerous guests when it gets busy as it invariably does on many weekends. Gifts, books and other wine related items are for sale within the tasting room. The name "provenance" in French means "origin" or "source" and is used in reference to guaranteeing the authenticity of artwork which is an analogy that can be used for their wine – fine wines that are works of art.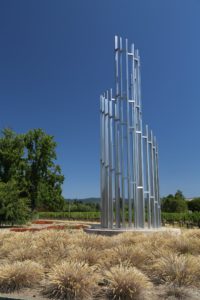 A number of tasting experiences are offered including the coveted Hewitt Vineyard experience – the one private room on site is called the Hewitt Room and seats groups up to 6 people. Intimate in its setting, it allows guests to enjoy multiple vintages of the Hewitt wine while the host offers information about this particular vineyard site and insights into their wine making. A barrel of an upcoming vintage of Hewitt is located in the production facility directly behind the tasting room and those enjoying the Hewitt tasting will also try a barrel sample here.
As of our latest visit, a To Kalon Library Tasting is offered (available until they are eventually out of these library wines as they are no longer making wines from this vineyard).
Provenance sources grapes from a variety of vineyard sites in the Napa Valley. The winery owns multiple vineyards up and down the valley including the much coveted and historically significant Hewitt Vineyard also located in Rutherford against the base of the Mayacamas mountains. Provenance also sources fruit from select premium privately owned Napa vineyards through long term contracts. And as of our latest update to this review, Treasury Wine Estates farms the most vineyard land of any company in the Napa Valley (much of it leased land). As a result of the scope and diversity of vineyard properties sometimes shared by their sister wineries, Provenance has a wide range of vineyards to source from.
Their production currently is around 45,000 cases annually with certain wines distributed nationally. A number of their limited production wines are only available through the winery or their website.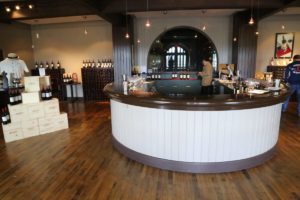 During one of our early visits to the property, founding (and now former) winemaker Tom Rinaldi gave us a tour of their production facilities. Harvest had already started and stacked bins of Sauvignon Blanc were sitting in the back waiting for processing. Tom was also founding winemaker at Duckhorn Vineyards and spent 22 years with them hand crafting Cabernet Sauvignon and Merlot among other varieties. His philosophy as a winemaker is to use premium Napa Valley grapes, made in traditional styles while at the same time combined with state of the art technology to produce wines that are true to their varietal characteristics as well as terroir sources.
While Tom is no longer involved at Provenance, his standards of quality continue with the current wine making team; the bar is set high. Unlike a number of very exclusive wineries in the Napa Valley, Provenance remains a still very accessible winery for the general public to try wines from some of the valley's most historic and well-regarded vineyards.
The Wildwood Vineyard is about 100 acres located on the eastern side of Rutherford – as you stand on the terrace at Mumm Winery looking west, these are the vines you will immediately see in front of you. The 2016 Provenance Wildwood Vineyard Sauvignon Blanc immediately shows aromas of pineapple with other tropical nuances – hints of citrus blossom are more subtle compared to the tropical notes. Shows nice body on the palate – with a pleasing texture that is simultaneously creamy and rounded. Shows citrus flavors including mandarin with a clean finish and a lingering hint of spice.
The Hewitt Vineyard was first planted in 1880 and much later owned by William A. Hewitt, president and later the long time Chairman of Deere & Company (John Deere). Mr. Hewitt purchased this vineyard in 1962 and with the advice of iconic winemaker André Tchelistcheff replanted the site to Cabernet Sauvignon. Fruit from this vineyard went into some of Beaulieu Vineyard's finest wines for nearly 40 years. Somewhat ironic is now Beaulieu Vineyard's is also owned by Treasury Wine Estates. The first vintage of Hewitt Vineyard Cabernet Sauvignon for Provenance was the 2001 vintage (incidentally the first single vineyard wine produced from this site).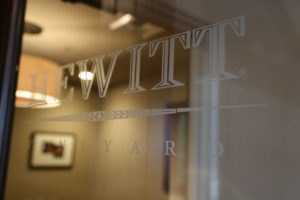 The 2014 Provenance Hewitt Vineyard Cabernet Sauvignon (100% varietal) immediately reveals an elegant smokiness on the bouquet – it is very pretty in its aromatic presentation showing both red and darker fruits along with a hint of cedar box spice (although that is more in the background). This is a big but balanced wine – on the palate it shows flavors of cherry and currants; it is savory with great acidity. The tannins are firm and somewhat dry but not overly grippy or harsh – yet they do persist on the finish for quite some time. This wine has all the hallmarks of being able to age well.
The Hewitt Vineyard Double Plus wines are the best barrel selections from this vineyard every year hand-picked by the wine making team. These are extremely limited production wines – their 'collectors offering' if you will.
The flagship wine for Provenance is Fortitude – a name that means to show courage in the face of pain or obstacles. The first vintage of Fortitude was in 2013. The 2014 Fortitude Cabernet Sauvignon is 100% varietal sourced from vineyards in Rutherford, Yountville and Howell Mountain. Production this year was limited to 246 cases – each bottle is individually numbered. Shows bright and lively aromatics including aromas of red and dark cherry, black currant along with floral notes (dried rose petal) and a kiss of dark chocolate. Shows excellent acidity on the palate with flavors of red and black cherries, red licorice and currant. A touch of espresso on the clean finish. If tannins were compared to sandpaper grit where the higher the number equates to a finer grit, these would be on the finer side – firm yet well-integrated.
From 2004 until 2013 Provenance produced wines from Napa's historic To Kalon Vineyard. The 2005 Beckstoffer Vineyards To Kalon Cabernet Sauvignon has a beautiful bouquet that shows ripe fruit and underlying notes of cassis. The 2004 Hewitt Cabernet Sauvignon is a classic Cabernet, the type of Napa Cabernet's that attract Cab lovers worldwide. It has good structure, flavor acidity and ability to age. If you can resist drinking it now, definitely sit on this for a while as it will only develop and continue to improve. Smoky cigar type aromas intermingle with ripe fruit; the palate is all about black fruit with flavors of dark cherry and blackberry. The finish is slightly smoky and dusty.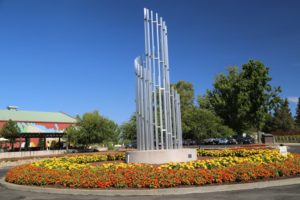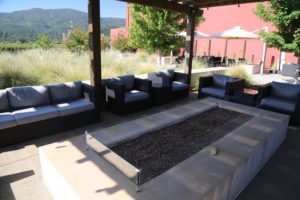 Provenance also produces several dessert wines including a Port-styled non vintage Zinfandel – made for those who enjoy robust dessert wines that are rich in flavor and alcohol. The varieties in this wine are not typically found in Napa and as a result they source from vineyards throughout parts of California including varieties such as Ruby Cabernet (a cross between Cabernet Sauvignon and Carignan), Tinta Madera, Touriga and Souzao.
The main entrance to the tasting room used to be covered in lawn – in more recent years the winery replaced this lawn with a diversity of outdoor seating. Weather permitting, tastings can be enjoyed in front of the winery. And guests can bring a picnic lunch to pair with one of their tastings – Provenance is one of the relatively few Napa wineries to allow guests to bring and eat food on premise.
In more recent years, visitors are drawn to the curved metallic sculpture that occupies a prominent space as you pull in their driveway. Called "Spirale" it was created by local Napa artist, an imaginative and prolific creator, Gordon Huether. This piece was directly commissioned by Provenance – a number of his works can be found throughout parts of downtown Napa including at several wineries. And this is not the only piece of exterior art that Provenance has embraced – in 2018 a 30×50 hand painted mural was unveiled and now graces the exterior of the south facing tasting room entrance wall. This beautiful work was created by San Francisco-based abstract contemporary artist, Heather Day.
—
Treasury Wine Estates
Treasury Wine Estates is currently the 4th largest wine company on the planet. Treasury was formerly the wine division of the Australian based Foster's Group and was founded in 2011 – although its roots can be traced back to the mid 1990s when Foster's began to build out their wine division. Treasury Wine Estates owns or manages some 22,000+ acres of vineyards in Australia and New Zealand and nearly 10,000 acres of vineyards in the USA (mostly in the Napa Valley, Sonoma County and California's central coast).
As of our latest update to this review they are the largest controlling entity of vineyards in the Napa Valley through mostly leased land. They own several of the Napa Valley's most iconic, historical and storied producers including the following six wineries: Beaulieu Vineyard, Beringer, Etude, Provenance, Stags' Leap Winery and Sterling. In addition, they own the Napa Valley brands Acacia and Hewitt. And of the other brands under their ownership, Penfolds in the Barossa Valley, Australia is arguably the most famous.
Headquartered in Melbourne, Australia the company also maintains offices in Napa, Oakland, London, Shanghai and Singapore. In 2019 the company moved its headquarters to one of the uppermost floors in one of Melbourne's most iconic buildings, the T&G Building located on Collins Street a few minutes walk from the Flinders Street Railway Station.
The T&G building, named after the T&G Mutual Life Assurance Society was built in 1928 and features a gorgeous atrium like setting and high-end retail shops on the ground floor as well as 10 floors of office space. This was one of Melbourne's first large scale office buildings. Despite being one of Melbourne's prominent and historical buildings, Treasury Wine Estates keeps a very low profile and has no signage.
—
For more information and or to join their mailing list or one of the wine clubs, visit: www.provenancevineyards.com
Hospitality

Estate Sauvignon Blanc Vineyard

Mural

Mural Timelapse