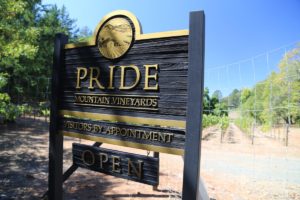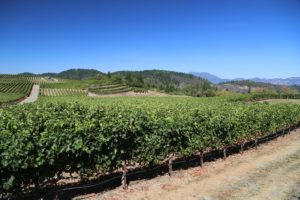 Pride Mountain Vineyards is located high on the spine of the Mayacamas mountains which form the boundary between Napa and Sonoma Counties. The winery is about half way between eastern Santa Rosa (the largest city in Sonoma County) and the town of St. Helena in the Napa Valley. In fact half of their winery is in Sonoma County including their tasting room, and the other half is in Napa County; their vineyards grow in both counties. There is even a set of bricks in the concrete between the tasting room and the winery which visually identify the county line. Wines that contain grapes from both Sonoma and Napa County are even labeled with the percentages of each; as they say at Pride, "one ranch, two counties".
Pride Mountain owns 235 acres with approximately 83 planted to vine. As a result, there is a good balance between the native hillside vegetation and the vineyard blocks. This winery is one of the more recognizable wineries in the Spring Mountain District. Regardless of the direction you come from, you will be driving on narrow windy roads to reach the actual winery.
This winery has been the reason a lot of folks make the short trip up to Spring Mountain from the town of St Helena both for the quality of wines and their exceptional hospitality which truly focuses on giving their customers an enjoyable on site experience. They have provided good publicity for the Spring Mountain district and if you come up to visit this winery you might as well visit some of the other 20+ small wineries in the area. Many of the wineries in this district are within 10 minutes of each other – all are appointment only.
Due to its fantastic location at about 2,000 feet in elevation there are excellent views and on a clear day you can see into parts of 6 or 7 counties including all the way to Snow Mountain (covered in snow in the winter) – about 80 miles airline to the north.
We highly recommend a tour, allow about 90 minutes for the full tour and tasting (there is a shorter 45 minute tour/tasting offered which takes place mostly inside the cave and tasting room). On the 90 minute tour you will start with a tasting and if the weather permits will spend much of your time in the vineyards overlooking the dramatic views of the rolling vineyards, onto Napa Valley and the Palisades (stone rock formations within the Vaca Mountain range). 23,000 square feet of caves tunneled into the hillside provides a place to do additional tasting if the weather is bad. In the past Pride used Clydesdale Horses to help out in the steeper vineyards around harvest time but we have not seen these recently.
Just up the gravel road past the new winery you will see picnic tables in a peaceful setting under the oaks with stellar views of Mt. St. Helena and the surrounding hills. On a bright Spring or Summer day, it doesn't get any better than this.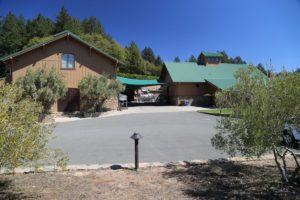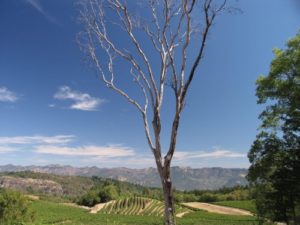 Their philosophy is that the majority of wine making begins and ends in the vineyards and that blending grapes from multiple vineyards together adds complexity to the wine, rather than using fruit from a single vineyard. They are able to harvest individual blocks as they ripen and nothing is ever mass picked. Unlike many area vintners, they believe in using all neutral oak during the initial stages of the aging of their red wines and then based on each barrel and flavor profile they will add in individual new oak barrels as necessary.
The idea behind this is they want the true expressions of the vintage and varietals to be expressed rather than have the new oak take over in the early stages of aging. They have a variety of soil types on the property including a very red rocky soil which is perfect for wine grapes. In addition, there are breezes which come through keeping the mildew and other diseases at bay. They are above the fog for the most part and the growing season is extremely long with harvest often going into late October and early November.
This is a family owned winery that was started by Jim (now deceased) and Carolyn Pride and today it is very much family run; Carolyn's two children Suzanne and Steve are the co-owners. Both Jim and Carolyn came from farming backgrounds and this property was going to be their 'retirement' project. As turns out they had their work cut out for them; much of the existing vineyards needed to be revitalized or replanted, the original winery on site had long burned down so they built a new winery and later drilled caves. The original ranch was planted with grapes in 1869 and the remnants of a "ghost winery" (called the Summit Winery, founded 1890) can still be seen on the property. The operations here have certainly grown significantly since Jim and Carolyn located the property in 1989; their first commercial vintage was in 1991.
Jim was the founder of the well-known Pride Institute. Ask any dentist about this institute and they will have heard of it. They introduced many, what are now common practices in the dental industry and provided management and consulting services for dental offices.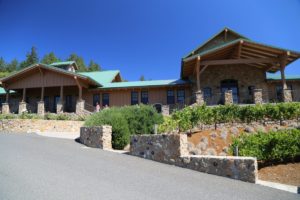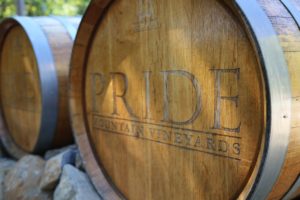 Their wines have performed well at a variety of wine competitions over the years and have also been a favorite in the White House; a wall next to the tasting room is decorated with Presidential certificates for when their wine was served at White House functions.
The tasting room is elegantly furnished with a hand painted mural above the mirror behind the tasting counter. The tastings vary but usually include at least one white wine with the remainder red wines.
All wines made are from their estate vineyards. During one of our visits we tried the 2007 Viognier. This wine has a nice phenolic grip and weighty mouth feel without being over oaked; the reason is despite being aged sur lie in oak, all neutral barrels were used. Viognier by itself is a very aromatic wine and this wine offers enticing floral and tropical aromas.
Some wines are produced in such limited quantities that they are typically only available to mailing list members on a first come first serve basis. One is their estate Vintner's select Chardonnay – we tried the 2006 vintage. This wine has a noticeable golden color with honeysuckle and lime aromas with notes of caramel on the palate with nuances of toasted nuts and assorted spices on the finish. Often a vertical of two vintages will be tasted side by side.
Pride's red wines age very well and it is interesting to note the differences both in aroma and flavor even with just a year extra of bottle aging especially so with the Merlot we tried. They produce very nice Cabernet Sauvignons and a Cabernet Franc.
Also be sure to try their Mistelle de Viognier if available, this is a wine you won't find elsewhere in Napa Valley; it is juice of Viognier grapes fortified with white brandy which makes a very interesting dessert type wine. Serve very cold for best results!
Note that their tours are especially popular around and during harvest time, so be sure to reserve well in advance during these times. There are several nice spots on the property to enjoy a picnic (for tour guests usually following a tour). For more information visit: www.pridewines.com
Hospitality Center

Winery/Caves

Vineyards