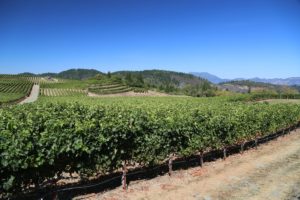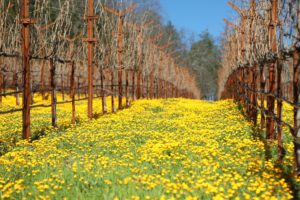 Pride Mountain Vineyards is located high on the spine of the Mayacamas mountains, the geographical boundary between Napa and Sonoma Counties. The winery is about halfway between eastern Santa Rosa (the largest city in Sonoma County) and the town of St. Helena in the Napa Valley. In fact, half of their winery is in Sonoma County including their tasting room, and the other half is in Napa County; their vineyards grow in both counties with approximately 60% of their land in Sonoma County and 40% in Napa County. A row of bricks in the concrete between the tasting room and the winery visually identifies the county line. Wines that contain grapes from both Sonoma and Napa County are labeled with the percentages of each; as they say at Pride, "one ranch, two counties".
Pride Mountain owns 235 acres with approximately 90 acres planted to vine. As a result, there is a nice balance between the native hillside vegetation and the vineyard blocks. The winery is one of the more recognizable wineries in the Spring Mountain District. Regardless of the direction you come from, you will be driving on narrow windy roads to reach the property.
Pride Mountain was founded by Jim (died in 2004) and Carolyn Pride; today the winery is still very much family run – Carolyn's two children Suzanne and Steve are the co-owners.
The earliest vineyard plantings on site were from 1869 – the property was originally called the Summit Ranch by locals and was deeded to its original owners in 1872 from the US Government. Over the years we have seen several photographs of wooden wagons making the trip up from St. Helena to the top of Spring Mountain (one such photo shows a wagon in between two redwood trees on the lower part of Spring Mountain before the road becomes much steeper (these redwoods are still there). Electricity did not arrive to the top of Spring Mountain until the 1940s and Spring Mountain Road was not paved until the 1950's.
Prior to the Pride's purchase of the property in 1989, grapes from the vineyards were being sold to Robert Mondavi Winery (grapes have been growing continuously on site since the 1950s). However, when the Pride's purchased the property, much of the existing vineyards needed to be revitalized or replanted – initially overseen by noted Napa viticulturist, "Laurie" Wood. The original winery on the property, Summit Winery was founded in 1890 – today only parts of the old stone walls are standing as the winery burned down sometime during Prohibition.
The first Pride wines were made at what is now Frank Family and then Rombauer Winery from 1991 through 1996; the current winery was built in 1997 and later 23,000 square feet of caves were drilled into the hillside. Early winemaker and for a number of years was Robert Foley (he used to produce his own wines at Pride until he built his own winery on Howell Mountain).
Jim was the founder of the well-known Pride Institute (headquartered at Hamilton Landing in Novato about a 70-minute drive south of the winery). Ask most dentists about this institute and they will have heard of it. They introduced many now common practices in the dental industry and currently provide management and consulting services for dental offices. After Jim's death, Pride Institute was sold to its employees.
Hospitality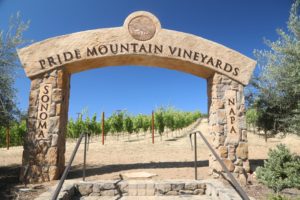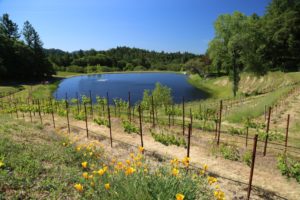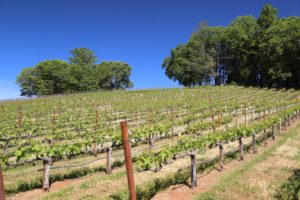 This winery has been the reason a lot of folks make the short trip up to Spring Mountain from the town of St Helena or from the other side, from Santa Rosa. Pride Mountain is well known both for the quality of wines and their exceptional hospitality. Their employees participate in regular training, including sessions hosted by prominent leaders in the wine world. They truly care about their clients; this is something extremely important to note.
Due to their popularity (arguably the most visited winery on Spring Mountain), an auxiliary benefit has been additional recognition for the Spring Mountain District. There is 20+ other small premium producers on 'the mountain'; all are appointment only and most are within only a 10 minute or less drive of each other. For guests coming here and to limit driving time, it makes sense to schedule another appointment or two on Spring Mountain.
Due to its perch at about 2,000 feet in elevation there are excellent views; on a clear day one can see into parts of several counties including all the way to Snow Mountain (often covered in snow in the winter) – about 80 airline miles to the north.
We highly recommend their Estate Tasting – allow 90 minutes for this educational experience including the tasting and tour through part of the cave. Alternatively, the Summit Experience is a private seated tasting within the cave and also lasts about 90 minutes. Both tastings include an overview of the Pride Mountain history and information about their vineyards and wine making.
In the past Pride used Belgian draft horses for guest experiences – bringing visitors through the vineyards while seated on a wooden wagon. We recall years ago an employee even taught one of the horses how to dance, Mexican style! These original horses have since died and no more horses are kept on the property.
Tours are especially popular around and during harvest time, so be sure to reserve well in advance if you are planning a visit to the valley during this time of year. Several nice spots on the property are available for picnics including up the hill beyond the winery and what is our favorite spot, the tables next to stone walls of the old Summit Winery (for tour guests usually following a tour, let the tasting room staff know before you setup your picnic).
The tasting room is elegantly furnished with a hand painted mural above the mirror behind the tasting counter. Tastings usually include at least one white wine among all the red wines.
Their wines have performed well at a variety of wine competitions over the years and have also been a favorite in the White House spanning multiple presidents; a wall next to the tasting room is decorated with Presidential menus for when their wine was served at White House functions. The first Pride wine served at the White House was in 1997.
Select Wines/Winemaking
A variety of soil types are on site including noticeably red rocky soils. In addition, afternoon breezes help delay the onset of mildew and keep other diseases at bay. Because of the elevation of the property, the vineyards are often above the fog line – with a long moderate growing season, plenty of sunshine with harvest often occurring in late October. The vast majority of their wines are produced from their estate vineyards – their focus is on Bordeaux style reds, but they also make several enticing white wines.
Pride's philosophy is that the majority of wine making occurs in the vineyards and that blending grapes from multiple vineyard blocks add complexity to wine. Individual blocks are harvested only as they ripen. Fruit from these blocks is then fermented and aged separate from each other until the final blends are put together. Unlike many area vintners, they believe in using all neutral oak during the initial stages of aging the red wines – then based on each barrel and flavor profile they will add in individual new oak barrels as necessary. The wine making team wants to highlight the true expressions of the vintage and varieties rather than have the new oak take over in the early stages of aging.
Viognier is one of Carolyn Pride's favorite varieties. The 2017 Pride Mountain Vineyards Viognier (from the Sonoma County side of their property) was entirely aged in barrel (neutral oak) with battonage lasting for about 6 weeks. This stirring of the lees is done to "build up the stuffing of the mid palate," accordingly to then winemaker Sally Johnson (she left Pride in 2022). One soon notices the roundness and weight on the palate that she is referring to. Also immediately noticeable is the extremely aromatic bouquet with its sweet tropical and floral aromas. Summertime stone fruit – with ripe aromas of nectarine and peach. These aromas continue as flavors – rich on the palate there is a perception this wine might be sweet due to the intensity of the fruit but in reality, there is no residual sugar.
Pride Mountain used to produce a Mistelle de Viognier (may still be able to find this online), this was a very unique wine. It was created with juice from Viognier grapes and fortified with white brandy.
Perhaps wine enthusiasts sometimes associate California Chardonnays as lacking the components to being able to age – possibly reinforced by wines of this style that are heavily oaked and got through full malolactic fermentation. But Pride Mountain crafts their Chardonnays to be able to age and develop more complexities over time. The fruit source is extremely important; they have made wine from Chardonnay from multiple vineyard sites over the years but eventually kept returning to a really special source – Poseidon's Vineyard on the Napa side of Carneros.
This is a very thoughtfully made Chardonnay. It is entirely barrel fermented but focusing on using neutral barrels rather than new oak with weekly battonage. And during the winemaking they take steps to limit oxygen exposure – even wrapping their entire press in cellophane and then immediately blanketing the resulting pressed juice with a cover of nitrogen to limit oxygen exposure.
The 2019 Pride Mountain Vineyards Chardonnay saw only 30% malolactic fermentation. Medium to deep gold in color, shows aromas of honeysuckle, pineapple and lemon. The aromatic richness on the bouquet leads to an equal richness of flavor on the palate. A minerality component or flintiness shows front to mid palate with flavors of mandarin orange and notes of lemon. Very balanced; a weight is present, but it is not a dominating feature of the mouth feel – rather, offers just a subtle note of creaminess.
Some wines are produced in such limited quantities that they are typically only available to mailing list members on a first come first serve basis. One is their estate Vintner's select Chardonnay – we tried the 2006 vintage. This wine is golden color with honeysuckle and lime aromas along with notes of caramel on the palate with nuances of toasted nuts and assorted spices on the finish. During visits, often a vertical of two vintages of Chardonnay will be tasted side by side.
Pride's red wines age very well, and it is interesting to note the differences both in aroma and flavor even with just a year extra of bottle aging. The 2015 Pride Mountain Vineyards Merlot (12% Cabernet Sauvignon and a dollop of Petit Verdot) shows an elegant bouquet with a hint of smokiness showing through the bright red fruit aromatics (strawberry and plum). Their Merlot vines tend to produce clusters with very small berries (a high skin to juice ratio) – and as a result their Merlots tend to retain excellent structure. This vintage is no different in that regard, showing ripe and robust tannins on the finish – lingering also with a darker spice nuance. This wine has very good acidity.
The 2015 Pride Mountain Vineyards Reserve Claret is a Merlot dominated wine (60% Merlot) with 39% Cabernet Sauvignon and 1% Petit Verdot. Fruit for this wine comes from their best block of Merlot plus fruit from the oldest Cabernet Sauvignon block on site (planted in 1982 – the only original block that the Pride's did not replant). This old vine Cab block is named the Rock Arch Block after a rock arch that used to be located on this part of the property but was destroyed in the 1906 earthquake. The 2015 shows aromas of dark cherry and blueberry with nuances of dust and cedar box. As the wine opens reveals hints of mocha on the bouquet. A good mix of both darker and red fruits show on the palate including red cherry and black currant. Very approachable in its youth but has plenty of 'oomph' and character to last quite some time if aged properly.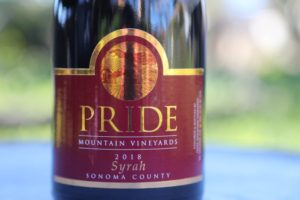 The 2015 Pride Mountain Vineyards Reserve Cabernet Sauvignon is dominated by Cabernet Sauvignon with very small percentages of Merlot and Petit Verdot. Even in the dimly lit cave light one can see this wine is quite dark in the glass. An aromatic gem, it is somewhat savory on the bouquet showing pretty aromas of ripe blackberry and black fig along with cinnamon and brown sugar. The palate shows incredible depth; this is a powerful wine with long lasting robust tannins and hints of lingering mocha. Like for the Reserve Claret, this Cabernet Sauvignon was also sourced from the Rock Arch Vineyard.
2018 was year 2 in a series of 4 years in a row of absolutely devastating fire years in California. However, unlike some of the other vintages during this period, harvest was not as affected and the growing season in 2018 while accelerated at the end, was generally a good vintage.
The 2018 Pride Mountain Vineyards Merlot is medium ruby color with darker spices initially showing on the bouquet. Somewhat briary with ripe aromatics of blackberry – then as the wine breathes reveals notes of dessert spices. Flavors of red cherry and currant. Offers a tartness and still tightly knit tannins in its youth. The tannins are slightly dry in nature but not course in their feel. Mouthwatering acidity. A very food friendly Merlot.
The 2018 Pride Mountain Vineyards Cabernet Franc is a little bit spicy on the bouquet along with cigar smoke and some earthy characteristics. But plenty of fruit to including red cherry, ripe plums and hints of licorice. Packs plenty of flavor, especially on the finish with darker spices, dried tobacco leaf and firm long lasting grape and oak tannins. A little bit chewy on the end. Like all of the Pride Mountain wines we have enjoyed, this one has lively acidity.
The 2018 Pride Mountain Vineyards Sangiovese (harvested from 5 rows on the Sonoma County side of their property) is 77% Sangiovese, 15% Cabernet Sauvignon and 8% Petit Verdot. The wine is medium to deeper garnet in color; offers a ripeness of fruit on the bouquet with notes of plum, red cherry and darker spice hints along with a green herb hint deeper into the aromatics – but the aromas are primarily fruit driven. Very balanced in its youth from start to finish focusing more on red fruits rather than darker fruits. Great acidity with a juicy mouthwatering finish featuring some long-lasting darker spices (black pepper), leather and gravelly tannins. Medium bodied. Cozy up to a fire with a cigar in hand with this wine!
The 2018 Pride Mountain Vineyards Cabernet Sauvignon is dark ruby in color – sports plenty of darker fruit aromatics including blackberry, black currant and black licorice. A ripe sweetness of aromas show as the wine opens further. If we should so dare to generalize, this smells like a Napa Cabernet Sauvignon – although to be fair, 30% of this wine was from the Sonoma County side of their property. Medium to the full bodied with plenty of layers of flavor including black cherry. The grip of tannins begins on the front of the palate through to the finish without being heavy or course in texture.
—
Based on their location straddling the county line – Pride Mountain often participates in tasting events in both Sonoma and Napa County – including the Napa Wine Auction, Premiere Napa Valley and the Sonoma County Barrel Auction.
Total production varies but is around 18,000 cases per year with about 85% sold direct to consumer. For more information, to schedule a visit or to join their wine club, visit: www.pridewines.com
Hospitality Center

Winery/Caves

Vineyards

Summit Winery (founded 1890)

Pride Institute, Novato