Pott Wine (Pott & Daughter) was started by long time Napa winemaker Aaron Pott. He owns a tiny vineyard on Mt. Veeder (1/3 of an acre) and at the time of this review is in the process of planting out 7 additional acres. Currently his wines are sourced from all over Napa. He has the vineyard expertise, connections and terroir knowledge to source from premium vineyards, some of which he even helped to plant. The focus is on hand crafted wines, with respect to the vineyard site. All of his wines are produced in extremely small quantities. One bottling from his home vineyard on Mt. Veeder is usually just a half barrel! For his own brand, Aaron makes wines he enjoys to drink whereas as a consulting winemaker you are not always making wines for your own palate.
Aaron earned his undergraduate degree in Enology from UC Davis having actually lived in Davis before attending college there. His first foray into winemaking in the valley was under Napa legend John Kongsgaard at Newton Vineyard. Later Aaron moved to France where he earned his Masters Degree in Viticulture from the Université of Bourgogne. Upon returning to California he landed a dream job at Beringer as their "International winemaker" flying to countries such as Chile, Italy and France to make wine. He has been the head winemaker at St. Clement and at Quintessa and now much of his time is in demand as a consulting winemaker for mostly premium Napa producers.
During a recent tasting at his self titled estate, "Châteauneuf-du-Pott" high in the woods of Mt. Veeder on a gloomy early Spring day we sampled three of his current releases. One walks into Aaron's house and quickly spies the stack of thick Oxford Dictionaries. No he is not a dictionary salesman in his spare time but rather is a "scholar" of the dictionary and maintains a keen interest in the English language. The names of the wines all have historical relevance and there are some rather in depth stories behind the names.
Nearly all of the wines Pott creates are premium Cabernet Sauvignon from various locations within the Napa Valley; one Cabernet Franc is also released each year.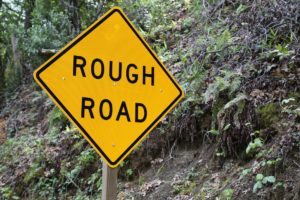 The 2007 Kaliholmanok Spring Mountain Cabernet Sauvignon also includes small amounts of Cabernet Franc & Petit Verdot from the same vineyard. This vineyard (Bel Canto) is on the highest point of Spring Mountain at well over 2000 feet. Aaron remembers walking the ground with a well known viticulturist. This individual drove up to the top of Spring Mountain (one winery has shirts that say something like, "I survived the drive to the top of Spring Mountain" and ran his hands through the soil and simply said, "plant this". If only all vineyard planting decisions were that simple. The wine takes its name from the local Wappo Tribe. "Kaliholmanok" literally means "naked woods people friendly" – let your imagination do the wandering in this case – helped a bit by the wine.
The oak complements rather than contrasts with the fruit. Lingering touches of vanillin complement the smooth finish. This is dark wine with an elegant nose; it is somewhat perfumy showing both red and blue fruit with an interesting hint of wet rock. The entry is soft and shows black fruit including currant and black cherry. This wine finishes smooth with the fine-grained tannins balanced harmoniously with the fruit. Finding the balance between elegance and power or richness is a line Pott walks well and this wine is certainly a prime example of this.
The 2007 Cabernet Franc is from a 1/2 acre block on rolling hills in Coombsville near Mt. George. This wine came about because of a lunch in Paris. Aaron was eating lunch with a friend drinking some exquisite Cabernet Franc. He bet his friend that he could make a Napa Valley Cabernet Franc in the style of Loire Valley while his friend said he would fail and the wine would be more Bordeaux in style. The short story is that Aaron failed at this attempt and had to pay up after creating the wine! The end result is a Cabernet Franc that is more Bordeaux in style.
Cabernet Franc can be very aromatic and as this wine opens the bouquet reveals an amazing complexity of aromas. It shows pleasing floral and herbal aromas with just a touch of earthiness – rather than having a spicy component as some Cabernet Francs have in the nose. This wine is rounded and elegant on the palate with good acid balance. It is not a dense overripe Cabernet Franc – in part attributed to the vineyard management and harvest decisions.
The 2007 St. Ralph the Liar is 100% Howell Mountain fruit – all Cabernet Sauvignon with just a touch of Cabernet Franc. Dark fruit shows on the bouquet – blackberry and black currant. The mid palate is rich yet rounded and completed by broad but balanced tannins. This is a classic mountain Napa Cabernet Sauvignon yet without those classic big tannins that Howell Mountain wines are known for.
Note: You can taste Aaron's wine at the collective tasting room -Ma(i)sonry in Yountville. The easiest way to order the wine is through Pott's mailing list but it is also found in local wine shops from Backroom Wines in Napa to St. Helena Wine Center in St. Helena and Enoteca in Calistoga. For more information and to join the mailing list visit: www.pottwine.com or view a number of his wine related articles posted on the Atlantic Monthly here: www.theatlantic.com/aaron-pott