Pott Wine (Pott & Daughter) was started by long time Napa winemaker Aaron Pott. He and his wife Claire own several sizable and rugged pieces of land on Mt. Veeder. Their first property (76 acres) was purchased in 2004, a former prune orchard at about 1600 feet. They started with only 1/3 of an acre of vines and later planted out a total of additional acres to four varieties. The site is divided into 8 tiny micro-blocks and despite their proximity to each other, the differences in soils and micro climates all contribute to the characteristics in his wines. The soils up here are former marine soils which have ultimately been uplifted. Interestingly, a very short distance away as the crow flies is the summit of Mt. Veeder, roughly to the west; those soils are volcanic – at times a very white tufa like ash material as well as iron rich red rocky earth. There are none of these soils on the Pott property.
Ever the Europhile, Aaron likes to tell people that his vineyard layout is roughly in the shape of the European continent – minus the outline of Italy. In 2017 Aaron and Claire purchased another 130+ acres of land with the intent to potentially develop an additional very small section to vines. The vineyard is farmed organically; Aaron applies biodynamic practices that he learned while working in Saint-Émilion.
Pott Wine focuses on three categories of wines; wines from the property, single vineyard wines from within the Napa Valley and Napa Valley Wines (non AVA or non vineyard designate wines).
Aaron has built a remarkable pedigree of working with premium vineyards in Napa and in Europe. Because of his lengthy career in the Napa Valley and winemaking skills – he has access to some of the valley's most premium vineyards, some of which he even helped to plant. And his vineyard expertise is impressive – combining his knowledge with state of the art technology and a grounded holistic perspective that in part comes with working with some of the best and brightest in the industry across a variety of wine regions.
The focus of Pott Wines is on individually crafted wines, with respect to the vineyard site. All of their wines are produced in extremely limited quantities and each is distinctive. No cookie cutter wines here. The initial bottling from the Pott Vineyard was merely half a barrel (until the rest of his vineyard matured). Today his Mt. Veeder vineyard is planted to Cabernet Sauvignon, Cabernet Franc and about 1/2 acre of Viognier. For his own wines, Aaron makes wines he enjoys to drink, whereas as a consulting winemaker one is not always making wines for one's own palate.
Aaron's father was a Presbyterian minister who enjoyed German Riesling. Perhaps his father's proclivity for wine influenced Aaron's own career as he was drawn to wine making at a young age. Aaron grew up in Eugene, Oregon but moved around with his family based on his fathers' career. After graduating from high school the family was conveniently living in the town of Davis, California home of arguably the best wine school in the country, the University of California, Davis.
While at Davis he took his first job in Napa Valley, working in the lab at Robert Mondavi Winery. Through both his time at Mondavi and at UC Davis he met husband wife winemaker and professor Steve Lagier and Carole Meredith – a friendship that would eventually turn into a partnership where both parties operated Chester's Anvil for some years before eventually stopping production of those limited wines. And interestingly, Steve and Carole also live on Mt. Veeder.
Aaron earned his undergraduate degree in Enology from UC Davis – having been one of the few Napa based winemakers who actually lived in Davis before attending college there. He later graduated from the Université of Bourgogne in France with a Masters Degree in Viticulture – during his time in France he made wine for several chateaus and met a number of accomplished winemakers including Philippe Melka. One day Aaron had stopped next to Chateau Petrus and was not far from the winery in their vineyards sampling some grapes. Melka was working for Petrus at the time and came over to see why this guy was in the Petrus Vineyards.
Aaron's first official winemaking job in the valley was under Napa legend John Kongsgaard at Newton Vineyard as assistant winemaker in 1990. Later Aaron moved to France where he earned his Masters Degree in Viticulture from the Université of Bourgogne. Upon returning to California he landed a dream job at Beringer as their "international winemaker" flying to countries such as Chile, Italy and France to make wine. He has been the primary winemaker at St. Clement and at Quintessa and now much of his time is in demand as a consulting winemaker for a select group of premium Napa based producers.
During our first tasting at his self titled estate, Châteauneuf-du-Pott high in the woods of Mt. Veeder on a gloomy early Spring day we sampled three of his current at that time inaugural releases. One walks into Aaron's house and quickly spies the stack of thick Oxford Dictionaries. No he is not a dictionary salesman in his spare time but rather is a "scholar" of the dictionary and maintains a keen interest in the English language. The names of the wines all have historical relevance and there are some rather in depth stories behind the names. And one also sees various vintages of bottle after bottle of Château Latour lined up along one of his window sills. These were not accumulated from years of collecting and drinking but were were all consumed in one night – the price of admission for a party he had here with friends years ago.
Select Wines
The 2007 Pott Kaliholmanok Spring Mountain Cabernet Sauvignon also includes small amounts of Cabernet Franc & Petit Verdot from the same vineyard. This vineyard (Bel Canto) is located on the upper reaches of Spring Mountain at well over 2000 feet. Aaron remembers walking the ground with a well known viticulturist. This individual drove up to the top of Spring Mountain (one winery has shirts that say something like, "I survived the drive to the top of Spring Mountain") and ran his hands through the soil and simply said, "plant this". If only all vineyard planting decisions were that simple. The wine takes its name from the local Wappo Tribe. "Kaliholmanok" literally means naked woods people friendly; let your imagination do the wandering in this case, helped a bit by the wine.
The oak complements rather than contrasts with the fruit. Lingering accents of vanilla bean complement the smooth finish. This is dark wine with an elegant nose; it is somewhat perfume-driven showing both red and blue fruit with an intriguing hint of wet rock. The entry is soft and shows black fruit including currant and black cherry. This wine finishes smooth with the fine-grained tannins balancing harmoniously with the fruit. Finding the balance between elegance and power or richness is a line Pott walks well and this wine is certainly a prime example of this.
The 2007 Pott Cabernet Franc is from a 1/2 acre block on rolling hills in Coombsville near Mt. George. This wine came about because of a lunch in Paris. Aaron was eating lunch with a friend while drinking an exquisite bottle of Cabernet Franc. He bet his friend that he could make a Napa Valley Cabernet Franc in the style of Loire Valley while his friend said he would fail and the wine would be more Bordeaux in style. The short story is that Aaron failed at this attempt and had to pay up after creating the wine! The end result is a Cabernet Franc that is more Bordeaux in style.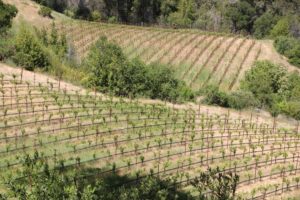 Cabernet Franc can be very aromatic and as this wine opens the bouquet reveals an deep complexity of aroma. It shows pretty floral and herbal aromas with just a touch of earthiness, rather than having a spicy component as some Cabernet Francs have in the nose. This wine is rounded and elegant on the palate with good acid balance. It is not a dense overripe Cabernet Franc; this is in part attributed to vineyard management and harvest decisions.
The 2007 Pott Ralph the Liar is 100% Howell Mountain fruit and is almost all Cabernet Sauvignon with just a touch of Cabernet Franc. Dark fruit shows on the bouquet including blackberry and black currant. The mid palate is rich yet rounded and completed by broad but balanced tannins. This is a classic mountain Napa Cabernet Sauvignon yet without those classic big tannins that Howell Mountain wines are known for.
Pott's extremely limited production Viognier is well worth seeking out. There is not much of this variety in all of Napa Valley, much less growing on Mt. Veeder. The only other producer on Veeder we know of growing Viognier is Progeny.
—
Pott's wines tend to quickly sell out through their mailing list. The best way to order some of these wines is by signing up for their mailing list (with offers emailed to list members four times per year). Over the years, we have also seen select Pott wines available in local wine shops including Backroom Wines in the city of Napa.
For more information and to join the mailing list, visit: www.pottwine.com or view a number of his old wine related articles posted on the Atlantic Monthly here: www.theatlantic.com/aaron-pott