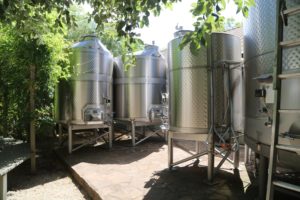 PlumpJack Winery was founded by former San Francisco Mayor Gavin Newsom and current governor of California and businessman and philanthropist, Gordon Getty (son of J. Paul Getty, the founder of Getty Oil Company) and partners. The PlumpJack property is located on the eastern side of Oakville, just north of the Oakville Cross Road. Noted nearby neighbors include Screaming Eagle, Groth Vineyards & Winery & Rudd Estate. This winery and property is part of the PlumpJack holdings including restaurants and event spaces (mostly in the San Francisco Bay Area), PlumpJack catering, PlumpJackSport, a clothing store in Squaw Valley and resorts including in Carmel, Lake Tahoe (Squaw Valley) and Palm Springs. PlumpJack used to own the Carneros Resort and Spa, near the city of Napa.
As a winery location, the PlumpJack property dates back to 1881 – originally known as Mt. Eden Winery. Former owners, James and Anne McWilliams began Villa Mt. Eden Winery in 1974 with their founding winemaker Nils Venge. Incidentally, Anne was the granddaughter of Bank of America founder A.P. Giannini. Twelve years later they sold the brand – the wine was no longer made on site and then later the Villa Mt. Eden wine production was moved to what is now Conn Creek Winery before eventually the brand morphed into producing all non Napa Valley wines.
In 1940 the film starring Carole Lombard, They Knew What They Wanted was in part filmed on this property. Carole died at age 33 in a plane crash in 1942 – she was married at that time to Clarke Gable (who incidentally celebrated one of his honeymoons in the Napa Valley up at Al Menasco's old property on Spring Mountain – now home to Marston Estate).
And then the PlumpJack Group purchased the 42-acre property in 1995 – their first winery in the Napa Valley (today they also own Cade, Odette Estate and Cade at 13th Vineyard). PlumpJack uses grapes from their estate vineyard but also sources grapes from other growers. The vineyards that surround the winery and tasting room are planted to Cabernet Sauvignon, Malbec, Petite Verdot, Sauvignon Blanc, Sauvignon Musque, Semillon and Viognier (Cade Winery uses some of the white grapes from this vineyards). The small winery where most of their production occurs is located directly across from the tasting room. Production is typically between 10,000 and 12,000 cases a year depending on the vintage.
Long associated with PlumpJack, John Conover (who we originally met with) joined the team in 1999 as their General Manager. Later John would be instrumental in developing both Cade and Odette Estate (and is also a partner in those wineries).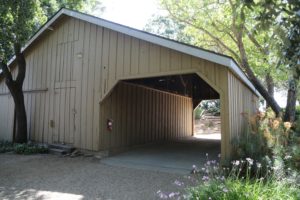 All the PlumpJack holdings are named after items from the Shakespearian era; Plump Jack is the nickname Queen Elizabeth gave to one of the fictional characters that appeared in several of Shakespeare's plays. Gordon Getty also wrote an opera of the same name.
The drive in to PlumpJack is along a narrow winding road directly through their vineyards. Large tour buses are not allowed so theoretically group sizes should be small at the tasting counter, however sometimes limos & smaller buses bring guests here and the tasting room can really fill up at times especially on Friday and Saturday afternoons. Compared to some other Napa Valley based wineries, the PlumpJack indoor hospitality space is small; a gift shop is located adjacent to the tiny tasting counter. However they have plenty of outdoor seating including a very intimate space directly behind the tasting room overlooking vineyards (the Vineyard Patio) – a great place to meet other wine enthusiasts or a larger space, at tables in their Courtyard Patio. The seated tastings include a library wine as well as select wines from not only PlumpJack but also one wine from Cade and Odette Esate. A winemaker is dedicated to each of their Napa Valley winery properties.
Guests looking for an more secluded tasting can opt for the Hilltop Tasting – a table on a wooden deck perched on top of a small knoll right next to the winery. The views from here are a bit more 'elevated' shall we say with expansive vistas looking south above the vineyards.
There is often a high energy vibe at the tasting counter which if crowded sometimes spills outside the door into the courtyard. PlumpJack is especially popular with the late 20's, 30's and early 40's crowd.
To Screw Cap or Not to Screw Cap?
PlumpJack is a pioneer in the valley in the use of screw cap enclosures, rather than corks. They first introduced this capsule on one of their most premium wines, a 1997 Reserve Cabernet Sauvignon, Oakville at the Napa Valley Wine Auction. They bottled 50% of this wine as screw cap and the other with corks; a tradition that continues for select wines not only with the Plumpjack bottlings but wines also from their other Napa Valley wineries.
There are several benefits to this type of closure; the most important one being the elimination of trichloroanisole (TCA), otherwise known as cork taint thus ensuring bottle consistency. Cork taint used to be found in a higher percentage, but over the years technology has improved so that the percentage of cork taint is now much lower than it used to be. Hopefully more and more wineries will start using these capsules as peoples "perceptions" of screw caps on wine change.
Plumpjack chooses to send wine critics, wines only bottled in screw cap. For only the 2nd time in history, a screw cap enclosed wine received a 100 point score from Robert Parker when he awarded this coveted score for their screw cap sealed 2013 PlumpJack Reserve Cabernet Sauvignon. Plumpjack has since earned additional 100 point score for their screw cap bottled Cabernet Sauvignons. This is certainly an honor, but so few red wines from Napa Valley at least, are bottled with screw caps that perhaps this is more of a testament to their vineyard site and wine making team.
Are there differences between screw cap bottled wines and those bottled with corks? The answer is yes, although less sophisticated palates may have a hard time noticing the differences when the wines are young. The differences become more noticeable the longer the wine ages (based on differences in permeability).
We remember years ago Napa Valley vintner George Hendry sampling us on same vintage Chardonnay bottled in both screw cap and cork. We tasted both of these wines several years post vintage date. The wine bottled with a cork was slightly darker than the same wine aged with a screw cap. The screw cap bottled wine seemed more youthful. And this also true of red wines; the Plumpjack cork bottled Cabernet Sauvignon will perhaps age faster and can be enjoyed sooner than the screw cap bottled equivalent wine which would tend to retain its freshness for a longer period of time.
Select Wines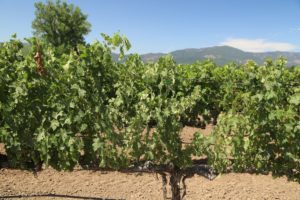 The 2017 PlumpJack Reserve Chardonnay was sourced from a vineyard in warmer St. Helena and from the cooler Carneros District in southern Napa Valley (close to the San Pablo Bay). This wine is not put through any secondary fermentation and is aged in stainless steel tanks and both new and neutral French oak. More Burgundian in style then a Caliornia style Chardonnay.
Golden in color offers plenty of aromatics including ripe melon, citrus, hints of pineapple, dessert spice, hazlenut and a minerality nuance as the wine continues to breathe. The texture is round and slightly creamy – shows some weight without being overly heavy or viscous on the palate. Packs plenty of flavor including notes of citrus, apple, tangerine and a hint of orange and lime zest on the finish. A nice balanced between the more oaky and buttery wines from this variety and a lighter style.
The 2011 PlumpJack Estate Cabernet Sauvignon is from a much (in the beginning) maligned vintage due to cooler growing conditions, rain at inopportune times during harvest and the onset of mold especially from certain valley floor sites. This vintage in general produced lighter style wines, lower alcohol with higher acidity. This wine smells like the vintage – with earth notes, a dust (we've noticed this on other vintages from the property), cigar, tobacco, dried herbs and tea leaf – somewhat briary the fruit showing on the bouquet is predominately blackberry. Offers flavors of red cherry, currant and a hint of dried herb, especially on the finish which is anchored by a dry grip of well integrated tannins. Medium bodied. Eight years after vintage, this wine still has plenty of life ahead of it.
The 2016 PlumpJack Estate Cabernet Sauvignon shows dark ruby in color with purplish fringes – offers very appealing aromatics with dark fruit including ripe blackberry, plum, cedar box, brown chocolate and a sweet aromatic thread of vanilla – also a hint of dust. The bouquet is mostly about the opulence and power of the fruit. Big and juicy, a wine that will cause you to salivate. Shows mostly dark fruit on the palate with a spiciness on the finish (white pepper) anchored by robust very long lasting tannins.
The 2005 PlumpJack Syrah comes from Stagecoach Vineyards high on Atlas Peak as well from the cooler Carneros District. Blending fruit from two radically different vineyard sites has its advantages. The Carneros fruit helps provide the acidity while the Stagecoach vineyard contributes structure, depth and texture.
In general, the PlumpJack Reserve Cabernet Sauvignon is a robust wine yet retains its balance – this seems like a contradiction in terms within the same sentence – however the several vintages we have tried have shown muscular tannins but are well balanced by the bright and lively fruit and excellent acidity.
OTHER PLUMPJACK PROPERTIES
PlumpJack's beginnings were in San Francisco; in 1992 Gavin Newsom along with Gordon Getty opened a wine shop called PlumpJack Wines in the Fillmore District, featuring an excellent selection of both European wines, California wines, spirits and craft beer. This original store is still open to the public. Today they also operate a second smaller wine shop in Noe Valley. And both PlumpJack wine shops offer a variety of club membership options.
Plumpjack Wine & Spirits, FILLMORE San Francisco

Plumpjack Wine & Spirits, NOE VALLEY San Francisco

Balboa Cafe
Plumpjack also owns several other spaces in San Francisco including the historic Balboa Cafe, located on the other side of the street from Plumpjack Wine & Spirits in the Marina and Cow Hollow neighborhood. This corner located restaurant is known for their hamburgers, the Balboa Espressotini and a no corkage fee for any wines purchased from either of the two Plumpjack Wine & Spirits stores. Seating is along the bar, or small tables within the restaurant or limited outside dining.
Walking inside feels like walking back in time with its welcoming old-school interior with a well-stocked bar for those who like to tipple, with morning newspapers hanging on the wall near the entrance for clients to read and a fancy wood paneled bar with it's highly visible mirror. We recommend ordering the halibut; during a recent visit, the host walked over after we ordered this dish and informed us, "you have just ordered my favorite dish".
White Rabbit Bar
Located almost on the other side of the street from Balboa Cafe is the White Rabbit Bar, owned by Plumpjack. This friendly and welcoming neighborhood bar serving a variety of cocktails, wines by the glass or bottle beer and small bites. On the weekends DJ's spin from a wide variety of vinyl in the house collection. The White Rabbit is generally open in the evenings during the weekdays and mid days on the weekends.
Wildhawk Bar
In addition, Plumpjack owns Wildhawk Bar, located in the Mission District, about a 20 minute drive away (we still have to visit this bar).
PlumpJack Lake Tahoe
And in North Lake Tahoe, Plumpjack owns Plumpjack Cafe, PlumpjackSport and PlumpJack Squaw Valley Inn (all of which we still have to visit).
OTHER NAPA VALLEY WINERIES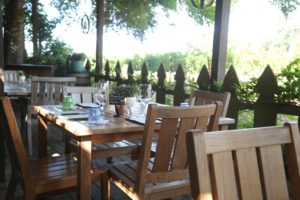 PlumpJack owns several other wineries in the Napa Valley all of whom we have visited and reviewed separately on this website. Odette Estate (formerly Steltzner Vineyards) is located along the Silverado Trail in the Stags Leap District and the original CADE Estate Winery is high on the slopes of Howell Mountain.
In 2016 PlumpJack acquired a historic property on Howell Mountain which was originally Brun & Chaix Winery, later Chateau Woltner and most recently Ladera Winery. This winery was built with rock quarried from nearby hills, was inactive during Prohibition and later revived as a working winery. After the purchase the name was changed to 13th Vineyard by CADE Estate.
Tastings can be arranged at any of these other properties by appointment only. We have detailed reviews on each of these other properties on this website.
—
PlumpJack is active in the Northern California philanthropy scene & supports a variety of charity organizations. The wines are selectively distributed with a focus on restaurants and some retail outlets – and several of their wines have been served at the White House for various events. For more information and or to join one of their Falstaff Society wine club membership options (4, 6, or 12 bottles a year), visit: www.plumpjackwinery.com
Winery & Grounds

Vineyard

Getty Center, Los Angeles

Getty Villa, Malibu