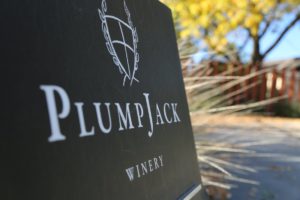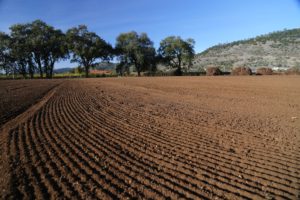 PlumpJack Winery was founded by former San Francisco Mayor Gavin Newsom and current governor of California and businessman and philanthropist, Gordon Getty and partners. This property is located on the eastern side of the Oakville Cross Road; nearby prestigious neighbors include Screaming Eagle, Groth Vineyards & Winery & Rudd Estate. This winery is part of the PlumpJack holdings including restaurants and event spaces (mostly in the San Francisco Bay Area), PlumpJack catering, PlumpJackSport, a clothing store in Squaw Valley and resorts including in Carmel, Lake Tahoe (Squaw Valley) and Palm Springs. PlumpJack used to own the Carneros Resort and Spa, near the city of Napa.
PlumpJack's beginnings were in San Francisco; in 1992 Gavin Newsom along with Gordon Getty opened a wine shop called PlumpJack Wines in the Fillmore District, featuring an excellent selection of both European wines, California wines, spirits and craft beer. This original store is still open to the public. Today they also operate a second smaller wine shop in Noe Valley (we have been to both of these shops, see our photos below). And the PlumpJack wine shops offer a variety of club membership options.
As a winery, the PlumpJack property dates back to 1881 – originally known as Mt. Eden Winery. Former owners, James and Anne McWilliams began Villa Mt. Eden Winery in 1974 with their founding winemaker Nils Venge. Twelve years later they sold the brand – the wine was no longer made on site and then eventually the Villa Mt. Eden wine production was moved to what is now Conn Creek Winery before eventually the brand morphed into producing all non Napa Valley wines.
And then the PlumpJack Group purchased the 42-acre property in 1995 – their first winery in the Napa Valley (today they also own Cade, Odette Estate and Cade at 13th Vineyard). Long associated with PlumpJack, John Conover (who we originally met with) joined the team in 1999 as their General Manager. Later John would be instrumental in developing both Cade and Odette Estate (and is also a partner in those wineries).
All the PlumpJack holdings are named after items from the Shakespearian era; Plump Jack is the nickname Queen Elizabeth gave to one of the fictional characters that appeared in several of Shakespeare's plays. Gordon Getty also wrote an opera of the same name.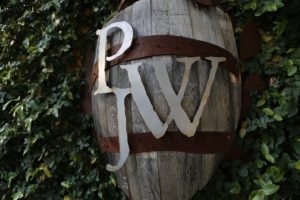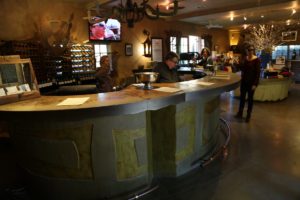 The drive in to PlumpJack is along a very narrow winding road directly through the vineyards. Large tour buses are not allowed so theoretically group sizes should be small at the tasting counter, however there are often limos & smaller buses in the parking lot and the tasting room can really fill up at times especially on Friday and Saturday afternoons. Compared to other Napa wineries, the PlumJack indoor hospitality space is small; a gift shop is located adjacent to the tiny tasting counter. There is always a high energy vibe at the tasting counter which if crowded spills outside the door onto the grounds. PlumpJack is wildly popular with the late 20's, 30's and early 40's crowd.
PlumpJack is a pioneer in the valley in the use of screw cap enclosures rather than corks. They first introduced this capsule on one of their most premium wines, a 1997 Reserve Cabernet Sauvignon, Oakville at the Napa Valley Wine Auction. They bottled 50% of this wine as screw cap – a tradition that continues for select wines. There are several benefits to this type of closure; the most important one being the elimination of cork taint – trichloroanisole (TCA) and bottle consistency. Hopefully more and more wineries will start using these capsules as peoples "perceptions" of screw caps on wine change.
And for only the 2nd time in history, a screw cap enclosed wine received a 100 point score from Robert Parker. He awarded this coveted score for their screw cap sealed 2013 PlumpJack Reserve Cabernet Sauvignon (certainly an honor, but so few high end wines are under screw caps – this is more of a testament to their vineyard site and wine making team).
PlumpJack offers several tasting experiences by appointment including their current release tasting at the bar – or the more intimate current release tasting at either the vineyard patio or garden courtyard and the even more secluded hilltop tasting (which also includes a taste of library wines).
Over several visits, we have enjoyed a diversity of wines including the excellent 2006 PlumpJack Reserve Chardonnay. Compared to most area wineries you pay a bit more for this Chardonnay but its worth the price. It undergoes no malolactic fermentation, sees little oak during it's aging and is not "oaky" or buttery – rather it is a crisp Burgundian style wine with pretty aromas of pineapple and pear on the bouquet with similar flavors on the palate.
The 2005 PlumpJack Syrah comes from Stagecoach Vineyards high on Atlas Peak as well from the cooler Carneros region. Blending fruit from two radically different vineyard sites has its advantages. The Carneros fruit helps provide the acidity while the Stagecoach vineyard contributes structure and overall pleasing fruit aromas and flavors.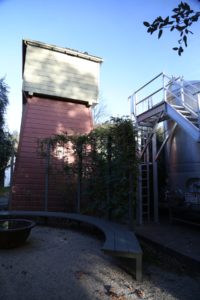 In general, the PlumpJack Reserve Cabernet Sauvignon is a robust wine yet retains its balance – this seems like a contradiction to say this in the same sentence. However in this case the muscular tannins are well balanced by the bright vivid fruit and good acidity.
PlumpJack owns several other wineries in the Napa Valley. Odette Estate is located along the Silverado Trail in the Stags Leap District and the original CADE Estate Winery is high on the slopes of Howell Mountain. And in 2016 PlumpJack acquired a historic property on Howell Mountain – what was originally Brun & Chaix Winery, later Chateau Woltner and most recently Ladera Winery. This winery was built with rock quarried from nearby hills – it was inactive during prohibition and later revived as a working winery. Tastings can be arranged at any of these other properties (both CADE properties are by appointment only).
PlumpJack is active in the Northern California philanthropy scene & supports a variety of charity organizations. For more information and or to join one of their Falstaff Society wine club membership options, visit: www.plumpjackwinery.com
NOTE: this review has been identified as needing a *MAJOR* update.
Winery & Grounds

Plumpjack Wine & Spirits, FILLMORE San Francisco

Plumpjack Wine & Spirits, NOE VALLEY San Francisco