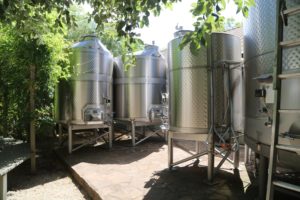 PlumpJack Winery was founded by former San Francisco Mayor Gavin Newsom and current governor of California and businessman and philanthropist, Gordon Getty (son of J. Paul Getty, the founder of Getty Oil Company) and partners. The PlumpJack property is located on the eastern side of Oakville, just north of the Oakville Cross Road. Noted nearby neighbors include Screaming Eagle, Groth Vineyards & Winery & Rudd Estate. This winery and property is part of the PlumpJack holdings including restaurants and event spaces (mostly in the San Francisco Bay Area), PlumpJack catering, PlumpJackSport, a clothing store in Squaw Valley and resorts including in Carmel, Lake Tahoe (Squaw Valley) and Palm Springs. PlumpJack used to own the Carneros Resort and Spa, near the city of Napa.
As a winery location, the PlumpJack property dates back to 1881 and was originally known as Mt. Eden Winery. Former owners, James and Anne McWilliams began Villa Mt. Eden Winery in 1974 with their founding winemaker Nils Venge. Incidentally, Anne was the granddaughter of Bank of America founder A.P. Giannini. Twelve years later they sold the brand – the wine was no longer made on site and then later the Villa Mt. Eden wine production was moved to what is now Conn Creek Winery before eventually the brand morphed into producing all non-Napa Valley wines.
In 1940 the film starring Carole Lombard, They Knew What They Wanted was in part filmed on this property (at that time known as the Fagiani Ranch). Carole died at age 33 in a plane crash in 1942; she was married at that time to Clarke Gable, who incidentally celebrated one of his honeymoons in Napa Valley up at Al Menasco's old property on Spring Mountain – now home to Marston Estate.
And then the PlumpJack Group purchased the 42-acre property in 1995; this was their first winery in Napa Valley. Today they also own Cade, Odette Estate and Cade at 13th Vineyard. PlumpJack uses grapes from their estate vineyard but also sources grapes from other growers. The vineyards that surround the winery and tasting room are planted to Cabernet Sauvignon, Malbec, Petite Verdot, Sauvignon Blanc, Sauvignon Musqué, Sémillon and Viognier (Cade Winery uses some of the white grapes from this vineyards). The small winery where most of their production occurs is located directly across from the tasting room. Production is typically between 10,000 and 12,000 cases a year depending on the vintage.
In late 2022 PlumpJack purchased the Oso Vineyard (formerly named Aetna Springs Vineyard – Oso means bear in Spanish) from the Michael Mondavi Family; the Mondavi family had owned the property since 2006. This site ranges in elevation from 800 feet to 1,290 feet and is located on the back side of Howell Mountain, facing mostly east, overlooking Pope Valley. This 129-acre property was an existing vineyard at the time of the Mondavi purchase, although over the years they replanted a number of the vines including a head pruned block of Cabernet Franc and removed Chardonnay in favor of more suitable red varieties. And PlumpJack had been sourcing grapes from this vineyard for six years prior to their purchase, used for their Adaptation Cabernet Sauvignon and Adaptation Petite Sirah – produced at Odette Estate.
Long associated with PlumpJack, John Conover (who we originally met with) joined the team in 1999 as their General Manager. Later John would be instrumental in developing both Cade and Odette Estate (and is also a partner in those wineries).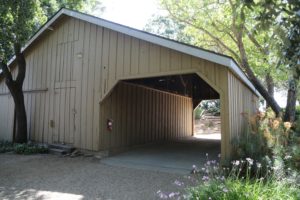 All the PlumpJack holdings are named after items from the Shakespearian era; Plump Jack is the nickname Queen Elizabeth gave to one of the fictional characters that appeared in several of Shakespeare's plays. Gordon Getty also wrote an opera of the same name.
The drive in to PlumpJack is along a narrow winding road directly passing through vineyards and next to some old fruit trees. Large tour buses are not allowed so theoretically group sizes should be small inside the tasting room, however sometimes limos & smaller buses bring guests here and the tasting room can really fill up at times especially on Friday and Saturday afternoons. Compared to some other Napa Valley based wineries, the PlumpJack indoor hospitality space is small; a gift shop is located adjacent to the tiny tasting counter. However, they have plenty of outdoor seating including a very intimate space directly behind the tasting room overlooking vineyards (the Vineyard Patio) which is a great place to meet other wine enthusiasts or a larger space, at tables in their Courtyard Patio. The seated tastings include a library wine as well as select wines from not only PlumpJack but also one wine from Cade and Odette Estate. A winemaker is dedicated to each of their Napa Valley winery properties.
Guests looking for a more secluded tasting can opt for the Hilltop Tasting – a table on a wooden deck perched on top of a small knoll right next to the winery. The views from here are a bit more 'elevated' shall we say with expansive vistas looking south above the vineyards.
There is often a high energy vibe at the tasting counter which if crowded sometimes spills outside the door into the courtyard. PlumpJack is especially popular with the late 20s, 30s and early 40s crowd.
To Screw Cap or Not to Screw Cap?
PlumpJack is a pioneer in the valley in the use of screw cap enclosures, rather than corks. They first introduced this capsule on one of their most premium wines, a 1997 Reserve Cabernet Sauvignon, Oakville at the Napa Valley Wine Auction. They bottled 50% of this wine as screw cap and the other with corks; a tradition that continues for select wines not only with the PlumpJack bottlings but wines also from their other Napa Valley wineries.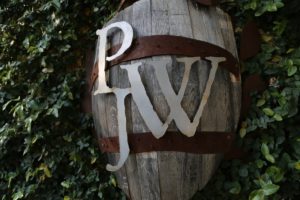 There are several benefits to this type of closure: the most important one being the elimination of trichloroanisole (TCA), otherwise known as cork taint thus ensuring bottle consistency. Cork taint used to be found in a higher percentage, but over the years technology has improved so that the percentage of cork taint is now much lower than it used to be. Hopefully more and more wineries will start using these capsules as people's "perceptions" of screw caps on wine change.
PlumpJack chooses to send wine critics, wines only bottled in screw cap. For only the 2nd time in history, a screw cap enclosed wine received a 100-point score from Robert Parker when he awarded this coveted score for their screw cap sealed 2013 PlumpJack Reserve Cabernet Sauvignon. PlumpJack has since earned additional 100-point score for their screw cap bottled Cabernet Sauvignons. This is certainly an honor, but so few red wines from Napa Valley at least, are bottled with screw caps that perhaps this is more of a testament to their vineyard site and wine making team.
Are there differences between screw cap bottled wines and those bottled with corks? The answer is yes, although less sophisticated palates may have a hard time noticing the differences when the wines are young. The differences become more noticeable the longer the wine ages (based on differences in permeability).
We remember years ago Napa Valley vintner George Hendry sampling us on same vintage Chardonnay bottled in both screw cap and cork. We tasted both of these wines several years post vintage date. The wine bottled with a cork was slightly darker than the same wine aged with a screw cap. The screw cap bottled wine seemed more youthful. And this also true of red wines; the PlumpJack cork bottled Cabernet Sauvignon will perhaps age faster and can be enjoyed sooner than the screw cap bottled equivalent wine which would tend to retain its freshness for a longer period of time.
And for those interested in sampling wines under screwcap but not opening the bottle, Coravin does make a separate attachment allowing one to do so.
Select Wines

The 2021 PlumpJack Reserve Chardonnay was sourced from the Hudson Vineyard in Carneros. This wine is medium gold in color; the attractive and wide-open aromatics show a union of floral and stone fruit aromas including of honeysuckle, jasmine, peach and nectarine. and pear. The sweetly fruited scents also offer notes of pear, lychee, and honeycomb. This wine is richly flavored with a creamy texture but nicely balanced by its bright and refreshing acidity. Its reveals flavors of peach, apricot and red apple. It did not go through any malolactic fermentation. A beautiful bottling.
The 2017 PlumpJack Reserve Chardonnay was sourced from a vineyard in warmer St. Helena and from the cooler Carneros District in southern Napa Valley (close to the San Pablo Bay). This wine is not put through any secondary fermentation and is aged in stainless steel tanks and both new and neutral French oak. More Burgundian in style then a California style Chardonnay. Golden in color, the bouquet offers plenty of aromatics including ripe melon, citrus, hints of pineapple, dessert spice, hazelnut and a minerality nuance as the wine continues to breathe. The texture is round and slightly creamy and shows some weight without being overly heavy or viscous on the palate. This bottling packs plenty of flavor including notes of citrus, apple, tangerine and a hint of orange and lime zest on the finish. It is a nice balance between the more oaky and buttery wines from this variety and those of a lighter style.
The 2019 PlumpJack Estate Cabernet Sauvignon is deep ruby and opaque in color; the bouquet smells pretty and includes scents of chocolate, cedar box, a hint of dark pepper and plum and blackberry. The bouquet is slightly savory. This extremely well balanced wine offers a soft entry and an overall creamy texture. It offers flavors of cherry, blackberry, boysenberry and some dark plum notes. Its texture is one of its most appealing characteristics sporting rounded and finely woven tannins. It lingers with a light dryness, a dusty note and a hint of tobacco leaf.
The 2016 PlumpJack Estate Cabernet Sauvignon shows dark ruby in color with purplish fringes on the rim in the glass; it offers very appealing aromatics with dark fruit including ripe blackberry, plum, cedar box, brown chocolate and a sweet aromatic thread of vanilla along with a hint of dust. The bouquet is mostly about the opulence and power of the fruit. Big and juicy, this is a wine that will cause you to salivate. Shows mostly dark fruit on the palate with a spiciness on the finish (white pepper) anchored by robust very long-lasting tannins.
The 2011 PlumpJack Estate Cabernet Sauvignon is from a much (in the beginning) maligned vintage due to cooler growing conditions, rain at inopportune times during harvest and the onset of mold especially from certain valley floor sites. This vintage in general produced lighter style wines, lower alcohol with higher acidity. This wine smells like the vintage – with earth notes, a dust (we've noticed this on other vintages from the property), cigar, tobacco, dried herbs and tea leaf – somewhat briary the fruit showing on the bouquet is predominately blackberry. This wine offers flavors of red cherry, currant and a hint of dried herb, especially on the finish which is anchored by a dry grip of well-integrated tannins. Medium bodied. Eight years after vintage, this wine still has plenty of life ahead of it.
The 2005 PlumpJack Syrah comes from Stagecoach Vineyards high on Atlas Peak as well from the cooler Carneros District. Blending fruit from two radically different vineyard sites has its advantages. The Carneros fruit helps provide the acidity while the Stagecoach vineyard contributes structure, depth and texture.
In general, the PlumpJack Reserve Cabernet Sauvignon is a robust wine, yet retains its seamlessness; this seems like a contradiction in terms within the same sentence, however the several vintages we have tried of this wine have shown muscular tannins but are well balanced by the flavorful fruit accompanied by excellent acidity.
Winery & Grounds

Vineyard

OTHER PLUMPJACK PROPERTIES
PlumpJack's beginnings were in San Francisco; in 1992 Gavin Newsom along with Gordon Getty opened a wine shop called PlumpJack Wines in the Fillmore District, featuring an excellent selection of both European wines, California wines, spirits and craft beer. This original store is still open to the public. Today they also operate a second smaller wine shop in Noe Valley. And both PlumpJack wine shops offer a variety of club membership options.
Plumpjack Wine & Spirits, FILLMORE San Francisco

Plumpjack Wine & Spirits, NOE VALLEY San Francisco

Balboa Café
Plumpjack also owns several other spaces in San Francisco including the historic Balboa Cafe, located on the other side of the street from PlumpJack Wine & Spirits in the Marina and Cow Hollow neighborhood. This corner located restaurant is known for their hamburgers, the Balboa Espressotini and a no corkage fee for any wines purchased from either of the two PlumpJack Wine & Spirits stores. Seating is along the bar, or small tables within the restaurant or limited outside dining.
Walking inside feels like walking back in time with its welcoming old-school interior with a well-stocked bar for those who like to tipple, with morning newspapers hanging on the wall near the entrance for clients to read and a fancy wood paneled bar with its highly visible mirror. We recommend ordering the halibut; during a recent visit, the host walked over after we ordered this dish and informed us, "you have just ordered my favorite dish".
PlumpJack Block Party
This annual fun event primarily attracts twenty and thirty somethings (but all ages are welcome) is held in October outside of Balboa Café. One full block is fenced off and features several live bands over the course of 6 hours, plenty of beer, a limited number of cocktails, some food and portable bathrooms.
Balboa Café is hopping and is packed to the gills around their bar. The block turns into a party of sorts with people dancing and making new friends; it wouldn't be a block party if you don't run into someone you already know. The afterparty continues at White Rabbit Bar.
White Rabbit Bar
Located almost on the other side of the street from Balboa Cafe is the White Rabbit Bar, owned by PlumpJack. This neighborhood bar serves a variety of cocktails (along with a limited selection of mocktails), wines by the glass or bottle beer and small bites. Visitors can sit at the long bar which is especially great for meeting other people or on the lounge style sofas. On the weekends DJ's spin from a wide variety of vinyl in the house collection located to the rear of the space. The White Rabbit is generally open in the evenings during the weekdays and mid days on the weekends. Best visited during daylight hours.
Wildhawk Bar
PlumpJack also owns Wildhawk Bar, located in the gritty Mission District on the corner of Mission and Lexington Streets. Metered parking is curbside on nearby streets. The Wildhawk building features several hand-painted murals on the walls on both sides of the main entrance. This is truly a classic neighborhood bar catering primarily to locals.
The focus is on the drinks, but small bites are also served including a cheese plate and a charcuterie board. This bar features classic date-style seating at the well-stocked bar and more lounge style seating. Both offer excellent opportunities to meet one's neighbors and engage in conversation. In addition to the house alcohol specialties, several non-alcoholic drinks are offered including the tasty breakfast negroni served with a liberal helping of ice cubes in a bowl.
PlumpJack Sport, San Francisco
In October 2021, PlumpJack opened the PlumpJack Sport 'popup' directly next to PlumpJack Wine shop on Fillmore. This small space features a variety but small selection of outdoor and ski gear for both men and women. Best time to visit is in the middle of the summer when sometimes they offer significant discounts on winter clothing. They often offer a rotating selection of different brands.
PlumpJack, Olympic Valley Lake Tahoe
PlumpJack Inn is located in Olympic Valley about a 3 hours and 15 minutes' drive from PlumpJack Winery in Napa Valley (on a good day with no traffic). Known for their friendly and helpful staff, this 55-room boutique resort is ideally located within a short walk of the Palisades Ski Resort (formerly Squaw Valley) and its accompanying tram and is across the street from The Village, a collection of shops, restaurants and ski related businesses. The building that is now PlumpJack Inn was originally constructed as part of the infrastructure needed for the 1960 Winter Olympics.
PlumpJack Inn may offer guests a discount code to use on the Palisades Tahoe Aerial Tram to High Camp. One should take advantage of this approximately 8-minute ride from the Village to High Camp as it offers exceptional vistas of the rugged mountain scenery and from its uppermost reaches, Lake Tahoe to the east. High Camp features an Olympic Museum, roller skating rink (seasonal) and during the off-ski season months, plenty of hiking.
This special slice of the state is filled with exceptional outdoor beauty and related activities. Winter guests stay at PlumpJack Inn for a comfortable and fun space to hang out after a day of skiing or boarding the nearby slopes of Palisades Tahoe ski resort. Summer guests use the property as a base to enjoy a variety of nearby outdoor activities, warm relaxing days, making use of the shallow swimming pool, complimentary bike rentals, the outdoor hammock strung between two pine trees, a bocce court, table tennis (what is Tahoe without a game of table tennis in the evenings?!), corn-hole and cooler evenings hanging out in the highly energetic outdoor hot tubs.
Rooms are spacious and the beds are comfortable. PlumpJack Inn is small so one never has to walk very far from their room to the other spaces on the property. Upon check-in, guests will be given a paper parking pass to hang in one's car with an open-air on-site parking lot available just outside of the inn.
And also, part of the PlumJack Inn is the PlumpJack Conference Center with its two-floor banquet facility and accompanying grounds, the property can accommodate up to 200 guests including for corporate events and weddings.
—
—
PlumpJack Cafe
PlumpJack Cafe is located within PlumpJack Inn and offers both indoor and outdoor dining areas along with a cozy interior bar. The menu changes seasonally; during a visit we enjoyed and can highly recommend the market salad and the buttermilk fried game hen. A variety of comforting cocktails are always listed on the menu including the lovely Lemongrass Pisco Sour or their mixologist may be able to mix up something customized.
And it should be no surprise that PlumpJack Cafe offers an excellent wine menu including not only wines as part of the PlumpJack ownership but plenty of other bottlings including wines from some of Napa Valley's most premium producers. And it is always nice to see a wine from a particular vintage on the menu that we have already written about!
PlumpJack Sport
This outdoor shop was founded in 2001; it is located across from the reception in PlumpJack Inn. This space offers a wide range of seasonal, functional and stylish apparel including footwear, jackets, gloves, ski helmets and hats among other items. Products are for both men and women. Off season sales for specific items are offered at certain times of the year. And sometimes these sales are significant; we have seen specially marked items discounted up to 75%. And the independently owned Inn Shop is located near the lobby, accessed from the exterior of the building and offers ski and snow board rentals during ski season.
OTHER NAPA VALLEY WINERIES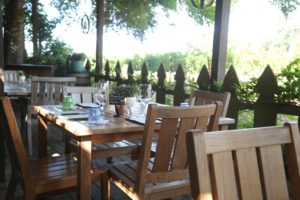 The PlumpJack Group owns several other wineries in Napa Valley all of whom we have visited and written detailed individual reviews on this website. Odette Estate (formerly Steltzner Vineyards) is located along the Silverado Trail in the Stags Leap District and the original CADE Estate Winery is high on the slopes of Howell Mountain.
In 2016 PlumpJack acquired a historic property on Howell Mountain which was originally Brun & Chaix Winery, later Chateau Woltner and most recently Ladera Winery. This winery was built with rock quarried from nearby hills, was inactive during Prohibition and later revived as a working winery. After the purchase the name was changed to 13th Vineyard by CADE Estate.
Tastings can be arranged at any of these other properties by appointment only.
—
PlumpJack also operates PlumpJack Foundation (founded in 2017) with a focus on supporting cancer prevention causes and education and stopping the cycle of poverty by concentrating on youth services including education, counseling, childcare and nutrition. One of their primary fundraising events is the annual Plumpjack/LINK Golf Classic held in May in San Francisco. And throughout the year proceeds are raised from the sale of select products at the various PlumpJack properties.
The wines are selectively distributed with a focus on restaurants and some retail outlets; several of their wines have been served at the White House for various events. For more information and or to join one of their Falstaff Society wine club membership options (4, 6, or 12 bottles a year), visit: www.plumpjackwinery.com
Getty Center, Los Angeles

Getty Villa, Malibu