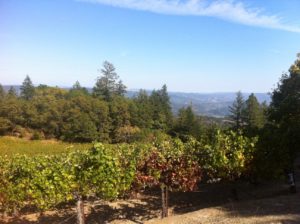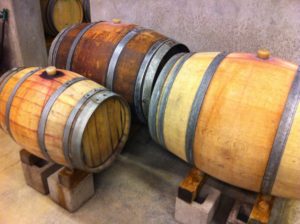 Philip Togni Vineyard is one of the older producers located in Napa's Spring Mountain sub appellation in the hills above the town of St. Helena. This is a gem of a winery and was one of the last Spring Mountain wineries we visited on this project. It is always a treat in the summer when you drive up and out of the fog that socks in both neighboring Napa valley and the Santa Rosa plain to the west – to the bright blue sunshine with much warmer temperatures found at this elevation.
Philip Togni is truly a small family run operation. Philip (well into his 90's), his wife Birgitta and their daughter Lisa are all actively involved. This family has excellent international wine experience. Philip, born in England, earned a degree (the Dipome National d'Oenologie) at the University of Bordeaux where he was a student of the famed Emile Peynaud, one of the pioneers in modern winemaking. The famed blending expert Michel Rolland also trained under Emile. Philip was the first winemaker at Chalone Vineyard (in Monterey County), winemaker at Cuvaison in the early 1970s and later worked at Chappellet on Pritchard Hill. Today Lisa is also the winemaker; she has International winemaking experience having worked several harvests in France and also Australia. Attention to detail and quality are of the utmost priorities at this winery.
Understandably their philosophy is that winemaking starts in the vineyards and as a result they spend much of their time effectively managing the various hillside blocks. Their winemaking style is minimal manipulation preferring to let their work in the vineyard show. There is a saying that Syrah likes a hillside view – well Cabernet Sauvignon does quite well with hillside views and this winery proves that point well.
The Togni's first purchased the property in 1975 and the first vines were planted in 1981, having since been replanted several times as needed. All their vineyard blocks are located around 2000 feet. Often a bit of snow falls in the winter. Almost half of the property is planted to vine leaving the vineyards surrounded by much of the natural forested land. There is a nice natural balance to the property; they farm sustainable, as much as possible. Solar panels help power the winery operations. Along with select nearby Spring Mountain land their property was originally planted to vineyards in the 1880's. In fact, they found one of these original vines still living and have nurtured it back to health; it grows in the corner of one of the vineyards.
Philip Togni is entirely a self contained winery and that is somewhat rare to find in Napa. By this we mean they handle all the vineyard management, wine making, bottling (no mobile bottling trucks here) and shipping and handling. All wine in bottle is even stored on site and then for the most part shipped from the winery. In addition, they don't buy grapes, they don't sell grapes. All wine is from the estate. The winery and storage is built into the hill which helps keep things cool even in the heat of the day.
Consistency is key here – with a large number of harvests under their belt, they know what works and what does not. They also know the prime parts of their vineyard. Premium yeast is used for the fermentation – the free run and the pressed juice are kept separate from each other until their final blending and bottling. Only French oak is used from a variety of select coopers. Their wines are released soon after bottling with the caveat to the consumer: "age for best results. Togni's wines age extremely well and only become better after being in the bottle for a number of years. They don't encourage drinking the wines upon purchase – lay them down…10, 15, 20 years if you have the patience to wait. Their flagship wine is Cabernet Sauvignon blended in approximate proportion to the other varieties planted on the property. The majority of this wine is Cabernet Sauvignon, with Merlot and small amounts of Cabernet Franc and Petit Verdot.
Togni also produces a second label called Tanbark Hill. This is named after a prominent hill near their property that you can even recognize from much further south on the valley floor. This wine is not made every year and when it is, is only produced in maybe several hundred cases. In addition, a tiny amount of an obscure variety (for Napa), Black Hamburgh bottled under the Ca' Togni label is produced as a dessert wine. More about this shortly.
We tried a number of wines from barrel including both free run and pressed juice from their 2006 and 2007 vintages. The older vintages were of course already more polished with a better integrated tannin structure. As expected, the free run wines were more polished than the bigger "pressed wines". The free run vintages we tried had very nice earthy aromas on the elegant bouquet with rich concentrated fruit flavors. With such young wines you get hints of how well these will age and the quality that is intrinsically part of Togni's terroir and wine.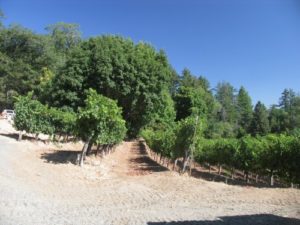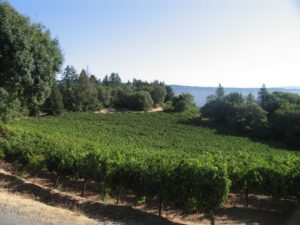 To the best of our knowledge they are the only commercial Napa winery to produce wine from the Black Hamburg variety. Out of 950+ Napa winery reviews, this is only the second time we've seen this grape being grown in Napa. It is a fairly large grape, almost table grape sized that is planted to merely 1/4 of an acre on site. As a result you there is just not much of this available. The Togni's pick these grapes quite late so that the brix (sugar level) does a real number on their refractometer's meter (high sugar content)!
Harvesting this particular grape requires significant manual labor, especially when some of the fruit gets to this late stage and is wrinkled and shriveled. Manual removal of the fruit has to occur even after it has gone through their de-stemmer. Then individual grapes are removed; those that are bird pecked or have served as food sources to wasps. This wine is then aged for 5 years before it is even released. We tried the 2007 vintage from barrel. Wow! It has brilliant floral characteristics with great viscosity on the palate. Wonderful layered aromas and flavors of red ripe litchi. While young, this wine is very fruit forward – give it time to age and it takes on more of a tawny characteristic.
Philip Togni is one of the few California wineries represented in Robert Parker's book, The World's Greatest Wine Estates. This book features 175 of the world's most accomplished and spectacular vineyard estates – only 23 from the USA are represented and of these only 17 are from Napa. It is a great honor for Togni to be included along with names like Colgin, Dalle Valle and other prominent Napa names.
Also of note, is a blind tasting that occurred in Brussels, where some of Belgium's best professional wine tasters rated California and Bordeaux wines. Togni took top honors over all the other wineries represented and the tasters even thought they were a French producer. You can find information about how to join their mailing list via their website. Current releases are always released to the mailing list first. Also every year, they release a 10 year old wine in limited quantity to their mailing list. Besides the mailing list some of their wine is exported to Europe and Asia, most notably Japan. Total production varies but is usually around 2000 cases.
Visit: www.philiptognivineyard.com