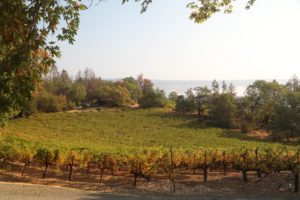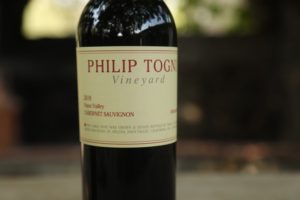 Philip Togni Vineyard is one of the older producers in Napa Valley's Spring Mountain District in the hills above the town of St. Helena. This was one of the last Spring Mountain wineries we visited for The Napa Wine Project – and it was well worth the wait. It is always a treat in the summer driving up and out of the fog that often blankets both neighboring Napa Valley and the Santa Rosa plain to the west – to bright blue sunshine with much warmer temperatures found at the upper elevations on Spring Mountain (like at Togni Vineyards).
Despite receiving detailed driving instructions – during our first visit we thought there must have been some mistake with the directions – no sign, a chain link fence blocking a dirt road leading into the woods. Looking back, many years later after additional visits, based on the pedigree of the property, history in the valley and winemaking knowledge we realize that this is one of the Napa Valley's coolest winery driveways. Philip (well into his 90's), his wife Birgitta and their daughter Lisa are all actively involved in the operations of this small family run winery.
The life and times of Philip Togni could fill the pages of a sizable book. His winemaking career has been remarkably long spanning more than 65 years. His early international travels involving both wine and oil exploration adventures are a highly intriguing part of his career. Over the decades, he has been responsible for influencing several generations of younger winemakers who credit Philip as a mentor.
Philip's heritage traces back to Ticino, a canton in Southern Switzerland which includes the beautiful Lake Lugano (during our several visits to this lake we have always been surprised to see bananas growing outdoors in what is some sort of warmer microclimate) and also what is now the Italian side near this part of Switzerland. Philip was born in England, spent time in the British Army, earned a degree in Geology from Imperial College in London and took a job for an oil company which brought him to South America, including Peru in an exploratory roll for oil related resources. Later he took a job with Shell. Tiring of the rigors of oil exploration after a few years, he returned to Europe and also spent some time in Algeria where he was exposed to larger scape wine grape farming. He recalls the wines in Algeria were low acid with plenty of color; they were brought to France, blended and turned up in Burgundian bottlings.
Philip's first job relating to winemaking was in 1954 for a large cooperative whose wines were primarily in the low alcohol range. It was good experience including in the vineyard where he recalls personally helping harvest grapes by hand.
Through a chance meeting of University of Davis professor Dr. Maynard Amarine who happened to be in Madrid Spain on a sabbatical at the same time as Philip, Maynard encouraged Philip pursue a degree in winemaking. This meeting with Amarine would ultimately change the course of Philip's career, several times. Incidentally Amarine would later own a home on Spring Mountain, the same district that Philip Togni is located in.
As timing would have it, the University of Bordeaux had just begun a national winemaking program. Philip was accepted to the program and earned a degree (the Diplôme National d'Oenologie) from the University of Bordeaux where he was a student of the famed Emile Peynaud, one of the pioneers in modern winemaking. Only 5 students including himself were in the graduating class of 1957, earning the first ever enology degrees awarded by the university. The famed blending maestro Michel Rolland also trained under Emile, albeit much later. Philip recalls his diploma was penciled in as number two. He remembers the individual who received diploma number 1 was a doctor from Uruguay who had attended the University of Montevideo.
University of Bordeaux today

While going into Bordeaux twice a week to attend university, he was simultaneously working at Château Lascombes in Bordeaux (starting with the 1956 vintage). After graduating he returned to South America, this time to Chile to work for a famous polo player, Don Alfonso Chadwick who owned a sizable piece of land in Chile's Alto Maipo Valley. However, he recalls his time there was a 'flop' and he was soon let go and according to Philip, "I wasn't marriageable material based on the little income I was making at the time". While in Chile he communicated with Amarine who encouraged him to run a 'winemaking job wanted' ad in the Wine Institute Bulletin. The first and only response Philip received was from Jack Taylor, the proprietor at Mayacamas Vineyard.
Philip had never been to the United States before – he told us the closest he had been to the states prior was on a passenger ship which skirted Miami. He remembers arriving to Napa Valley in January of 1959; it was cold and raining. He did take the winemaking job at Mayacamas and made their wines later that year, primarily Chardonnay but also Cabernet Sauvignon and fruit that was purchased including from Jerome Draper's place on Spring Mountain. He immediately hit it off with Jack; one of Jack's nieces was one of Philip's early girlfriends, Jack had worked for Shell Oil, was from the United Kingdom and had graduated from Cambridge with a degree in Chemistry.
Philip's plan was to 'try winemaking' in California for maybe 6 months and then return to Chile. That never happened. His only harvest at Mayacamas was the 1959 vintage. As of 2021, Philip is the only Napa winemaker who can say he made wine in the 1950s in the Napa Valley who is still involved in making wine in 2023.
He was the first winemaker at the remote Chalone Vineyard in 1960 (in Monterey County) helping develop 4,000 acres of vineyards, by replacing Thompson Seedless grapes with a variety of 'experimental' varieties including Chenin Blanc and Zinfandel. He made these first wines in a shed which was previously used for raising chickens. Philip was quoted in the March 25, 1961 issue of The Californian in regard the importance of 'clean' winemaking in the cellar. He stated, "it takes 9 gallons of water, to make 1 gallon of wine" – referring to the 9 gallons used for cleaning.
Soon after he spent a brief period working for Gallo, worked the 1966 harvest at Inglenook, was winemaker at Cuvaison in the early 1970s and from 1968-1973 was the founding winemaker at Chappellet on Pritchard Hill crafting their highly regarded 1969 Cabernet Sauvignon merely 2 years after their first ever vintage.
Attention to detail and quality are two of Philip Togni's most important priorities relating to both the vineyard and winemaking. Understandably their philosophy is that winemaking starts in the vineyards and as a result they spend much of their time effectively managing the various hillside blocks. Their winemaking style is minimal manipulation preferring to let their work in the vineyard show. There is a saying that Syrah likes a hillside view – well Cabernet Sauvignon does quite well with hillside views and the Togni wines are proof of this.
The Togni's first purchased the property in 1975 and the first vines were planted in 1981, according to Philip at the urging of his wife, Birgitta, to both Chardonnay and Cabernet Sauvignon. These vines have since been replanted several times over the years. Their first vintage was from 1983. All their vineyard blocks are located around 2000 feet. Often a bit of snow falls in the winter. Almost half of the property is planted to vine leaving the vineyards surrounded by much of the natural forested land (of which a significant portion burned in the Glass Fire of 2020). There is a natural balance to the property; they farm organically. Solar panels help power the winery operations. Along with select nearby Spring Mountain land their property was originally planted to vineyards in the 1880s. In fact, they found one of these original vines (identified as Cinsault) still living and have nurtured it back to health; it grows in the corner of one of the vineyards.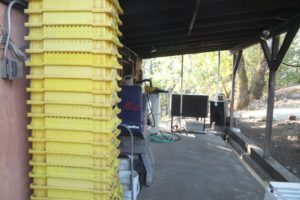 Philip Togni is entirely a self-contained winery and that is somewhat rare to find in Napa Napa. By this we mean they handle all the vineyard management, wine making, bottling (no mobile bottling trucks here) and shipping and handling. All wine in bottle is even stored on site and then for the most part shipped directly from the winery. In addition, they don't buy grapes and they don't sell grapes. All wine is from the estate.
The winery and cellar storage are built into the hill mere steps from the edge of the vineyard; this embedded location helps keep things naturally cool even in the heat of the day. The winery was designed to be gravity flow with the crush pad located on the highest level, the fermentation room on the second level and the barrel storage on the lowest level.
Today Lisa is the primary winemaker; she has international winemaking experience having worked several harvests in France and also Australia.
Consistency is key here – with decades of harvests under their belts, they know what works and what does not. They also know the prime parts of their vineyard. Premium yeast is used for the fermentation – the free run and the pressed juice are kept separate from each other until their final blending and bottling. Only French oak is used from a variety of select coopers.
The wines are released soon after bottling with the caveat to the consumer: "age for best results". Togni's wines age extremely well and only become better after being in the bottle for a number of years. They don't encourage drinking the wines upon purchase – lay them down…10, 15, 20 years if you have the patience to wait. Their flagship wine is Cabernet Sauvignon blended in approximate proportion to the other varieties planted on the property. The majority of this wine is Cabernet Sauvignon, with Merlot and small amounts of Cabernet Franc and Petit Verdot.
Togni also produces a second label called Tanbark Hill. This is named after a prominent hill near their property that one can even recognize from much further south on the valley floor. This wine is not made every year and when it is, is only produced in maybe several hundred cases. In addition, a tiny amount of an obscure variety (for Napa), Black Hamburgh bottled under the Ca' Togni label used to be produced as a dessert wine.
Select Wines
The 2018 Philip Togni Vineyard Cabernet Sauvignon is composed of 82% Cabernet Sauvignon, 15% Merlot, 2% Cabernet franc and 1% Petit Verdot. It is dark ruby in the glass. The aromatics are initially earthy with notes of mushroom, truffle oil, leather, dried herbs and dark and damp forest floor. Also, there is some tobacco smoke which reminded us of various cigar rooms we have frequented over the years, of lingering aromas simply inherent in the rooms, far after anyone is actively smoking. But wait for it – the fruit will evolve and when it does, opens to notes of plum, blackberry and hints of mint. Slightly briary. Shows plenty of aromatic intrigue – just be patient. Juicy across the palate, this wine causes one to salivate; the freshness and youthful flavors are complemented nicely by gravely and earthy tannins. One can practically taste the soils on the finish. Also lingers with hints of dried tobacco leaf. Decant if you are going to open this in its youth – otherwise, if possible, hold for at least 10 years, and still decant it.
The 2018 Philip Togni Vineyard Tanbark Hill is medium ruby in color; offers aromas of red cherry, currant, tobacco pipe smoke and notes of jalapeno – just enough to sit forward and take notice that this is not just another Napa Valley ripe Cabernet Sauvignon. A thread of red fruit acidity runs the length of the palate. The finish is mouthwatering and savory, lingering with flavors of cherry, red currant and cranberry, along with some crushed peppercorn, old cedar box and dried tobacco leaf. The tannins are very well integrated with a light to moderate grip on the sides of the palate. The mouthwatering brightness on the finish persists for quite some time.
During our first visit to the property many years ago, we tried a number of wines from barrel including both free run and pressed juice from their 2006 and 2007 vintages. The older vintages were of course already more polished with a better integrated tannin structure. As expected, the free run wines were more polished than the more robust "pressed wines". The free run vintages we tried had pleasing earthy aromas on the elegant bouquet with rich concentrated fruit flavors. With such young wines one gets hints of how well these will age along with the quality that is intrinsically part of Togni's terroir and wine.
Ca' Togni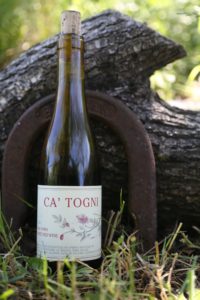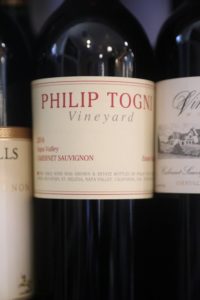 To the best of our knowledge Philip Togni was the only commercial Napa Valley winery to produce wine from Black Hamburg. Out of 1,100+ Napa Valley based wineries or producers we have visited with; this is only the second time we've seen this grape being grown in the Napa Valley. It is a fairly large grape, almost table grape sized that is planted to merely 1/4 of an acre on site. As a result, there is just not much of this wine available. A normal yield fills only one small barrel of wine. These grapes are harvested late in the year so that the brix (sugar level) shows what is perhaps a shocking measurement on their refractometer's meter (extremely high sugar content).
Ultimately the 1/4 acre of vines succumbed to Pearce's disease and have since been removed in favor of Cabernet Sauvignon. This type of wine appeals to such a niche market, Cabernet Sauvignon is economically a better proposition. And Philip told us that in his opinion, the Ca' Togni generally does not improve with age. 2017 was the last vintage of Ca' Togni.
Harvesting this particular grape requires significant manual labor, especially when some of the fruit reaches an uber-state of ripeness late in the season and becomes wrinkled and shriveled. Manual removal of the fruit has to occur even after it has gone through their de-stemmer. Then individual grapes are removed; those that are bird pecked or have served as food sources to wasps. This wine is then aged for 5 years before it is even released. We tried the 2007 vintage from barrel. Wow! It has brilliant floral characteristics with great viscosity on the palate. Wonderful, layered aromas and flavors show, including of red ripe litchi. While young, this wine is very fruit forward – give it time to age and it takes on more of a tawny characteristic.
The 2006 Philip Togni Ca' Togni (tasted 14 years after vintage). Shows plenty of dessert spices on the bouquet including cinnamon, nutmeg and cloves. As it opens additional nuances of tea leaf and a very subtle minty note. Displays a wonderful tension across the palate – a suppleness with some texture if you will. Remarkably sweet. Very clean on the finish; the primary finish is filled with brown sugar, and flavors of prune and boysenberry with a secondary finish that comes later showing vanilla, chocolate brownie, caramel and cardamom. Decadent and rich. Did we also say sweet? Lingers. Like drinking dessert. Only those who enjoy very sweet dessert wines should attempt to consume this wine – but those who do will be rewarded by its generous pleasure and will find it absolutely addicting to drink.
—-
Philip Togni is one of the few California wineries represented in Robert Parker's book, The World's Greatest Wine Estates. This book features 175 of the world's most accomplished and spectacular vineyard estates – only 23 from the USA are represented and of these only 17 are from Napa. It is a great honor for Togni to be included along with names like Colgin, Dalla Valle and other prominent Napa Valley producers.
Also of note, is a blind tasting that occurred in Brussels, where some of Belgium's best professional wine tasters rated California and Bordeaux wines. Togni took top honors over all the other wineries represented and the tasters even thought they were a French producer.
And in 2020 the Glass Fire which burned much of the Spring Mountain District, also burned onto their property through parts of their forest, coming extremely close to their barn but sparing all of their cellar infrastructure. As a result of smoke taint this year, Philip Togni produced no wines from the 2020 vintage.
One can find information about how to join their mailing list via their website. Current releases are always released to the mailing list first. Also, every year, they release a 10-year-old wine in limited quantity to their mailing list and sometimes a rare 20 year bottling. Besides the mailing list some of their wine is exported to Europe and Asia, most notably Japan. Total production varies but is usually only around 2000 cases each year.
For more information or to join their mailing list, visit: www.philiptognivineyard.com