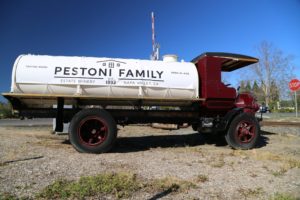 Pestoni Family Estate Winery, formerly Rutherford Grove, traces its Napa roots back to Albino Pestoni, an immigrant who came to the Napa Valley in 1882 from a small town in Switzerland near the Italian border. Ten years later in 1892 he planted a vineyard and built a stone winery off of what is now Crystal Springs Road east of the town of St. Helena. Remarkably the original stone winery still stands in Bell Canyon (near the Bell Canyon Reservoir) on property owned by the city of St. Helena.
Albino's son Henry married into another Napa wine growing family, the Domingos (he married Lena Domingo). Perhaps one of the early 'vineyard management companies' in a valley now dominated by vineyard management companies, they built a crew of employees and managed a number of vineyards in the northern part of the Napa Valley. In 1923 they purchased property on nearby Whitehall Lane (today home to their estate Sauvignon Blanc vineyard).
And in another piece of Napa winery history, Lena's brothers owned what is now Ehler's Estate in St. Helena – running that from 1923 until 1958 – after Prohibition naming it Old Mill Winery.
The modern day Pestoni Family opened Rutherford Grove Winery in 1994 with the purchase of the old Rutherford Vintners Winery. Their inaugural vintage was from 1993. This is the same family who interestingly enough also run Upper Valley Disposal Service in the Upper Napa Valley area. Garbage and wine – well, that part of their business remains totally separate from the winery!
On January 1, 2017 they changed their name to Pestoni Family Winery – a welcome relief which will better honor their heritage and certainly create less confusion for the Pestoni Family and for the last two Rutherford named wineries (Rutherford Ranch and Rutherford Hill).
This is truly a family owned and operated winery – Andy Pestoni, the winemaker is a 4th generation family member (he also founded and operates Jelly Jar Wines). The winery is located off of the west side of Highway 29 just north of Provenance Winery and is surrounded by their own estate vineyards. They own nearly 60 acres of vines, in both the Napa Valley (Rutherford, St. Helena and on Howell Mountain) plus a mountain vineyard in Lake County to the north. They use estate grown grapes in all their wines.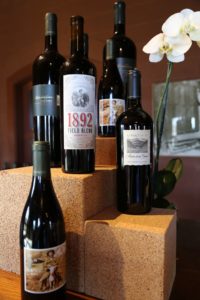 The Pestoni's manage their own vineyards which is actually becoming more and more rare in today's climate of wineries using professional vineyard management companies. Their total production is under 10,000 cases a year which by winery standards for those who have tasting rooms along Highway 29, is not large. The tasting room atmosphere is relaxed and friendly although as with other nearby wineries during busy days, the tasting room can become quite crowded. This is a good tasting room to meet other wine enthusiasts; the several times we have dropped by on the weekends there has always been a welcoming crowd.
When you walk into the tasting room note their creative use of recycled materials from the old ranch – the lights are covered with old chicken brooders (used for raising and keeping small chickens warm) and the oak bar used to be part of a huge fermentation tank. A window behind the tasting counter opens into their barrel room and winery. Because this winery is small and family owned often you might find a family member helping out behind the bar.
A tasting typically starts with their Sauvignon Blanc and Zinfandel and then you get to choose several other wines. Their focus is on red wines including Zinfandel, Merlot, Petite Sirah & Sangiovese. A perk to tasting here is the free use of their large picnic grounds in the back of the winery as well as their bocce ball court. They often hold club member get-togethers and dinners as well as special events including wine and cheese pairings and a rare (held 1x/year) barrel tasting with their winemaker. Parking is plentiful with an additional overflow lot in the back
About 50% of their production is their popular Sauvignon Blanc which is the only white wine they make. We tried the 2006 vintage which was entirely aged in stainless steel (no oak). As a result it is fairly crisp and clean with true varietal characteristics represented both in aroma and on the palate. There are lots of citrus notes in flavor with a nice finish.
Two lighter style wines are their 2006 Quackenbush Mountain Zinfandel (Lake County vineyard) and the 2006 Estate Sangiovese from the vineyard directly in front of the winery. The Zinfandel is quite refreshing as it is not a huge, bold, jammy and spicy Zinfandel that is often produced in California. For a lighter styled wine, the Sangiovese has a surprisingly long finish.
The 2005 Howell Mountain Estate Reserve Cabernet is a beautiful wine (blended with 25% Merlot which helps soften the wine). The vineyard itself grows on thin rocky soils, stressing the vines and in part producing small berries that contain concentrated flavors. For a mountain grown wine, the tannin management has been conducted very successfully as this is a wine that can easily be consumed young, yet at the same time has the structure and acidity for long term aging. Nice smoky cigar type aromas interwoven with ripe blackberry dominate the nose followed by the palate which is rich in flavor yet very smooth. Just a touch of vanilla shows on the finish.
Also note the Pestoni Family own and operate a small Bed & Breakfast in Calistoga called Hotel d'Amici. With only four rooms, all very tastefully decorated be sure to reserve well in advance.
A number of wine related souvenirs are available in their tasting room. For more information and to join one of their membership clubs, visit: www.pestonifamily.com
Winery & Grounds

Original Pestoni Bonded Winery No. 935

A visit to the original winery is like going back in time 120+ years to when Albino Pestoni built his stone winery into the side of a hillside in Bell Canyon above the nearby creek that drains off the slopes of the Howell Mountain AVA. Standing at this old winery one can hear no noises other then the wind whistling through the trees and the occasional chirping of birds. There are no homes visible from here, only forested landscape as far as the eye can see.
It must have looked similar to this when Albino moved his family here. And life must not have been easy living in what still feels like a remote and undiscovered part of the Napa Valley. The road leading to this old stone cellar is still dirt and certainly must have been challenging to carve its footprint out of the very rocky and steep slopes.
Remarkably, this is only one of just several remaining un-restored 'ghost' wineries in the Napa Valley.