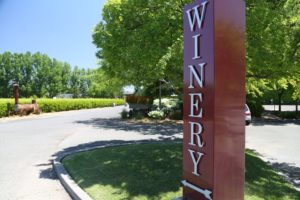 Pestoni Family Estate Winery, formerly Rutherford Grove, traces its Napa Valley roots back to Albino Pestoni, an immigrant who came to Napa Valley in 1883 from Monte Carasso in Switzerland (Ticino), just north of Lugano near the Italian border. Monte Carasso is located about an hour and 15 minute drive from the airport in Milan and is in the Bellinzona region of the Ticino Canton. It is located in a beautiful part of the country surrounded by picturesque mountains.
Those who visit Monte Carasso can explore the nearby region including taking the Mornera (cable car) from Monte Carasso into the mountains for hiking (and food at the restaurant located at the uppermost stop), walking across the Carasc Tibetan Bridge or visiting the church of San Barnárd. Remarkably there are other families who own wineries or brands in Napa Valley who are also from either Monte Carasso or nearby villages including the Morisoli's and the Regusci's. And numerous Pestoni's still live in the village – one only has to visit the local cemetery to see all the Morisoli families who are buried here. Our photographs from our visit to Monte Carasso are shown at the end of this review.
Albino's wife was Mary Madonna who arrived in Napa Valley in 1889 from Switzerland, with her parents. Ten years later in 1892 Albino planted a vineyard and built a stone winery off of what is now Crystal Springs Road east of the town of St. Helena. Remarkably the original stone winery stood until 2023 in Bell Canyon, near Bell Canyon Reservoir, on property owned by the city of St. Helena. As of 2023 this winery has been dismantled and will be eventually moved to Pestoni Winery in Rutherford. See our notes and photographs at the bottom of this review for more details.
According to a June 16, 1922, article in the St. Helena Star, Albino sold his 25-acre Bell Canyon winery property, including 20 acres of bearing vines, the family home and several other buildings to L.O Girard and his brother-in-law E. Coz, both of Oakland. In 1923 the Pestoni family purchased property on nearby Whitehall Lane (today home to their estate Sauvignon Blanc vineyard). Albino died in late 1925.
One of Albino and Mary's four sons, Henry married into another Napa wine growing family, the Domingos (he married Lena Domingos). Perhaps one of the early 'vineyard management companies' in a valley now dominated by vineyard management companies, they built a crew of employees and managed a number of vineyards in the northern part of the Napa Valley. Tragically, Henry's brother Angelo (a World War Veteran as it was called in those days referring to World War I) was killed in an auto accident in 1934 in Pope Valley at only 37 years of age.
And in another piece of Napa winery history, Lena's brothers (including Alfred Domingos) owned what is now Ehler's Estate in St. Helena – operating from 1923 (bootlegging during the rest of the Prohibition years) until 1959 – after Prohibition naming it Old Mill Winery. We have seen an old label that Greg Pestoni forwarded to us, a California Zinfandel, one gallon with an appropriate image of the old wooden Bale Grist Mill on the label. The Dominigos family sold this winery in 1979.
In the late 1950s after his father Henry passed away, Bob Pestoni (died late 2021) pivoted from the family business of diary and chickens to raising hogs. At one point he had more than 600 hogs and built partnerships to transport unusable food and other organic waste materials. At a hog auction Bob met John Petronave, a fellow hog farmer and garbage-hauler. John would ultimately support Bob financially in starting Upper Valley Disposal Service in 1963. The Pestoni's were one of the early local pioneers in recycling winery waste materials. Over the years, Bob and his brother Marvin would expand the company.
Until early 2023 when they sold, the Pestoni's operated Upper Valley Disposal and Organic Compost Recycling Center located behind and to the west of the winery; one can still see some of the active operations from their back lawn looking to the west. This center is accessible via Whitehall Lane off of Highway 29 just north of their winery and access is also on a shared driveway with the winery. Guests to Pestoni Family Winery will often see large trucks driving into and out of this recycling center. The company recycles winery waste materials including composting grape pomace; a photo of Henry and Lena's son Bob Pestoni appeared in the August 1993 issue of the National Geographic in regard to an article on bacteria.
The Pestoni's also owned and operated the sizable Clover Flat Landfill off of the Silverado Trail about 4 miles south of Calistoga until also selling this site in early 2023 to Waste Connections, a company that operates approximately 100 domestic landfills.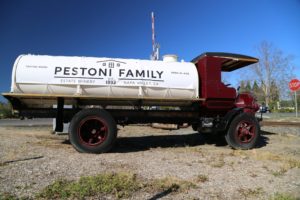 The modern day Pestoni Family opened Rutherford Grove Winery in 1994 with the purchase of the old Rutherford Vintners Winery, a winery that was built in 1977, founded by French born World War II veteran Bernard Skoda and his wife Evelyn – with the surrounding vineyard at that time planted to Riesling. The inaugural vintage of Rutherford Grove was from 1993. On January 1, 2017, they changed their name to Pestoni Family Winery – a welcome relief which better honors their heritage and certainly creates less confusion for the Pestoni Family and for the remaining two Rutherford named wineries (Rutherford Ranch and Rutherford Hill). Wines from the 2016 vintage and newer are all labeled Pestoni Family.
This family owned and operated winery is currently overseen by winemaker Andy Pestoni, a 4th generation family member (he also founded and operates Jelly Jar Wines). The winery is located off of the west side of Highway 29 just north of Bella Union Winery (formerly Provenance) and is surrounded by their own estate vineyards. They own nearly 60 acres of vines, in both Napa Valley (Rutherford, St. Helena and on Howell Mountain) plus a mountain vineyard in Lake County to the north. They use estate grown grapes in all their wines.
The Pestoni's manage their own vineyards which is actually becoming more and more rare in today's climate of wineries using professional vineyard management companies. Their total production is under 10,000 cases a year which by winery standards for those who have tasting rooms along Highway 29, is not large. The tasting room atmosphere is relaxed and friendly although as with other nearby wineries during busy days, the tasting room can become quite crowded especially on the weekends. This is a welcoming space for meeting other wine enthusiasts, especially on busy weekends.
Note the creative use of recycled materials from the old ranch inside the tasting room; the lights are covered with old chicken brooders (used for raising and keeping small chickens warm) and the oak bar top used to be part of a fermentation tank. A window behind the tasting counter opens into their barrel room and winery. Because this winery is small and family owned, sometimes visitors will meet family members working in the tasting room.
Several tasting options are offered, both focus on red wines, including the Heritage Tasting (more affordable priced wines and larger production) and the Legacy Tasting focusing on high-end more limited production wines. This is predominantly a 'red house' with production including Cabernet Sauvignon, Merlot, Petite Sirah & the unusual for Rutherford Italian variety, Sangiovese.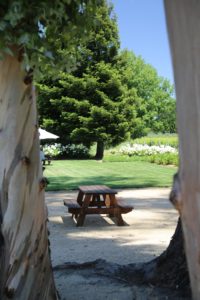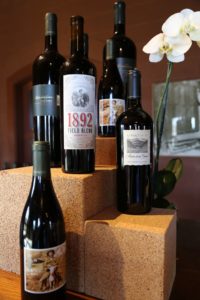 A major perk to tasting here is the complimentary use of the large picnic grounds in the back of the winery as well as the bocce ball court. This is especially nice when the tasting room is crowded – simply take your glass of wine outside to one of the numerous picnic tables (either in the shade or sun) and then return to the tasting room for your next tasting when your glass is empty. And the grounds are beautiful, especially in mid spring to late summer with a variety of plants and flowers complemented by a short walking path. Because of the size of the grounds and all the seating available, this is often a lunch stop for larger van and bus tours.
Throughout the year, the winery holds club member gatherings and dinners as well as special events including wine and cheese pairings and a rare (held 1x/year) barrel tasting with their winemaker. Parking is plentiful with an additional overflow lot in the back. One of the wineries' signature characteristics is all the ivy growing over the exterior of the hospitality center and part of their barrel storage building. When the ivy is in full green and growth mode (mid spring to early summer), it creates one of the most picturesque entrances to any Napa Valley based winery restrooms.
Select Wines
About 50% of their production is their popular Sauvignon Blanc, the only white wine they produce. The 2017 Pestoni Family Sauvignon Blanc was entirely aged in stainless steel (no oak). As a result, it is fairly crisp and clean with true varietal characteristics represented both in aroma and on the palate. Shows notes of lemon/lime and an orange peel zest on the bouquet – along with being floral (both citrus blossom and honeysuckle). Rounded on the palate, seamless from start to finish, the wine shows notes of graphite and red apple. Smells and tastes like a Sauvignon Blanc should but with an influence of Napa sunshine.
The 2017 Pestoni Family Napa Valley Merlot is medium ruby in color; offers aromas of dark cherry, plum, raspberry and dried herbs. Continues to evolve in the glass and reveals notes of toasted cedar, white pepper, vanilla and espresso. This wine shows a soft texture across the palate with fine-grain, chalk-like and rounded tannins. Yet one can feel their density. The suppleness of the mouth feel, complemented by plenty of flavor makes this an enjoyable and simultaneously very approachable wine. The grapes for this wine were grown at the family's Three Tears Vineyard on the far northeast fringes of the Howell Mountain Appellation; the upper most reaches of this vineyard are around 2,100 feet. This is a prestigious vineyard neighborhood with nearby neighbors including Heitz Cellars Ink Grade Vineyard, Black Sears.
The 2017 Pestoni Family Field Blend Red Wine is composed of 83% Zinfandel, 10% Cabernet Sauvignon and 7% Petite Sirah. The grapes for this wine were sourced from the Pestoni family owned Quackenbush Vineyard at about 2,100 feet in Lake County. The wine is medium ruby in color; offers bold fruit driven aromatics including of blackberry and spicy plum skins, accompanied by light notes of cracked peppercorn and dried herbs. Somewhat savory on the palate, offers flavors of berry fruits, red licorice and old cedar. The drying and earthy tannins linger for quite some time, beyond the fruit finish.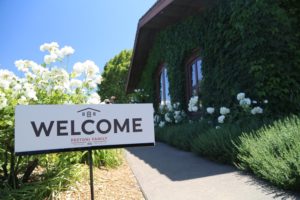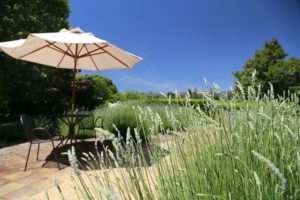 The 2016 Pestoni Family Sangiovese is from their Rutherford vineyards; it immediately reveals pleasing spices including tobacco and white pepper along with aromas of raspberry. Also, slightly floral (dried rose petals). The bouquet is extremely aromatic. Soft on the entry, this wine offers mostly red fruit on the palate including cranberry and red cherry. It has a savory feel helped in part by the good acidity. The finish lingers with slightly rough tannins along with subtle hints of cedar. 100% varietal.
The 2005 Howell Mountain Estate Reserve Cabernet is a beautiful wine (blended with 25% Merlot which helps soften the wine). The vineyard itself grows on thin, rocky soils, stressing the vines and in part producing small berries that contain concentrated flavors. For a mountain grown wine, the tannin management has been conducted very successfully as this is a wine that can easily be consumed young, yet at the same time has the structure and acidity for long term aging. Pleasing smoky cigar type aromas interwoven with ripe blackberry dominate the nose followed by rich flavors yet accompanied by a very smooth texture. A kiss of vanilla shows on the finish.
—
Also note the Pestoni Family used to own and operate a small Bed & Breakfast in Calistoga called Hotel d'Amici – but as of our last update to this review, has since closed. It used to have only four rooms; all were very tastefully decorated.
And every early October, the Pestoni's are one of the main participants in the annual Festa Italiana held at Lyman Park in St. Helena, one of several events part of Italian heritage month. This gathering always attracts old-timers and is a fun and relaxed few hours to enjoy Italian food (always plenty of pizza and pasta to go around), wines from local Italian owned wineries and live music (usually accordion). Tickets can be purchased at the event.
A number of wine related souvenirs are available in their tasting room. For more information and to join one of their membership clubs, visit: www.pestonifamily.com
Grounds

Hospitality Center/Winery

Original Pestoni Bonded Winery No. 935

A visit to the original winery was like going back in time 120+ years to when Albino Pestoni built his stone winery into the side of a hillside in Bell Canyon above the nearby creek that drains off the slopes of the Howell Mountain AVA. Standing at this old winery one can hear no noises other than the wind whistling through the trees and the occasional chirping of birds. There are no homes visible from here, only forested landscape as far as the eye can see.
It must have looked similar to this when Albino moved his family here. And life must not have been easy living in what still feels like a remote and undiscovered part of Napa Valley. The road leading to this old stone cellar is still dirt and certainly must have been challenging to carve its footprint out of the very rocky and steep slopes.
Remarkably, this is only one of just several remaining un-restored 'ghost' wineries in Napa Valley (although the Glass Fire of 2020 caused damage to the old building). As of 2023, this entire stone winery has been disassembled and packed onto crates for eventual reconstruction on the Pestoni property to be located within a short walk of the Pestoni tasting room. This may still be several years away from reality, but when it is finally reconstructed we will update our notes and photographs here.
Monte Carasso, Switzerland