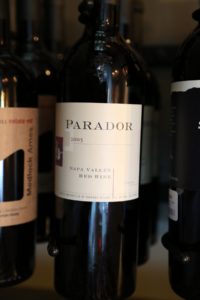 Parador Cellars is run by Steve Ventrello who is also the winemaker. This winery started as a dream with visits to Spain and many tastings of various Tempranillo wines. He started thinking about how Tempranillo was such an under-rated varietal in California. During one trip to Spain he secured Tempranillo budwood from well-known vineyards in the Ribera del Duero and Rioja wine regions. He then had had it shipped to California. A friend has a large vineyard in Wooden Valley east of Napa and this wood was budded onto existing vines. Parador is a Spanish word and represents castles that have been converted to lodging. It also means a place to stop, rest and enjoy life.
Parador's wines are all about enjoying life with good food as they are meant to be consumed with meals. Steve has a long history of working within the wine business and has run a popular wine distribution company, Vintage Wine Marketing for a number of years. He learned the winemaking business over time and released his first commercial vintage in 1998. He uses all high quality Bordeaux based oak barrels for aging as well as the much larger oak Puncheons which allow the wine to age slower and longer. As a result, his wines see a minimum of 4 years of total aging from harvest to release. All their wines are unfiltered.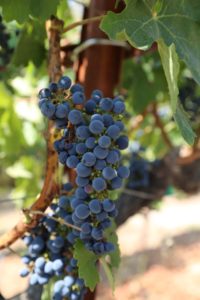 We tried his 2005 Tempranillo. No new oak was used during the aging of this wine and as a result the varietal characteristics show in this wine very well. There are not a lot of Tempranillo producers in the Napa area and this is an excellent example of how this fruit can really shine. The grapes were not harvested too ripe so its not a major fruit driven wine high in alcohol, rather it has good acidity with structured smooth tannins on the long elegant finish. There are plum and cherry flavors on the palate along with a nice minerality.
Also of note is their Reserva which is predominately a Tempranillo Cabernet Sauvignon blend. We enjoyed their 2004 vintage. This has a great nose similar to their main Tempranillo; it is a full bodied wine with notes of plums on the palate and structured tannins on the finish. This wine blend typically varies in the percentages that are used each year.
Also of note is they make several Cabernets from fruit sourced from different area vineyards. They have good distribution in California (which is their main market), and are represented locally at Dean & Deluca in St. Helena and Enoteca in Calistoga. Additionally, while they are a small producer (as of press time, one of their wines is under 100 cases) they sometimes have older vintages available on their website priced very decently. Visit: www.paradorcellars.com