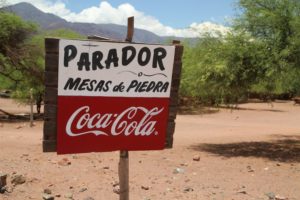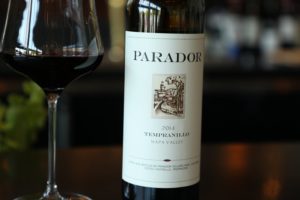 Parador Cellars, not to be confused with the El Parador wines from Spain, is run by Steve Ventrello (who we originally met with at his home); Steve is also the winemaker but it was abundantly clear from some of the musical instruments scattered around his home that he truly enjoys music – for fun he plays the accordion and guitar. And his wife Faith comes from the world of music, having previously been a music director at a radio station in Seattle and as an executive working for Elektra in New York City and both Capitol and Virgin in Los Angeles. In January 2018, she began Napa Radio Project, KCMU 103.3 FM, a nonprofit public radio station broadcasting from Napa.
The roots of Parador Cellars began with visits to Spain, primarily to Ribera del Duero where Steve enjoyed numerous tastings of various Tempranillo wines. During his trip, he began thinking about how Tempranillo was such an under-rated variety in California.
But not only under-rated in California but also in Napa Valley. In fact, only 30 bearing acres were listed in the 2018 Napa County Crop Report as compared to nearly 22,000 acres of Cabernet Sauvignon, Napa Valley's most planted variety. As of our latest update to this review, a rough guesstimate of the number of Napa Valley based producers making wine from Napa Valley grown Tempranillo is just a handful of wineries and a 100% Napa Valley varietal, such as the Parador Tempranillo is even rarer.
Tempranillo is native to Spain and despite is minimal plantings in Napa Valley is one of the most planted varieties worldwide and the number one most planted grape in Spain (the primary grape in the Rioja region). It is also an early ripening variety – hence the root name temprano which in Spanish means early.
During one trip to Spain Steve secured Tempranillo budwood from well-known vineyards in the Ribera del Duero and Rioja wine regions. He then had had it shipped to California. Family friend, Terry Wilson owner of the 1,000-acre Rancho Chimiles property and vineyard in Wooden Valley budded over a small section of his vineyard to Tempranillo specifically for Steve (using the budwood that Steve brought over from Spain). Later Steve gave Tempranillo cuttings to the founder of Stagecoach Vineyard, Jan Krupp who planted a small block to this variety which then provided the grapes for Steve's Tempranillo.
Prior to the vines maturing in either of these vineyard sites, Steve sourced his Tempranillo for his first few vintages from Gundlach-Bundschu in neighboring Sonoma County, the site of California's oldest continuously family-owned winery.
Parador is a Spanish word and represents castles that have been converted to lodging. It also means a place to stop, rest and enjoy life. Parador's wines are all about enjoying life with good food as they are meant to be consumed with meals.
Steve has a long history of working within the wine business; his first wine gigs were working in several wine shops in Los Angeles. Later he founded Los Angeles based Angeles Wine Agency for about 10 years before selling it and moving to Napa Valley. In 2002 along with Faith, he co-founded a successful wine distribution and marketing company, Vintage Wine Marketing. This company markets and sells wines wholesale from select boutique producers – primarily in the Napa/Sonoma region as well as select parts of Europe.
Parador Cellars produced its first commercial vintage in 1998; this was two wines, a red blend and the Reserva (a barrel selection). Steve uses only premium Bordeaux based oak barrels for aging as well as larger oak puncheons which allow the wine to age slower and longer. During the winemaking and the aging, Steve minimizes contact with oxygen including less racking. His Tempranillo typically is aged in neutral oak while his Cabernet Sauvignon sees some new oak. As a result, his wines see a minimum of 4 years of total aging from harvest to release. All their wines are unfiltered. And this is the only Napa Valley based producer that has made Tempranillo the focus of its production. There are a very limited number of other Tempranillo growers in Napa Valley including Truchard Vineyards in Carneros and Madrigal Winery, located south of Calistoga.
Select Wines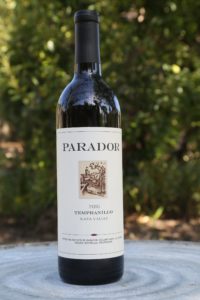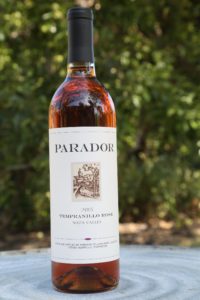 And in what is probably the only wine of its kind produced in Napa Valley, Steve crafts a rosé from Tempranillo. This wine was created by saignèe (bleeding off the juice) and then fermented in two neutral French oak puncheons and then aged 6 months before bottling. The 2015 Parador Cellars Tempranillo rosé is fairly dark for a wine of this style showing orange/dark amber colors (perhaps longer contact with the skins before it was bled off). It is nice to try something 'different' for a change from Napa Valley. Shows aromas of tangerine, orange marmalade, a sweetness of fig and hints of lemon grass. On the palate shows some weight flavors of jolly rancher candy, strawberry, watermelon (the part of the watermelon between the rind and where it becomes sweet). The finish is clean, with hints of darker spices and a lingering feel of fine but textured tannins.
Parador Cellars crafted a Tempranillo from Stagecoach Vineyard on Atlas Peak from 2012 through 2016.
The 2016 Parador Cellars Tempranillo is 100% varietal from a block in Stagecoach Vineyard on Atlas Peak. It was aged 30 months in several times used French barriques & puncheons. It shows a dark ruby core and purplish tinges on the rim of the glass; the bouquet is meaty, savory and floral with aromas of bacon fat, violets and spicy ripe Santa Rosa plum. Also hints of anise and clove. It invites intrigue and begs a sip. Juicy on the palate with mouthwatering acidity. This wine offers flavors of red cherry, blackberry and black pepper notes. It lingers with fine-grained dusty (but not overly drying) tannins.
The 2014 Parador Cellars Tempranillo is deep ruby in color; the bouquet is savory with aromas of dark olive, plum, freshly tilled soil, leather and old parchment paper. Its scents are also dark fruited. The palate is bright and balanced and it shows a noticeable freshness 9 years post vintage. It reveals flavors of red plum and darker berries along with dried herbs. The savory character on the bouquet is also present on the palate. The tannins showcase a light and integrated grainy textural grip and are evenly distributed across the palate. Their presence is long lasting. The palate also lingers with a light red fruited tartness of red cherry, currant and cranberry. This wine has aged incredibly well and still has plenty of life ahead of it at the time of our tasting, 9 years post vintage. This is a beautiful expression of Tempranillo.
The 2005 Parador Cellars Tempranillo saw no new oak during the aging of the wine and as a result the varietal characteristics show very well. There are not a lot of Tempranillo producers in Napa Valley, and this is an excellent example of how this fruit can really shine. The grapes were not harvested to ripe so it's not an overly fruit driven wine high in alcohol, rather it has good acidity with structured smooth tannins on the long, elegant finish. Plum and cherry flavors show on the palate along with a nice minerality.
The Parador Cellars Reserva is predominately a Tempranillo / Cabernet Sauvignon blend. We enjoyed the 2004 vintage. This has a pretty bouquet similar to the Parador Tempranillo; it is a full-bodied wine with notes of plums on the palate and structured tannins on the finish. This wine blend typically varies in the percentages used each year.
Steve took a multi year hiatus from producing Parador Cellars but resumed in 2022 with an Atlas Peak Cabernet Sauvignon.
—
Also, of note: Parador Cellars has also produced several Cabernet Sauvignons from fruit sourced from select regional vineyards including Hossfeld and Stagecoach, both of which are located in or near the Atlas Peak sub appellation of Napa Valley. Hossfeld is a small family run vineyard and wine brand and Stagecoach Vineyard was founded by Dr. Jan Krupp who eventually sold to its current owner, Gallo Winery in 2017.
The Parador wines are well distributed in California (which is their primary market); we have seen them in several local shops in Napa Valley including at what was Gary's (closed in mid 2023) in St. Helena. Additionally, while they are a small producer with production as low as under 100 cases per year of individual bottlings, they sometimes have older vintages available on their website priced very decently. For more information and or to join their mailing list, visit: www.paradorcellars.com
FolkLore
In mid August 2023, Steve and Faith opened FolkLore, a unique space in downtown Napa which offers racks of vinyl, an eclectic collection ranging from Johnny Cash to Van Halen, a café, a wine bar and a soon to be radio station broadcast room. Steve and Faith own this building, the Young Building located at 1226 Third Street in downtown Napa. FolkLore is the result of several years of efforts and interior renovation. The space sat empty for approximately 10 years and was previously used for law offices.
Faith owns and operates KCMU 103.3 FM from her house but its studio will soon be moved on site into a small room to the rear of the main storefront. Programming will in part feature local guests, broadcasting from this room. Folkore offers a diverse and wonderful wine collection, primarily from Europe. One can also order an older bottling of Parador Tempranillo. A number of classic cocktails are also available. And while the menu is not large, it offers a tidy and tasty selection of small bites including at the time of our visit, the delicious and highly recommended Quiche with Green Salad.
And after food, enjoy a small selection of coffees or tea. This is a cool place to hangout, an intersection of food, diversity of primarily non Napa wines and music.